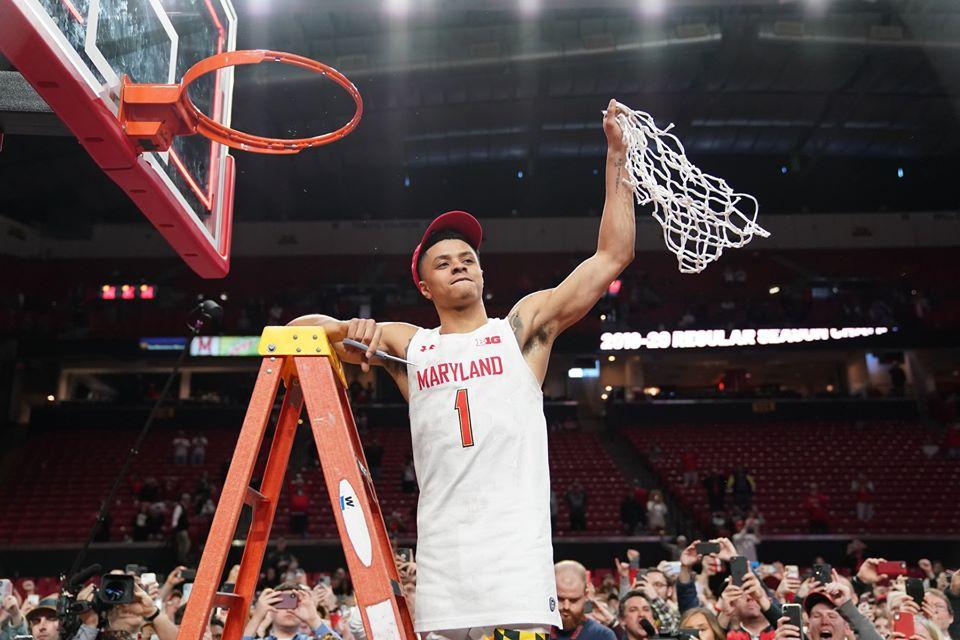 Maryland Basketball
Former Maryland men's basketball star guard Anthony Cowan Jr.—a 22-year-old who made a Mr. Big Shot reputation while entertaining thousands in loud, pre-socially-distant arenas—has spent the last two months like mostly everyone else: holed up and largely alone in the same off-campus College Park apartment he lived in before life turned upside down in mid-March.
And the report of the scene from his window is a familiar story, "There's nobody here," he told us by phone recently.
The usual college-town buzz left two months ago when coronavirus hit the U.S. in full force, closing campuses and upending normalcy in life as millions of Americans knew it. Forget watching or playing basketball, or working out in front of NBA scouts in the way Cowan always imagined, we're not even getting together in small groups or seeing extended family in person anymore.
In literally every other year since what's now known as March Madness began 80 years ago, Cowan—a savvy, super competitive, and clutch 6-foot, 180-pound guard who led the Big Ten regular season champion Terps in points and assists as a senior captain—might be a national celebrity. Who knows, maybe he would even be a national champion and state hero by now. (Much like the lovable underdog UMBC group did a few years ago.)
But when on the same day in March the Big Ten cancelled its postseason tournaments and the NCAA called off its annual nationally-televised rite of spring, the 68-team men's basketball tournament, a lot of things changed. Opportunities were dashed, and signals were sent to the country about a new reality.
"It just didn't seem real," Cowan said about hearing from Maryland coach Mark Turgeon that the season was just…ending, right there in the Terps' locker room instead of on a glossy basketball court somewhere. The news broke just before the team was scheduled to travel to Indianapolis for the conference tournament. It was one day after NBA player Rudy Gobert tested positive for the virus, leading the pro basketball league to become the first in the American pro ranks to cancel its season.
"You would have never expected it," Cowan says. But with time to reflect and a grounded perspective, he looks back on his last season, in which the Terps went 24-7, were in line for a high NCAA tournament seed, and certainly got our attention: "I honestly feel like I went out on top, like I was supposed to. I'm at peace with a lot of stuff. This is a huge part of a lot of people's lives. There's so much other stuff going on in the world. It's just so crazy now."
Indeed, we're all enduring pandemic life in some way. The death toll from the contagious COVID-19 continues to climb. Social distancing is part of our shared vocabulary now. Most businesses are still closed. And most people who still have jobs are working at home. At the same time, scientists, policymakers, and politicians continue to debate the best courses of action for saving lives and keeping the nation's economy afloat.
Sports, often a distraction from our daily struggles, are now part of the mainstream narrative that involves fans, players, coaches, and team staff alike. (See the all-virtual NFL Draft a few weeks ago and the ongoing talks about when baseball or football seasons might start, and the qualifier of whether they will begin with or without a crowd.)
"It's a weird time," Cowan says. "I keep telling my friends, it's like a movie. You see people with the masks on at the stores, and you see all the food gone."
Cowan, a Prince George's County native with a communications degree in hand, is one of two Terps who may be picked in the next NBA Draft. When it will happen, we still don't know. (It's normally in June, but might be pushed to August given the circumstances.) Forward Jalen Smith, a Mount St. Joseph's alum, is a possible first-round selection. Both are experiencing a sudden early end to their college careers, followed by an abnormally uncertain and delayed beginning to a pro journey.
For Cowan, normal today means—like most everyone else—keeping his distance, going to the store only when he needs to, and, to stay in shape, running and lifting weights by himself, perhaps boxing, too. But unlike most people, he's also shooting baskets at a private gym run by a former pro, Joel Barker, in Gaithersburg. He often goes alone, but sometimes takes his younger sister, Alex, who plays guard on the Wagner University women's team in New York.
And, unlike his Maryland classmates or us mere physical mortals who have been logging into Zoom for class or meetings with co-workers, Cowan is now represented by an agency, New York-based Hazan Sports Management. He's doing video interviews with pro scouts who want to get to know the versatile guard that they watch on tape as well as they can. Cowan says he's had at least half a dozen of these mini job interviews, which typically last 30 minutes, and that he's received positive feedback.
"You can tell they expect you to be kind of nervous, but it's down my alley to be able to talk about myself and basketball," says Cowan, who has also recently started a podcast in which he plans to interview current and former college athletes about their lives on and off the court.
As for an analysis of his own game? "I can score, but I can also really distribute," he says. "I do what the coach needs me to do, whatever the team needs me to do. That's something I can bring to an organization from day one."
Hopefully, for so many reasons, we're closer to that day than we were yesterday.