---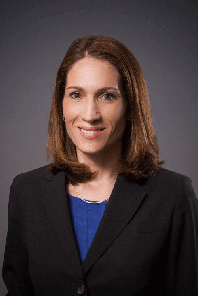 Leah K. Barron, a founding partner at Brown & Barron, LLC, has dedicated her legal career to protecting plaintiffs who have been harmed by corporate malfeasance. Leah currently focuses her practice on representing families who have lost a loved one due to abuse or neglect at a nursing home. She has developed a thriving nursing home abuse practice at Brown & Barron, and she is focused on providing all the firm's clients with top-notch legal representation, combined with an exceptional client experience.
Prior to co-founding Brown & Barron, Leah maintained a national practice and served as Team Leader for a prominent plaintiffs' firm that litigated throughout the country.
EDUCATION AND LAW SCHOOL WORK
Leah received her B.A., summa cum laude and Phi Beta Kappa, from Washington University in St. Louis. She then went on to receive her J.D. from Harvard Law School.
During law school, Leah served as an editor for the Harvard Human Rights Journal and was actively involved in a variety of public interest work. She received a number of honors for her public interest work, including being awarded with a fellowship to pursue such work after graduation.
MEMBERSHIPS AND ACCOLADES
Leah is currently a member of the Maryland Association for Justice (MAJ), the American Association for Justice (AAJ), the American Bar Association (ABA), and the Maryland State Bar Association (MSBA). She has served as an editor of the MAJ's Trial Reporter magazine, is a member of the MAJ's Legislative Leaders Circle, and she has served on the AAJ's Law Schools Committee.
Leah is also currently an active member of the Nursing Home Section of MAJ, and of the Nursing Home Litigation Section of AAJ. She has presented at various legal conferences, and The National Trial Lawyers has named Leah to its Top 40 under 40 list.


Visit www.brownbarron.com for more information.
Baltimore: 7 St. Paul Street, Suite 800, Baltimore, MD | 410.547.0202
Visit Website