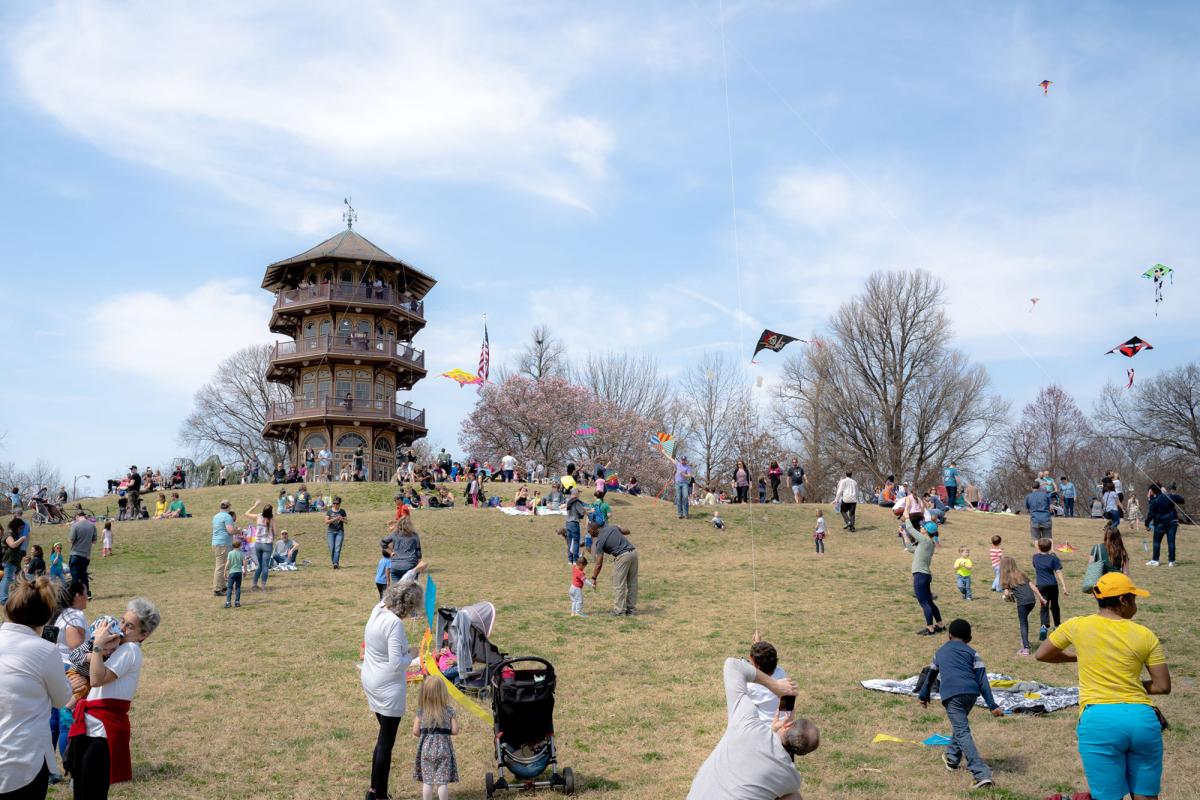 The Big Baltimore Kite Fest returns this weekend. —Courtesy of Baltimore Guided via Facebook
EAT
Pariah Brewing Company. 1700 Union Ave. Ste D. 12-5 p.m. Free.
By the looks of our Bradford Pear trees, spring has sprung in Charm City—and so has a season-long lineup of warm-weather festivals. This one at Pariah Brewing Company in Hampden will feature an array of gourmet bites, as well as refreshing sips and more than 40 local craft vendors. From 12-5 p.m.—while grooving to the sounds of DJ CheekyWillie (William Hicks)—fill up on handheld eats from Extraordinary Funnel Cakes, Nilsson Sausageworks, and Dizzy Cow Pizzeria. Event proceeds will benefit the work of B'More Clubhouse, which supports local adults living with mental illness.
DRINK
Baltimore Spirits Company. 1700 W. 41st St. Ste 430. 6 p.m. Free.
Baltimore Spirits Co. is teaming up with Hampden neighbors Golden West Cafe for this breakfast-for-dinner bash, complete with themed cocktails from the BSC crew. Starting at 6 p.m., head to the distillery's Cocktail Gallery inside Union Collective to savor dishes like zucchini brie pancakes and breakfast Bahn Mis. Wash down all of the eats with specialty drinks like a maple-bacon Epoch old fashioned, or the "Part of This Complete Breakfast" cocktail, a mixture of banana Epoch rye sour and orange juice topped with Trix cereal.
 SEE
Joseph Meyerhoff Symphony Hall. 1212 Cathedral St. 10 a.m.-7 p.m. Free.
Per springtime tradition, the 20th-annual CityLit Festival will give local writers and bibliophiles the chance to rub elbows with more than 80 featured authors. All day Saturday, visit Mt. Vernon's Joseph Meyerhoff Symphony Hall for a packed marketplace, live readings, craft intensives, and meaningful panel discussions. Among them: a talk about the state of Baltimore, a session on how artists explore grief, and a panel on the impact of queer and trans writers on the literary community. See our guide for other not-to-miss events.
HEAR
An Die Musik. 409 N. Charles St. Times vary. $30-150.
All weekend at Mt. Vernon's An Die Musik, the eighth-annual iteration of this all-ages fest will commemorate the life of luminary jazz guitarist Django Reinhardt. Purchase tickets here to hear acts like Djangophonique and the Jason Anick Quartet with guitarist Henry Acker. Plus, stick around for workshops that examine Reinhardt's influence across various mediums, like violin and clarinet.
DO
Patterson Park. 12-4 p.m. Free. '
In its eighth year, this treasured Creative Alliance event is blowing back into Patterson Park, featuring bright flying objects, live music, and plenty of picnic space. Bring your favorite kite to join others in designated fly zones (there will also be kites for sale.) Plus, plan to nibble on food truck bites, partake in a pop-up yoga class, or just chill with neighbors while taking in the sights. Other highlights will include vintage shopping, face painting, family-friendly storytime, and sounds by Abu the Flute-maker.