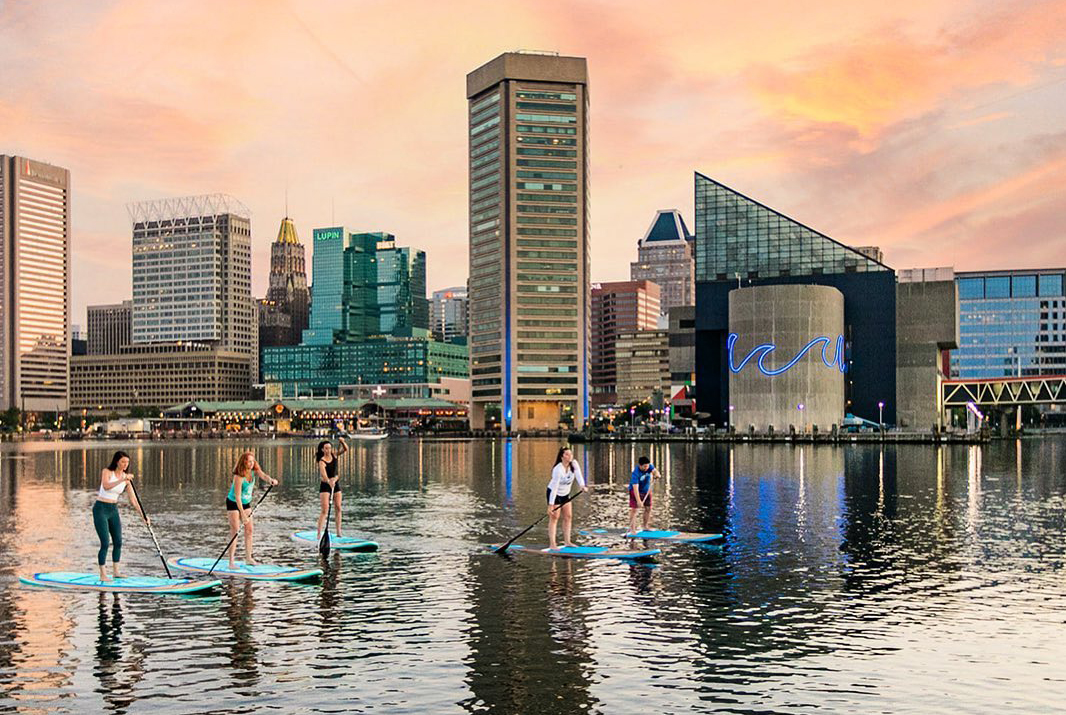 Join B'more SUP for a Pride Paddle to Sandlot. —Courtesy of B'More SUP via Facebook
EAT
Be More Green. 2036 West. North Ave. 12-5 p.m. Free
Picture a bodega, but replace the customary snacks and chips with local produce, fresh-pressed juices, Black-made grassroot finds, and nutrient-dense microgreens. When we caught up with Dominic Nell last fall, this was his vision for "Be More Green," a grocery store and community hub that is opening its doors this Saturday at the corner of North Pulaski and West North Avenue in West Baltimore. Visit the shop on Juneteenth to score fresh fruits and veggies, along with goods from local plant-based vendors. And try one of Nell's signature "Carrot Duggz." The meat-free treats are grilled, placed on toasted hot-dog rolls, then topped with sauce and veggies for a fresh twist on everyone's favorite cookout bite. Donate two of the vegan "Duggz" to those in need when you purchase a tee from lifestyle and clothing brand Plant Pusher, which will be on site for the shop's grand opening.

DRINK
Checkerspot Brewing Company. 1399 S. Sharp St. 1-10 p.m. Free-$15.
On Saturday, this beloved band of brewers will celebrate three years in South Baltimore with outdoor tunes, local laughs, delectable food truck bites, and a brand new pour. Swing by Checkerspot starting at 1 p.m. to sample the Double Honey Neipa, which melds rich Dark Cloud Double Honey malt with cashmere, citrus, and callista hops. Sip yours in a can or on tap as you jam out to sets by performers including Adam Miller, Brendan Finnerty, DJ Double A, The Shrapnels, and more. Plus, be sure to catch this year's spaced-out Draughts and Laughs fest, hosted by Justo the Comedian and headlined by Washington, D.C.-based funny man Chris Alan.
SEE
Braglio Farms. 10519 Marriottsville Road. 12-5 p.m. Free.
You could buy dad another wallet. Or—hear us out—you could treat him to an afternoon of Father's Day fun at Braglio Farms. From noon to 5 p.m. Saturday, visit the Randallstown destination to enjoy cold cans, barbecue bites, power tool demos, military vehicles, and more. Grab gifts for dad from more than 30 makers (think sports merch from Raven's Fever, spiked jams from Sugar Crush Sweet Treats, and soaps from Raw Blossom) and stick around to catch a live history exhibit or two.
HEAR
Whitelock Community Farm. 930 Whitelock St. 7 p.m. Free.
In honor of Juneteenth (also known as Freedom Day and Jubilee Day) join Ray Winder and Her Band for a song-filled fête at Whitelock Community Farm. Relax on the grass as you take in the group's vibrant R&B and hip-hop sounds, and celebrate freedom as you browse the creative works by Black vendors.
DO
B'More SUP. Inner Harbor Marina. 1-2:30 p.m. $50.
Grab your best, brightest gear and let B'More SUP supply the paddle boards for this colorful event—which kicks off at 1 p.m. at the brand's new Inner Harbor location. Snag tickets online ahead of your ride to Sandlot's Prideness Celebration, and don't forget to grab a free rainbow hat to wear when you reach the sand.
---
WEEKEND LINEUP: June 11-13
EAT
Good Neighbor. 3827 Falls Road. 10 a.m.-3 p.m.
Last June, Good Neighbor was born on Falls Road in the former home of Sirkis Hardware, and brought with it all things craveable, cozy, and cool—perhaps when we needed them most. Now, the one-stop cafe and home goods hub is set to celebrate its very first year with an afternoon of live music, local wares, and trademark, tasty treats. Swing by this Saturday to munch on favorites like paneer grilled cheese and floral butter toast. And score specialty sips and bites in honor of the shop's special day (and the return of its Chaat Hour series this summer) such as shrimp and grits, fried jerk crab cakes, and oxtail brioche. Be sure to stick around to hear tunes by Sumtime, and take home a handmade ceramic or two when you visit the neighbors market from 10 a.m. to 3 p.m.

DRINK
Oliver Brewing Company. 4216 Shannon Drive. 12-5 p.m.
Good news for us—this go-to source for pints and pours will turn out six new brews this Saturday in honor of its 28th year downtown. Head to Oliver Brewing tomorrow from 12 to 5 p.m. to sample sips including the aptly named Monumental Celebration, a double dry-hopped IPA brewed with citra, mosaic and El Dorado hops. Satisfy sweet cravings with the Nitro Jahmba Fruit Can Man, which boasts aromatic hints of blueberry, lemon, and Nilla Wafer. Or opt to keep things close to home with the native Box Turtle dry-hopped kolsch. But whatever you do, don't leave without sampling the latest batch of This Floor is Snakes—Oliver's anniversary tradition that features a blend of New Zealand hops this year.
SEE
Baltimore Clayworks. 5707 Smith Ave. June 11: 6 p.m. to June 13: 3 p.m. Free-$30
Attention, shoppers: Baltimore Clayworks' much-loved annual Second Sale kicks off today with all the things you need to fill your weekend cart. Don't miss the chance to call first dibs on all the hottest potted goods at tonight's premier party, which will feature a live performance by Nelly's Echo (of The Voice fame.) Stop by the shop again Saturday to score stylish wares while the kiddos work with clay. Then Sunday, come back to price out a box, and fill it with finds of your choosing.
HEAR
Sumpter Park. 240 Laurens St. 5-9 p.m. Rain Date: 6/26
After a hiatus due to COVID, this annual neighborhood bash is back to bring us a much-needed dose of live tunes (the kind we've missed for more than a year.) Pack a picnic blanket and head out to Sumpter Park this Saturday at 5 p.m. to catch a brassy jam session featuring local musicians Beth Torres (French horn), Nate Yielding (saxophone), and Sam Getchell (trombone/euphonium.) Later on, follow along to hear Yielding meld folk and electronic genres with flare. Then, cheer on friends and neighbors as they belt their favorite tunes at the open mic.
DO
Flatform Studios. 2123 N. Charles St. 1-5 p.m.
This sister-run art space is all about a cool craft—hence, the name of its latest series. This Sunday, head to Flatform Studios to celebrate the launch of its "Craft Social," workshops, and get your creative juices flowing as you learn how to make your own daisy chain. Grab tickets here, or visit the Old Goucher studio's online shop next week to purchase an a la carte, take-home beading kit.
---
WEEKEND LINEUP: June 4-6
EAT
Whitehall Market. 3300 Clipper Mill Road. 2-6 p.m.
For chefs Chris Katzaman and Rey Eugenio (of Atchara and Heritage Kitchen, respectively) this celebration of Barkada—which refers to one's chosen tribe in Filipino culture—has been a longtime dream. Join the culinary buddies at Whitehall Market this Sunday for their very first collaboration, and feast on pork belly with spicy garlic vinegar sauce, veggie-friendly options (think sweet garlic Beyond beef with mushrooms and scallions and chili oil-basted asparagus with tofu), and barbecue plates served with your choice of chicken or tocino pork ribs. Be sure to pile your plate high with sides like steamed jasmine rice, kimchi cucumbers, and grilled pineapple macaroni salad with atchara (pickled green papaya relish). Then, wash everything down with a limited batch of Suspended Brewing Co's Sour Persian, a 5.5 percent ABV blend featuring notes of rich, Iranian barberry.

DRINK
Max's Taphouse. 737 S. Broadway. 12 p.m. 
It's officially Sourfest weekend, which means fans of all things fermented and tart are in for a treat. The crew at Max's has come in clutch with 40 sour sips on tap, including a coveted batch of Suspended Brewing Co's Sour Persian brew. (See "EAT.") Swing by the Fells Point fixture this weekend to indulge in puckery pours, including Diamondback Brewing Company's Weight of Another and Cushwa Brewing's Electrofruit. Plus, be on the lookout for refreshing, new additions to Max's cocktail lineup, including a "Sour Splash" mixed drink made with Smirnoff sour berry lemonade.
SEE
The Meadow. 200 W Lexington St. Baltimorerockopera.org. 8-10 p.m. $20-28
If there's one thing we've missed this past year, it's live theater. Thankfully, Baltimore Rock Opera Society (BROS) has us covered this weekend with their first-ever outdoor performance: a medley of three short stories as told by shape-shifting shadow puppets. Be sure to snag tickets online (for $28, the Firmware Upgrade ticket includes an interactive bag of toys and goodies to enjoy while you watch the show.) Then grab a blanket and book it to The Meadow to partake in a showdown unlike any other. Delight in a world of mystery, danger, and forbidden thrills with "Circa Rebus," tag along with a small town band on their journey to fame in "The Legend of Demon Sperm," and watch "Robots" to see what happens when artificial intelligence takes over the human workforce. Can't make it out? Be sure to catch a live-streamed version of the showdown here.
HEAR
Monument City Brewing. 1 North Haven St. 7-9 p.m.
With sleek, jangly riffs and industrial vocals (as heard in singles like "I Am a Jet Fighter,") Andy Bopp embodies the essence and charm of a bygone alternative rock. Swing the Monument taproom in Highlandtown on Friday to end the week with a crispy cold one while watching the singer/songwriter shake up the stage.
DO
Living Classrooms Foundation. 802 S. Caroline St. 10 a.m-2 p.m.
The kids at Living Classrooms Foundation's Baltimore Urban Gardening With Students (BUGS) program have been hard at work in preparation for this annual event. Rise early and head to the organization's Harbor East campus to score everything from student-grown heirloom vegetables and seedlings to homemade ice cream, dips, salad dressings, soaps, and bath bombs. Stick around to enjoy live music performances and demonstrations as you browse in-person. Or opt to fill out an order form here to receive your goodies via curbside pickup.