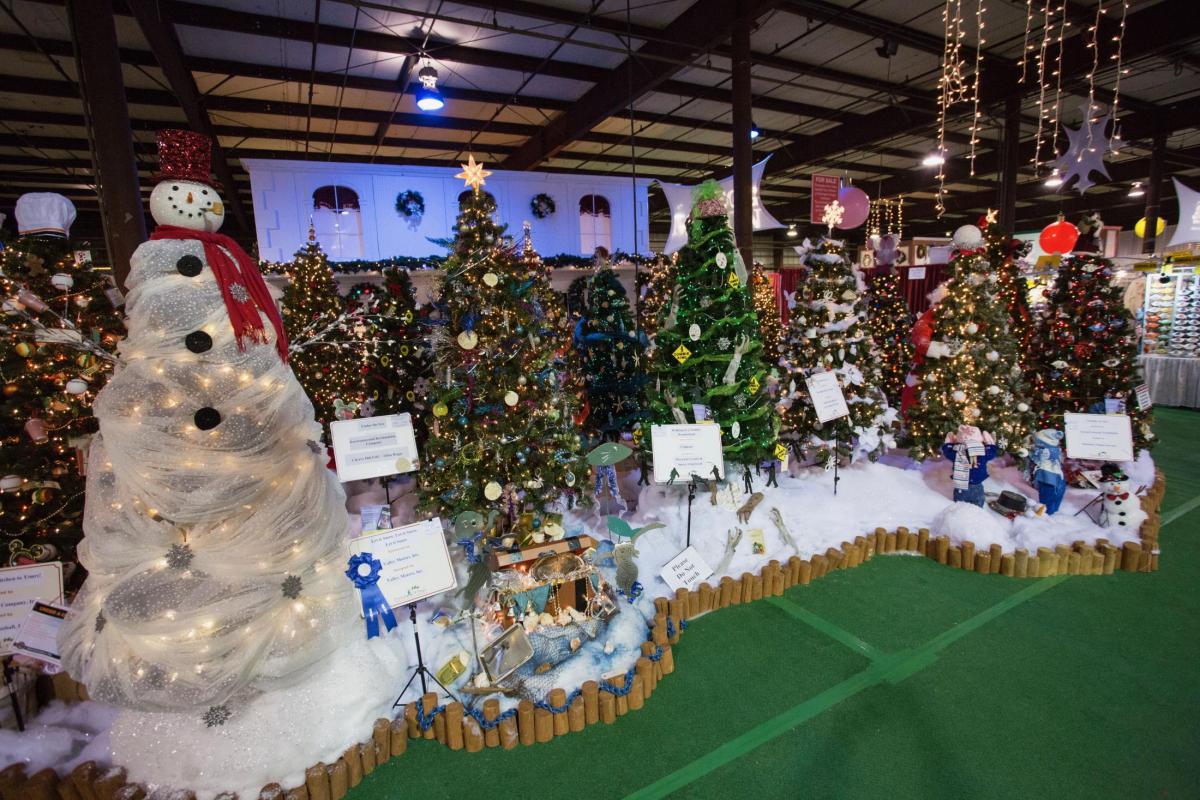 —Courtesy of Kennedy Krieger's Festival of Trees
EAT
Forno Restaurant and Wine Bar. 17 North Eutaw St. 12-4 p.m. Free. 
Perhaps the single greatest way to give thanks is by helping those who need it—which is why the folks at Forno and Frank's BBQ have teamed up to collect some coats for neighbors on this Turkey Day weekend. To get in on the action, grab your gently used winter gear and bring it to the downtown bar. In exchange for your donation—which will benefit Paul's Place and House of Ruth Maryland—you'll score a free Frank's sandwich. Be sure to RSVP for your chance to win a Forno a goodie basket, and stick around for a glass of wine. Proceeds throughout the day will benefit the local charities.

DRINK
Various Locations and Prices.
Pandemic life has changed things quite a bit, but the treasured Baltimore tradition of going out with hometown friends on Thanksgiving Eve is back in full swing this year. Ahead of Thursday's feast, head to your favorite local bars to take advantage of discounted eats and drinks. Among the places offering specials are XS in Mt. Vernon (look out for $5 drafts, discounted house cocktails, and $1 hot sake sips) and Mt. Washington Tavern, which is offering $4.40 select drafts and $6 house wines from 4-7 p.m. Find a full list of boozy specials and live music performances, here.
SEE
Gordon Center for Performing Arts. 3506 Gwynnbrook Ave, Owings Mills. 5 p.m. Free. 
The last time we saw a Thanksgivukkah—the convergence of Thanksgiving with the start of Chanukah—was back in 2013. And although they don't overlap on the exact same day this year, the first night is technically happening over the Thanksgiving break, so we say it still qualifies as the hybrid holiday. Close out the long weekend by ringing in the Festival of Lights at this community celebration hosted by The JCC and Gordon Center for Performing Arts. Register the whole family for free and watch as the visual presentation lights up the night sky with fire jugglers, breathers, and eaters led by renowned fire expert Brittany Chandler.
HEAR
Eddie's of Roland Park. Facebook Live. 9-9:30 p.m. Free. 
Around this time in 1981, singer David DeBoy's hit single "Crabs for Christmas" made a local splash. Help Eddie's of Roland Park celebrate Small Business Saturday by singing along from home as DeBoy (joined by the Holiday Hons) takes to the not-so-live stage to perform the classic Bawlmer Christmas anthem.
DO
Maryland State Fairgrounds. 2200 York Road. Various times. Free. 
Now in its 32nd year, this iconic winter bash—with proceeds set to support Kennedy Krieger Institute—returns with three full days of fun to be enjoyed onsite or from the comfort of your couch. Once you grab a ticket, spend your weekend browsing decked-out trees, handmade crafts, jolly ornaments, and gingerbread houses. Spend Friday morning jamming out to Grammy-nominated band Milkshake, join Santa in the evening for an online Q&A, and enter in a raffle for a chance to win some prizes (rumor has it that Ravens tickets and a lotto tree are up for grabs.) You can also grab the kiddos and head out to Timonium for the institute's first-ever Festival of Trees Toy Drive. Each person who donates a toy will head home with a special "thank you" giveaway.
---
WEEKEND LINEUP Nov.  19-21
EAT
Bramble Baking Co. Eventbrite. 5:30-7 p.m. Free. 
Ditch the store-bought pastry shells and join chef Allie Smith of Bramble Baking Co. for one delicious pie dough crash-course from the comfort of home. Ahead of Sunday's class, purchase tickets online here. Then, roll up your sleeves and tune in as the founder of the Northeast Baltimore bakeshop works her magic to create a scrumptious, scratch-made crust (this one works the best for making single-shell pies, including crumble and pecan.) Don't forget to stick around for baking tips to help make this year's Turkey Day a total breeze.

DRINK
Charm City Meadworks. 400 E. Biddle St. 5-11 p.m. 
Just in time for weekend sipping, Juliet Ames (salt box queen and founder of the The Broken Plate Co.) has teamed up with the Charm City Meadworks crew to create Salt Box Snow Day. Collect your pals and try the sour cyser when you head out to the Mt. Vernon taproom Friday night. The first 14 folks to grab a full pour of the new release will head home with a special salt box ornament. To sweeten things even more, Chihuahua Bros will be on site with vegan tacos and local DJ James Nasty will spin some party tunes.
SEE
Center Plaza. 100 N. Charles St. 5-9 p.m. Free.
For the first time ever, Center Plaza becomes home to this delectable display, complete with 25-foot ice cream cones, life-sized spinning lollipops, tremendous sticks of taffy and sweet, mesmerizing lights. Starting Saturday, traverse the candy-coated wonderland to take advantage the festive photo-op. Plus, enjoy delicious, local grub by Geno's sweets, Burger Boss, Lattimore's Funnel Cakes, and others (find a daily vending schedule here.)
HEAR
Creative Alliance. 3134 Eastern Ave. 8 p.m. $12-25
In honor of the late, great bluegrass legend Tony Rice, Baltimore's own "Cosmic Cowboy" Caleb Stine and friends are set to bring a dose of cabin-style, hoe-down magic to the Highlandtown stage. Grab tickets online ahead of Saturday's performance at Creative Alliance. Or opt to tune in anywhere as Stein steps to the mic alongside local artists Laura Wortman, Letitia Van Zandt, and Kagey Parish.
DO
Peabody Heights Brewery. 401 E 30th St. 12-2 p.m. Free. 
Almost five months early, organizers Dan Brover, Paul Sellers, and Alaya Nicole are back—this time to bring their trademark Earth Day call-to-action to the Abel neighborhood. This Saturday, throw on some gloves and spend your afternoon sprucing up the local streets. Afterwards, reward your conscious efforts with some hard-earned bites and brewery sips. 
---
WEEKEND LINEUP Nov. 12-14
EAT
Union Craft Brewing. 1700 W. 41st St. # 420. 1-6 p.m. $10-12.
Sharpen your shucking knives! In honor of the celebrated salt water bivalve, the crews behind True Chesapeake Oyster Co. and The Local Oyster are teaming up to bring their fans a Saturday of salty slurps and Union sips. Pay at the door, or secure an advance ticket online here (a portion of proceeds will benefit The Maryland Food Bank.) Then head to the Hampden brewery to savor the marine mollusks at your chosen pace—or opt to face off in a cutthroat oyster eating contest. On your way out, the Oyster Recovery Partnership will collect your shells.

DRINK
Peabody Heights Brewery. 401 E. 30th St.  Friday:4-11 p.m. Saturday: 12-11 p.m. Sunday: 12-6 p.m. $6-1,000
True to its nature, this fun-loving fixture is ringing in nine years of bold, local brews with the best of the best (get ready for smooth new sips, live tunes, and drool-worthy neighborhood eats.) Before you raise a glass, be sure to grab a ticket online while supplies last (you'll secure your chosen package, along with the date and time that works best for your crew to attend the boozy bash.) After that, hit up the Abell taproom to enjoy one—or all three—days of the Peabody festivities. Munch on goodies made by eateries including Toki Tako, Ekiben, and Dough Boy Fresh Pretzel Co.; jam out to tunes by Automatic Slim and His Sensational Band; and say hello to vendor Arvay Adams of This Sporting Life, who can help with all your custom chainstitching needs.
SEE
Union Craft Brewing. 1700 W. 41st St. # 420. 12 p.m. Free. 
In its fifth year, this retro bonanza sports all the best area antique purveyors. This Sunday, ogle goods from more than 40 vendors when you head to the Union Craft space bright and early (you'll want to beat the crowd—and yes, you'll need to bring a mask.) All afternoon long, experience years past by way of vintage clothing, jewelry, decor, and more.
HEAR
WTMD. 89.7. 4 p.m. 
Breakup records always seem to pack a certain punch. And Wye Oak's own, titled Civilian, brought the homespun indie duo (Andy Stack and Jenn Wasner of Flock of Dimes) resounding acclaim. This Sunday, tune into WTMD (89.7) to hear the pair discuss the bones behind their breakthrough album.
DO
R. House. 301 W. 29th St. 6-10 p.m. $50
Leave your sweatpants and your fur-lined boots at home. This beloved annual gathering (which celebrates its fourth year at R. House in Remington) calls for your most dazzling and distinguished attire. Snag a ticket online here before you head to the communal food hall. Then, between delicious R. House sips and bites, peruse the space for finds from more than 30 local sellers.