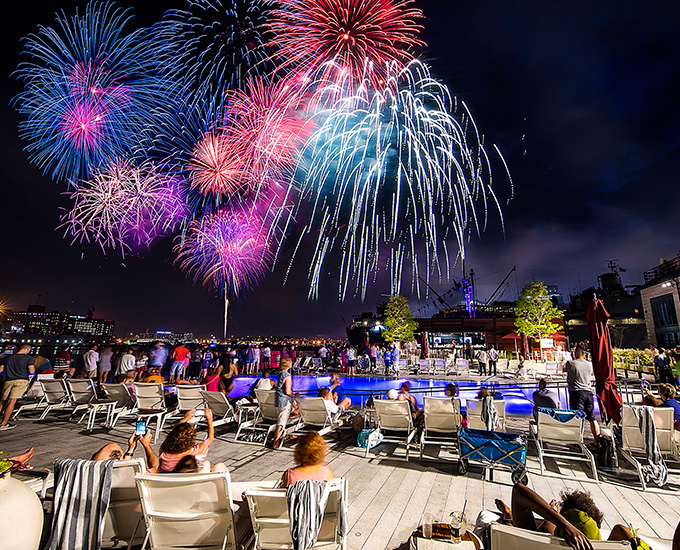 —Courtesy of Sagamore Pendry Baltimore
We've got a long Fourth of July Weekend ahead of us (hopefully you're off Monday)—which means parades, cookouts, and shimmering firework shows planned everywhere from Cherry Hill to the Carroll County Farm Museum. Grab a picnic blanket and check out our master guide for details on where to find some of the most dazzling displays all across the state.
Annapolis: After kicking off the celebration with the annual parade at 6:30 p.m., the Naptown fireworks will launch over the harbor on July 4th starting at 8 p.m. For the best viewing experience, head to public spaces northeast of the Severn River, City Dock, the Naval Academy Bridge (be aware of limited parking), or park spaces facing Spa Creek. Or, even better, you can board a boat and get a front-row seat to watch the show on the water.
Bel Air: This year, the Bel Air Independence Committee has planned some extra-special festivities to coincide with Harford County's 250th anniversary. The all-day Fourth of July funfair—which will feature everything from a pancake breakfast and family water balloon toss to a bicycle rodeo and the annual parade—will start with flag-raising ceremonies in the morning and culminate with the blazing fireworks at approximately 9:30 p.m. You can watch the sparks fly from any permitted area in or around town.
Catonsville: Break out those lawn chairs. Now in its 77th year, Catonsville's Fourth of July festival is making a grand comeback on July 4 with the theme "Light Up the Sky, It's the Fourth of July." Leading up to the fireworks, there will be concerts, games, all-ages activities, and the annual grand parade—for which locals traditionally set out their lawn chairs along Frederick Road days in advance—to look forward to throughout the day. The Grand Fireworks Show will kick off at 9:15 p.m. on the Catonsville High School Athletic Fields.
Cherry Hill: At the neighborhood's annual Arts & Music Waterfront Festival, spend the holiday enjoying food trucks, showcases, and small vendors in South Baltimore. This year's live performance lineup highlights the soulful sounds of Baltimore's own Jonathan Gilmore, beats by Bmore Club legend Mighty Mark and friends, latin moves from the YOII dance school, poems from the winners of Lyric Baltimore's Dream Big Contest, and many others. Stick around until 9:30 p.m., when local musician Khalil Eric Gibran Campbell will provide the soundtrack for the fireworks show at Middle Branch Park.
Cockeysville: Per tradition, The Baltimore Symphony Orchestra's Star-Spangled Spectacular will honor America on Monday, July 3 with a jaw-dropping firework show and performance at Cockeysville's Oregon Ridge Park. Spread a blanket on the lawn to hear patriotic anthems such as Aaron Copland's "Happy Ending," John Williams' "Midway March," and Tchaikovsky's "1812 Overture."
Columbia: Hosted by Howard County and the Columbia Association, the annual July 4th fireworks display will return to the Columbia Lakefront on Independence Day. If you are driving there, free public parking is available at the Mall in Columbia, Symphony Woods Garage, the One and Two Merriweather garages, and at Sterrett Place North. The party will kick off with live music at 6:00 p.m. before the 20-minute fireworks spectacular lights up the sky around 9:20 p.m. You can arrive as early as 3:00 p.m. to lay out your blankets and claim a spot while enjoying food truck fare.
Dundalk: The Dundalk Heritage Fair Association is bringing back its time-honored community gathering this year with local performances, festive food, karaoke, and kid-friendly attractions June 30-July 2. On the big day, after the annual Independence Day parade, Dundalk's fireworks centered around Grange Elementary School will blast off around 9:15 p.m.
Glen Burnie: Bring your blankets and chairs to Sawmill Creek Park (or additional viewing at 3rd Avenue Park) on July 3 at 9 p.m. for a shimmering show organized by the Glen Burnie Improvement Association. Food will be available for purchase at the Glen Burnie Boys Baseball concessions stand.
Inner Harbor: Nothing quite compares to watching fireworks illuminate the Inner Harbor skyline. The Baltimore Office of Promotion and the Arts and Waterfront Partnership are bringing back their annual Fourth of July festivities in the heart of the city, starting with a patriotic picnic at West Shore Park at 3 p.m. The party will move over to the Inner Harbor Amphitheatre for live DJ fun from 4-6:30 p.m., and then continue with a full-blown Baltimore Symphony Orchestra performance at Rash Field Park at 8 p.m. The concert will culminate at 9:30 p.m., when the colorful bursts begin to blast off over the water.
To get the best view, take a walk along the Inner Harbor promenade, head up to a roof deck, or, if you're looking to splurge, purchase front-row seats with the Baltimore Museum of Industry's fundraiser—which includes museum admission and a live concert by Ken & Brad Kolodner. You can also head over to the Sagamore Pendry in Fells Point for a posh pool party and barbecue with prime views.
Laurel: This all-day celebration on July 1 is perfect for anyone hoping to get an early start to the holiday celebrations. The festivities begin at 11 a.m., and are slated to include a parade, car show, live music, and family-friendly games. To end the day, bring your chairs and blankets to the 30-plus minute firework show over Laurel Lake, which starts at 9:15 p.m. Spectators are encouraged to arrive early to find the best seats.
Mount Airy: Happening on July 3, this community tradition at the Mount Airy Carnival Grounds is celebrating its tenth birthday this year. The event is free to the public, and you can bring your chairs, pop-up tents (tents must be taken down by 8:30 p.m.), blankets, and coolers with food. Or you can indulge in some fairground treats from an array of food trucks onsite. The gates will open at 4 p.m., followed by live music at 5 p.m. and fireworks around 9:30 p.m. 
Westminster: Head to the Carroll County Farm Museum to partake in this annual summer soiree. Gates will open at 4 p.m. on July 4, followed by fireworks around 9:30 p.m. While you wait, stop by the children's activity tent and enjoy treats from on-site vendors including The Cow (Italian ice and frozen custard), Johnson Family Funnel Cakes (deep-fried Oreos), BBQ Bueno, and Nina's Cookie Explosion. Admission is $5 per vehicle and groups can feel free to bring their own coolers with snacks and non-alcoholic drinks.