---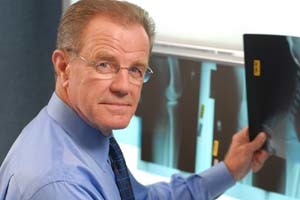 George Brouillet, Jr, MD is a board-certified orthopedic surgeon with more than 43 years of experience specializing in knee and shoulder surgery. Dr. Brouillet's orthopedic specialties include:
Sports medicine: Special interest in high school and college athletes
Disorders of the knee: Injury, ACL, arthritis
Disorders of the shoulder: Rotator cuff, trauma
Dr. Brouillet earned his medical degree and completed his orthopedic surgery residency at the University of Maryland in Baltimore.
Dr. Brouillet is the Chief of Surgery and Director of the Joint Replacement Center at Kernan Hospital. He is a member of the National Football League Injury Grievance Panel, Inter-Scholastic Athletic Advisory Committee for the Howard County High Schools, and Medical Advisory Board for the Columbia Association.
Dr. Brouillet serves as a team physician for Centennial High School. He is the past team physician for the Baltimore Blast professional soccer team and past president of the Maryland Orthopedic Association.
Dr. Brouillet is a fellow of the American Academy of Orthopedic Surgery and a member of the American Orthopedic Society for Sports Medicine, American Academy of Orthopaedic Surgeons, American Medical Association, Maryland Orthopedic Association, Baltimore City Medical Society, Maryland Orthopedic Society, and Eastern Orthopedic Association.
Now, Orthopaedic Associates of Central Maryland is part of The Centers for Advanced Orthopaedics – the largest integrated group of orthopaedic surgeons in the region – provides our patients with the highest standard in healthcare. Visit www.cfaortho.com for more information.
Catonsville: 910 Frederick Road, Catonsville MD 21228 | 410.644.1880
Columbia: 10170 Charter Drive, Suite 300, Columbia MD 21044 | 410.644.1880
Visit Website