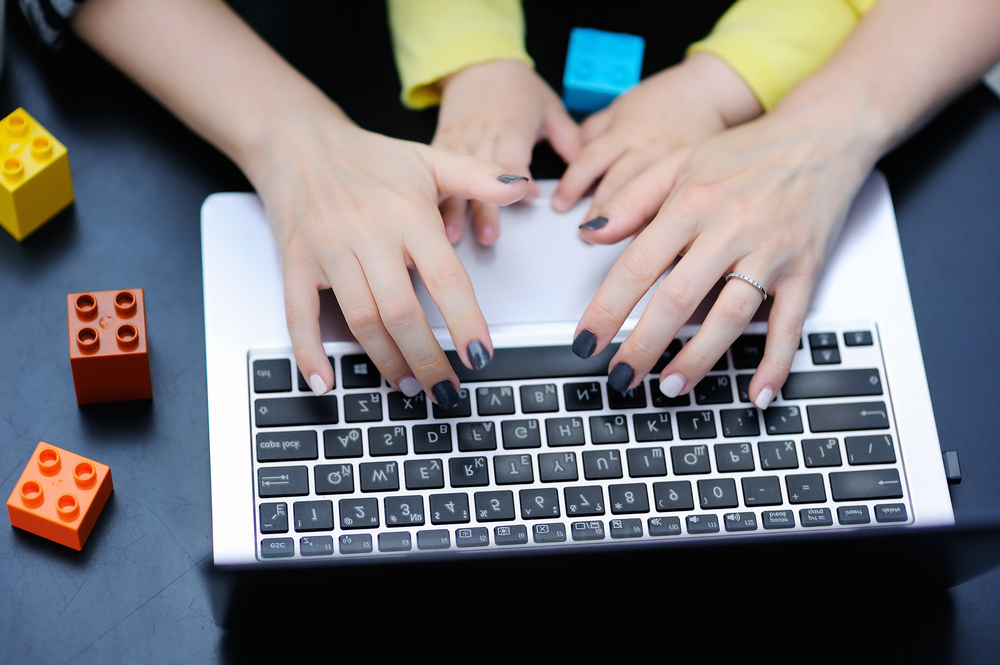 Shutterstock
With rising childcare costs, plenty of moms and dads are making the switch to a work-at-home lifestyle. But it's not just a financial decision—working from home means earning a paycheck and being able to be present for your kids at the same time, and pulling double-duty is not without its challenges. Ask any parent who's ever tried to meet a deadline while rocking a fussy baby or calming a demanding toddler and they'll tell you: Being a work-at-home-parent is not all fun and games. You can't just sit home all day, unless you plan on heavily utilizing your Netflix subscription to turn on Wild Kratts while making a new snack plate every time a 22-minute episode comes to an end. You have to get out.
We're still crying that Play Cafe shut its doors, since it was an ideal spot for both wee ones and our work ethic. But there are still some great spots in town to hit up when you're all out of snack ideas, patience, and low-maintenance crafts. If you need to steal an hour, check out some of these spots that will help you keep your job and your sanity.
Red Canoe
The much-loved Hamilton coffee shop and kid's bookstore has so much to offer its patrons. From Zeke's Coffee and delicious breakfast sandwiches to cozy nooks around every corner, it's easy to settle in with your laptop and your giant, free-refill mug for an entire day. If you're coming with kids, don't expect any angry glares, either. There are toys, books, and games in the back to cater to little ones, tons of space and couches to move around, and even a fenced-in area outback for squirmy bodies.
Batch Bake Shop
Just a hop and a skip up Harford Road is the new delicious and adorable Batch Bake Shop. It might not be littered with toys and games, but it's got the goodies, that's for sure. Plop your kid at one of the convenient low tables that are perfect for playing or coloring, or distract them with a sweet treat so you can get down to business.
The Cube
This new spot, located on York Road next to the Lily Pad, is not a coffee shop, but a co-working space for parents to utilize. It's a small office for parent's to use kids play in the supervised play space. There are various monthly packages parents can buy, based on their individual needs. But a place to drop the kids and work undistracted… where do I sign?
Local YMCAs
You know how the song goes. But while it might be fun to play at the YMCA, it's also fun to work there. The Baltimore area has multiple YMCA locations complete with Stay n' Play areas for kids to hang out in and free WiFi for the adults. Kids can stay for 90 minutes, which you can use to work or workout, or both. The bottom line is: the kids are occupied. If you're signing up for a family membership (which you need to do in order to utilize childcare), the $91 a month is totally worth it. Just think of it as earning it back every time you use it as your work space.
R. House
If you've ever been to R. House in Remington, you'll notice that while there's not exactly a kid's play area. But one seems to have formed on its own. There are always kids jumping over the box seats lining the windows and tons of playmates no matter what time of day. The food hall is not lacking on space which makes it a kid-friendly spot to grab a coffee and an hour of work time.
The Evergreen Cafe
This Roland Park hang is one of the coziest coffee shops in town, which both studying college students and work-at-home folks frequent. And while they have delicious breakfast and lunch options and plenty of working space where you can post up, they are also pretty kid-friendly. There are comfy couches in the front where kids can relax, color or play games. Plus, there's always chatter and soft tunes playing. With that kind of easy-going vibe, you won't feel like your kids are burning the place down if they make a bit of noise. So grab them a gelato or a fresh-baked pastry, and get to work.