Where did you meet?
We met at the startup where we worked together in Tysons Corner, Virginia.
Please describe the proposal.
Wow, what can I say? Blake secretly organized a very elaborate, meaningful scavenger hunt that took me to some of our most memorable spots. Along the way, I had to solve riddles, do a word search, decode messages, and put together a puzzle upside down. I picked up best friends, a future sister-in-law and my sister while we were driven around the D.C. area by private driver. He even organized for me to get my nails done!
After solving different riddles, I collected a letter to a secret word. I arrived at my final destination where Blake was waiting for me with my final puzzle—a hand-carved wooden codex where we unscrambled the French word for love: aimer. The adventure culminated in Blake proposing in the pouring rain right in front of the Washington Monument. It took him months to plan. Everyone (and I mean, everyone, including friends and family from near and far) were all in on it. It was absolutely amazing.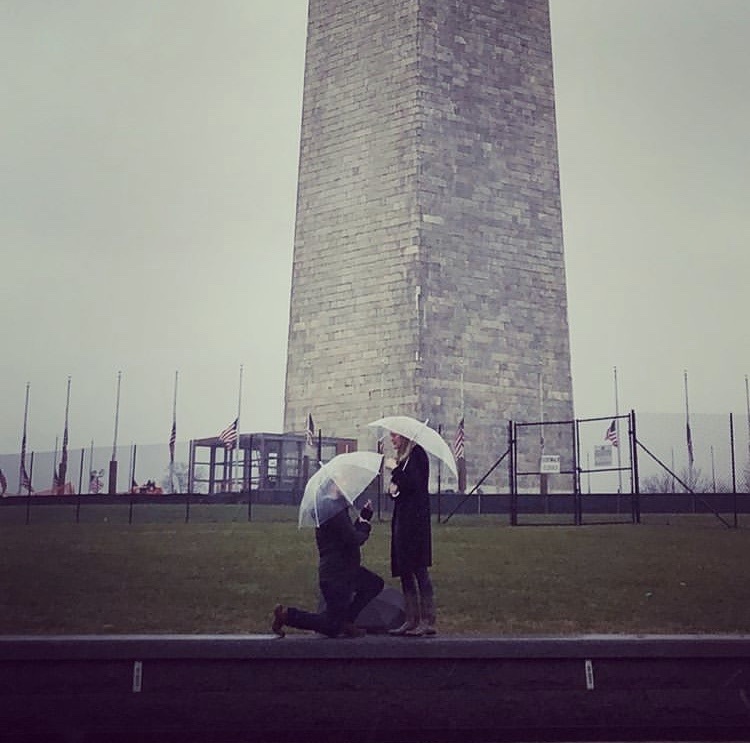 What was the first thing you did after you got engaged?
We celebrated with friends and drinks at one of our favorite historic spots in D.C., the Old Ebbitt Grill.
Have you picked a date? Venue? Theme?
Not yet. In 2019, we have five weddings to attend, including both of our sisters' weddings!
What is something you and your fiancé like to do together?
We cook together four to five nights a week. We even eat breakfast together most mornings, too.
Will you be taking a honeymoon? If so, where, and why did you pick that destination?
Yes, definitely. Nothing planned just yet, but something that has both adventure and relaxation.
What is a fun fact about you as a couple?
We have an ongoing game of tag, which has been going on for over a year. It might sound weird, but it's part of our competitive but playful spirit!
Tell us about the ring.
Blake custom-designed my ring with Dan at Radcliffe, using diamonds from his mother. Her parents are Holocaust survivors and my mother's family had to escape WWII as well, so we don't have many family belongings from either side. Having those diamonds in my ring is more than just gorgeous jewelry—it's now an heirloom that our future generations will inherit. My ring serves as a reminder of how important family really is.