Where did you meet?
I joined Jason's gym, Knockout Fitness, a studio-boxing fitness gym in Federal Hill. He was my trainer—I guess he liked how I worked out! (Actually, I was the one who chased him.)
Please describe the proposal.
We were in Corfu, Greece, at a resort called Ikos Dassia. We had just gotten back to our villa after an amazing wine-tasting (lots of wine and some shots, so I was feeling good!). We were driven in a golf cart back to our villa. Jason took my hand and said, "Come here."
There was a table set up with champagne and rose pedals in the back by the pool. Right then, I knew what was happening. Jason got down on one knee and gave a speech and proposed. My whole family was there hiding. As soon as I said yes and kissed him, my family popped out and started cheering. It was perfect. My family says it was like a scene from The Bachelor!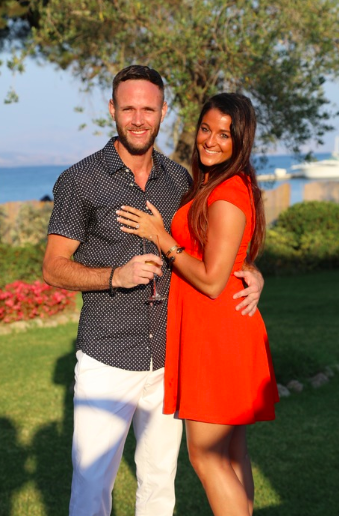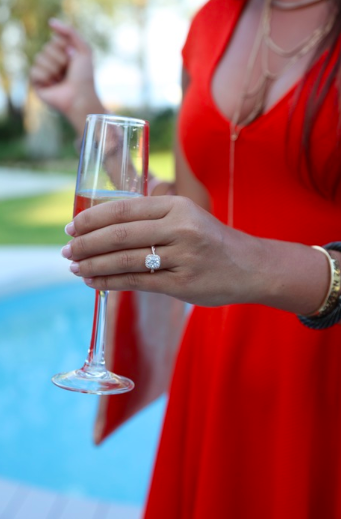 What was the first thing you did after you got engaged?
Well, first, we drank champagne with the whole family—lots of it. Then we went to a Greek restaurant at the resort to celebrate. And then to a local tiki bar to celebrate even more!
Have you picked a date? Venue? Theme?
September 2019. No idea where or what theme yet.
What is something you and your fiancé like to do together?
We both enjoy boxing and working out. We also love good food. We try to go out for date night as much as we can. We love traveling, too.
Will you be taking a honeymoon? If so, where and why did you pick that destination?
We have been discussing it, but it's not final—maybe Bora Bora or the Maldives, somewhere with huts on the water. It's still up in the air.
What is a fun fact about you as a couple?
Whenever we order drinks, the bartender always gets our drinks confused. I order the hard stuff—bourbon, whiskey, or martinis—and he always orders pink fruity drinks. It's hilarious. And the household roles are reversed at our house: He cooks, cleans, and does the laundry. And I'm the one that takes out the trash!
---
See more engaged couples of the month from Radcliffe Jewelers.