Classical music isn't typically thought of as fun or cool. But if you take a look around Baltimore School of Music, it's obvious that its perspective of classical music and music education is a bit different. Take their Bach in the Brewery concerts as an example. The popular concert series at Monument City Brewing Company in Highlandtown attracts a sell-out crowd eager to hear classical music and enjoy craft beer. Classes in their Mini Maestro program–music classes for toddlers and kids–have sold out for three consecutive years. But what makes Baltimore School of Music different?
"We first consider our audience," says James Lowe, the school's founder and owner. "I've been a music teacher for almost 20 years and I see firsthand the difference learning music can make in someone's life. The question has always been: 'How do we make it not boring?'" Lowe says they do this by breaking down barriers to access and making music education fun. "Our students range in age from 18 months to 80 years old… People often think music lessons are for kids, but we love our adult students, too."
Adults comprise approximately 25 percent of Baltimore School of Music's students, and of those adults, almost all of them have never before studied music. "There's a large number of people who have always wanted to learn to perform music but have just never found an outlet," Lowe says. "We love that we're that outlet for them."
Mini Maestros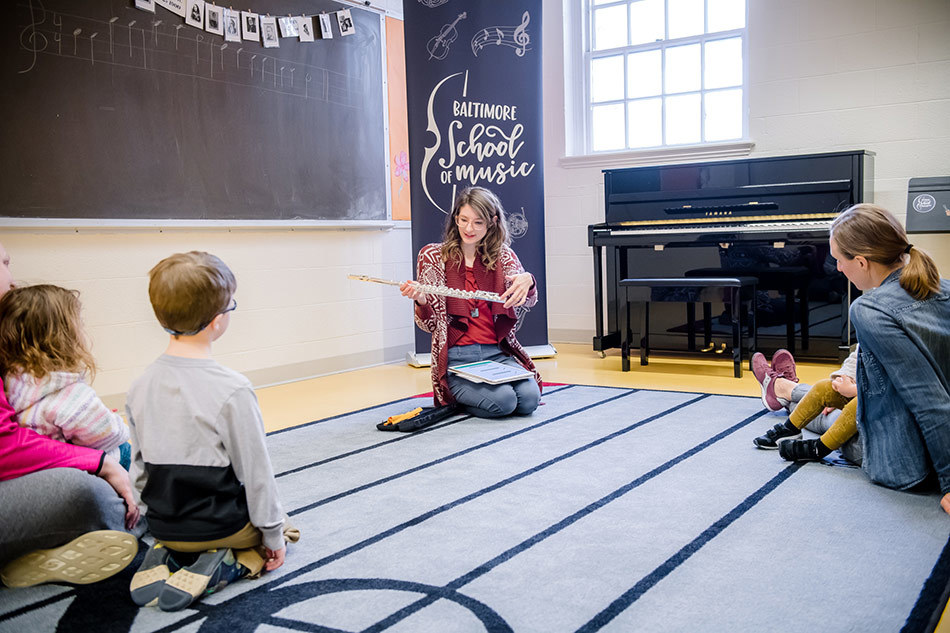 Music teacher Sarah Greene demonstrating a flute to a Mini Maestro class.
Baltimore School of Music's Mini Maestro classes are incredibly popular. The early childhood music program offers group classes for toddlers and their parents, as well as kids. "Our Mini Maestro classes are so much fun," says Sarah Greene, who teaches several of the classes at the school. "Watching kids learn to make music and play an instrument for the first time is such a joy."
Some of the Mini Maestro classes have sold out for three consecutive years. "We work hard to expand our programs to meet the demand," Lowe says. "But we also want to find the best teachers and create classes that are both fun and engaging. It's amazing to see such tremendous demand for our classes and we're excited to create new class ideas and watch them grow."
Music Lessons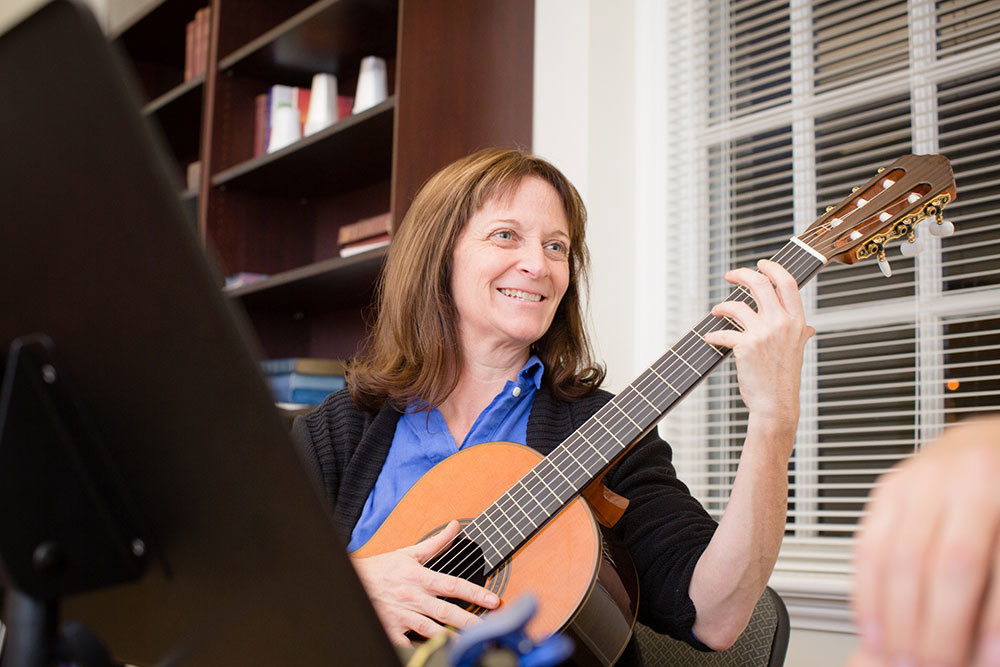 An adult guitar student at Baltimore School of Music.
Baltimore School of Music offers private music lessons to students as young as 4 years old—and the oldest student is well past retirement age. They offer piano, guitar, voice, string, brass, and composition lessons. They also provide performance outlets for their students to show off their developing skills.
"As a music teacher, student recitals are one of my favorite times of the year," says Lowe. "Students work so hard and develop over the course of a year, and to watch them become better musicians at each recital makes all the effort worth it. As a teacher, it also makes me feel accomplished." Student recitals are held twice per year at Baltimore School of Music, located at Second Presbyterian Church in Guilford.
Bach in the Brewery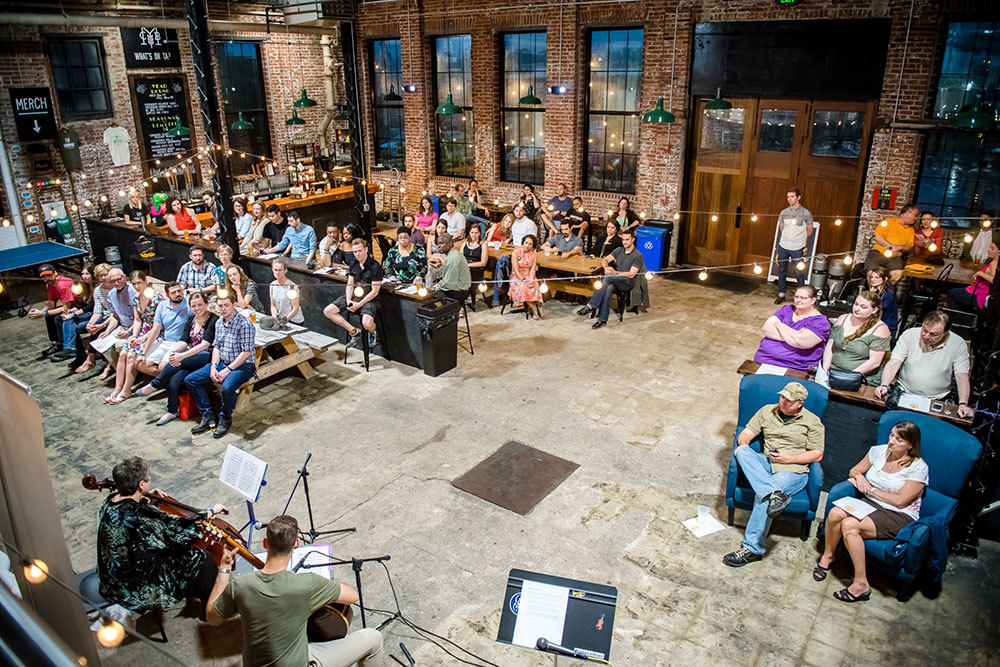 James Lowe and Terry Shirley-Quirk perform during a sold-out Bach in the Brewery concert at Monument City Brewing Company.
"Bach in the Brewery may be one of my best ideas," admits Lowe, who hosts the concerts and regularly performs at them, as well. "We try to break down barriers to classical music concerts and take away the stodginess people often experience. At the concerts, we have trivia, prizes, and lots of beer flowing."
The concert series began in 2018 with a sold-out concert and rapidly expanded the number of sessions for the 2019-2020 season. "We are launching a full concert series of four concerts for the 2020-2021 season," says Lowe. "There is a real love for classical music in Baltimore, especially when you take away the pomp and keep the music authentic."
James Lowe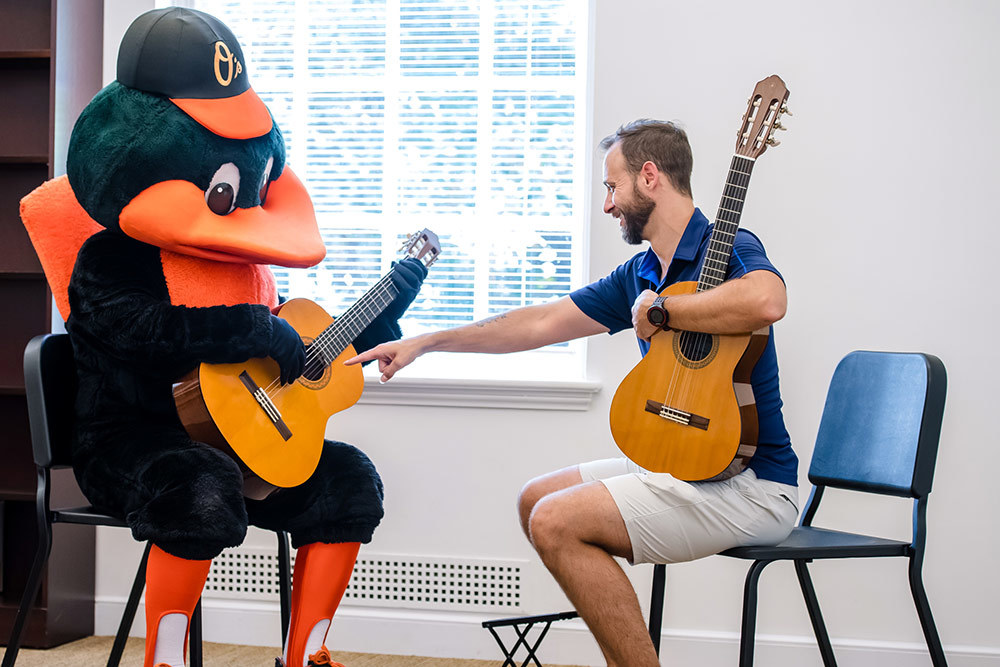 Baltimore School of Music owner and CEO James Lowe teaches the Oriole Bird how to play the guitar during a school open house.
James Lowe, a professional classical guitarist, founded the school when he was a graduate student at the Peabody Conservatory of The Johns Hopkins University. He's now working towards an MBA at the Carey Business School of The Johns Hopkins University and found a passion for music entrepreneurship. "My love of creating music and owning a business began in high school," Lowe says. "I started teaching guitar to my friends and knew it was what I wanted to do."
Lowe also credits the Goldman Sachs 10,000 Small Business program with helping to grow Baltimore School of Music. "I was in the first graduating class in Baltimore and the experience was incredible. Before I entered the program, I learned how to run a business by reading and doing, but having a formal education and a network of other small business owners in Baltimore to lean on made me much more focused as a business owner."