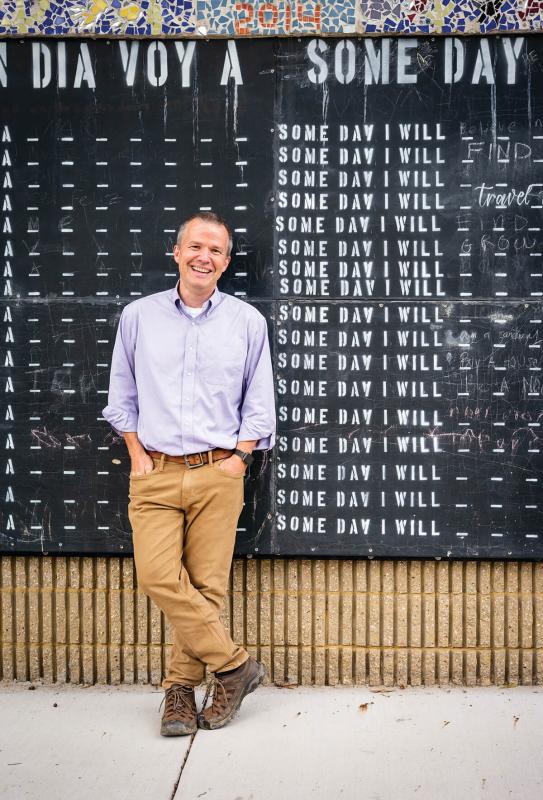 Wolfe Street Academy
Mark Gaither
When principal Mark Gaither came to Upper Fells Point's Wolfe Street Academy in 2005, he inherited a worrisome spot on the list of schools in line for state takeover because of past persistent failure and strained community relations. But under Gaither's leadership, this shaky status didn't last long.
In 2006, long before it was a common practice, Gaither advocated for WSA to become a community school to better involve families and support students. Today, it holds the title of the longest continuously operating community school in the state. With one of the largest percentages of immigrant families in all of Baltimore's public schools, Gaither prioritizes providing the resources and support that kids need to be ready to learn, such as mental health services, medical check-ups, dental exams, food, and clothing.
Now, WSA nears the top of all city schools on state performance assessments. Gaither's approach demonstrates that schools with high concentrations of poverty and large percentages of English language learners can achieve as well or better than others when led and invested in appropriately.
Part of Gaither's success in moving the needle comes from the community trust he's built in a population dealing with "very real trauma," where attendance rates can drop drastically at rumors that federal immigration officers are lurking. But Gaither has created a culture hell-bent on making families feel safe.
"I've seen the fear grow exponentially in the past few years, and our families know we have their best interests at heart," he says. For years, he has served as a voice for the community, from marching to City Hall in support of after-school programming to hosting events with resources to empower immigrant families.
It's safe to say Gaither's efforts have paid off: He's been recognized nationally for leading what has been named one of the five best community schools in the nation. Still, it's the little moments that make him the proudest—such as when a student who struggled with outbursts went a semester without a single mark on his behavior tracking sheet.
"We had a little ceremony where he invited two friends and a few staff members who supported him through thick and thin. He ripped up that sheet with a sheepish but happy smile," he says. "So many other things lent to that moment that I'm proud of, like relationships and authentic academic instruction and persistence and engagement—and never, ever giving up on a kid."
Meet the other winners here.