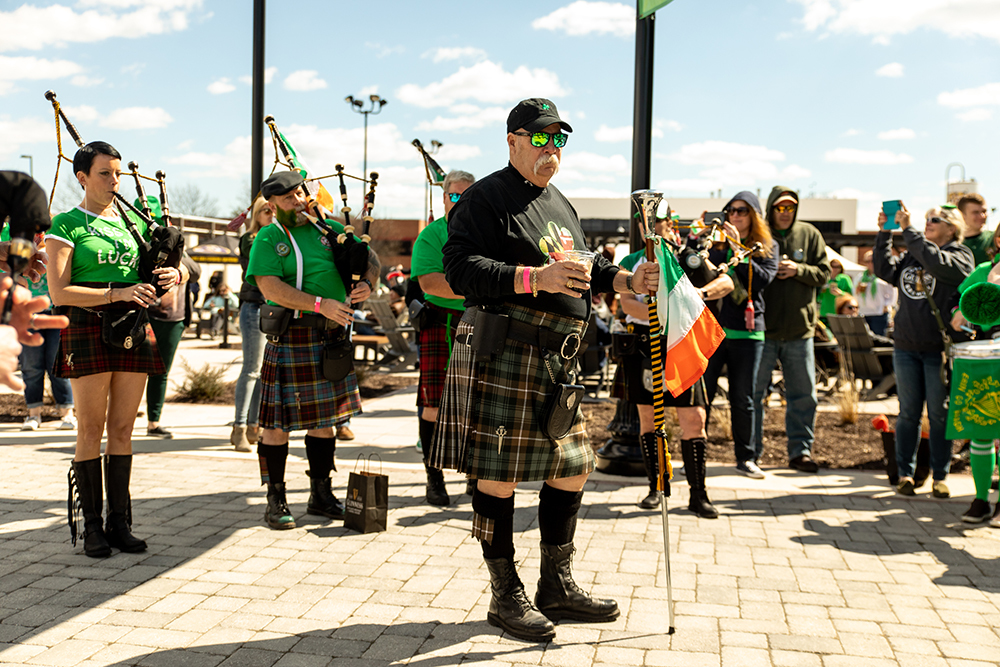 Every city paints the town green for St. Patrick's Day, but in Baltimore specifically, bars and restaurants go all out for the largest shamrock-filled celebration of the year. From bar crawls to dance-offs, don't miss your chance to celebrate the Emerald Isle, Charm City-style.
TO 3/18: 17 Days of Saint Patrick! at Slainte Irish Pub
This Thames Street haunt is back with two-and-a-half weeks of festive shenanigans leading up to St. Paddy's Day, from movie nights to whiskey tastings. Don't miss your chance chow down on Irish cheesesteaks, dance to live music, and, of course, pin the tail on Irish Dave.
3/7: Canton Irish Stroll
This sham-rocking crawl kicks the holiday off early in O'Donnell Square. Be sure to secure your St. Patrick's Day swag before heading to hotspots like Walt's Inn, Looney's Pub, and Southern Provisions for exclusive drink specials.
3/7: St. Patrick's Day Bash at Power Plant Live
Power Plant is pulling out all the stops for this clover-the-top bash. Don't miss your chance to win the costume contest (or sip themed drinks in your greenest gear) during this fun-filled night of Irish dancing, live pro wrestling, and scavenger hunts.
3/8: Pot O' Gold Brewery Tour With Jimmy's Famous Seafood
This Dundalk hotspot is ringing in St. Patrick's day with booze, brunch, and the ultimate Charm City brewery tour. Grab a bite and sip between stops, where free samples and guided tours await.
3/13: Shamrocks and Shenanigans with Cheat Codes
[Editor's note: This event has been postponed due to the coronavirus outbreak.] Los Angeles-based EDM trio Cheat Codes sets the soundtrack for this St. Patrick's Day weekend kickoff at Power Plant Live with special guests Breathe Carolina. As you dance the night away (with green beer in hand) and take part in festive photo-ops, be sure to visit some of the downtown venue's eight participating bars.
3/13: Baltimore's Saint Patrick's Day 5K
Join the Baltimore Road runners for a St. Patrick's Day sprint through historic Patterson Park. Costumes are encouraged for the club's fourth-annual road race, which ends with live music by Will Alton and two kegs of local craft beer.
3/14-15: Guinness Open Gate Brewery
[Editor's note: This event has been cancelled due to the coronavirus outbreak.] For the first time ever, this beloved brewery will allow beer lovers of all ages to step into a scene straight from the Emerald Isle. The Guinness lawn-turned-Irish Village will host more than 30 booths featuring food, entertainment, and limited edition libations that blend traditional Irish flavor with local flare. Plus, don't miss the new Clover Honey Ale made specifically for the holiday with local honey from Maryland's own Apex Bee Co., which will be offered in cans exclusively at the brewery.
3/14: Kegs and Eggs Rally
[Editor's note: This event has been postponed due to the coronavirus outbreak.] Wake up and paint the town green. DJs playing everything from EDM to trap music will pack Power Plant's outdoor pavilion for a morning of festive fun. Admission to this rain-or-shine event includes five drink tickets, a breakfast sandwich, and access to eight participating bars.
3/14: Federal Hill Irish Stroll
St. Patrick's Day comes a few days early to Federal Hill with a boozy tour of the neighborhood's top watering holes. Head to participating spots like Crossbar and Mother's Grille for Irish fare and not-to-miss drink specials including $3 Miller Lites and $4 Blue Moons. Don't forget to grab your free beads and souvenir koozies to keep your hands warm.
3/14: Soundtown St. Paddy's Party at The Admiral's Cup
Soundtown Baltimore is headed to Fells Point for the holiday, and they're bringing "the luck of the Eilish" with them. Party it up with the cover band—which will undoubtedly play a few Billie Eilish bangers—from 9:30 p.m. to close and be sure to grab plenty o'drinks from the bar.
3/14-17: St. Patrick's Celebration at Five and Dime Ale House
Leading up to St. Patrick's Day, this Hampden favorite is offering up specials for four days straight. Enjoy a special menu of traditional pub fare and drink specials galore. From 10 a.m. to 12 p.m., sip $2 Bishops Breakfast, Guinness Stout, and Guinness Blonde drafts. There will also be $5 Jameson cocktails and Irish coffees.
3/15: St. Patrick's Day Parade
[Editor's note: This event has been postponed due to the coronavirus outbreak.] This legendary jamboree celebrates 65 years of St. Patrick's Day festivities in the heart of Downtown Baltimore. Take part in the pinnacle of Irish culture, from the Washington Monument all the way to the Inner Harbor.
3/15: St. Patrick's Day Jamboree at Waverly Brewing Company
Thank your lucky charms—Waverly Brewing Company is toasting the Emerald Isle with local pours and savory bites from several food trucks. Grab a pint and dance a jig to the sounds of Sean "Healing Hands" McComiskey, Jim "Mutton Mitts" Eagan, and David "Frumpy Fingers" McKindley-Ward.
3/17: Mahaffey's Pints and Pancakes Party
Head to "Canton's Best Beer Bar" for a St. Patrick's Day celebration that pulls no punches, offering up everything from pancakes and pints to Bangers and Mash. Four-dollar Guinness Pints from 8-12 p.m. make this one worth the early rise.