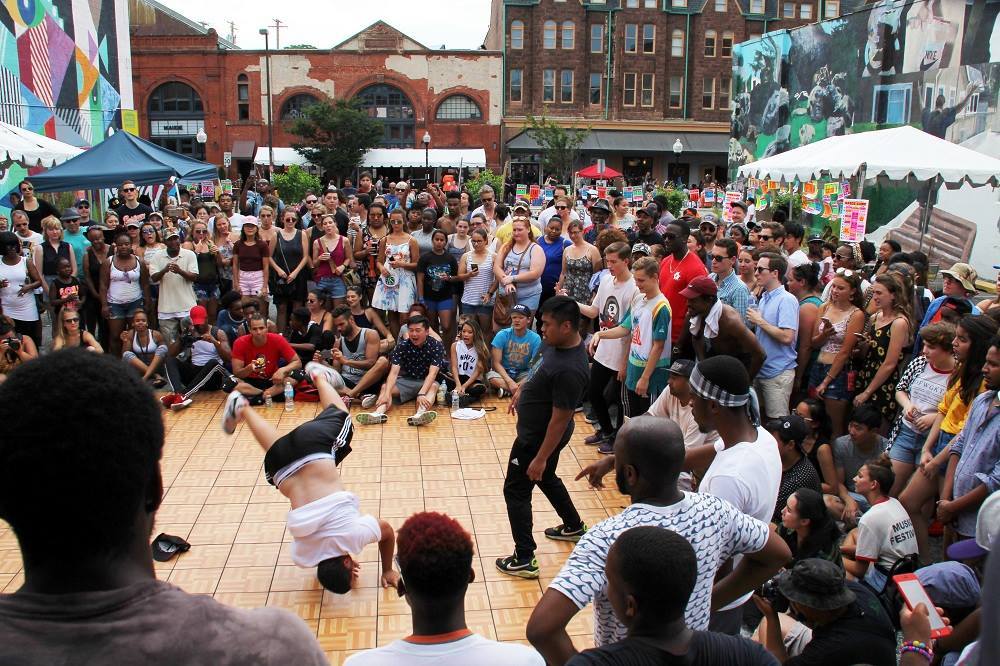 Courtesy of Artscape
Five things to eat, drink, see, hear, and do with your Artscape weekend.
EAT
Station North, Mt. Royal Ave. & Cathedral St. Fri.-Sat. 11 a.m.-9 p.m., Sun. 11 a.m.-8 p.m. Prices vary.
While the hundreds of visual art exhibits, outdoor installations, and performances are the stars of America's largest free art festival, Artscape's entirely Maryland-made menu is prepared to shine just as bright. During the weekend-long summer art-party, celebrate our city as you sample eats from local gems like Ekiben, The Local Oyster, and Connie's Chicken & Waffles, order on-the-go hors d'oeuvres from food trucks including Wild Thyme, The Green Bowl, and B'more Greek Grill, and dig into desserts from sweet shops like Otterbein's Cookies, Miss Twist ice cream, and Go Melvo Snoballs.
DRINK
Wet City, 223 W. Chase St. Fri. 4 p.m.-2 a.m., Sat. 3 p.m.-2 a.m., Sun. 3 p.m.-10 p.m. Free. 443-873-6699.
In two short years, this Mt. Vernon beer bar has transformed from a brew-centric newbie into a cornerstone cocktail spot for not only its neighborhood but the entire city. To celebrate two years of hand-crafted concoctions and custom suds, take a break from the heat of Artscape and cool off with specialty slushies, including a watermelon pisco sour and a rum-based Pain Killer. When you're ready to once again embrace the throngs, fill one of Wet City's plastic growlers with their brand-new double-IPA for easy sipping in the streets.
SEE
Parkway Theater, 5 W. North Ave. Fri. 3-9 p.m., Sat.-Sun. 1-6 p.m. Free.
This weekend's less-than-ideal weather is the perfect excuse to explore the century-old Parkway Theatre and see a wide variety of free films on its historic big screen. On Friday, settle in for the Baltimore Youth Media Showcase, which will present productions from local youth arts and film education programs, and stay longer for the event's feature film presentation of Friday, starring Ice Cube and Chris Tucker (spot the original "Daaamn!" scene that led to the iconic meme). Throughout the rest of the weekend, experience a variety of shorts from this year's Maryland Film Festival, complete with post-screening Q&A sessions with the filmmakers.
HEAR
Locations vary, including Artscape Main Stage, Johns Hopkins University Station North Stage, and the Morgan State University Sound Off Live! Festival Stage. Fri.-Sat. 11 a.m.-9 p.m., Sun. 11 a.m.-8 p.m. Free.
Over the past few years, Artscape's mix of local and national music acts have become as much of a crowd-pleaser as the festival's art fairs and exhibitions. At the Johns Hopkins stage near Station North, hear acts like soul-punk trio F City, hip-hop emcee Eze Jackson, and singer-songwriter Grayson Moon. Over at the Morgan State stage on Mount Royal Avenue, catch New Orleans-style band The Crawdaddies, indie-rockers Super City, and a Sunday night performance by indie-pop duo Outcalls. Biggest of all, the main stage on Cathedral Street will host headliners like iconic '90s R&B group TLC, reggae legends Toots & The Maytals, and rising blues rocker ZZ Ward, as well as local favorites like pop singer Ellen Cherry and The Voice finalist Davon Fleming.
DO
Locations and prices vary. Fri.-Sat. 9-11 p.m.
If three days of all-you-can-experience art just isn't enough, keep the good times going after sundown with after-hours activities all along Charles Street. Let the moonlight fuel your moves at Dance Camp, with its block of family-friendly workshops, impressive performances, and professional competitions; enjoy a pop-up comedy club, complete with stand-up sets, improv lessons, and endless laughs from BIG Baltimore Improv Group; or join Artscape's grooviest festival-goers at the nightly Silent Discos, hosted by the city's most celebrated DJs like Landis Expandis and Trillnatured.