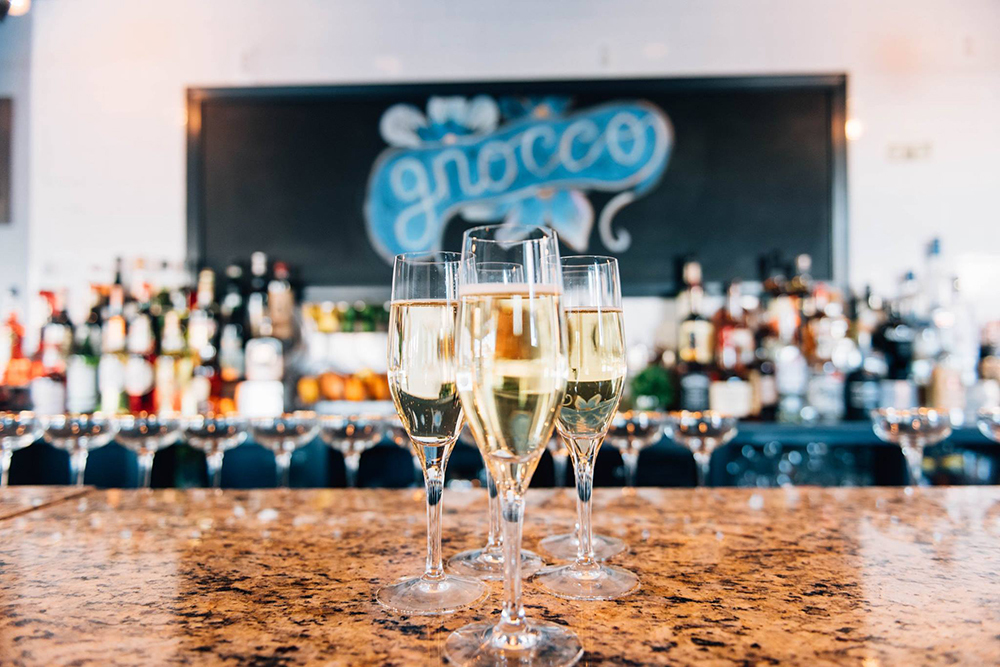 Courtesy of Gnocco
Five things to eat, drink, see, hear, and do with your Charm City weekend.
EAT
Gnocco, 3734 Fleet St. 5-8 p.m. 443-449-6540.
One of the most beloved Italian-American traditions is the Feast of the Seven Fishes, or "Festa Dei Sette Pesci." This Christmas Eve custom is all about two things: family and seafood. This year, Gnocco will serve its first-ever Feast of the Seven Fishes dinner featuring five lavish seafood courses. Start a new Christmas Eve tradition and try the crispy fried eel garnished with lemon and salsa verde, squid ink gnocchi with tomato-braised calamari, and end the meal with whole-grilled Dorado.
DRINK
Blue Pit BBQ & Whiskey Bar, 1601 Union Ave. 9 p.m.-1 a.m. 443-948-5590. Free.
Welcome to the party, pal. The laid-back Hampden hangout will continue its annual tradition of showing the 1980s classic Die Hard on Christmas Eve with plenty of eggnog and whiskey to go around. Catch one of the two viewings (Movie starts at 9 p.m. and again at 11 p.m.) or stay all night for the Chinese food and explosion-filled fun. Pull up a seat, grab a glass of rye whiskey, and get ready to debate why Die Hard is still considered a Christmas movie.
SEE
4:30 p.m. on NFL Network.
After a narrow victory over the Philadelphia Eagles last Sunday, Ravens fans are hoping Santa will check off their wish lists and deliver a win over the Pittsburgh Steelers. The notorious rivals will face off Christmas Day to decide which team will lead the AFC North division into playoff season. If you want to watch the game from your lucky barstool or just need a way to escape from your extended family; don't worry, some of the best Ravens bars like Mother's Grille, Kisling's Tavern, and Abbey Burger Bistro will be open for the game. Whether you're cheering from the couch or knocking back Ravens Bombs at Charles Village Pub, don't miss the rivalry game of the season.
HEAR
The 8×10, 10 East Cross St. 9 p.m.-1:30 a.m. 410-625-2000.
Already sick of listening to Christmas carols? Get "Frosty the Snowman" out of your head and catch Baltimore singer-songwriter Cris Jacobs during the last leg of his two-night show at The 8×10. As part of the club's DEADcember event, Jacobs is bringing his signature blend of sweet and rugged sounds to Friday's sold-out crowd. This is the last chance to hear Jacobs in Baltimore in 2016, so ditch the in-laws and sing along to songs from his latest solo album, "Dust to Gold." If you couldn't score a ticket, Jacobs and Friends will be back at The 8×10 during the first weekend of the new year.
DO
McKeldin Square in the Inner Harbor, East Pratt St. 2-5 p.m. Free.
For the past two weeks, the Esther Ann Menorah has stood in McKeldin Square as part of the Baltimore skyline. The 30-foot menorah symbolizes the idea of spreading light throughout the city, and will be lit as the main event of this year's Chanukah festival. Before heading to the menorah-lighting ceremony at 4:30 p.m., follow the dancing driedels to the Chanukah Wonderland for an olive press show, face painting, and live music starting at 2 p.m. Grab a Chanukah doughnut or a pastrami sandwich from the kosher food truck The Brooklyn Sandwich Co. and enjoy this lively festival at the Inner Harbor.