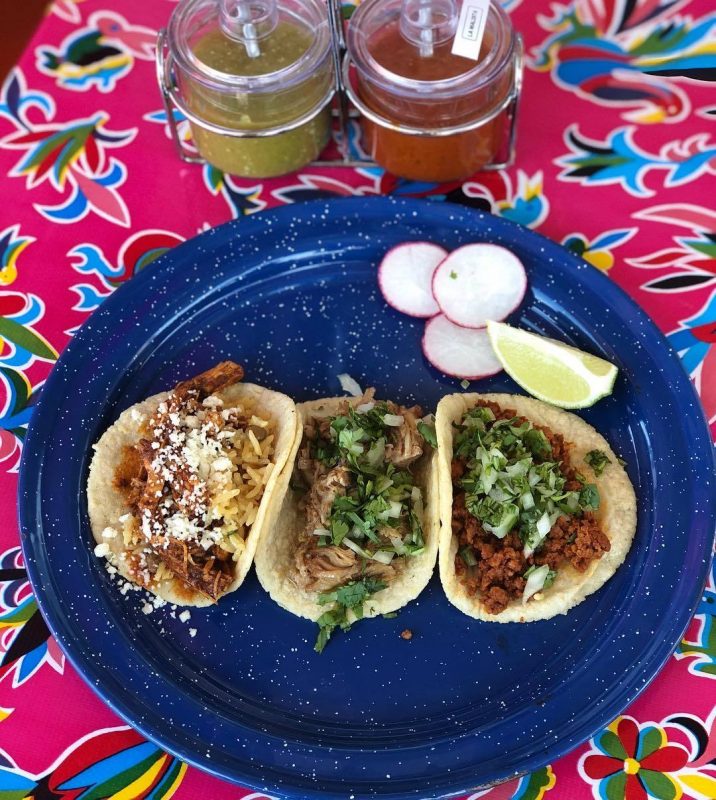 Courtesy of Cocina Luchadoras
EAT
Monument City Brewing Company, 1 N. Haven St. 7-11:30 p.m. Free-$5
Since Rosalyn Vera received an alleged death threat a few weeks ago for hanging an anti-Trump poster inside her Fells Point restaurant, Cocina Luchadoras, she's gotten an outpouring of support from the Baltimore community in the form of explosive sales and record-setting crowds. This Friday, the Mexican street food staple is teaming up with Monument City Brewing Company for this one-of-a-kind carnival featuring dance performances by Naciones Unidas, mask-making crafts, sweets by Full Circle Artisan Palace, and, of course, tons of tacos and tamales. With ticket sales benefitting Sanctuary Streets, a local organization that accompanies immigrant community members to legal proceedings, there's never been a better way to support our inclusive community.
DRINK
Location, times, and prices vary.
After six long years of mid-week hangovers, National Margarita Day finally landed on a Friday and we couldn't be more prepared to celebrate with something strong, on the rocks, with salt. Spend your post-work happy hour at local spots known for their margaritas (think Clavel, Alma Cocina Latina, and Vida Taco Bar) or, if you're feeling brave, grab a mezcalerita and belt out your favorite hit during late-night karaoke at R. House. For a full list of tequila-filled ways to spend National Margarita Day, check out our roundup of specials and events.
SEE
Baltimore Convention Center, 1 W. Pratt St. 10 a.m.-5 p.m. $40-50.
Whether you're visiting this revered makers' festival for an hour or for the entire weekend, the American Craft Show is guaranteed to have something for everyone. The three-day downtown event, which features work by artisans from near and far, hosts wares such as jewelry, ceramics, and furniture at every price point. Be sure to stop by one-of-a-kind booths like Tristan Sopp's, where you can buy DIY folded-paper animals, and Marc Tickle's, which features handmade kaleidoscopes.
HEAR
Creative Alliance, 3134 Eastern Ave. 8 p.m. $25-28.
In celebration of this finger-plucking music genre pioneered by Belgian jazz guitarist Django Reinhardt, gypsy jazz musicians from near and far will take over Creative Alliance for two days of blazing guitar runs and jazz heat during this fourth annual jam fest. Revel in the chance to hear the likes of Ellicott City-based wunderkind Samuel Farthing, local jazz group Ultrafaux, and Philly-based accordionist Dallas Vietty and his group Passarinho.
DO
Union Craft Brewing, 1700 W. 41st St. 12-5 p.m. Free.
To honor Black History Month, Union Craft Brewing will transform the taproom into a full-blown market this Saturday, featuring goods made by some of the city's best black artists, makers, and vendors. In between sets by DJs James Nasty and dagm, browse through vintage clothes, beauty products, and sporting goods from popular local vendors like Keepers Vintage, Power Decals, and This Sporting Life. Be sure to stick around to catch a performance by the Baltimore Go Getters marching band at 4 p.m.