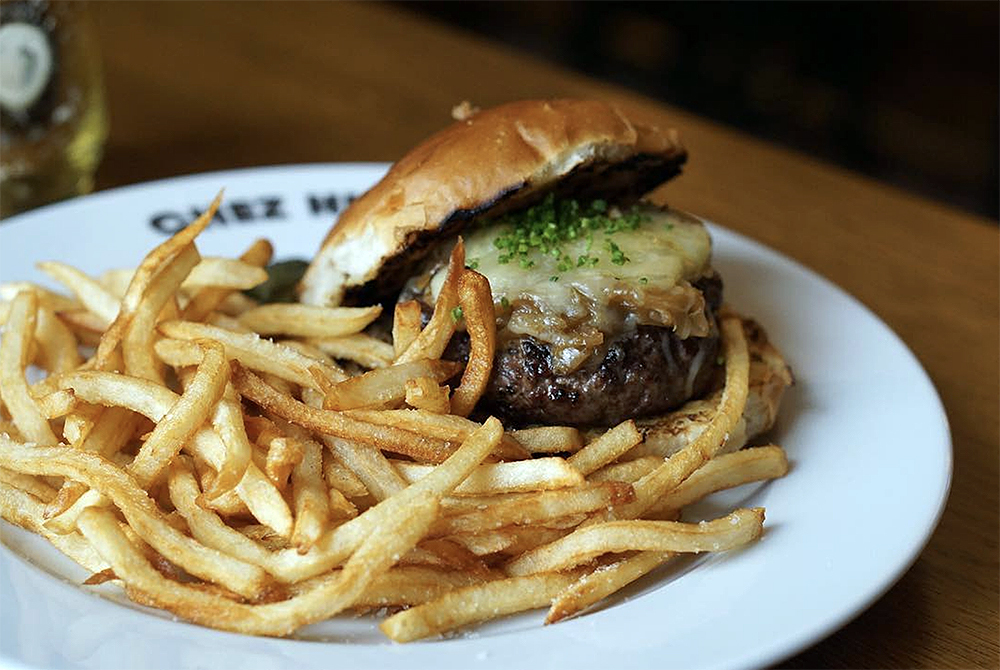 Chez Hugo Bistro
Five things to eat, drink, see, hear, and do with your Charm City weekend.
EAT
Locations and times vary. Brunch and lunch $12-20, dinner $20-35.
On Friday, Baltimore Restaurant Week returns to showcase the very best of Charm City's booming culinary scene for both locals and visitors alike. Whether you're visiting a beloved go-to or a new spot you've been dying to try, taste the city's edible acumen for a fixed-menu price at more than 100 participating restaurants, including rustic Italian stalwart Cinghiale, Middle Eastern sister spot Helmand Kabobi, and French showstopper Chez Hugo. Ditch the kitchen, grab a friend or two, and revel in this 13th annual citywide celebration of Baltimore eats.
DRINK
Swim Club, 2760 Lighthouse Point E. 8-11 p.m. Free.
Third year's a charm for The Bmore Creatives, a local organization dedicated to celebrating and connecting some of Baltimore's best makers, movers, and shakers. Stop by Canton's newly-opened Swim Club to ring in three years of creativity and community at this evening soiree, featuring signature cocktails, eats by the club's companion restaurant Button, and scenic views at the edge of the Baltimore harbor. Luckily, it might not actually rain.
SEE
Druid Hill Park Pool, 800 Wyman Park Dr. Sat.-Sun. 5-6 p.m., 7-8 p.m. $5-10.
This weekend, head to Druid Hill Park to see two types of suspense: gravity-defying water acrobatics and an homage to the master of thrills himself, Alfred Hitchcock. Performance arts group Fluid Movement will honor the iconic director through a synchronized water ballet that combines elegant strokes with references to Hitchcock's gripping themes. If you can't make this weekend's set of shows, don't worry—the avant-garde troupe will perform it again at the Patterson Park Pool next weekend.
HEAR
Merriweather Post Pavilion, 10475 Little Patuxent Pkwy, Columbia. 6:30-9 p.m. $60-130.
Talking Heads frontman David Byrne is bringing his experimental techniques and synth-driven sound to Columbia during this weekend's stop on his nine-month worldwide tour. Hear familiar favorites from his '80s days (we know we're all rooting for "This Must Be The Place") as well as new hits from his revered new solo album, American Utopia. And if you know anything about this energetic performer, you know he and his 12-piece accompanying band will have you dancing in and out of your seats, turning the Merriweather Post Pavilion into its own sort of American utopia.
DO
The Assembly Room, 316 Guilford Ave. 7-10 p.m. $45-250.
Some things just get better with age, and our beloved 289-year-old city is at the top of that list. On Friday night, celebrate Charm City's storied history and bright future with an all-out birthday bash, including an open bar with local libations from Union Craft Brewing, Charm City Meadworks, and The Brewer's Art, as well as themed treats like decadent macarons from Balti'marons, buttery hand pies from Crust by Mack, and fresh goodies from Diablo Donuts. You've never looked better, Baltimore.