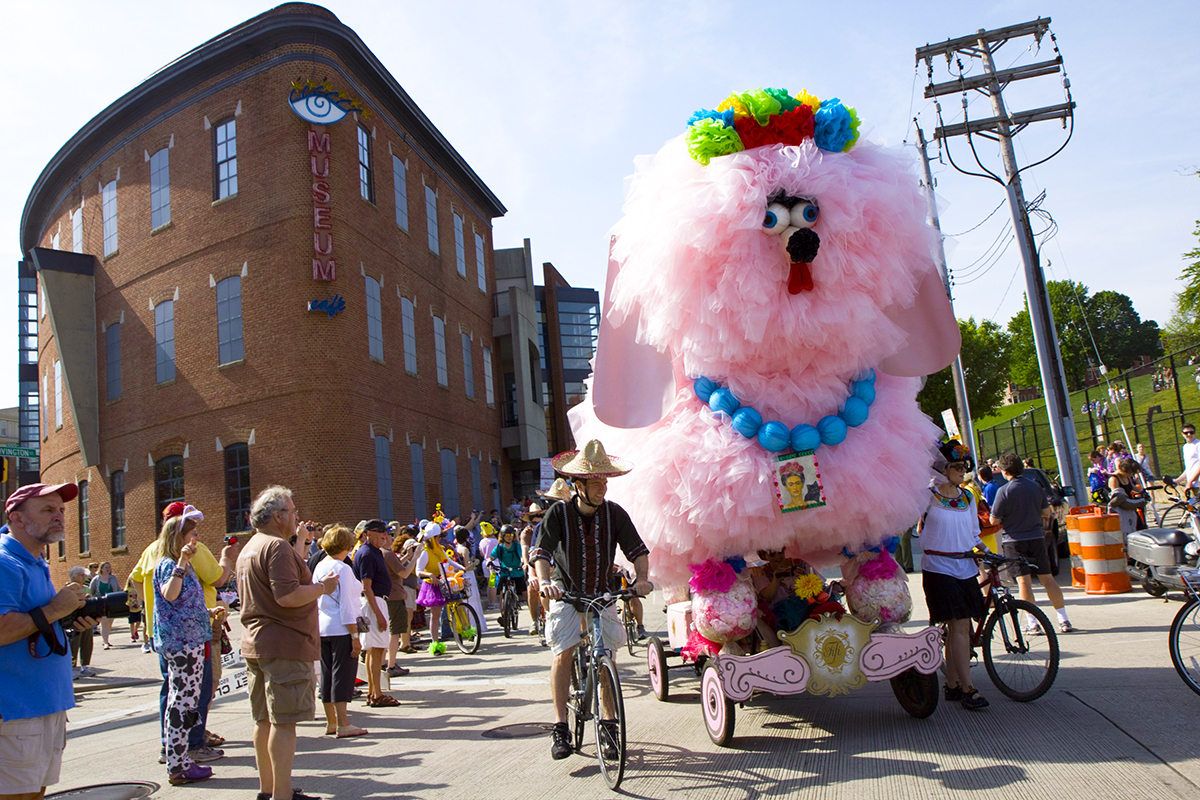 American Visionary Art Museum
EAT
Monument City Brewing Company, 1 N. Haven St. 12-7 p.m. Free.
Before Cocina Luchadores owner Rosalyn Vera opens her Upper Fells Point restaurant for Cinco de Mayo service on Sunday, she'll hop on the popular food truck Wilde Thyme for a one-of-a-kind collaboration between the two female-owned purveyors. Stop by Monument City Brewing to try the duo's drool-worthy menu, featuring homemade sope topped with picadillo and tzatziki, a chipotle falafel bowl, sabih tacos, and corn with tzatziki and queso. Wash it all down with a beer from the Highlandtown brewery or a glass of Jamaican mint agua frescafrom the pop-up, and revel in another great local foodie partnership.
DRINK
Charm City Meadworks, 400 E. Biddle St. 7-11 p.m. Free-$5.
There aren't too many times when the expression "shake your tail-feather" can be taken literally, but this animal-inspired dance party at Charm City Meadworks is certainly an exception. In honor of Baltimore Wildlife Week, channel your inner possum, oyster, or crab, knock back a few dry meads, and dance the night away to support this do-good cause that brings awareness to urban wildlife preservation. If you're feeling confident in your wild get-up, stick around to win the costume contest, and, while it's not up to us, bonus points should go to anyone dressed as a Baltimore oriole.
SEE
Locations vary. 10 a.m.-6 p.m. Free to spectators.
Objects typically written off as junk—think used bicycles and gears—will be front and center during this human-powered and slightly lunatic sculpture race. During this signature citywide event hosted by the American Visionary Art Museum, cheer on your favorite rideable structure as it races around the Inner Harbor and through Patterson Park. Stick around afterward to see which contraptions win outrageous prizes such as the "Grand Mediocre East Coast Champion Award."
HEAR
The Crown, The YNot Lot, The Windup Space. Sat. 4 p.m.-1:45 a.m., Sun. 4 p.m.-12 a.m. $20-40.
If we could design our dream lineup of local acts, it would look pretty damn similar to the schedule for this weekend's inaugural Baltimore Mixtape. Spanning across two days and three Station North venues, this music and arts festival will feature 62 actsfrom a wide variety of genres, with everyone from folk singer Caleb Stine and producer James Nasty to R&B duo Chiffon and hip-hop collective Soul Cannon sharing the bill. Snag a one- or two-day pass to catch as many sets as possible and be sure to stay up to hear headliners like indie quintet Super City, punk band War on Women, and rapper Kotic Couture.
DO
Mt. Vernon Place, 699 Washington Pl. 11 a.m.-8 p.m. Free.
This time-honored Mt. Vernon tradition signals the start of the spring with tons of flowers, extravagant hats, and the festival's signature lemon-peppermint sticks. Spend the weekend browsing through wares by local arts and crafts vendors, area food trucks, and, of course, flower carts that will decorate the neighborhood during this weekend-long family-friendly affair.