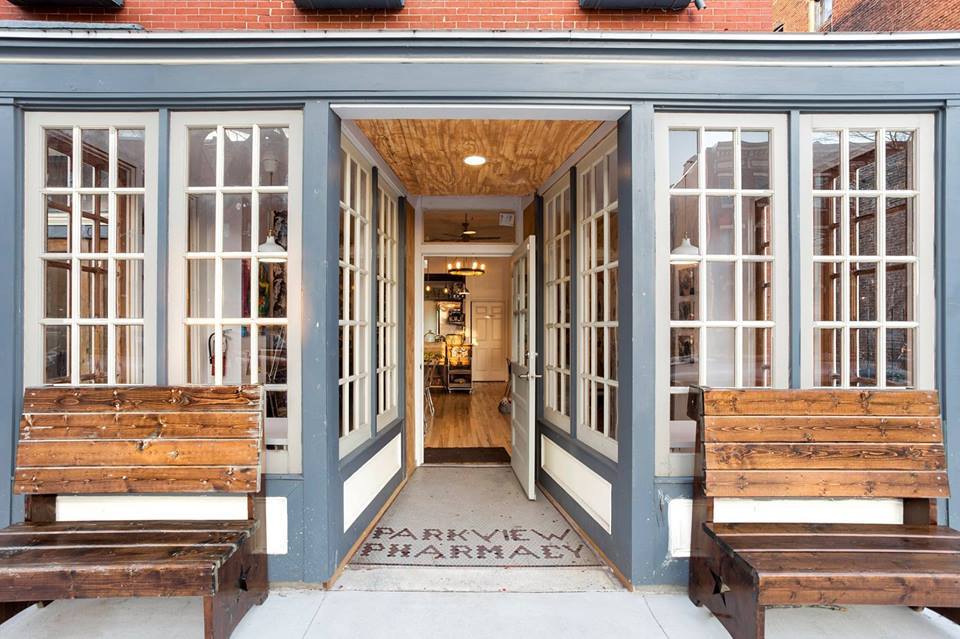 Facebook.
Five things to eat, drink, see, hear, and do with your Charm City weekend.
 EAT
Dovecote Café, 2501 Madison Ave. 4-9 p.m. Free. 443-961-8677.
Nestled in the historically African-American neighborhood of Reservoir Hill, Dovecote Café has become known both locally and nationally (hello, recent Food & Wine feature!) for its mouthwatering baked goods, heavenly cups of coffee, and dedication to supporting the local community—especially Baltimore's younger generation. This Saturday, the café is celebrating its second anniversary with an Afrofuturistic-themed Halloween party featuring Dovecote's homemade eats, candy crafted by Glasshouse Goods, and live entertainment by local DJs Trillnatured and Butch Siggers. Don your best space-age apparel and be one of the first 100 attendants to receive a special thank you gift.

 DRINK
Greek Orthodox Cathedral of the Annunciation, 24 W. Preston St. Fri.-Sat. 11 a.m.-11 p.m. Sun. 12-6 p.m. Free-$10. 410-727-1831.
Forty-six years ago, the Greek Orthodox Cathedral of the Annunciation launched a festival to celebrate their community's Grecian heritage and the greater city of Baltimore. Since then, the party has evolved into an annual go-to event, headlining all things Greek—from traditional food and drink to live music and dances—and this year, the historical church is mixing things up with new attractions. Sip your way through the "Wines of Greece," a vino-tasting program for those who want to experience the Greek isle's more than 6,000 years of winemaking history. For $10, sample five Greek wines along with an assortment of Greek cheeses, olives, and other snacks that will have you yelling Opa! in no time.
 SEE
Patterson Park, Eastern & Linwood Aves. Festival: 3:30 p.m.; Parade: 7 p.m.; After party: 9:30 p.m. Free. 410-276-1651.
Every Halloween weekend, the hills of Patterson Park transform into a chilling spectacle as it becomes illuminated by a procession of spooky lights. But fear not: the glowing objects aren't ghosts or ghouls but rather the little homemade lanterns of the Great Halloween Lantern Parade. For the 16th year, join or ogle the eclectic caravan as local puppeteers, marching bands, and costumed families and friends weave their way through Highlandtown carrying artist-made floats and glowing lanterns in celebration of All Hallow's Eve. Before the dark creeps in, swing by the park for a pre-parade festival where you can imbibe in a beer garden and feast on food truck favorites as your kids compete in a costume contest and hitch a hayride. After you've passed the finish line, hop over to the Creative Alliance for a festive Glow Ball dance party to keep the supernatural festivities going.
 HEAR
Maryland Science Center, 601 Light St. 8 p.m.-1 a.m. $35-70. 410-685-2370.
Leave trick-or-treating to the kiddos—this all-night music and dance party is for adults only. Now in its sixth year, the Maryland Science Center's Halloween bash boasts lots of live, local music across several stages with a costume contest and access to all of the center's exhibitions. Whether you're dressed as a witch, wizard, or mummy, "Thriller" the night away to an impressive lineup. On the main stage, boogie down to the James Brown Dance Party, plus the funky Litz and the feel-good Electric Love Machine. On the rooftop, bump hips with Baltimore's best DJs, featuring James Nasty on the ones and twos, and Rob Macy of Save Your Soul, and at the Charm City Bluegrass tribute stage, get down to the tunes of the Allman Brothers and Rolling Stones. We're personally most excited about the Friends Records stage, where you can celebrate the local indie label with its top talents, like the bombastic Bond St. District, the sultry Blacksage, the fearless Hexgirlfriends, and the highly-anticipated Celebration-Aborteum collab, Rolled Gold. If monster mashing isn't your thing, watch the IMAX 3D movie Wild Ocean with a live soundtrack of spooky synths and eerie bass lines by Deltanine and Pristine. Best of all, proceeds benefit Believe in Music's non-profit education programs. 
 DO
Showroom, The Motor House, 120 W. North Ave. 6 p.m.-1 a.m. 410-637-8300.
If you missed the Game of Thrones pop-up bar in D.C. this summer, don't fret. This Halloweekend, a Star Wars-themed party is coming to a galaxy near you at the brand-new Showroom café and bar at the Motor House in Station North. Grab your lightsabers and show up in your finest Darth Vader or Princess Leia. Channel the force as you dance to electro-grooves and funky beats by DJs Isabejja and Alexander Jorman, plus a special performance by local R&B queen Cas Mackenzie. Don't miss out on the spacey drinks either—for one night only, Showroom's bartender is making Luke's Lightsaber (spicy margarita with Epsolon Tequila, orange liqueur, lime, agave, and habanero shrub), The Dark Side (vodka, grapefruit, fennel, activated charcoal, and soda water), and Ewok Party (whiskey, allspice, lemon, and bitters).