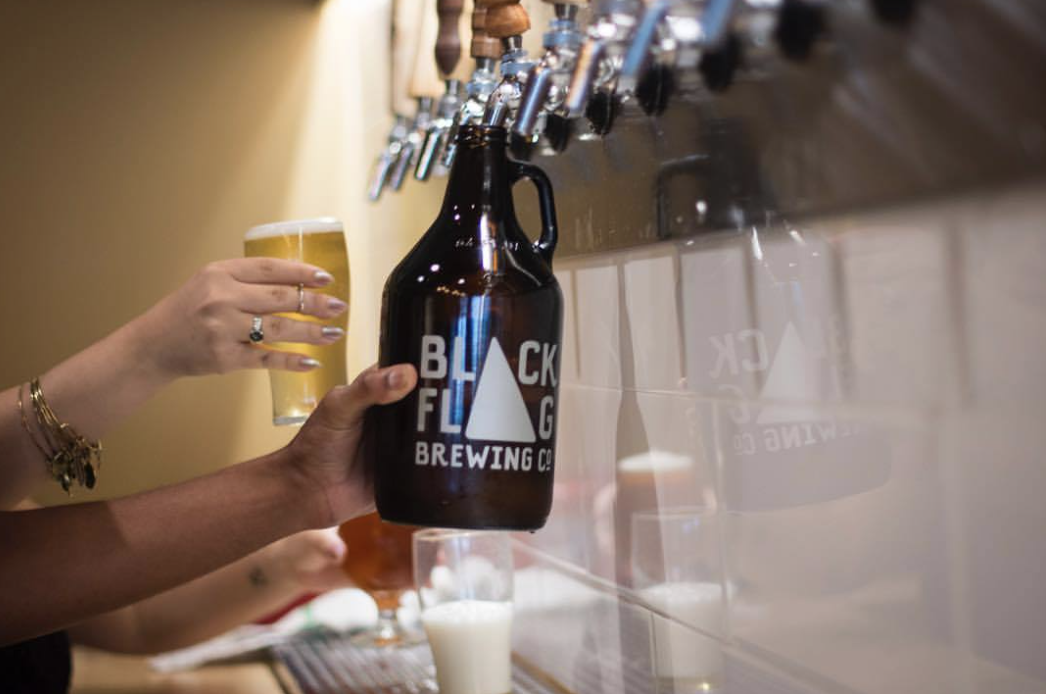 Black Flag Brewing Company
There's no better way to cure a hangover than with an abundance of stuffing and sweet potatoes. Reunite with your hometown crew and start the holiday off right at these Thanksgiving Eve bashes.
Friendsgiving at Black Flag Brewing Company: Head to this Columbia taproom to start the party early if you have off on Thanksgiving Eve. Opening at noon, the brewery will be offering crowler deals, mini pumpkin pies for sale (with an all-you-can-squeeze whipped cream bar), and special jugs of its barrel-aged maple syrup. Plus, Black Flag is using the occasion to release a special fruited sour and its next Garage Banger IPA. 9315 Snowden River Parkway, Ste. C., Columbia, 443-864-5439
Bond Street Social Thanksgiving Eve Bash: Grab a group and reminisce about old times at this Fells Point favorite. The $10 price of admission includes one free drink, live DJ entertainment, and passed hors d'oeuvres from 9 p.m.-12 a.m. 901 S. Bond St., 443-449-6234
The Cornucopia: A Union Pre-Thanksgiving Hangout
Get down to live music by The Cheeky Binders while sipping new beers like the Older Pro red raspberry gose and Summer Somewhere IPA at this Union Craft Brewing bash. Fan-favorite food pop-ups Smoking Bowls and Big Softy will also be on-site to sling ramen and soft-shell crabs. Union Craft Brewing, 5-10 p.m., 410-467-0290
Friendsgiving Fête at The Chasseur: Enjoy discounted drinks and jam to acoustic tunes at this Canton neighborhood spot. All attendees who donate canned goods will be entered into the bar's special holiday raffle. 3328 Foster Ave., 410-327-6984
F-anksgiving Eve at Metro Gallery: Local soul-punk trio F-City is headlining this special show at Metro Gallery to pregame the holiday. Sip Union Craft beers while bobbing your head to other local rockers including Lazlo Lee & The Motherless Children, The Expotentials, and Distinguished Gentlemen. 1700 N. Charles St., 410-244-0899, 8 p.m., $10.
Seeing Sounds: A Pharrell and The Neptunes Dance Party at Ottobar: Get nostalgic and drop it like it's hot at this dance party featuring early-2000s tunes (think Snoop, Beyonce, Jay-Z, Gwen Stefani, Nelly, and Daft Punk) spun by DJ Mills. 2549 N. Howard St., 410-662-0069
Karaoke Party at West Madison Craft Beer and Wine Bar: Down some liquid courage and step up to the mic to belt aloud to familiar jams at this Mt. Vernon wine bar's holiday karaoke bash. 311 W. Madison St., 443-938-9109
Wet City Sour Hours: This Mt. Vernon beer bar is discounting all of its sours by $2 on Thanksgiving Eve. Enjoy sipping from Wet City's largest-ever sour selection—including picks like Sang Noir by Cascade Brewing and the strawberry gose by Adriot Theory—while chowing down on dishes off of a special food pairing menu. 223 W. Chase St., 443-873-6699
Psycho Killers Annual Black Friday Show: Though it's technically happening the day after Thanksgiving, we'd be remiss without mentioning Psycho Killers' annual Black Friday show that doubles as a Toys for Tots fundraiser. This year, the local Talking Heads tribute will share the stage with Richmond-based David Bowie band Life on Mars. Bring an unwrapped gift to be entered into a raffle to win free tickets to all Baltimore Soundstage shows in 2018. Baltimore Soundstage, 124 Market Place, 410-254-0057, 8 p.m., $15