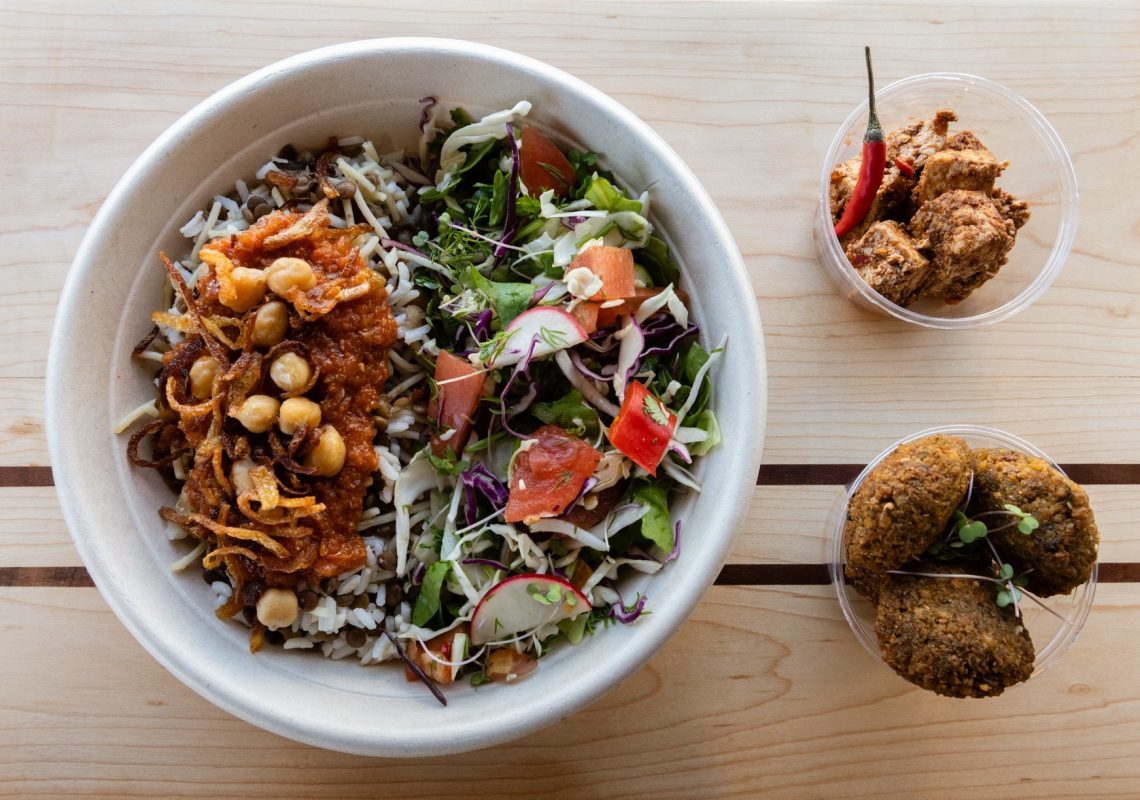 As plant-based restaurants continue to crop up all over the country, it seems as though the philosophy of veganism is advertised everywhere. Abstaining from the use of animal products reduces the pressure on the environment and has many health benefits. Baltimore has never been shy about partaking in the movement, and the second-annual Maryland Vegan Restaurant Week, returning February 7-23 this year, aims to further that mission locally.
Samantha Claassen, co-founder of the event, started her own Vegan Restaurant Week at Golden West Cafe in Hampden back in 2012. A few years later, she met Naijha Wright-Brown, owner of The Land of Kush, who wanted to partner to make it bigger.
"It was kismet," Claassen says. "We thought we could make it city-wide and make it much bigger and broader."
Claassen and Wright-Brown co-founded Maryland Vegan Restaurant Week shortly after, and the partnership has helped many other local restaurants catch on. With the motto, "something for everyone," they want all diners to feel equal. Vegan Week encourages Maryland restaurants to create menus that are more inclusive, expanding their horizons to cater to all food restrictions.
"What goes on your plate is one of the most powerful decisions that you can make," Claasen says. "The modern foodie realizes the power that they have when they make those choices. This echo-effect of positivity has the vegan marketplace continually growing in Baltimore."
The bi-annual Maryland Vegan Restaurant Week, which was the first to go state-wide, returns this weekend with specials at more than 20 eateries. Participating restaurants have been challenged to showcase their most creative plant-based menu items, and this time around, exciting pop-ups will also be happening throughout the week. (Mark your calendar for a brunch at R. House on February 9 and a Valentine's Day bingo night at L'Eau de Vie Organic Brasserie on February 14.) A portion of all profits will be donated to BARCS' mission of helping animals in need.
With plenty of restaurants participating, here are a few recommendations to get you started:
Where to Take Your Vegan Friends
Golden West Cafe: Claasen's Hampden cafe serves cuisine rooted in traditional New Mexican specialties and sourced from local producers. While its traditional menu serves a wide array of vegan, vegetarian, and gluten-free options, the team will be whipping up a vegan-specific menu for Restaurant Week. Diners can indulge in Oreo French toast, a pimento cauliflower sandwich, or the Beyond/Impossible sausage and frites. With so many menu items to choose from, your vegan friends will thank you. 1105 W 36th St.
The Land of Kush: Wright-Brown and her husband, chef Gregory Brown, have brought vegan soul food to Baltimore. Menu staples including meatless BBQ ribs, curry "chickun," and vegan crab cakes are top sellers, and we can't wait to see the new items they put out for the celebration. 840 N. Eutaw St.
Lunch Spots
Miss Shirley's Café: This Charm City hotspot is known for its award-winning breakfast, brunch, and lunch, and it will be serving a vegan-specific menu for the occasion. If you've never eaten vegan before and aren't sure if it's right for you, the lengthy menu makes it easy to transition. Special dishes include avocado toast, gluten-free griddle cakes, a "Be More Beyond Burger," and lemon-poppyseed pancakes. Various locations including 750 E Pratt St.
Sobo Cafe: If you only have time to grab lunch, this Federal Hill mainstay will be featuring options such as rosemary hummus, a grilled vegetable flatbread, and a mushroom Bahn Mi sandwich on special during Vegan Restaurant Week. 6 W Cross St.
Wicked Sisters: To help narrow down the choices, Wicked Sisters in Hampden will be offering a two-course lunch menu for $20, and a three-course dinner menu for $35 throughout Vegan Week. Choose from featured items like quinoa pancakes, the Beyond Vietnamese bowl, and a citrus almond salad. 3845 Falls Rd.
Dairy-Free Dessert
Harmony Bakery: This gluten-free, soy-free, and vegan family business serves customers savory and sweet treats daily. While they have a wide array of breakfast and lunch items, we're a sucker for the sweets. Be sure to try the homemade strawberry pop tarts, the chocolate cake with lavender frosting, or a slice of chocolate turtle cake if you're stopping in for a snack. Harmony also has special orders available for events. 3446 Chestnut Ave.
Vegan Twists
Alma Cocina Latina: With a menu that blends Venezuelan traditions with contemporary interpretations, Alma Cocina Latina has become a dining destination in Canton. While not traditionally vegan or vegetarian, Alma will be participating in the promotion with a special three-course fixed menu offering items such as a squash tartare and avo-chocolate mousse. 2400 Boston St.
Little Havana: While Cuban-inspired cuisine on South Baltimore's waterfront might seem like it shouldn't belong on this list, Little Havana is excited to switch up its menu and showcase how diverse vegan cuisine can be. The restaurant will be featuring vegan appetizers, entrees, and desserts. Be on the lookout for items like arepas and jackfruit carnitas tacos. 1325 Key Highway.
Koshary by Misteka: A traditionally vegan restaurant, Koshary by Misteka serves Egyptian street food which will be expanded to include surprise menu items. Located in Clarksville, Koshary aims to provide economic stability to refugee women and fight hunger. Its #DontEatAlone initiative donates one meal for every three sold, with over 2,600 meals donated by the restaurant thus far. 12250 Clarksville Pike.
Be sure to visit Red Emma's, The GruB Factory, Namaste Donuts, L'Eau de Vie Organic Brasserie, Stem Farm and Kitchen, Sprout Natural Choice, and Gangster Vegan Organics both during the week and after, as each of these restaurants are all vegan all of the time.
Additional restaurants that will be participating in Maryland Vegan Restaurant Week include Hampden spots Paulie Gee's, Treehouse Cafe, and The Charmery. Roland Park Bagels, Charm School Chocolate, and Flight American Fusion are also included.