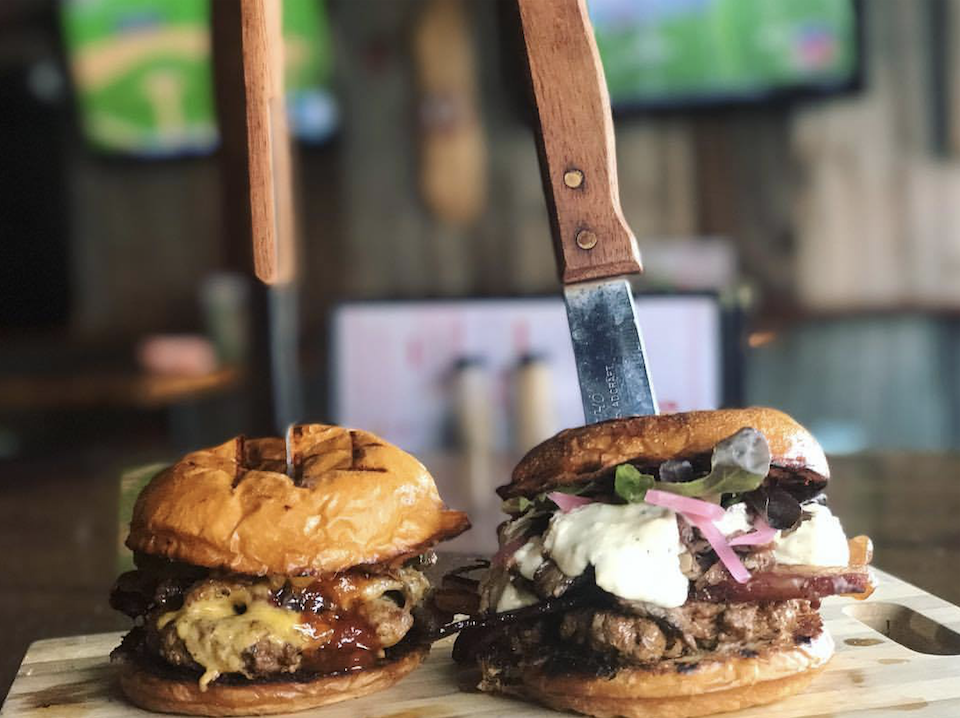 Courtesy of 101 Deli Bar
OPEN
101 Deli Bar: The team behind Federal Hill hotspots Banditos Bar & Kitchen and Wayward Smokehouse expanded their presence on South Charles Street last week with this modern deli concept. Boasting touches like turquoise tile and walls lined with interior greenery, the trendy spot specializes in craft cocktails, worldly wines, local beer, and a menu of comfort foods. Be on the lookout for eats including mortadella sliders, double-stacked burgers, jalapeño-smoked wings, and hand-spun milkshakes. 1118 S. Charles St.
Charm Kitty: Charm City's first feline-friendly cafe opened its doors in Hampden's Whitehall Mill last week. Inspired by cat cafes all over the world—the first opened in Taiwan in the late '90s, and they've become all the rage ever since—the hangout serves as a spot to unwind among adoptable cats. Aside from being a co-working space for students to study while enjoying local coffee and cookies, the gathering place will also be used for community events such as cat yoga and movie nights. (Cat In the Hat, anyone?) Admission to the reservation-based cafe ranges from $10-20. 3300 Clipper Mill Rd.
Georgia Grace Cafe: Ellicott City recently welcomed this new Greek gem to Main Street. Of course, the eatery offers the classics (think spanakopita, souvlaki, and baklava), as well as creative breakfast fare such as omelettes and crepes. In addition to all of the dishes, the cafe highlights cappuccino, espresso drinks, and breads sourced from nearby bakeshop The Breadery. 8006 Main St., Ellicott City, 410-988-8052
Showroom: Station North arts hub Motor House celebrates the grand opening of its new eatery and performance venue on Friday, Oct. 6. Named after its roots as a former Ford automobile showroom, the 2,800-square-foot cafe features an international menu—dishes include everything from Texas brisket to Peruvian chicken—helmed by local chef Daniel Horwitz. In keeping with Motor House's mission, the space features its own stage, DJ booth, and walls lined with local artwork. 120 W. North Ave., 410-637-8300
COMING SOON
Zinburger: If you're interested in learning about wine-and-burger pairings, this new Hanover eatery has got you covered. Zinburger is slated to debut in the dining pavilion at Arundel Mills Mall on October 17, focusing on craft burgers and international vino varieties ranging from pinot to Petite Verdot. Menu highlights include turkey burgers, bunless options, and the chain's signature patty topped with Zinfandel-braised onions. 7000 Arundel Mills Circle, Hanover.,
PIZZA PRESS
Charm City Pizza: Opening on Oct. 24, this new pizza palace will join the likes of Aggio and Leinenkugel's Beer Garden at Power Plant Live. Taking over the former home of Joe Squared—which now operates solely in Station North—Charm City Pizza will feature hometown spins including crab-artichoke pizzas and salads topped with Old Bay croutons. In keeping with the theme, the spot will also boast Baltimore-inspired décor and servers decked out in local Route One Apparel. 34 Market Pl.
Homeslyce: This local pizza chain is growing its presence in the Baltimore area and beyond. The shop, known for its signature boat-shaped "slices" that resemble Turkish pides, is expected to debut a new location in the Foggy Bottom neighborhood of Washington, D.C. by the end of October. Later this year, the eatery will open its fifth Charm City spot in the former PJ's Pub space in Charles Village. Though PJ's was a longtime favorite of Johns Hopkins students and alumni, Homeslyce owner Haluk Kantar is confident that his concept will catch on with locals. "Nobody can fill [PJ's] shoes," he recently told us. "But we're going to do whatever we can to fit in with Hopkins' master plan for the community." 3333 N. Charles St., 410-243-8844
Molina Pizze & Polpette: Featuring everything from arepas and falafel sandwiches to poke bowls and bibimbap, R. House has something to please seemingly every palate. But one item that Remington's communal food hall has yet to offer is pizza. That will change in the coming weeks, as the market welcomes Molina Pizze & Polpette. The New Haven-inspired pizzeria and meatball shop comes courtesy of J.J. Reidy and Christian De Paco of local farming collective Urban Pastoral. In collaboration with chef Melanie Molinaro—who runs Stall 11 at the market—the duo has crafted a menu that features Neapolitan pizzas including the "Parma" (parmigiano reggiano, prosciutto, and local arugula) and "The Terra," topped with lemon-sunflower seed pesto, crispy kale, cashew ricotta, and roasted squash.  301 W. 29th St. 443-681-1907
EPICUREAN EVENTS
10/7: Azumi at Baltimore Reads

In an effort to improve childhood literacy rates, City Councilman Zeke Cohen is bringing together local businesses, community groups, and nonprofits at Patterson Park this Saturday for an afternoon of reading to our city's youth. Executive chef Andy Gaynor of Azumi in Harbor East will also be getting in on the fun, teaching a kid-friendly sushi class at the event. Gaynor will be on-hand to help tykes craft their own rolls made out of ingredients like cereal treats, Swedish Fish, and fruit roll ups. Patterson Park Pavilion 2, 10 a.m.-1 p.m., free.
10/8: The Smoke Show

Mark your calendar for this epic barbecue collaboration between chefs Chad Gauss of The Food Market in Hampden and Josh White of Cockeysville 'cue joint Smoke. The tailgate-style event will feature a menu that fuses the styles of both restaurants, with eats including potato soup with smoked Gouda croutons, pastrami sandwiches with beer cheese fondue, smoked carrots, Korean barbecue ribs, and smoked pumpkin s'mores. There will also be a live DJ, photo booth, screens for viewing the Ravens game, and plenty of local libations to wash down all of the bites. Whitehall Mill, 3300 Clipper Mill Road, 3 p.m., $55
10/11: Joint Venture Pop-Up at Parts & Labor
New York City chef Danny Newberg, formerly of hotspots Estela and Momofuku, is bringing back his trendy pop-up Joint Venture next week. After a successful dinner series at Artifact Coffee and Parts & Labor last year, Newburg is returning to the Remington meat Mecca to host an all-out barbecue. Offerings will include fried fish sandwiches, rockfish collars, ceviche, and special wine slushies. 2600 N. Howard St., 6 p.m., a la carte pricing.
10/16: A Night with David Tanis
Celebrated chef and food author David Tanis is stopping by sister-spots Bird in Hand and Woodberry Kitchen to promote his new cookbook David Tanis Market Cooking: Recipes and Revelations, Ingredient by Ingredient. Guests are invited to enjoy a casual signing at Bird in Hand, followed by an intimate supper and talk with Tanis at Woodberry Kitchen. Bird in Hand, 11 E. 33rd St., 6p.m., free & Woodberry Kitchen, 2010 Clipper Park Road, 8 p.m., $75.
SEASONAL SPECIALTIES
Haenyo at PekoPeko Ramen: Local industry veterans Collin Morstein and Irvin Seo debuted this Korean street food pop-up a few months ago at Holy Crepe Cafe in Canton, and have been making their mark all over the city ever since. To mark the turn in temps this month, the guys are turning PekoPeko Ramen in Charles Village into a traditional Korean Stewhouse. Every Monday throughout October, warm up with dishes like seolleontang (white beef stew), miyeok-guk (seaweed stew), sundubu-jjigae (soft tofu stew) and beoseot-tang (local mushroom stew). 7 E. 33rd St., 5-10 p.m.,
Minnow: This new South Baltimore spot recently rolled out weekend brunch. Every Saturday and Sunday from 11 a.m. to 2 p.m., Minnow will serve plates including fried chicken and blue corn waffles, dry-aged burgers on squid-ink buns, and a Spanish omelet with potato, egg, nutmeg, and lemon aioli. Drink selections will also be plentiful, with seasonal options including pumpkin lattes and chocolate peanut butter cold-brew coffees. 2 E. Wells St., 443-759-6537
SHUT (FOR NOW)
b A Bolton Hill Bistro: Last week, the management team behind this beloved Bolton Hill spot took to Facebook to announce some major changes in the works. "B is temporarily closed while we reorganize to develop a new concept for our valued guests," the post reads. Although there's no word yet on the new concept, we're excited to see what's next for the restaurant owned by the Karzai family—which also operates city spots The Helmand, Helmand Kabobi, Tapas Teatro, and Pen & Quill. 1501 Bolton St., 410-383-8600