Seafood Spectacular: Fish
Here are some special spots to get your fish fix.
SECTION 3: FISH
Whether it's Mediterranean bronzino from The Black Olive, pictured, local catfish, or Australian barramundi, fish is a fantastic and flavorful source of fuel for our bodies. Catch it while you can.
Whether we're craving Chesapeake rockfish or Dover sole, sweet swimmers come in many forms on Maryland menus—from fried IN BATTER to grilled nearly naked with lemon and olive oil. Here are some special spots to get your fish fix.
The Black Olive
FELLS POINT
The formula is simple enough: Take a beautiful piece of fish, brush on olive oil combined with lemon, herbs, and sea salt, then grill it over a charcoal fire. That magic mating is what keeps us coming back to this white-washed Greek taverna, where the freshest specimens are delivered daily—among them whole dorade, bronzino, and a heavenly Dover sole—all expertly prepared (read: less is more) to show off their moist, sweet flesh. 814 S. Bond St., 410-276-7141
Bluestone
TIMONIUM
While some spots make a mockery of local or sustainable sourcing, the folks at Bluestone offer full transparency when it comes to their seafood selection. On a recent outing, our perky waitress eagerly ran through her server's spiel, but the well-written menu told us all that we needed to know: Walleye is a menu highlight due to "phenomenal" fishing in the Great Lakes, the Chilean sea bass carries the official sustainable seafood stamp, and the Atlantic salmon has been raised "via aquaculture in efforts to enhance the population." You can't miss with any of the fish dishes here, but eating with a clear conscience only adds to our fish bliss. 11 W. Aylesbury Rd., Timonium, 410-561-1100
The Oceanaire Seafood Room
HARBOR EAST
With its expansive lineup, à la carte offerings, and menu-add-ons (think pimp my fish) such as jumbo-lump crab imperial or blue-cheese butter and caramelized onions, this high-end Harbor East seafood chain has a big-steakhouse feel, which is no coincidence, given that the Landry's restaurant group also owns Morton's The Steakhouse. The novella-length menu includes a Alaska—though you might need to pick up some overtime hours to afford eating here. (A grilled piece of Florida yellowfin tuna served with crab Oscar, and without sides, for instance, sets you back $54.) Even so, if you want a splashy special-occasion spot recalling a 1940s ocean liner, this is definitely the place. 801 Aliceanna St., 443-872-0000
Ouzo Bay
HARBOR EAST
Dining out should feel different than the same old, same old of sitting at your own kitchen table, which is why we love the pomp and circumstance of a trip to the seafood display at this Greek-chic fish palace. Follow your server to the ice bed (more like a fish throne adorned in orchids and seaweed) and learn about the origin and flavor profiles of the products. Simply point to the Mediterranean sea bass, the wild-caught Dover sole, or the Hawaiian yellowtail, and when your charcoal-grilled fish arrives—lacquered in lemon oil, and capped with capers—know that this is what consistent excellence and hospitality are all about. 1000 Lancaster St., 443-708-5818
Wit & Wisdom
HARBOR EAST
Executive chef Zack Mills knows that when fish is at its freshest—be it Chesapeake rockfish or trout from just down the Carolina coast—it needs little else than a spritz of citrus, a touch of salt, and a pinch of pepper. At this Michael Mina-owned spot, sweet swimmers get a kiss of butter, a coating of oil to crisp the skin, then are wood-grilled and served with a side of kushari, grilled lemon, and squid-ink tomato purée offering a briny salute to the sea. Bottom line? We're hooked. 200 International Dr., 410-576-5800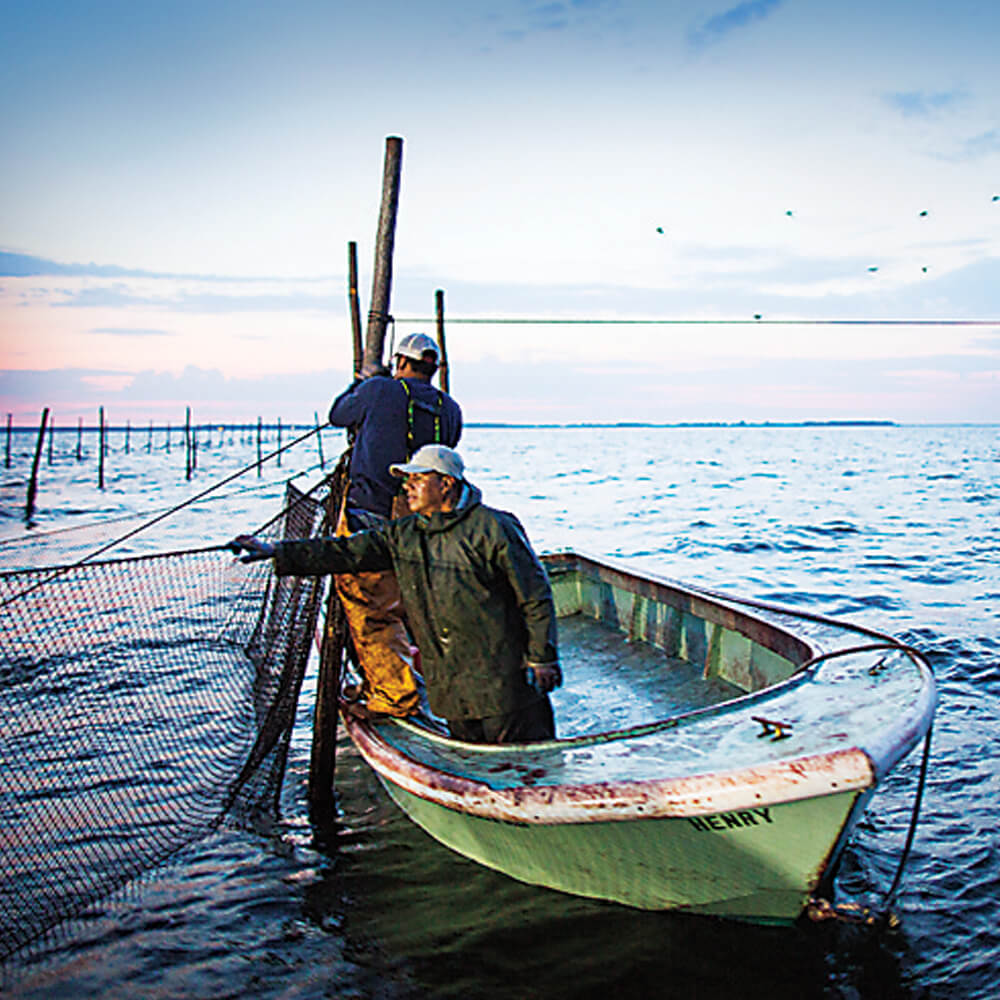 The Fisherman
By Jane Marion
It's 6:30 in the morning as Larry "Boo" Powley makes his way down the Honga River aboard the Amy, the fishing boat named for his youngest of three. As he has for the better part of his 62 years, Powley, above, left, eases his way down the river at 25 knots toward the middle of the Chesapeake to collect his catch. "When I get home, my wife tells me I stink," says Powley, whose tidewater accent carries the cadences of the colonists who settled here. "I tell her, ʻI'd better stink.' When I stink that means business is good."
Talk to any waterman and he'll tell you that making money has gotten harder every year. While the state continues conservation efforts along the bay, the rules and regulations have made it difficult for lifers like Powley, a fourth-generation Dorchester County waterman, to make a living. "My dad tried to discourage me from becoming one because he saw it coming," Powley says. "I don't want to catch everything, but you have to give me something I can live with."
On this early April morning, as the wind whispers through a stand of pines, Powley and his crew set out for pound-net fishing. His setup is highly effective: Wooden stakes are pushed 7 feet down to the bay's floor and spaced apart in a line that runs across the tide. Then nets are strung between the stakes and along the bottom of the river to form a trap. "It's incredibly hard work," says Powley. "There's always nets and poles to repair, and, in July, I have to haul out my nets and coat them with copper, which costs $1,900 a barrel, to keep them from fouling. I've lost nets that cost $25,000 to storms."
Powley's main catch is menhaden bait fish (commonly eaten by rockfish and crabs), which he sells to Russell Hall, a Hoopers Island processing plant that ships to commercial fishermen throughout the country. As Powley steers toward his nets, his crew jumps on the skiff rigged to the stern, and catches fish in a bailing basket swinging from Amy's mast and boom. The fish are amassed, then spilled from the bottom of the basket into the hull of the boat. Standing knee-deep in fish, several hours in, Powley kisses a croaker fish, and then throws it back in the bay to comply with spawning-season regulations. "If you want to live around here, you have to work on the water," says Powley. "I've done it all. A real waterman will do whatever it takes to make a living."
Seemingly, today was a windfall. The hull is three-feet deep in fish—20,000 pounds of menhaden in all—but Powley has to be careful to keep track of quotas and has had to lease shares from other fisherman if he wants to sell the whole catch. Powley sighs and says he has grown tired of the politics of his profession. "You go to Annapolis and look down on the floor at the State House and you see a waterman and a farmer on the state seal," he says, as he charts the boat toward Russell Hall to hawk his haul. "You've got me on the state seal, and now you're forgetting all about me. What else am I going to do for a living—drive to Cambridge and say, 'Welcome to Walmart?' This isn't just a business, it's my heritage."
IN THE DRINK
Lemon Spice Margarita
—Dooby's
For the lazy days of summer, Dooby's former head bartender Chelsea Gregoire says a margarita is ideal for imbibing. "Whether fish is fried, grilled, seared, or in tacos, go for citrus and base spirits that lend well to the protein and vitamins we receive from it," she says.
2 ounces Espolón
Blanco tequila 
.75 ounces Bénédictine liqueur
.75 ounces fresh lemon juice
.5 ounces Korean green plum syrup
2 dashes of orange bitters
Add ingredients to shaker with ice. Shake vigorously for 10 seconds. Strain into a glass filled with ice or keep it neat, but a salt rim is a definite must. Garnish with a slice of jalapeño.
Bluefish Baked with Tomatoes and Capers
This take on Provençal sauce goes well with the strong flavors of this oily fish. "Bluefish is phenomenal when it's grilled or sautéed," Shields says. "It needs a hearty sauce to go with it."
INGREDIENTS
1/4 cup olive oil
1 onion, diced
2 stalks celery, diced
2 tablespoons chopped garlic
1/4 cup chopped green onions
1/2 pound tomatoes, peeled and chopped, with juice (about 3 cups)
1 cup dry white wine
3 tablespoons capers, drained and coarsely chopped
1/2 teaspoon dried thyme leaves
1 bay leaf
Juice of 1 lemon
Salt and freshly ground black pepper, to taste
4 bluefish fillets (6 to 7 ounces each)
DIRECTIONS
Preheat oven to 375˚F. Heat oil in a heavy pot and sauté onion, celery, garlic, and green onions until limp. Add tomatoes, wine, capers, thyme, bay leaf, and lemon juice. Simmer for 45 minutes. Season with salt and pepper. Spread half the sauce in the bottom of a 13 x 9 x 2-inch glass baking dish. Arrange and lay fillets on top. Spoon remaining sauce over the fish. Butter one side of a sheet of wax paper large enough to cover dish. Cover dish with wax paper, buttered side down. Bake for 20 to 30 minutes, or until fish flakes at the touch of a fork. Remove fillets to a heated platter. Discard bay leaf and spoon sauce over fish. Serves 4.
Rookie Move
"Trying to fillet a fish with the scales still on it is the biggest rookie move you can make. It destroys the skin and ruins the fillet."
—Julian Marucci, executive chef at Cinghiale/Pazo
Fish out of Water
Ever consider what it takes for fish to go from dock to dish? We checked in with Anthony D'Angelo at Philadelphia's seafood supplier Samuels and Son, which supplies Ouzo Bay with fish from around the world. Here's a typical scenario for a golden snapper, which travels 9,665 miles from New Zealand to Baltimore. It's a race to the plate.