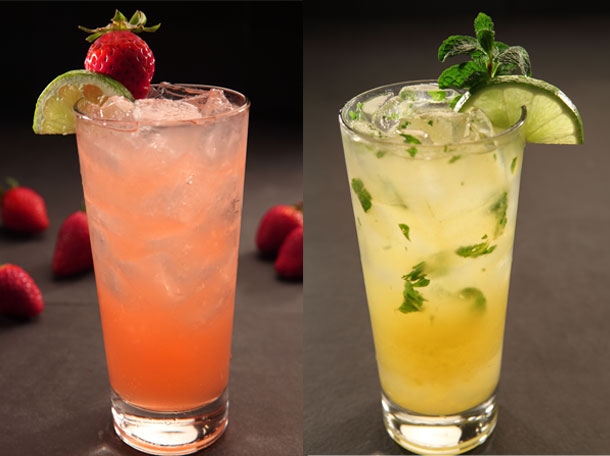 Courtesy of RA Sushi
On Tuesday night I attended a media dinner at RA Sushi, which was promoting its new food dishes and cocktails. Most of the food we sampled was a welcome addition, especially the deceivingly spicy shishito peppers and the refreshing pacific roll (albacore, cilantro, jalapeño, and cucumber rolled with avocado and mango salsa).
But, what really caught my attention were some of the new cocktails on the menu. I love how sushi restaurants around town get creative with their drink lists—adding Asian twists and unique flavors. RA is a great example. The other night, I sampled the ginger blossom, pictured left, a fun take on a typical gin drink. The drink is made with Hendrick's, St. Germain, muddled strawberry, grapefruit juice, lime juice, and a splash of ginger ale. The flavor combination was tangy and spicy, a good compliment to any sushi dinner.
Another drink I tried was the delicious dragon bite (Bacardi Dragonberry, strawberry purée, lemon juice, yuzu, and a splash of soda). This drink had a very tart taste—likely from the yuzu, a Japanese citrus fruit—with sweet undertones provided by the strawberry flavors in the rum. This was a deliciously well-balanced, light cocktail.
There are tons of other creative cocktails at sushi restaurants around town. Another good example is Tatu, the funky Asian restaurant in Power Plant. They have a couple of fun drinks, including the Asian pear martini, with Asian sake, pear vodka, and apple juice. They also have sake sangria, which is muddled with lychee fruit and tangerines—a refreshingly mild twist on traditional sake.
RA also boasts an extensive sake list, so I'm hoping to do some rice wine sampling soon!