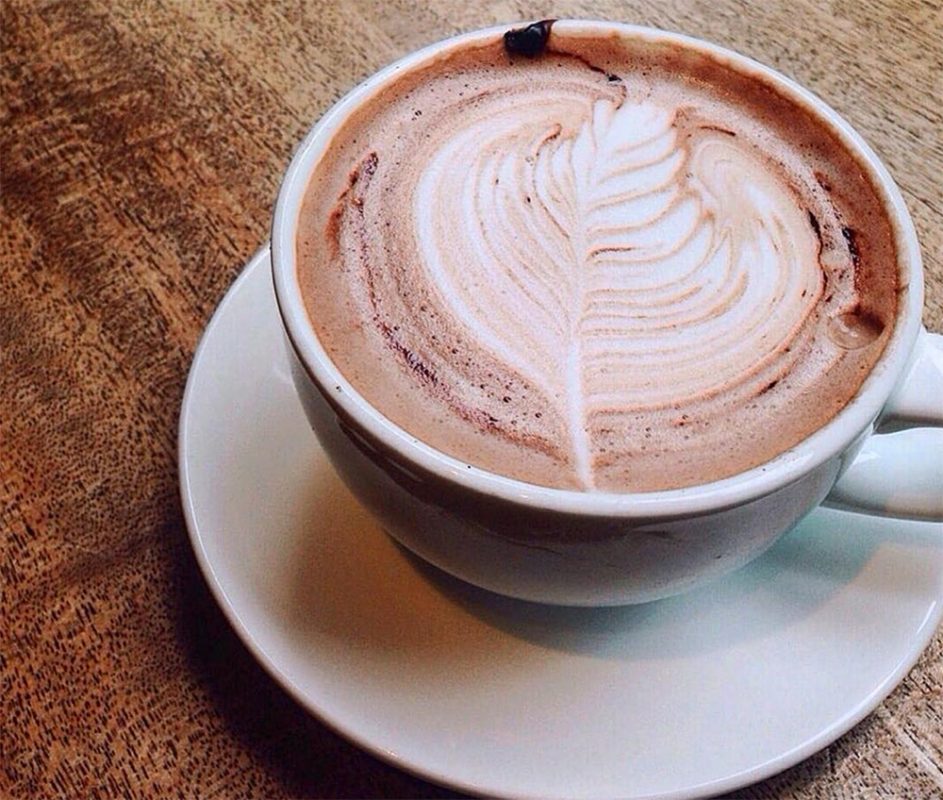 Courtesy of @pitangogelato via Instagram
It's no secret that the chemicals in chocolate are known to boost your mood, and there's nothing quite like a mug full of piping hot cocoa to help forget all of those winter woes. This season, plenty of area eateries are getting creative by putting their own unique spins on the classic cold-weather treat.
"It's something everyone has a connection to," says pastry chef Sarah Malphrus, who has worked at local spots including Rye Street Tavern and The Ivy Hotel. She remembers making batches of hot chocolate and spiced cider with her family as a child. "You can never have just one cup."
Plenty of spots around town are highlighting decadent hot chocolate recipes this season. Here, we've compiled a list of some of the top steamy sips:
The Charmery: Especially this time of year, when crowds flock to see the 34th Street Lights in Hampden, a visit to this neighborhood creamery is in order. If you're one of the naysayers who thinks it's too cold for ice cream, indulge in a cup of The Charmery's thick, creamy hot chocolate topped with whipped cream and a hunk of house-made marshmallow. Multiple locations including 801 W. 36th St. 410-814-0493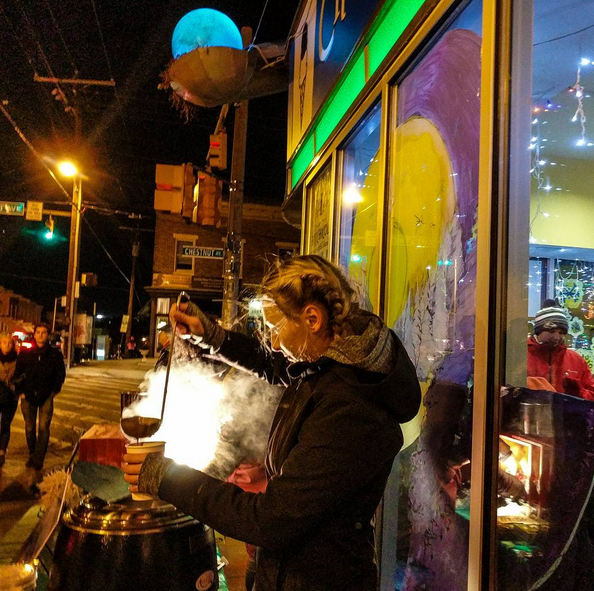 The Bun Shop: This late-night coffee corner is a favorite of neighborhood locals and college students alike, with a menu full of worldly beverages, signature buns, and tasty European pastries. Not only does The Bun Shop have a killer classic hot cocoa, but it's been known to also feature a "spicy" hot chocolate amped up with cinnamon and chili spices. Multiple locations including 239 W. Read St., 410-989-2033
Dooby's: Warm up with a 12 or 16-oz. cup of hot chocolate at this Mt. Vernon mainstay. While you're at it, grab one of the shop's signature cookies, muffins, scones, or cake slices to start the day off right. 802 N. Charles St., 410-609-3162
Miss Shirley's Café: Just in time for the dropping temperatures, Miss Shirley's is warming diners up with it's piping hot chocolate topped with a swirl of house-made whipped cream. Don't miss other seasonal specials including the peppermint hot cocoa pancakes— garnished with a dollop of peppermint-infused whipped cream and a mini candy cane for good measure. Multiple locations including 750 E. Pratt St., 410-528-5273
Pitango Gelato: Take your taste buds on a journey to the Italian Alps by way of Fells Point at this neighborhood gelato spot that offers an entire menu full of European hot chocolate drinks during the colder months. Head to the mint green awning to enjoy specialties such as Hot Italian Sipping Chocolate (premium cocoa brewed with milk and sugar), Marrochino (equal parts sipping chocolate and espresso) and Chocolate Affogato—a scoop of any flavor gelato drowning in Pitango's signature sipping chocolate. 802 S. Broadway, 410-236-0741
Pure Chocolate by Jinji: Gourmet chocolate purveyor Jinji Fraser highlights a sophisticated sipping chocolate during the holiday season. Swing by her stall in Belvedere Square Market to sip small pours of the dairy and gluten-free drink, which features raw Ecuadorean chocolate. 529 E. Belvedere Ave., 410-394-9901
Stone Mill Bakery: Alongside the plethora of pastries and scones on the morning menu at this Green Spring Station stalwart is a variety of warm beverages including mocha, Americano, and café au lait coffees. The list also showcases a rich hot chocolate using Valrhona cocoa powder sourced from the village of Tain L'Hermitage in the south of France. 10751 Falls Road, Lutherville, 410-821-1358
Teavolve: While checking things off of your holiday shopping list in Harbor East, be sure to swing by this staple cafe for the "Chocoholics Choice." The rich drink will warm your soul with Belgian-style semi-sweet cocoa powder and a requisite dollop of whipped cream. 1401 Aliceanna St.