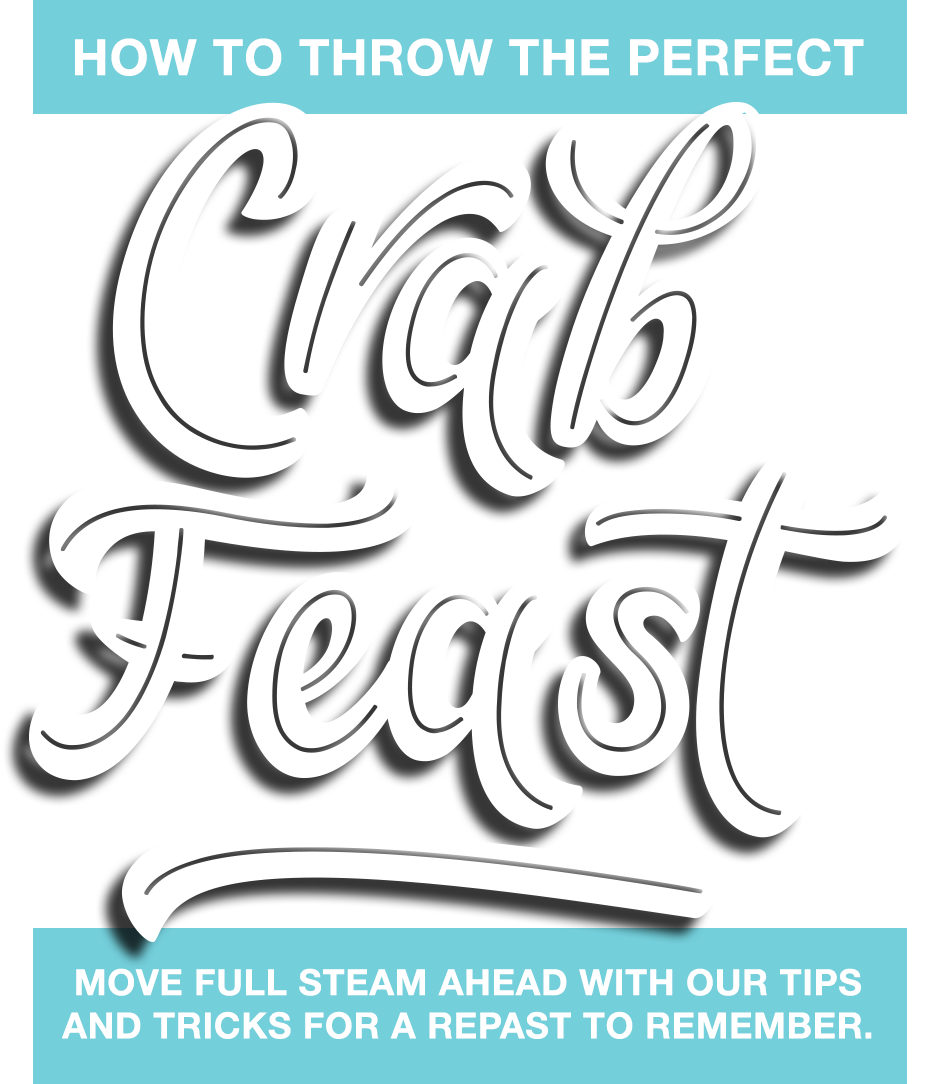 Food & Drink
How to Throw the Perfect Crab Feast
Move full steam ahead with our tips and tricks for a repast to remember.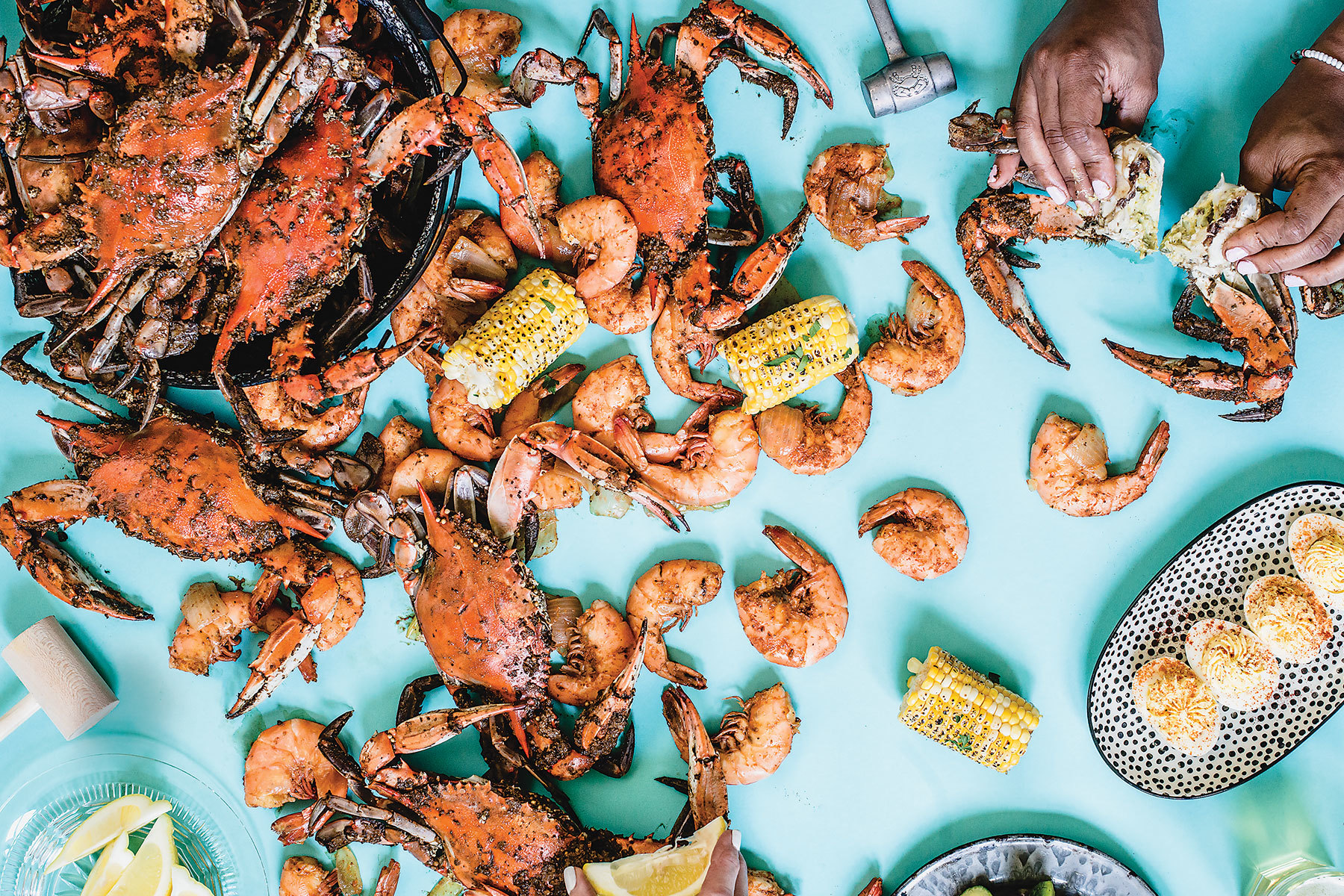 There are meals—and then there are feasts. What's the difference? Think of a feast as one for the ages: Jesus' Last Supper, King Midas' funeral banquet (during which each guest purportedly drank at least a gallon of wine and mead), or Dr. Seuss' festive Who-ville Who-roast-beast feast. While a meal is what you eat when you need sustenance, a feast entails gluttonous excess, with food—and drink—freely flowing and hordes of hungry guests in attendance. A meal is eaten; a feast is devoured. A meal is a pause in the day; a feast is the day. You get the idea. In Maryland, feasts typically center around our state treasure, the blue crab. Picking steamed crabs, especially at the height of the season during peak warm-weather months, is always cause for celebration.
While not a lot is known about the region's early crab feasts, we do know that the loosening of Maryland's mores—and society becoming less proper in general—had something to do with it. In an era of crab imperial and oysters Rockefeller, for certain segments of society, digging your own mitts into a pile of seafood just wasn't "proper" etiquette. "The first time we find the term 'crab feast' in a historical newspaper is at the turn of the last century, when more informal behavior becomes acceptable in public," says author/historian Kate Livie, an expert on the food and folkways of the Chesapeake region. "Picking crabs was something lower-class people did, but crab feasts were not something you ever saw in formal environments."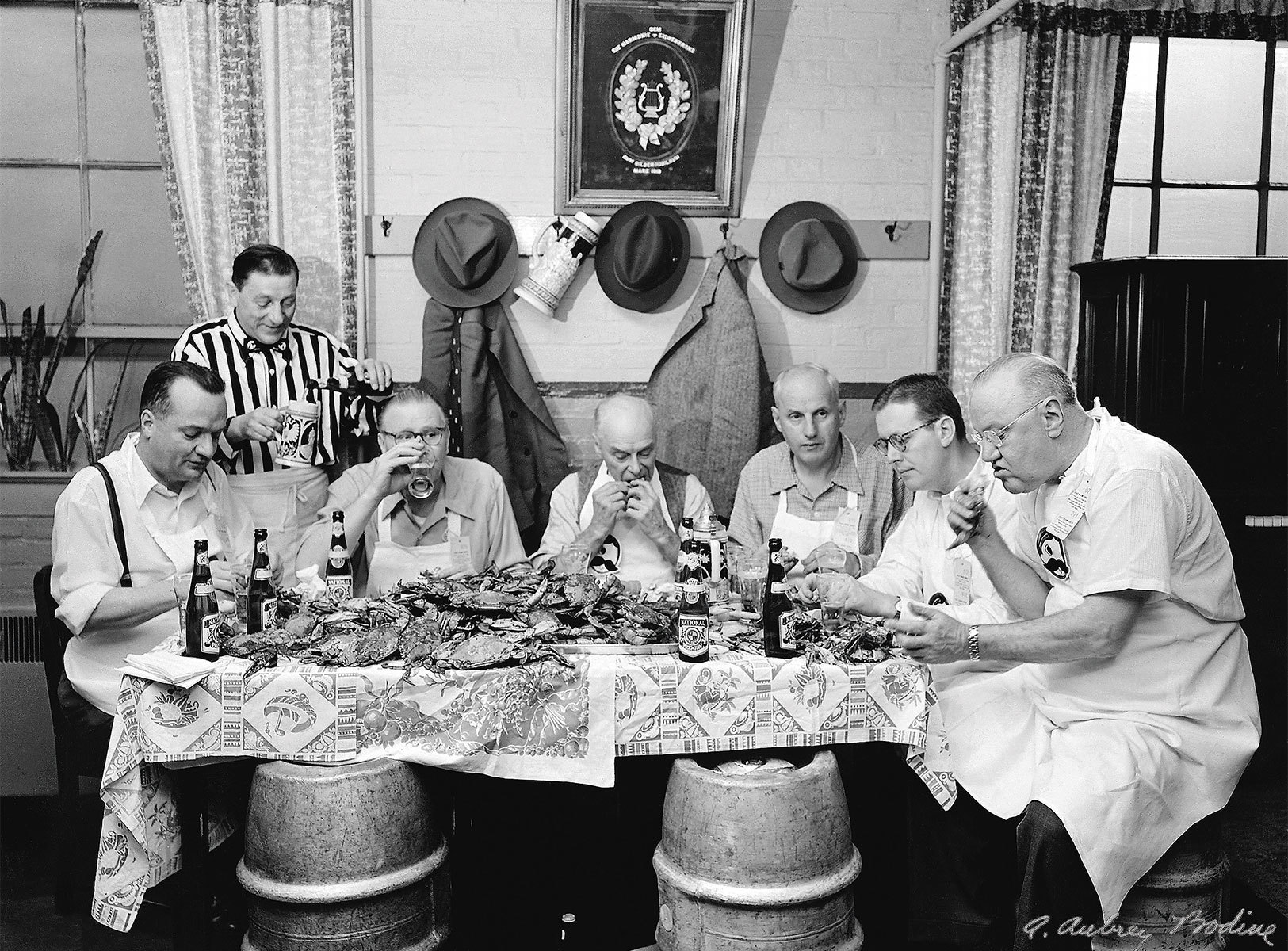 Cold storage also had an effect. "In the early to mid-20th century—the 1920s, 1930s, and 1940s—you also began to see the impact of refrigeration and how that inspired the proliferation of the crab house," explains Livie. "People were doing something out in public that at one time you would only have done at home. By the 20th century, Marylanders embraced the crab feast as something that was appropriate for everyone."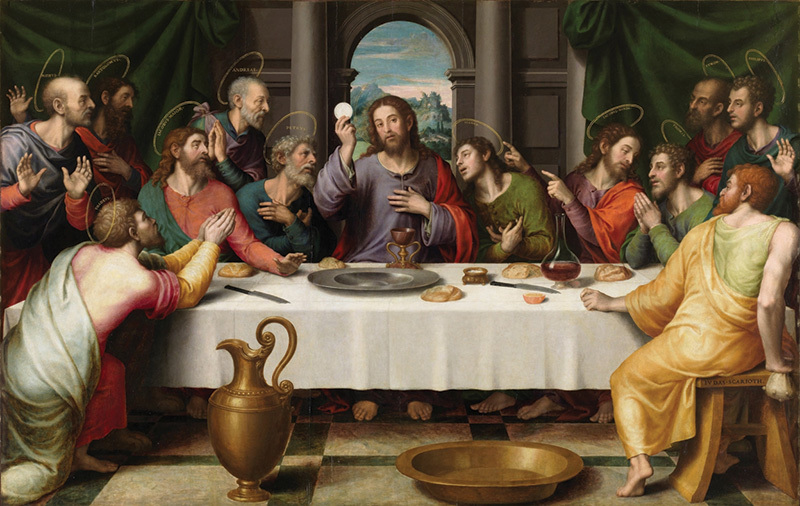 What we can say with certainty is that, here in the Old Line State, sitting down to pick crabs is now a way of life. And everyone has their own traditions, whether you head to your favorite seafood shack on the water for bushels of blues, start from scratch with your own fresh catch from the bottom of the bay, or haul home a treasure-filled box and have at it for hours in your own backyard.
"The Maryland crab feast is a distinct thing," says Spike Gjerde, James Beard Award-winning chef and co-owner of Woodberry Kitchen. "There's an adherence to tradition and more or less a pure way of doing it. It's crabs with paper on the table—steamed, not boiled—with ice-cold beer, and maybe some corn."
And while that may be the case for dyed-in-the-wool picking purists, we're not above kicking it up a notch with specialty cocktails (we have a crush on watermelon crushes), crème de le crab craft paper, and next-level sides, as you'll see on these pages.
However you eat them, picking the hard-shelled sweeties, aptly named Callinectes sapidus, or "savory beautiful swimmers," is like no other culinary experience. There will be cuts (and burns, as the salt from the spice stings), crab "dirt" forming under your nails, and likely a few Tide stick emergencies from the carnage. (Pro tip: Don't wear white, even if it's after Memorial Day!) There are few rules —although we did check in with the International School of Protocol for some tips and tricks—and that's part of the joy of it all.
For Marylanders, knowing how to extract the morsels of meat is practically encoded in our DNA. It's synonymous with languid summer days, a sense of conviviality, and, above all, a return to home—even if we've been here all along.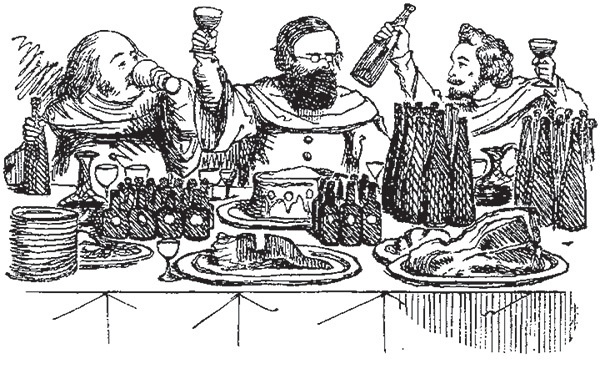 THE ART OF EATING WITH YOUR HANDS
Mind your manners when eating crabs.
By Jane Marion
From the Ethiopians, who use spongy injera, or flatbread, as a utensil for spicy meat stews, to the Indians, who scoop curries and veggies with naan, many cultures have traditions of eating with their hands. But eating with one's own fingers does not necessarily mean anything goes. "In places where not eating with your hands would be considered rude," says Carol Haislip, co-director of the International School of Protocol, "there are rules. In the south of India, you eat with the palm of your hand, for instance. And in the north of India, you eat with the tops of your fingers."
In Maryland, of course, eating with your hands only adds to the fun of the feast. In fact, the popularity of picking in public coincided with the easing of societal strictures. "Sitting at a table covered in newspaper and eating a pile of crabs is a 'trickle-up' tradition that came with the informalization of society," says Kate Livie, an expert on the food and folkways of the Chesapeake region.
So when tackling a pile of hard shells, let loose but remember that some dining decorum is still in order. "The whole reason for table manners is to make the meal pleasant for everyone," says Haislip, "whether eating with your hands or using a knife and a fork." (See box, right, for some etiquette tips.)
Here are some dos and don'ts for using your digits:
Don't eat more than your share. In other words, pace yourself in front of the common pile.
Don't lick your fingers, no matter how much crab spice builds on your hands.
Do chew with your mouth closed—it's easy to get lost in the moment.
Do use your napkin (or paper towels).
Do wash your hands prior to the feast. Hygiene counts.
Fancy Feast
When planning a feast, décor options abound: Go the traditional down-and-dirty route (brown paper, mallets, knife, pail) or plan something a little more upscale using stylish gear to help fancify your feast.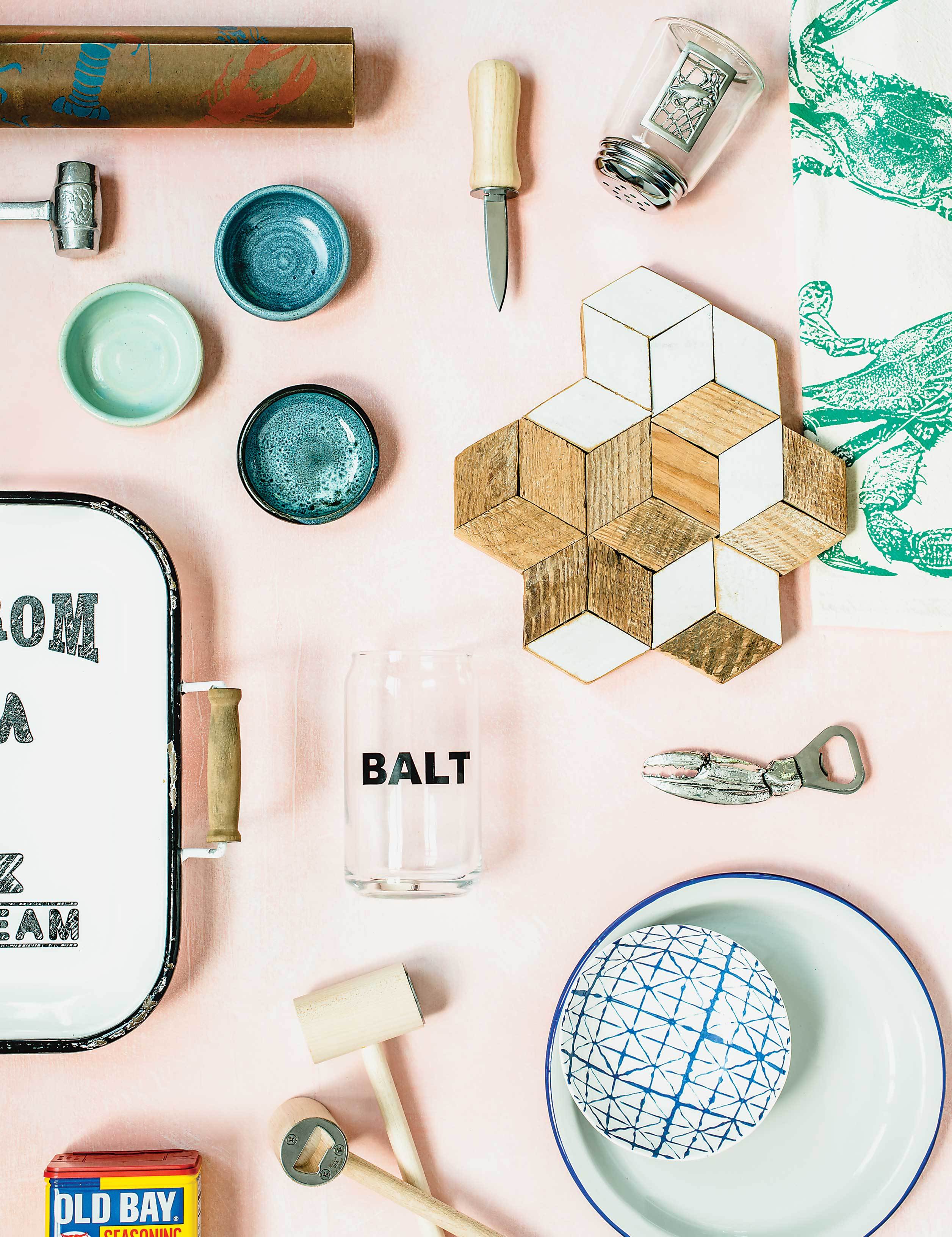 Seafood Boil Paper Roll ($33) at Becket Hitch.
Pewter crab mallet—part of four-piece gift set, Spice shaker, Can of Old Bay ($64) at Curiosity.
Small ceramic bowls ($4/each) at Wild Yam Pottery.
Oyster shucker—part of seafood set. Lobster cracker and seafood picks, not pictured, ($36) at Trohv.
Black & White Enamel Farm Tray ($30) at Su Casa.
BALT glass ($12) at Becket Hitch.
Magruder Shape No. 4 Wall Art by Forty Third Place ($50) at West Elm.
Crab Tea Towel in Teal by Fuzzy Mug ($18) at Marlow.
Crab Bottle Opener ($32.95) at Curiosity.
Crab Mallet Bottle Opener ($9.95) at Trohv.
Small Sibori bowl ($10) at Becket Hitch, EGENDOM enamel plate ($2.99) at IKEA.