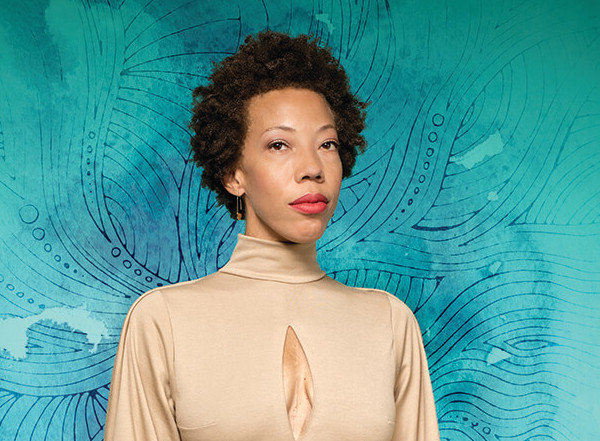 Christopher Myers
It might come as no surprise to learn that Amy Sherald has won yet another major arts award tonight—this time, the $40,000 Mary Sawyers Imboden Prize as part of the annual Baker Artist Awards, presented by The Greater Baltimore Cultural Alliance and the William G. Baker Jr. Memorial Fund.
A jury selects winners from a large database of some 900 artists in the region who have created an online Baker Artist Portfolio.
Winners—one per each artistic discipline—were announced during a pre-recorded awards ceremony that aired on MPT this evening in the program The 2018 Baker Artist Awards: An Artworks Special. Additional artists, winning $10,000 Mary Sawyers Baker awards, were Lisi Stoessel for Performance, Lafayette Gilchrist for Music, Margaret Rorison for Film/Video, Dora Malech for Literary Arts, Abraham Burickson for Interdisciplinary Arts.
Beloved in Baltimore, Sherald rose to national fame when her official portrait of former first lady Michelle Obama was unveiled at the National Portrait Gallery. Also in 2018, she was chosen for the prestigious Driskell Prize and named as a new trustee on the Baltimore Baltimore Museum of Art of Art board.
"Amy's work has struck a profound cord with the American public this year, and I am thrilled to see her win the 2018 Mary Sawyers Imboden Prize for her remarkable artistry," Connie Imboden, president of the William G. Baker Jr. Memorial Fund, stated in a release.
Visual and Interdisciplinary Arts winners will present work at the BMA September 12 through October 14 with 2017 awardees in the same categories. This year's winners in the remaining categories will present their work during an opening reception Sept. 12 at the BMA.
"The Baker Artist Awards reflect the vitality of this region's creative community. It sounds almost cliche but it's a fact," says Susanne Stahley, Senior Producer, Arts & Culture, for Maryland Public Television. "The celebration of these artists hopefully inspires viewers to get out and visit galleries, concerts, theaters—and the web. The Baker Artist Portfolios showcases hundreds of the area's artists across genres."
The Baker Artist Awards ceremony will air again at 8 p.m. May 19 on MPT2/Create and 6:30 a.m. May 20 on MPT-HD.