best of baltimore
EDITED BY MAX WEISS
Written by Lauren Bell, Ron Cassie, Ken Iglehart, Jane Marion, Jess Mayhugh, Amy Mulvihill, Gabriella Souza, and Lydia Woolever. With Hilary Geisbert, Lizzy Grap, Baylor Knobloch, and Anna Muckerman. Photography By: David Colwell, Cory Donovan, Mitro Hood, Ryan Lavine, Mike Morgan, Christopher Myers, Sean Scheidt, Brian Schneider, Scott Suchman, and Justin Tsucalas.
Our favorite thing about flipping through 40 years of "Best of Baltimore" issues? Discovering that we used to give Worst of Baltimores, too. How scandalous! Fear not, no Worst-ofs in this issue, only our absolute faves in the fields of Arts, Food, Fun, Lifestyle, News, and Service. Plus, we share a few of the most memorable BoBs of yore (Oh, hey there, Sisqo!); we've got the hot-off-the-presses results of the Readers' Poll; and we take a moment to reflect on Baltimore's challenging year.
ARTS
---
Album
Dan Deacon's Gliss Riffer
We've watched Deacon, a main fixture in the Charm City's underground music scene, evolve over the years since he helped establish the creative hub Wham City. This album is another step, moving away from the frenzy of his early work into sweeping compositions that brim with inward explorations. He builds layers of sound with lyrics full of anxiety and yearning, adding a dose of synth-pop to his driving beats. We love that he's taken us along on his journey.
---
Artist
Paul Rucker
Rucker's early spring show REWIND was raw and powerful. He challenged viewers at the Creative Alliance, where he is an artist-in-residence, with works that examined the nation's often-uncomfortable history with race and social justice. One such piece included Ku Klux Klan robes surrounding a charred cross, inscribed with hymns from Rucker's childhood. But the artist's other endeavors are just as compelling, from interactive musical performances—Rucker plays cello and bass and is a composer, as well—to his shows in prisons.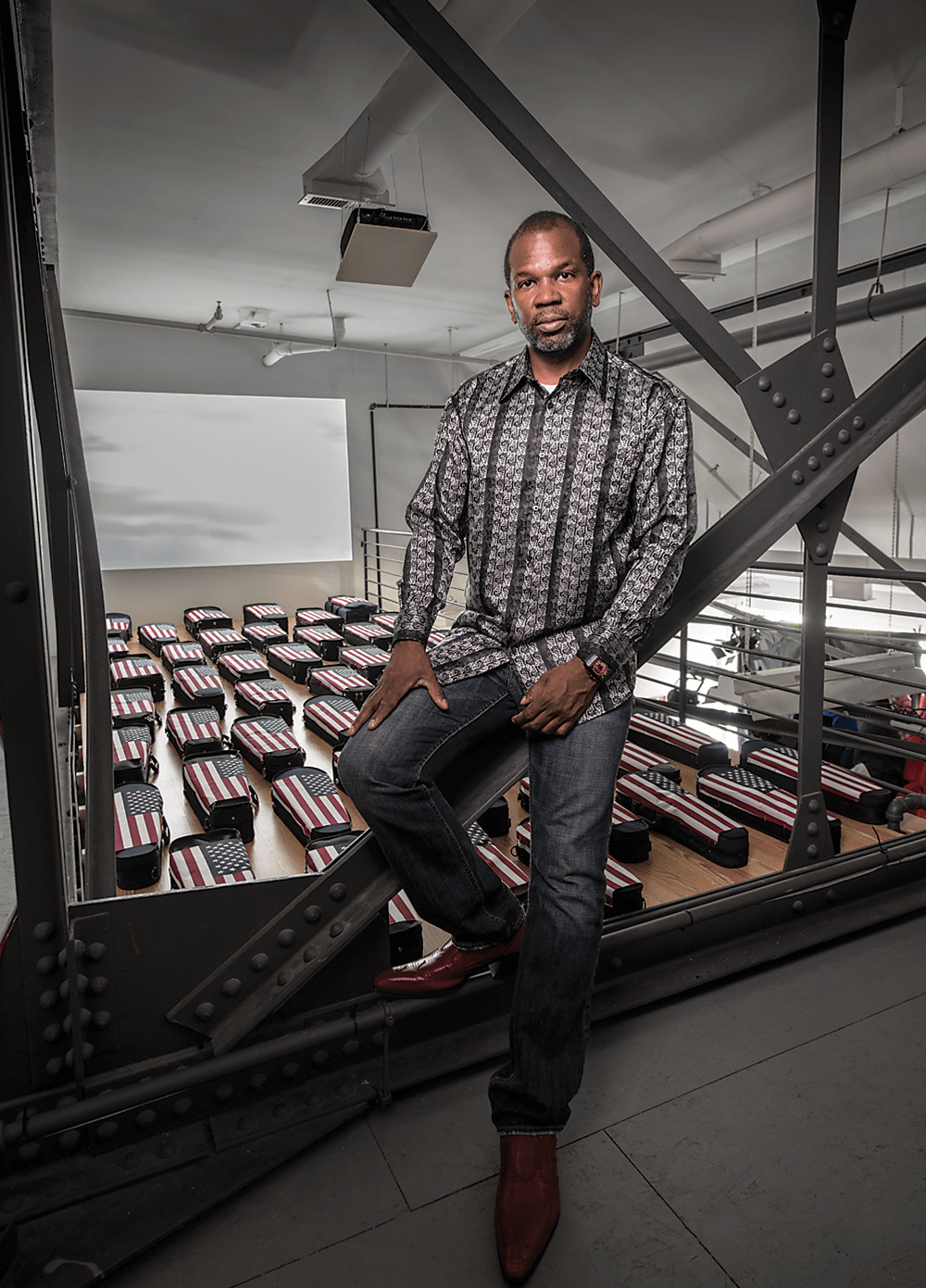 Photography by Mike Morgan
---
Band
Future Islands
Though the trio had already established a national reputation, it's been quite a year for this Baltimore-based alternative, synth-pop band. They've been on a European tour, and Pitchfork called "Seasons," from their latest album Singles, the best track of 2014. Lead singer Sam Herring's iconic dance moves once again made an impact on the Late Show with David Letterman this spring, where the band followed up 2014's talked-about performance with a song dedicated to Baltimore. And they've released two new tracks, which makes us wonder—will 2016 bring a new album?
---
BOOK
Ripple Meets the Deep
Any year Anne Tyler publishes a book it's difficult to recognize anyone but the acclaimed Baltimore resident. But this book of short stories by Jason Tinney, a Frederick resident and occasional Baltimore contributor, distinguishes itself as a tour de force, rippling with nuance. Its bold scenes and characters from various walks of life who grapple with mortality and search for salvation, are expertly crafted, and leave you wanting more.
---
Dance
Peabody Dance Centennial
The country's longest continuously running dance-training program celebrated its 100th birthday in style. It melded current students and alumni who dance professionally in genres as varied as ballet, improvisation, and flamenco. The program included works with a legacy at Peabody—Valse Brillante by Isadora Duncan, who influenced the school's early teachers—and world premieres. Along with the stunning performances, it was amazing to see the evolution of the program, and its impact on the dance world.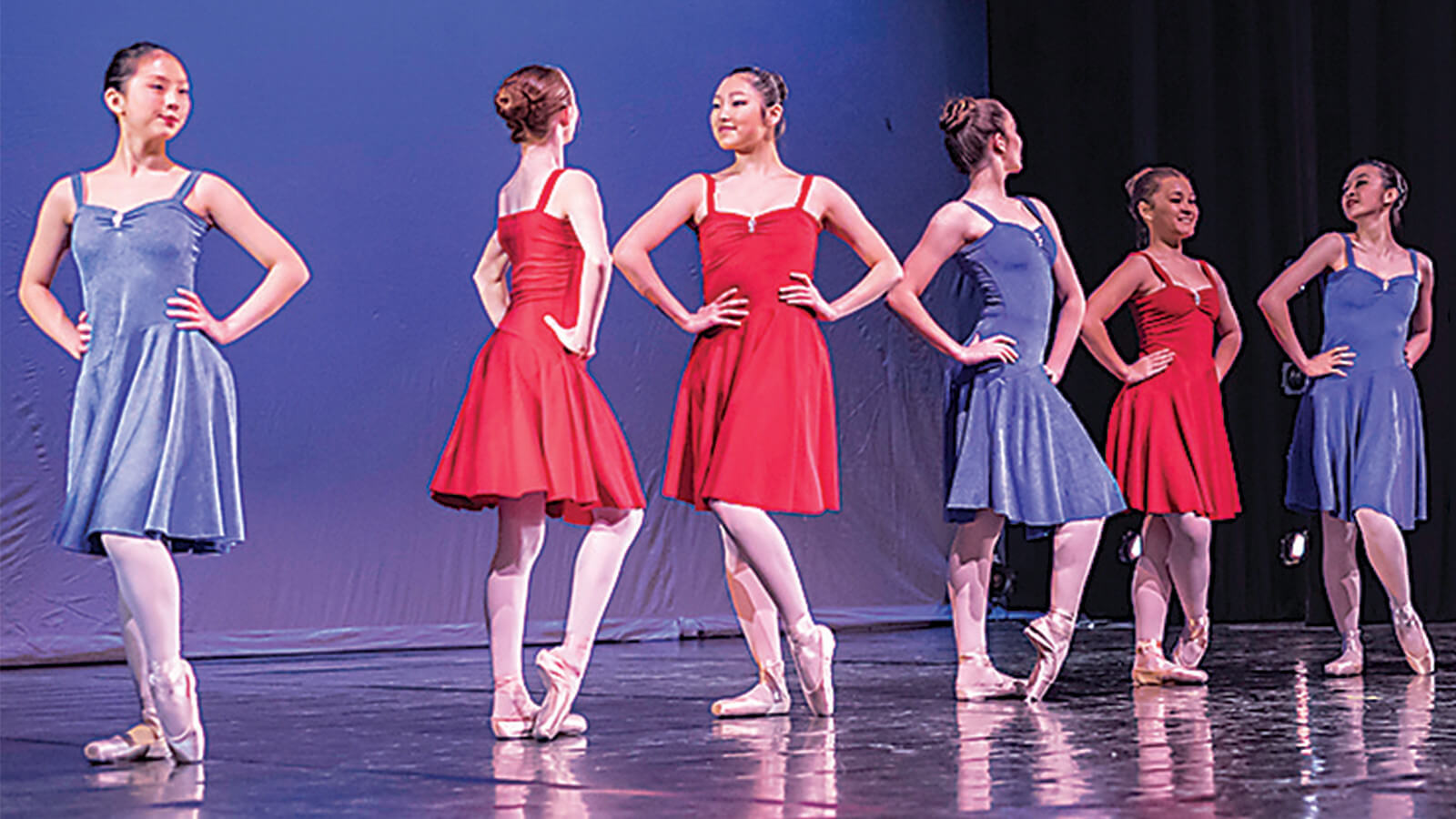 Courtesy of Peabody Dance
EXHIBITION
Installation
The Contemporary's Bubble Over Green
Once inside the long-empty former KAGRO building on North Avenue, layers of sound, light, and images enveloped visitors. It was a marvel to see the piece's transformative power.
---
POP-UP
Love on the Line: Stories of a Baltimore Worth Living For
Maryland Institute College of Art grad student Melani Douglass curated art and discussions about community in a most unique location—a laundromat. Featured artists included East Baltimore native Ms. Penny, who artfully folded clothes.
---
Trip Through a Collection
The Walters Art Museum's From Rye to Raphael
Objects and works that most likely wouldn't be shown together—a Manet painting, an exquisite orchid comb—combine to tell the story of the Walters family, which lends a better understanding of these legendary collectors.
Film
Charlotte
This 11-minute film seems so simple, but says so much. Baltimore native Angel Kristi Williams's work, which was screened at the 2015 Maryland Film Festival, centers on a teenage girl who has fallen for her best friend. There are few words, but the actors' gestures and expressions, particularly those of lead actress Brianna Cormier, tell the real story. We've all felt the heartache and awkwardness of growing up, which is what makes Williams's work so poignant.
---
Homecoming
Gary Bartz
The jazz saxophonist has made performances at local gem An Die Musik a regular event, and it's a treat to watch a master at work. The sets with his quartet achieve a transcendent quality, with not one pause during the hour, "because we don't want to stop the energy," he told an audience in June. We were happy to learn that the two-time Grammy winner, while not on the road or teaching at Oberlin College, has been making Baltimore his home once again.
---
Hub
CreativeMornings
A conversation and free breakfast with like-minded, creative people. In a nutshell, that is CreativeMornings, an international effort that spawned a Baltimore chapter two years ago. Each conversation has a topic—photographer Devin Allen (see: Best Portfolio) discussed revolution, musician Greenspan talked about humility. Host Katie Boyts always encourages audience members to interact, and the networking is top-notch. What better way to spend a morning.
---
Idea
WTMD's Live Lunch
Stop in to the public radio station's studio almost any Friday afternoon, and you'll see a live performance, ranging from national performer Hozier to regional favorite Bumper Jacksons. If you can't be there in person, you can stream online, and here's the best part—it's free! (Donations are accepted, of course.)
---
Innovation
Baltimore School for the Arts
The performing-arts high school took an edgy turn this spring with Imagined Worlds. The project included the world premiere of interdisciplinary work The Codex, which integrated music and technology with 3-D video projection and dances that appeared on a shadow screen. The piece was inventive, with mind-bending characters and music. In regular BSA fashion, the students performed with true artistry. It's incredible that they are still teenagers, and their futures are obviously bright.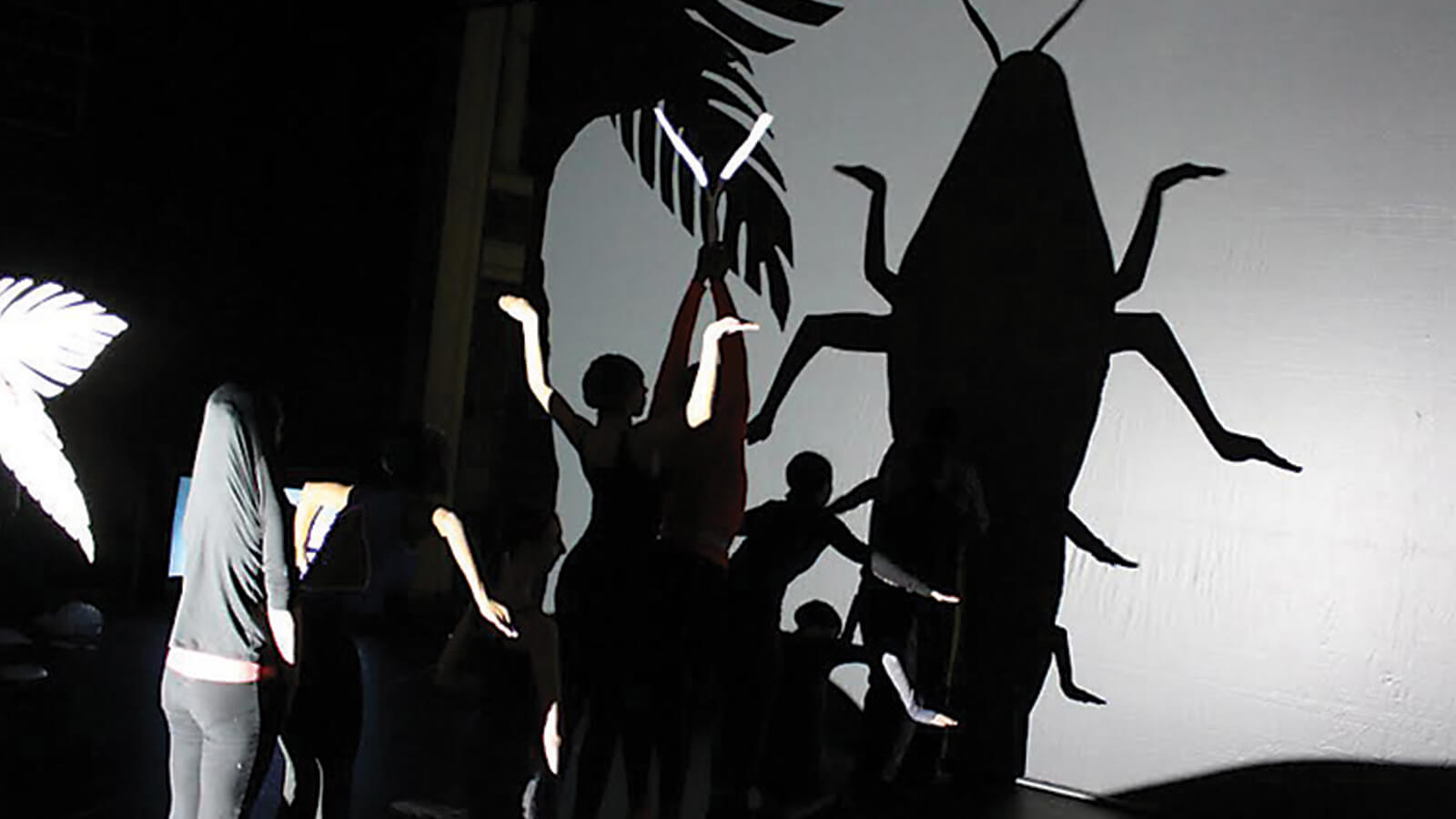 Courtesy of Baltimore School for the Arts
---
Legacy
Doreen Bolger
As soon as The Baltimore Museum of Art's director announced her June retirement, the creative community began mourning the departure of one of its greatest champions. The list of accomplishments during Bolger's 17-year tenure is unprecedented: She established free admission, reopened the museum's historic entrance to the public, completed a $28-million renovation, and advocated for and encouraged exhibitions of local artists. But not to worry—Bolger plans on staying in Baltimore, and something tells us you'll still see her at art openings around town.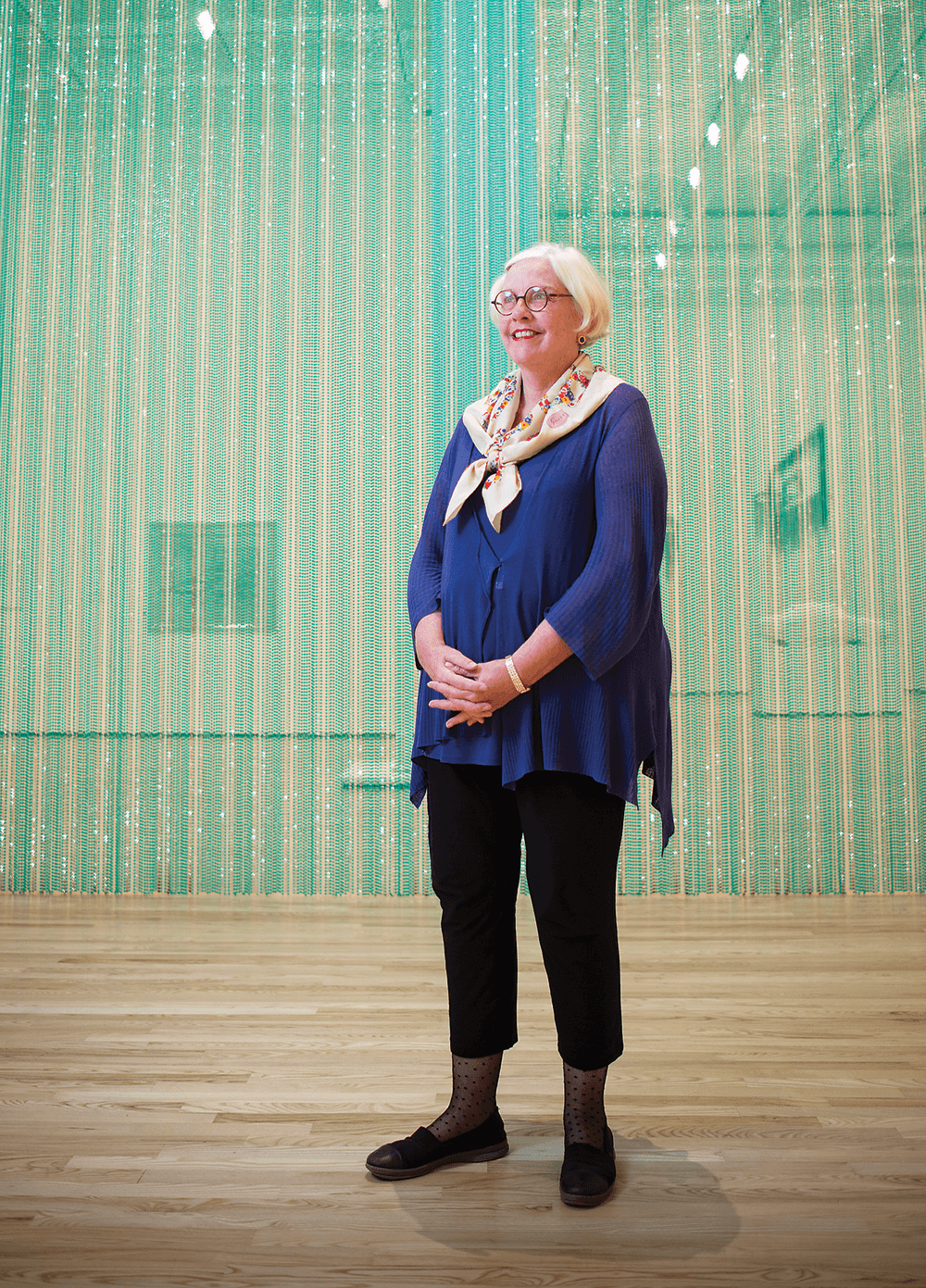 Photography by Christopher Myers
---
Portfolio
Devin Allen
Before this spring, the self-taught photographer shot mostly portraits and nature work. But when Allen took to the streets of West Baltimore to document the unrest playing out on his home turf after Freddie Gray's death, what resulted was nothing short of mesmerizing. Along with the now-famous Time magazine cover, he captured the action, and eventual unity, with depth and emotion. Most commendable is his commitment to the city. Though he previously dreamed of moving to New York, he has said he intends to continue his work here.
---
Reaction
The Baltimore Symphony Orchestra
The first free concert occurred just two days after violence tore through the city this spring. Symphony musicians and music director Marin Alsop gathered outside the Meyerhoff and played to hundreds, from preschool children to city professionals. Several days later, the orchestra traveled to West Baltimore, performing again for free at Mount Lebanon Baptist Church. The sense of solidarity and unity in the crowds was proof that the symphony had succeeded in its mission—to bring peace through music.
Photography by Max Weiss
---
Rebirth
The Centre
At its worst, the former North Avenue movie theater had a tree growing through its middle and a layer of neon-green mold. But that ended last winter, when developers began its renovation. Now, it will house the film programs from The Johns Hopkins University and the Maryland Institute College of Art, and video game developer Sparkypants Studios, among others. Best of all, its stunning marquee illuminates Station North, once again.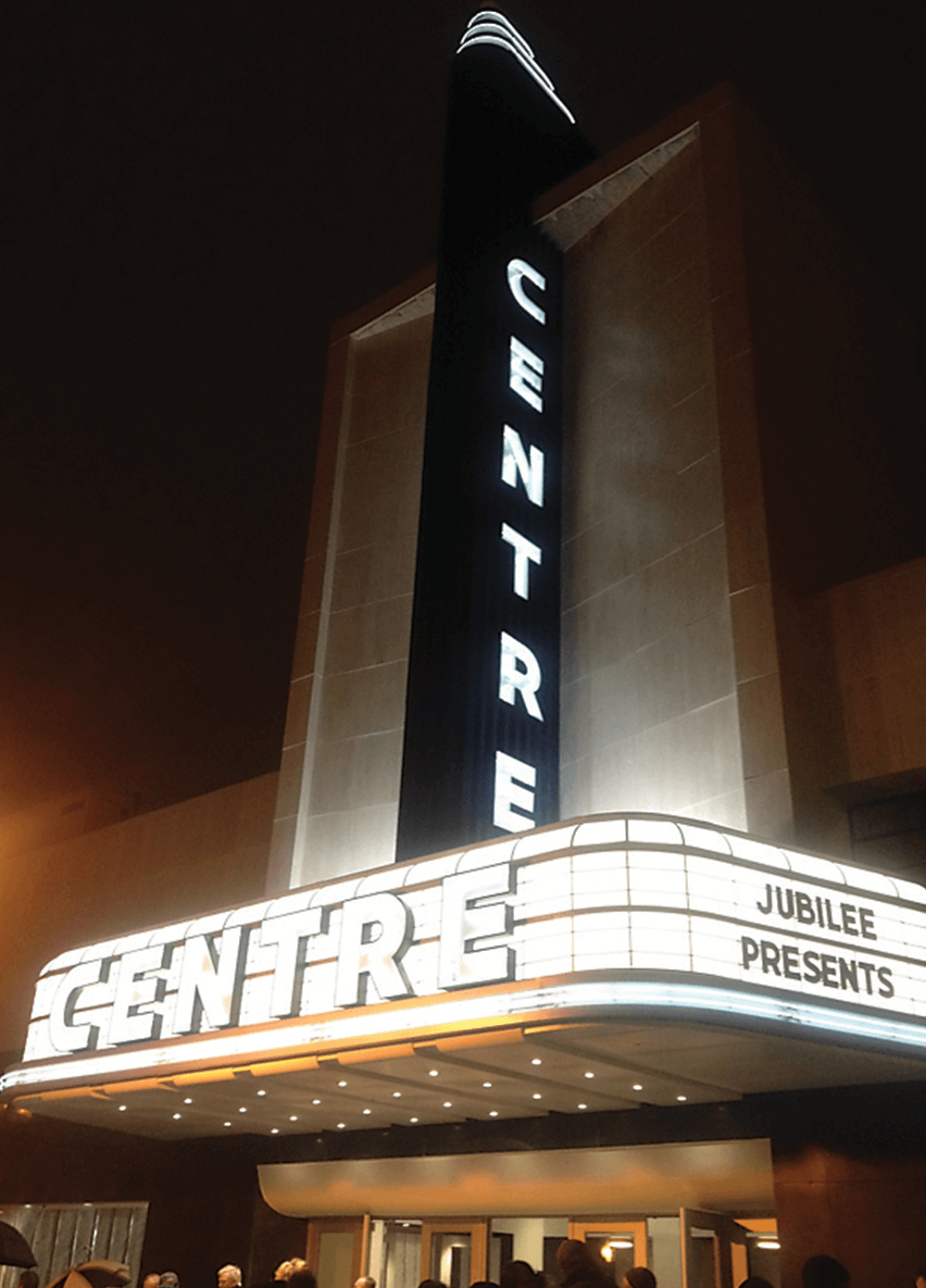 Photography by Ron Cassie
---
Record Label
Friends Records
Vinyl and cassettes would have all but vanished if it weren't for labels like Friends. The independent label is a champion of local bands, such as Blacksage, offering cassettes and digital albums on its website for a mere $5. And you can count on inventive packaging—the new Microkingdom album, for example, included pink vinyl and a purple, velvety cover.
---
Rising Star
Derick Ebert
Baltimore's first youth poet laureate—the first person to hold that distinction in modern memory—writes pieces with sophistication, authority, and feeling. Ebert, a 20-year-old student at The University of Baltimore, broaches topics from growing up biracial to the image of masculinity. His first book comes out in December, and he wants to increase community engagement in the arts. We'll be watching.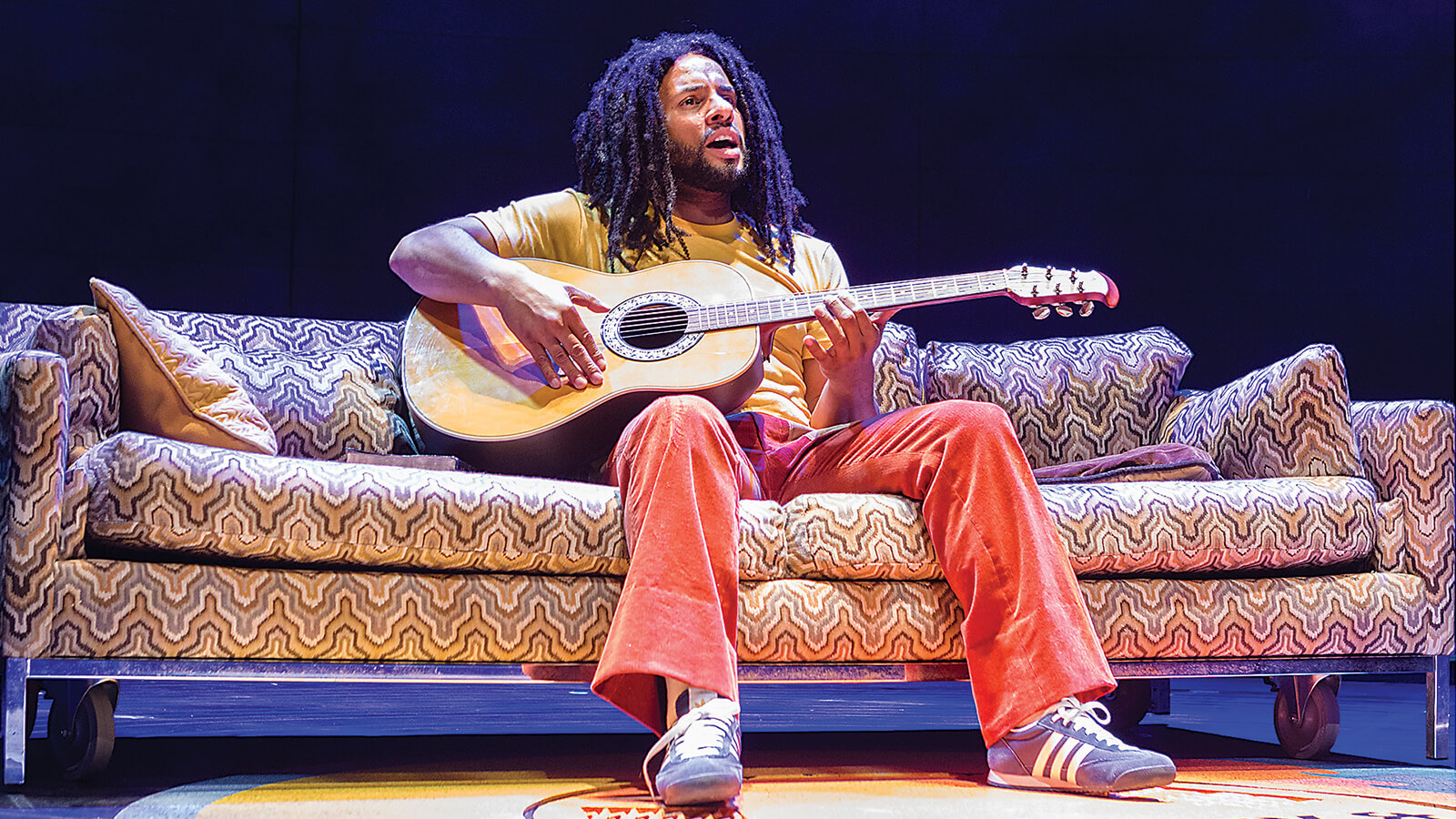 Photography by Richard Anderson/Courtesy of Center Stage
---
Theatrical Experience
Marley
The buzz started long before theater newbie and Holland's The Voice alum Mitchell Brunings took the stage as legendary reggae performer Bob Marley. It continued once crowds felt the cast's infectious chemistry, from a concert at the site of rioting this spring, to a rocking opening night. Marley, written and directed by Center Stage artistic director Kwame Kwei-Armah, sold out before the end of its run, was the highest-grossing and best-attended show in the company's history, and was attended by Harry Belafonte and two of Marley's children. Plus, there are rumors of it traveling—perhaps to Broadway or London? It's amazing to see a production bring such excitement to our city.
---
Unveiling
The African and Asian art galleries at the BMA
These acclaimed galleries re-opened to the public in April, marking the latest piece of the museum's $28-million renovation that included the Contemporary and American art wings, and a renovated entrance and lobby. With new lighting and larger galleries in which to exhibit these priceless treasures, you can better admire magnificent beadwork and delicate brushstrokes. It was an incredible undertaking, and the sparkling museum is all the better for it.
40TH Anniversary Flashback
Sisqo!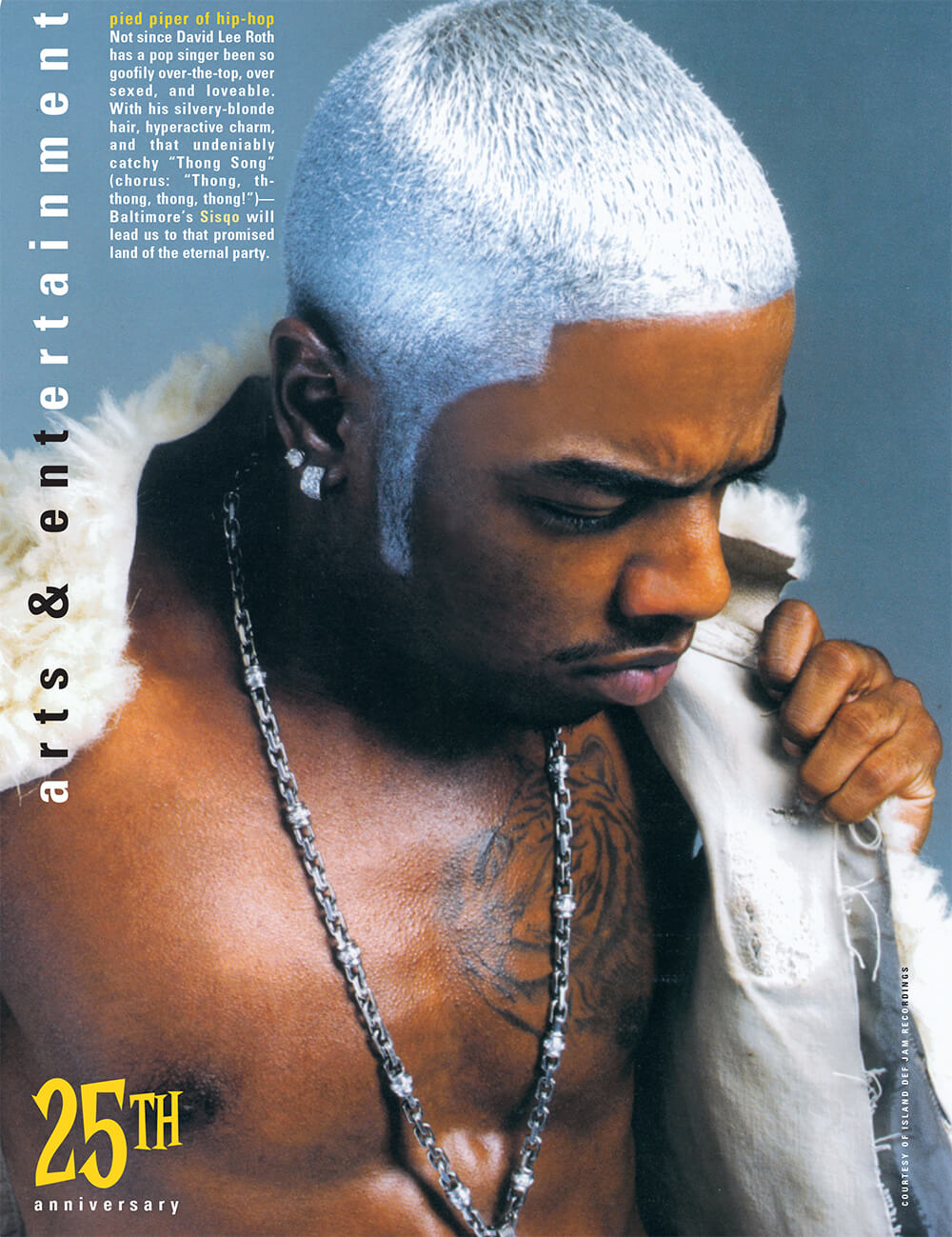 His hit the "Thong Song" launched to number 3 on the Billboard charts in the summer of 2000, forever associating him with the catchy, slightly risque, party-starting ditty. He continues to perform with his quartet Dru Hill (named for Druid Hill), and released his third album earlier this year.
"Not since David Lee Roth has a pop singer been so goofily over-the-top, over-sexed, and loveable."
"Best of Baltimore," August 2000: Sisqo wins the prize for "Pied Piper of Hip-Hop."
FOOD
---
Airport Food
Vino Volo
Once you've survived the pat down from Homeland Security and had a chance to put on your Pliners, head to Concourse A at Baltimore-Washington International Thurgood Marshall Airport where Vino Volo feels like a mirage in the middle of the mayhem. Choose from among a surprisingly substantial array of reds, whites, and rosés. And if you need more than nuts to make a meal, consider a preflight Brie and prosciutto sandwich or a cheese plate. This could almost make a person look forward to the airport. BWI, Concourse A, 410-691-2215
---
ALTERNATING Menu
Pen & Quill
While so many spots have jumped on the seasonal bandwagon, we're big fans of the market-driven New American menu at Pen & Quill in Station North. Chef Bella Kline understands that the hallmark of good cooking is a devotion to seasonally sourced ingredients. Arugula gets paired with strawberries, basil, and clotted cream in the throes of spring, while summer ushers in egg yolk ravioli and tomato beurre fondue, then soon surrenders to fall's pork cheeks glazed with miso. Next, it's onward to winter's rich repast of house-made burrata with marinated black-trumpet mushrooms, truffles, and crabmeat bathed in brown-butter vinaigrette. While it can be frustrating as favorite dishes flit on and off the menu, patience pays off. 1701 N. Charles St., 410-601-3588
---
Bagel Shop
Towson Hot Bagels
There's a reason they line up at the Timonium location on weekends like they're giving the bagels away. The bagels here are large, misshapen, chewy, and not too heavy. All the shmears (or cream cheeses, if you prefer), like sun-dried tomato or scallion, are made in-house. The bagel sandwiches—try the irresistibly gooey and greasy bacon, egg, and cheese—are so good, they recently inspired a loving homage from a writer at Gawker. Yes, the same Gawker that is published in New York City. Clearly, Towson Hot Bagels is giving Manhattanites a run for their money. Several locations, including 1810 York Rd., Lutherville, 443-841-7063
---
Bar Food
1157 Bar + Kitchen
Micro-restaurants have been trending in 2015, and the Locust Point spot 1157 Bar + Kitchen certainly qualifies. With 10 or so barstools, five two-tops, and a communal table, the place holds 30 people at a time—and doesn't take reservations. But rest assured, the cramped wait is worth it. Chef Jason Ambrose (co-owner of Salt) serves up bar food that's anything but typical: crunchy Korean chicken wings in a fiery chili sauce; curried Brussels sprouts tossed with fig vincotto (reduced wine sauce); plump mussels steamed in Pabst Blue Ribbon with garlic, green Tabasco, shallots, and butter; and stunning cheese plates with mild manchego and bold blue selections. While you're cleaning the last morsels off your plate, you'll wonder how such huge flavors fit into such a tiny space. 1157 Haubert St., 443-449-5525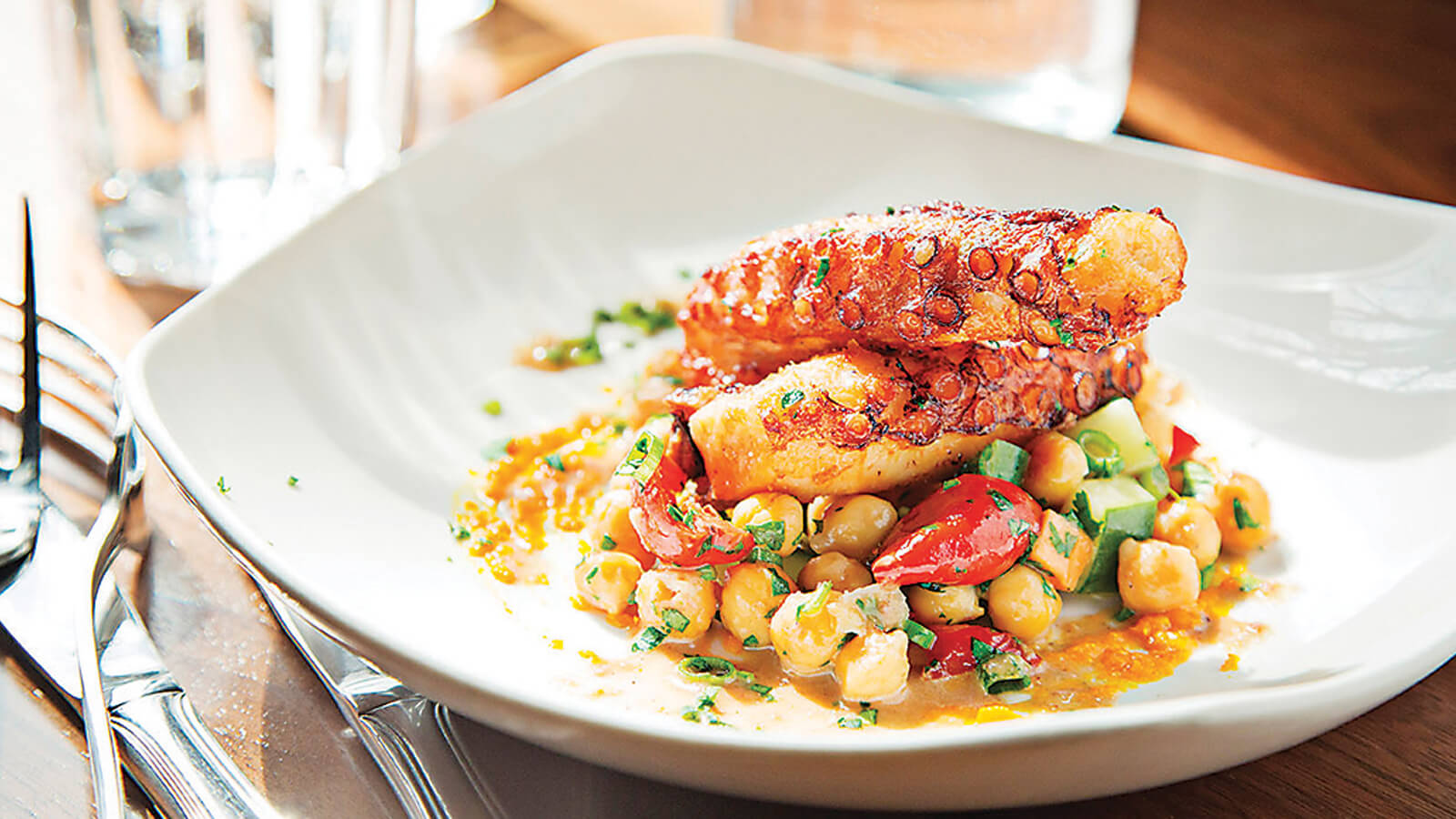 Photography by Scott Suchman
---
Baked Goods
Artifact
When our sugar cravings kick in, we head to Artifact to indulge in the pastries heavily influenced by James Beard Award-winning owner Spike Gjerde's early days of apprenticeship at Pâtisserie Poupon. (And wife Amy, who is the whiz behind the vision of the pastry team.) With flours, honey, syrup, butters, and dairy locally sourced, the sweet sensations—including heavenly croissants, iced cornbread with caramel popcorn and sour cherry quark Danish—are a mastery of flavor and form. 1500 Union Ave., 410-235-1881
---
Barbecue
Black Hog Barbecue
While Black Hog Barbecue features a sign on the wall listing the distances to the country's "Q" capitals (Lockhart, TX: 1,549 miles; Kansas City, MO: 1,029 miles; Memphis, TN: 867 miles), you need look no further than the heart of historic Frederick for authentic, smoked-on-site Memphis-style ribs, Texas-style brisket, and Carolina-style chopped pork. Hunker down to a smoked, pulled-pork sandwich or go for a chicken-and-rib combo with collards and cornbread on the side. And if you slop some sauce on your shirt, no worries—they sell some of hottest hog T-shirts in town. Several locations, including 118 S. Market St., Frederick, 301-662-9090
---
Breads
Bagby Restaurant Group
Whoever said that man cannot live by bread alone never had a lofty loaf from the Bagby Restaurant Group, which includes Fleet Street Kitchen, Cunningham's Café, Cunningham's, Ten Ten American Bistro, and Bagby Pizza. Head baker John Aversa and his team turn out stellar Old World boules, baguettes, batards, and even pizza dough, with nothing more than a simple mix of organic wheat or rye flour, water, and salt. Think chewy interior, plus a crackling exterior, often adorned with amazing imprints of elephants, unicycles, and even the face of Natty Boh. Can you say "bread winner"? 29 W. Susquehanna Ave., 410-244-1311 Breakfast Spot
---
Breakfast Spot
Café Cito
Café Cito is the new Hampden hotspot you wish was in your own 'hood. This Spanish-inspired stunner is an unassuming place to linger over the most important meal of the day. One Saturday, we settled in for a cup of Chemex-style coffee, a breakfast "Sammy" of mushrooms, spinach, and cheddar on toasted ciabatta bread, and a flavorful spring vegetable paella—a medley of mushrooms, asparagus, peas, and peppers over rice from España's Calasparra region. Everything in life should be this simple—you rise, they shine. 3500 Chestnut Ave., 443-682-9701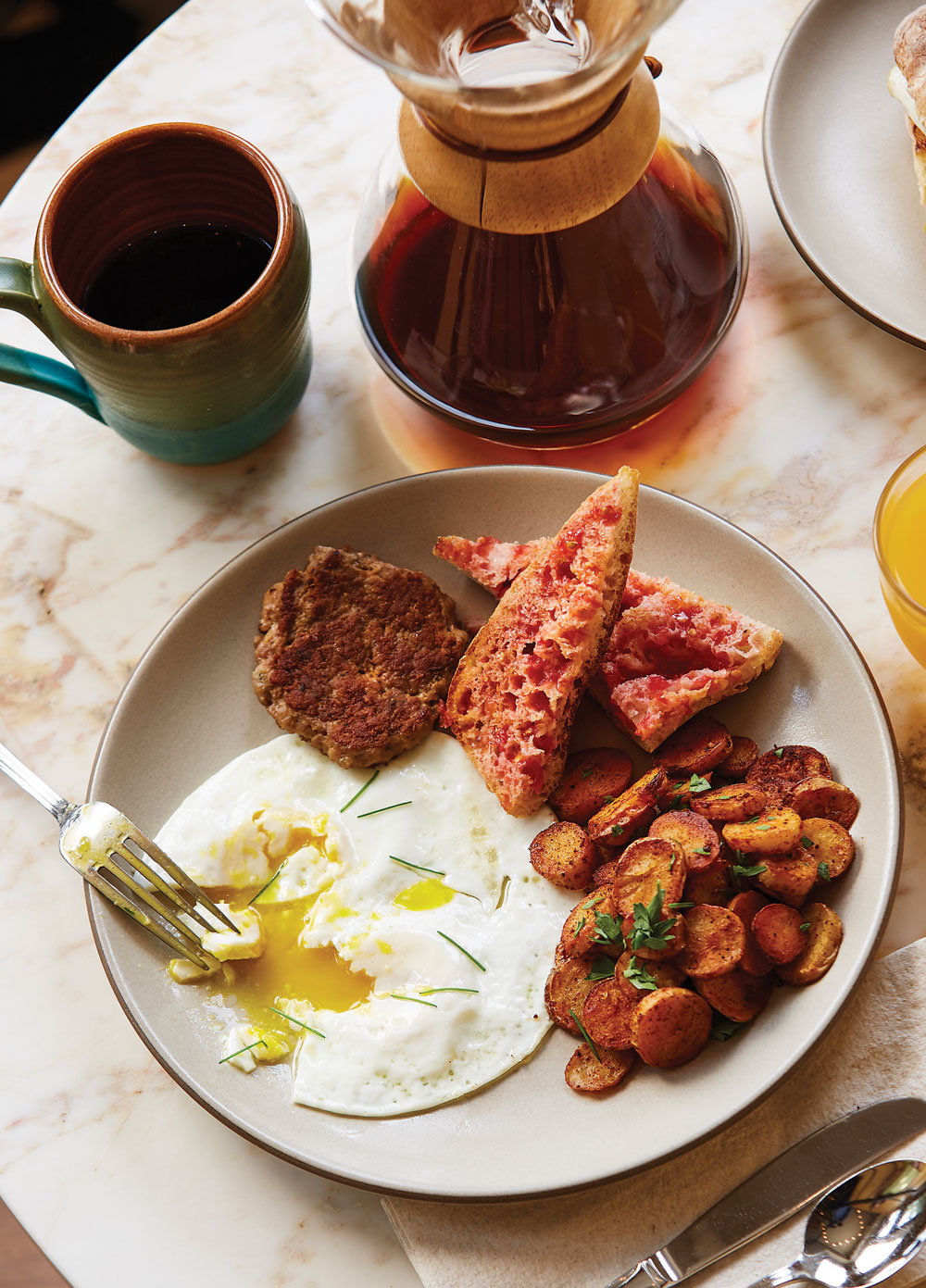 Photography by Ryan Lavine
---
Charcuterie
Lobo
Sometimes, it's the little things in life that matter. Case in point, the petite corner destination of Lobo in Fells Point—with its limited menu, tiny open kitchen, and selection of small plates. We adore the chef's board, where chef Dave Munyon handpicks his favorite daily selections of meats, cheeses, and pickled things. On a recent jaunt, it was a beautiful board of salty San Daniele prosciutto, circles of sweet coppa, creamy manchego, house-made pickles, and a spicy imported cheddar made with mustard seeds and brown ale. The combination of textures and tastes was unexpected and, at the same time, just what we needed—not unlike the establishment itself. 1900 Aliceanna St., 410-327-0303
---
Cheeseburger
Clark Burger
Move over, popcorn and Milk Duds: The newest movie snack is burgers and poutine. At least that's the mission of Clark Burger, which opened next to the Senator Theatre in January. While the menu boasts plenty of plays on the patty, we suggest sticking with the titular Clark Burger made of black Angus beef, and including Tillamook sharp cheddar, smoked bacon, onion, lettuce, pickles, and a smoky Thousand Island-style sauce. Move on to the Québécois creation of hand-cut fries doused in rich brown gravy and topped with cheese curds and you might have trouble focusing on the film. The fact that Clark Burger owner James Clark is a native of Canada also adds to the eatery's cred. 5906 York Rd., 410-323-2356
---
Cheese Shop
The Wine Source
Given that wine and cheese is a classic combo, it makes sense that the dreamiest dairy in town can be found at The Wine Source. The store's cheesemongers (who write a breezy blog) have curated an outstanding collection, with an emphasis on small-batch and artisanal cheeses, as well as locally produced products. Go for the grassy, garlicky French Tremblaye Brie, grab a wedge from the Basque region, or try an earthy Jersey Blue, a rare pick from a cheesemaker in Switzerland. Cheese, however, cannot stand alone. Grab a bottle of vino from the miles of wine aisles, and then call us—we'll be right over. 3601 Elm St., 410-467-7777
---
Coffee Program
Johnny's
Most restaurants keep a pot of coffee warming on the burner for your pouring pleasure, but Johnny's offers way more than the usual lukewarm swill that sits around all day. Developed by coffee "auteur" Lindsay DiFabbio and sourced from Annapolis-based Ceremony Coffee Roasters, Johnny's java menu includes a robust roster of brewed-to-order caffeinated concoctions from mellow cappuccinos to specialty elixirs, including kicky cortados with honey and cayenne pepper, and house-made iced chais with coffee and cream liqueur. For the full experience, pull over a stool at the barista bar, order a slice of the dreamy coffee cake made daily, and ask DiFabbio to swirl a swan into your latte. 4800 Roland Ave., 410-773-0777
---
Decor
La Cuchara
This Basque-country restaurant sits on the former site of the London Fog raincoat company, which might explain why it pours on the charm. We get gushy about these dramatic digs, from the soaring ceilings and awe-inspiring metalwork by local artisans to the vintage Biarritz plates and namesake spoons, some of which are sourced from the beautiful Basque countryside. Sit at the bar and order a red from the Rioja region or tuck into a table for two for a plate of pintxos. Wherever you park yourself, expect a room with a view. 3600 Clipper Mill Rd., 443-708-3838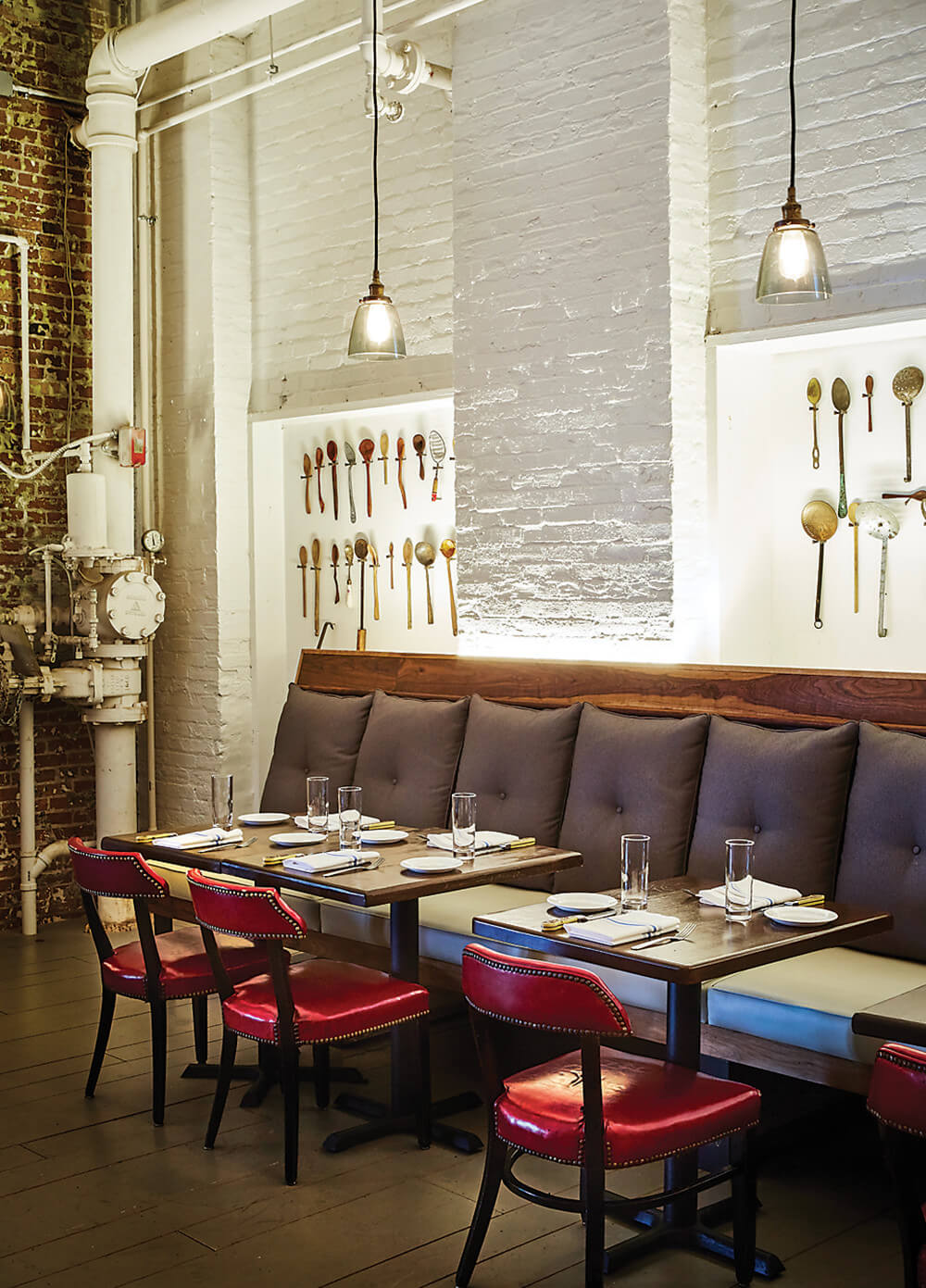 Photography by Ryan Lavine
FARMERS' MARKETS
Breakfast STAND
Blacksauce Kitchen
Sometimes we need a really good reason to get out of bed early on Saturday mornings. And we have found one in Blacksauce Kitchen's breakfast biscuits, available at the 32nd Street Farmers' Market in Waverly. We're not exactly sure what Damian Mosley and Vesnier Lugo put into their baked beauties, but no matter the iteration (buttermilk, cheddar-rosemary, maple-bacon), they are fluffy, flakey perfection. The best part? If you oversleep, they're selling on Sundays under the JFX, too. blacksaucekitchen.com
---
Finger Food
Mushroom Stand
We're wild for the mushroom dishes from Ferial Welsh's Mushroom Stand at the Baltimore Farmers' Market. From chanterelles to morels, the so-called "Mushroom Lady" turns her woodsy wonders into quite the culinary creations. The beer-battered oyster-mushroom fritters served over greens with sheep's cheese, basil, and hot sauce; and the Portobello and quinoa sandwiches send us straight to 'shroom heaven. Holliday and Saratoga Sts., 410-752-8632
---
Produce Stand
Gardener's Gourmet
The Westminster-based Gardener's Gourmet at the 32nd Street Farmers' Market is our favorite place to go green not only because of the freshness of the produce but for the sheer variety of unusual roughage. From farm-fresh purslane and Swiss chard to mizuna and mint, we're in our salad days here. E. 32nd and Barclay Sts., 410-889-6388
Fries
The Local Fry
All over town, people are getting creative with their fries and there are even multiple places to get poutine. (See Best Cheeseburger.) But our favorite spot for spuds is The Local Fry, which opened in Federal Hill in January. When husband-and-wife owners Kevin and Elizabeth Irish lived in Ireland, they noticed a lot of fish-and-chip spots, so they decided to open one in the States where the tasty tubers are the stars, not the side. Enjoy fries topped various ways, including Banh Mi with pork, pickled daikon, and cucumbers; Greek with gyro beef, feta, and tzatziki; and the house specialty with taco meat, spicy house-made sauce, and cheddar cheese. Probably their smartest move? Being open until midnight on the weekends. 21 E. Cross St., 410-244-1283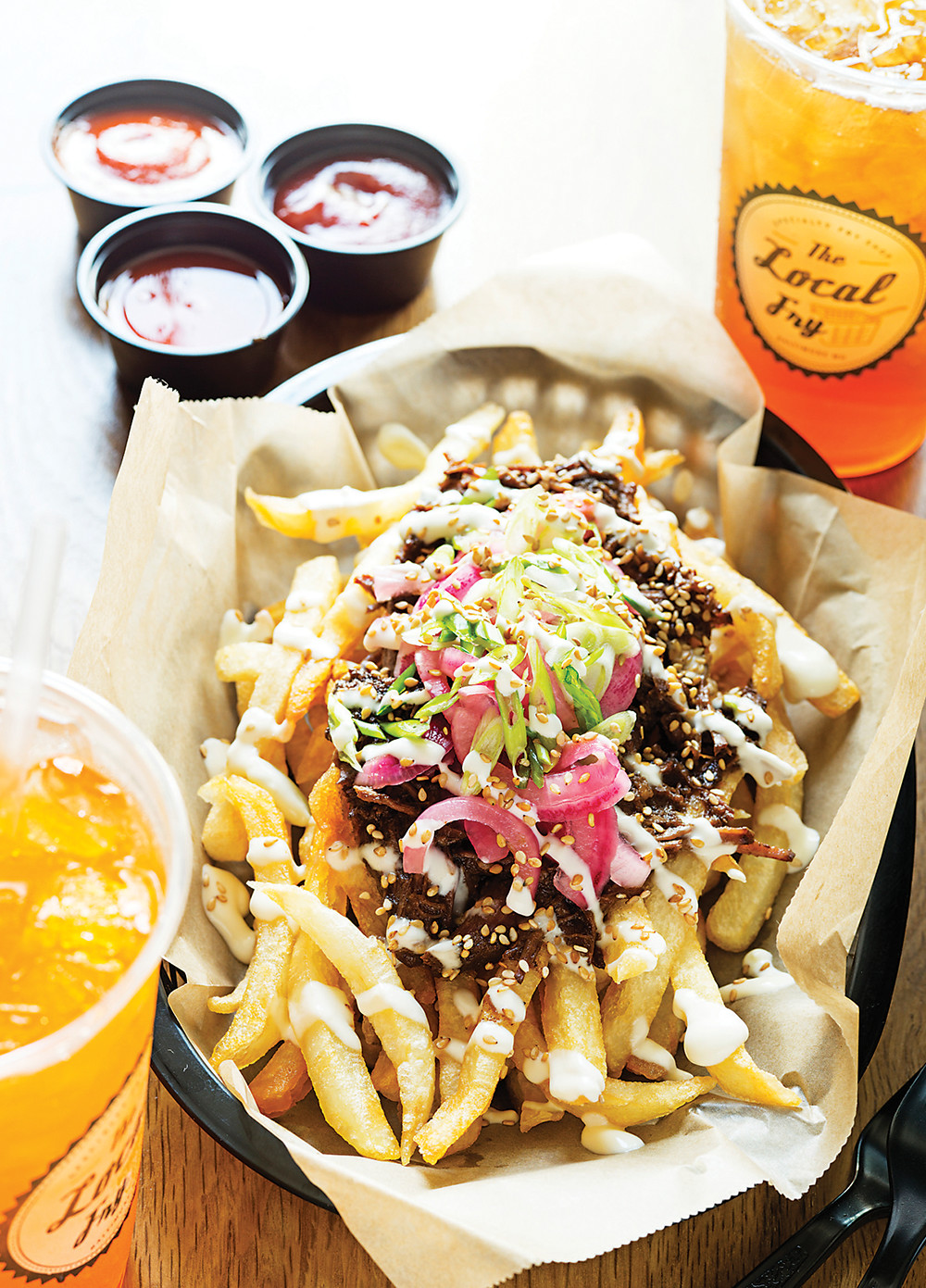 Photography by Scott Suchman
---
Gluten-Free Bakery
Harmony Bakery
Whether you're gluten intolerant or going against grain by choice, Hampden's Harmony Bakery proves that eating healthfully doesn't mean forfeiting flavor. Choose from an array of attractively displayed gluten-free goodies like spinach-feta or polenta pies, satisfying chickpea tarts, glazed strawberry donuts, and even bagels and biscuits. We dare you to discern the difference—we certainly couldn't. 3446 Chestnut Ave., 410-235-3870
---
Good Deed
Michael Tabrizi
At a time when the Baltimore restaurant industry is still reeling from the riots, Michael Tabrizi, owner of Tabrizi's, picked purpose over profit. During Baltimore Restaurant Week in July—typically a time when local businesses surge—Tabrizi came up with his own version of the week by reaching out to Charm City's homeless population. For five days, Tabrizi shuttered the doors of his Federal Hill restaurant and catering business to prepare meals for the homeless, even teaming with the Baltimore Area Concierge Association to organize bus service to ensure that anyone who wanted a hot meal could get one. Tabrizi's gesture has the power and potential to make a big impact. Let's hope others follow suit.
---
Hidden Gem
Puerto 511
Every time we head to Puerto 511, tucked away on a forgettable block of Clay Street, we question if we've made a wrong turn. But once inside, as the dishes arrive, we bless our GPS for never steering us wrong. Though we've sampled most of the menu (Peruvian fried rice, lomo saltado) at this BYOB Peruvian place, the ceviches are why you're here. Try the Tiridato with pieces of pristine white fish swimming in a yellow chili-pepper cream sauce and amixto arocotado version, including calamari, octopus, and shrimp coated in tiger milk. You'll be glad you made the trip. 102 Clay St., 410-244-8837
---
Hot Dog
Haute Dog
Hot dogs usually get relegated to specific events, like barbecues or baseball games. But Mt. Washington's Haute Dog inspires us to make them part of our regular routine. Between the super friendly staff, bargain-basement prices (chips and a drink for $1.50), and inventive dogs and sausages, we keep coming back to this Falls Road stand. Be sure to check the daily chalkboard specials for the dogs du jour. On the day we went, it was a Buffalo chicken dog with blue-cheese dressing. It was delicious. And look out for the Haute Dog's food truck, coming soon, giving us yet another way to enjoy hot dogs—no matter the occasion. 6070 Falls Rd., 410-608-3500
---
Italian Deli
Trinacria Cafe
With the influx of Italian immigrants to Baltimore through the centuries, it's no wonder we're flush with great Italian delis. But we want to give a special shout-out to Trinacria Cafe, a spinoff of the 107-year-old Trinacria Fine Foods in Seton Hill and always a gold standard in our eyes. During the Freddie Gray riots, the cafe's windows were smashed, yet they managed to re-open—still boarded up—just three days later. Its loyal customers were thrilled to be able to show support by ordering signature sandwiches like the porchetta panini and the veggie and shopping for imported goods. Thanks Trinacria for reopening with comfort food when we needed it most. 111 W. Centre St., 607-401-0200
---
Juice Bar
Plantbar
Tucked inside bustling Belvedere Square Market, Plantbar is proof positive that healthy foods can taste terrific, too. This SoCal-style, healthful hangout features guilt-free, cold-pressed juices rife with essential vitamins and nutrients; superfood smoothies featuring energy-boosting kale, hemp seeds, and coconut oil; and wellness add-ons such as bee pollen and green tea that give new meaning to the term "liquid lunch." 529 E. Belvedere Ave., 443-449-7137
---
Latin
Alma Cocina Latina
If you want to take a quick jaunt to the jungles of Venezuela, head to Alma Cocina in the Can Company. Caracas native Irena Stein, known for her vegetarian-friendly cafes on Hopkins' Homewood campus, brings the outside in with vibrant wall art, a profusion of planters, and a bright white space. Pick a perch at the restaurant's arepa bar, and gaze at the large, round grill turning out maize patties that get split and stuffed. All of them looked delicious, but we went loco for the La Nacional with shredded beef and sweet plantains. Don't tell, but we taste-tested some sangria over lunch—and the red is rad. 2400 Boston St., 667-212-4273
---
Lunch Spot
Dooby's
Dooby's is the kind of place you didn't know you needed until it came along. A hip coffeehouse with great java and amazing, Korean-inspired food, it's the perfect place for any meal, but we particularly love its lunch. Go up to the counter and order—maybe a tuna melt with pickled carrots, Gruyére, and tiger sauce; the decadent avocado toast; or one of Dooby's sublime rice bowls—have a seat and wait for them to call your order. Be sure to leave room for dessert: All of Dooby's baked goods are made in-house. 802 N. Charles St., 410-609-3162
---
New Chef
Steve Monnier
Some chefs are better recipe readers than culinary creators. Not so for Michelin-starred chef Steve Monnier who writes a weekly prix-fixe menu of French and American-inspired seasonal specialties focused on locally sourced ingredients and techniques at Hampden's Arômes. And while new Charm City eateries seem to open in less time than it takes a soufflé to rise, this Hampden hotspot truly brings something fresh to the scene—flash-fried scallops metamorphose into crunchy "rinds," while roasted sweet potatoes work their way into cardamom ice cream. Dishes come and go, but fortunately the Reims, France, native has a vivid imagination. 3520 Chestnut Ave., 410-235-0035
---
New Restaurant
Ananda
The Ambassador Dining Room has long been our favorite for refined Indian fare in a romantic British Colonial-era setting. So when Keir and Binda Singh's sister outpost, Ananda, earned a spot on GQ magazine's list of 25 best new restaurants in the United States, we had to see what the fuss was about. Several pilgrimages to Howard County have led to enlightenment. In a gorgeous setting, Ananda turns out plates of perfectly executed chicken tandoori and sizzling skillets of swoon-worthy classic crab Malabar, and the best naan we've ever had. But don't take our (or GQ's) word for it—go see for yourself. 7421 Maple Lawn Blvd., Fulton, 301-725-4800
---
Pasta
Aggio
When a basic plate of spaghetti and meatballs feels too ho-hum for your hunger, head to Aggio for upscale, Italian-inflected noodle nirvana. Pasta is owner-chef Bryan Voltaggio's canvas for creativity, and simple shapes—from fusilli (tossed with chicken sausage, broccoli rabe, and ricotta salata) to pappardelle (mingled with rabbit and morel mushrooms) and agnolotti (mixed with English peas, pea leaves, and hen-of-the-woods mushrooms)—get reimagined for a modern meal. Bottom line: The former Top Chef contestant brings newness to Old Country cooking. 614 Water St., 410-528-0200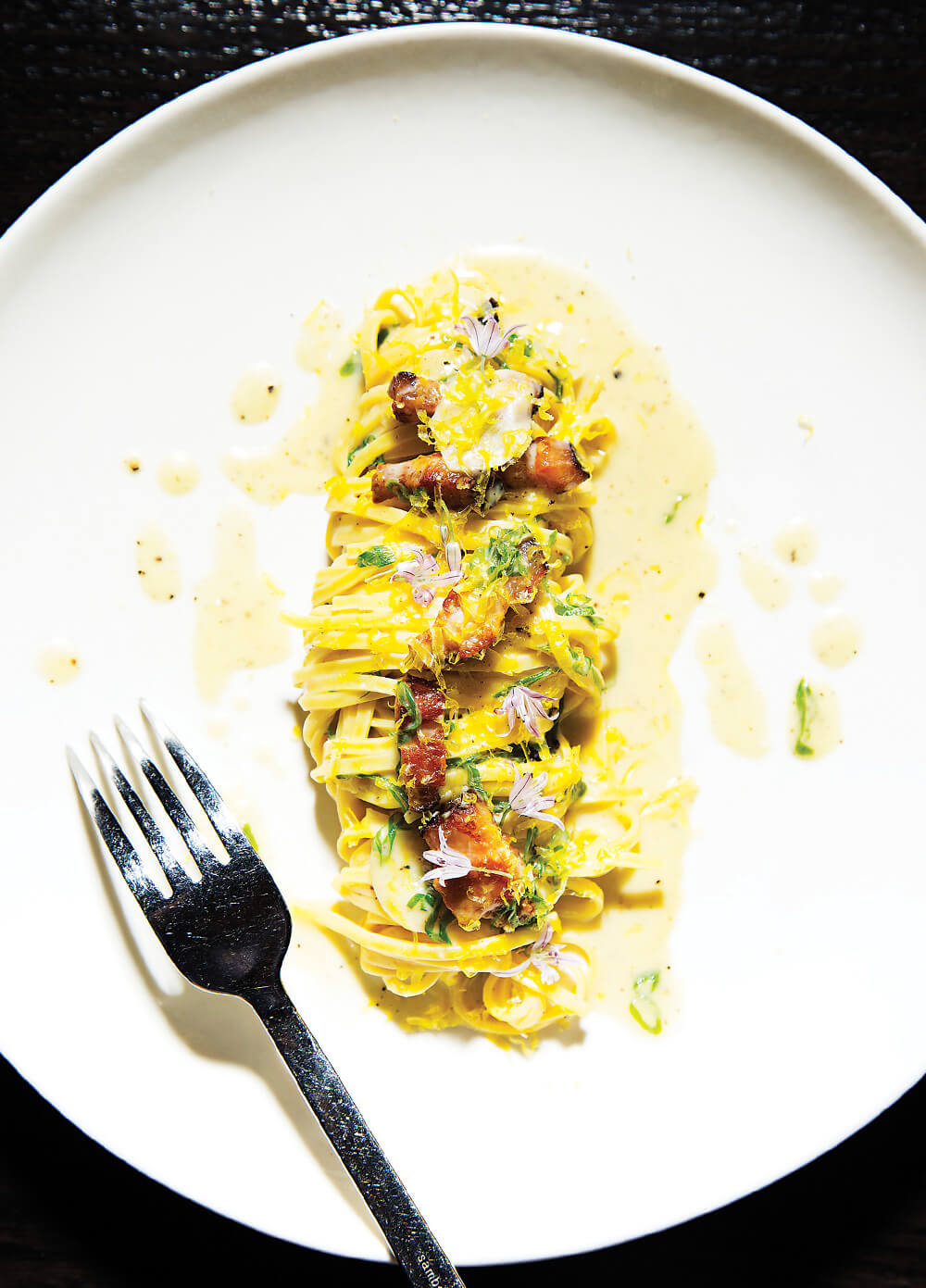 Photography by Scott Suchman
---
Pizza
Birroteca
Birroteca has a lot to offer: stellar cocktails, house-made pasta, and appetizers ample enough to make a meal. But when we're really craving the crackly crusts of Rome, we order one of Birroteca's wood-fired pies. These circular sweethearts strike that rare balance between doughy and thin-crust, yet are still durable enough to hold all the toppings in place. And the seasonal toppings separate Birroteca from the pizza pack. There's the signature Duck Duck Goose featuring duck confit, fig-onion jam, balsamic, and cheese, then topped with a duck egg. But we also appreciate the addition of the Puttanesca pie with pancetta, sausage, olives, capers, cherry tomatoes, Asiago, and fontina drizzled with olive oil. Two locations, including 1520 Clipper Rd., 443-708-1934
---
Prix Fixe
Charleston
It could be that the smell of sweet chicken stock wafting through the walls of the building that we share with this temple of Harbor East haute cuisine has us hankering for a heady bowl of lobster soup, melt-in-your-mouth pan-seared foie gras, or cornmeal-fried Virginia soft shells. But more likely, our heart grows fonder for Charleston every year because it affirms that the glamour of fine dining remains in full force in oh-so-casual Baltimore. And while the ever-changing prix-fixe menu (between $135 and $212 for three to six courses, including wine pairings), rewritten daily by James Beard Award-nominated chef Cindy Wolf, is a special-occasion splurge, we say this level of perfection is priceless. 1000 Lancaster St., 410-332-7373
---
Salads
Stone Mill Bakery
When the same old, same old romaine and boxed croutons with Wish-Bone dressing won't do, get your grazing on at Stone Mill Bakery. Yes, the lemon squares and coconut cakes are there to tempt, but the sumptuous salads packed with high-quality ingredients and some of the best house-made vinaigrettes in the city are off the charts. (All hail the house-made Caesar dressing.) Owners Alfie and Dana Himmelrich take no shortcuts—the olive oil and feta are sourced from Greece, the greens arrive daily from local farms—and deft combinations, like a chopped salad with green beans, crunchy corn, dill, and shrimp dressed in lemon vinaigrette are an essential part of our daily diet. 10751 Falls Rd., Lutherville, 410-821-1358
---
Sandwiches
Luigi's Italian Deli
In a classic case of "if it ain't broke," Luigi's Italian Deli re-opened in its original location in April, under new ownership. Now, the deli is in the hands of Chris Doiron, who was smart enough to leave two sandwiches on the menu: The Meatball Chub (meatballs, marinara, and cheese) and the Scooch, made with capicollo, soppressata, Prima Donna cheese, red peppers, and hot cherry peppers. Even more, Luigi's is now BYOB and has a patio located across from The Wine Source. 846 W. 36th St., 443-438-4195
---
Seafood
Thames Street Oyster House
Thames Street Oyster House owner Candace Beattie and her chef Eric Houseknecht shrink the distance between Baltimore and New England at this eatery specializing in Eastern seaboard-style seafood. There are showy shellfish towers chock-a-block with oysters, clams, and loaded with lobster claws; fabulous fish dishes; and even a five-pound Maine lobster crammed with crab, scallops, and shrimp. It's all top-flight, but the award-winning lobster roll—stuffed with chunks of properly poached tail and claw meat, and served on a buttered brioche bun—has practically become a Baltimore institution. 1728 Thames St., 443-449-7726
---
Soups
Atwater's
Pro-tip: Any time there's a seafood soup at Atwater's, order it. Of course, all the soups are delicious—from gazpachos to gumbos—but there's something that owner/chef Ned Atwater does with shrimp and crabmeat that simply makes us swoon. Back in the day, Atwater's was primarily known for those inventive, hearty soups, but the cafe has since expanded its menu to include wonderful sandwiches and Scottish pies. Still, don't sleep on the soup—it remains the best in town, seafood or otherwise. Several locations, including Belvedere Square Market, 529 E. Belvedere Ave., 410-323-2396
---
Special-Occasion Spot
Linwoods
While we've been known to drive to D.C. and New York for a great meal, a visit to this suburban see-and-be-scene spot reminds us that destination dining is happening here in our own backyard. Linwoods never fails to astonish with technically top-notch plates of house-made pastas, seafood, and grilled meats. It's no wonder that, when The Baltimore Museum of Art turned 100 this past year, owner Linwood Dame and his expert staff were called on to cater the event that fed more than 1,100 people. It's not easy to upstage Matisse and other modern masters, but Dame did with a carefully curated feast. 25 Crossroads Dr., Owings Mills, 410-356-3030
---
Sushi
Azumi
While Baltimore is blessed with a number of great sushi spots, we're smitten with Azumi in Harbor East. For starters, chef Eiji "Taka" Takase's menu is impeccably sourced, with much of the fish imported from Japan's famed Tsukiji market. Rolls we love include the Nobu-inspired black cod roll with spicy miso, crunchy satsumaimo, fragrant shiso ginger and an innovative hamachi iteration with avocado, yellowtail, and jalapeño salsa. Raw fish selections served sashimi- or nigiri-style also dazzle. One bite of the fatty bluefin toro will convince you that great fish needs nothing other than chopsticks to move it to your mouth. In other words, it would be sushi sacrilege to even think about using ginger or smothering it in soy sauce. 725 Aliceanna St., 443-220-0477
SWEETS
Candy
Rheb's
While Baltimore is blessed with places enticing us with highbrow candies to feed our fix, when the craving kicks in, we're sweet on old-school bonbons from Rheb's. The peanut-butter melt-aways are our culinary kryptonite. 3352 Wilkens Ave., Baltimore, 410-644-4321
---
Cookies
Bonjour Bakery
When any old piece of sugar won't do, we say "oui" to the macaroons at Bonjour. These airy almond cookies—filled with chocolate and pistachio never fail to hit the spot. 6070 Falls Rd., 410-372-0238
---
Ice Cream
The Charmery
The colorful Charmery has been brightening up Hampden since it opened in 2013. Laura and David Alima serve creations that are unmistakably Baltimore—like Old Bay caramel and lemon stick. On a recent visit, the place was as packed as a nightclub—albeit the patrons were a tad younger. But, as we snacked on our divine pistachio toffee crunch, we realized that there's fun here for all ages. 801 W. 36th St., 410-814-0493
Tapas
Tapas Teatro
Tapas Teatro was one of the original tapas joints in this town, and it's still going strong. One of our favorite things to do when the weather is nice is snag a table outside on Charles Street, order the delicious sangria; nosh on the pickles, olives, garlicky olive oil, and bread that is served right away; and watch the city go by. The whole menu is great, but we've always been partial to the spicy chicken croquets, the grilled shrimp with hot peppers and capers, the grilled lamb chops, and—if you're hungrier—the truly excellent paella. Its motto says it all: "Small plates, big pleasure," indeed. 1711 N. Charles St., 410-332-0110
---
Vegetarian
Sprout Natural Choice
Time was, vegetarian food was confined to tofu and tempeh, but thankfully, those days are long gone. Case in point: Whether you're a strict vegetarian or complete carnivore, Sprout Natural Choice has plenty to choose from, including a vegan burger, an avocado-strawberry sandwich, and a spicy wrap with black beans, corn, seitan, and a kicky Caribbean sauce. And the raw-juice blends and smoothies make the perfect complement to this veritable garden of eating. 706 Frederick Rd., Catonsville, 443-341-4880
---
Wine Bar
Vin 909
We may have discovered the most charming wine bar on the planet in Vin 909, inside an historic Eastport home near Annapolis. We like that the wine menu is organized by price because that's how we pick our wines anyway. You might start with a glass of White Knight Viognier, a fruity alternative to Chardonnay that is ideal in the summer heat. The peachy white pairs perfectly with the warm pulled mozzarella and green tomatoes. From there, move on to the Margherita pizza and finish with something bubbly like Jeio NV Prosecco. After all, a visit to Vin 909 is always a special occasion. 909 Bay Ridge Ave., Annapolis, 410-990-1846
---
40TH Anniversary Flashback
HÄagen-Daz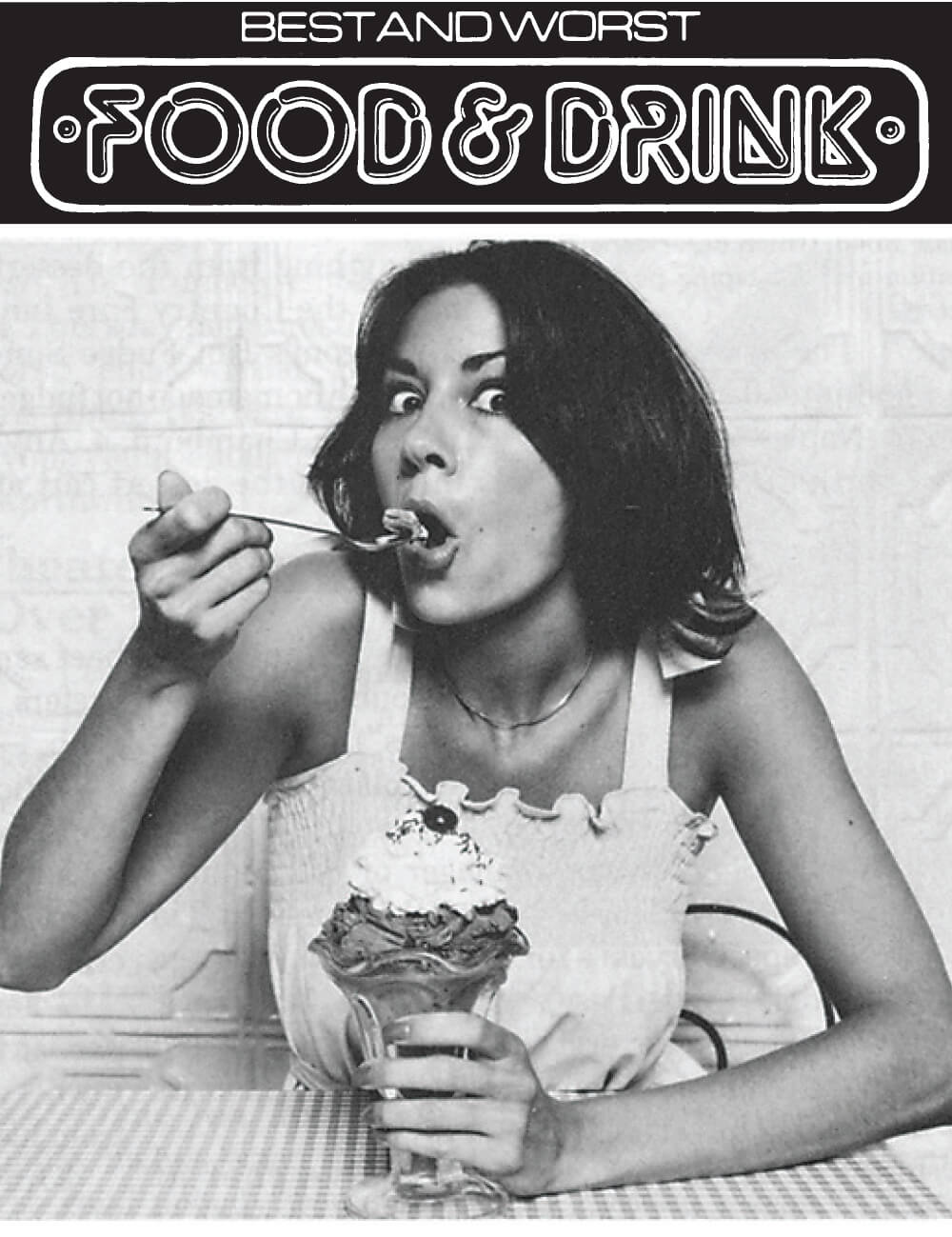 Hey, Häagen-Daz might be old hat now, but in 1978, its chocolate-chocolate chip was revelatory. (Let's face it, it still is!) Less beloved by us? Bubble gum ice cream at Baskin-Robbins. Also, the quiche at a place called Mr. Steak, in Cockeysville. "Mr. Steak will never be able to call himself Mr. Quiche," we quipped.
"Worst Decadent Ice Cream Flavor: Bubble Gum at Baskin-Robbins. (Unless you like to blow bubbles with butterfat.)"

"Best of Baltimore," July 1978, "Best and Worst of Food & Drink."
FUN
---
Bar Makeover
Jokers 'N Thieves
We love a good, cavernous sports bar. The darkness does a lot of favors when you're guzzling beer, chowing down on wings, and cheering on your favorite team. But when JD's Smokehouse changed hands and refocused on Low Country cuisine and craft cocktails, it needed a fitting facelift. And it got one. The renamed Jokers 'N Thieves opened its doors in early March and its rustic vibe reminds us of bars in Southern cities such as Dallas and Charleston, with a mixed-wood interior, license-plate and chalkboard art, and a vintage light-up "Cocktails" sign. The homespun effect is fitting for its stellar cuisine—chicken and waffles, shrimp and grits—and country cocktails like the bourbon mule with Old Forrester, ginger beer, and lime. 3000 O'Donnell St., 410-675-4029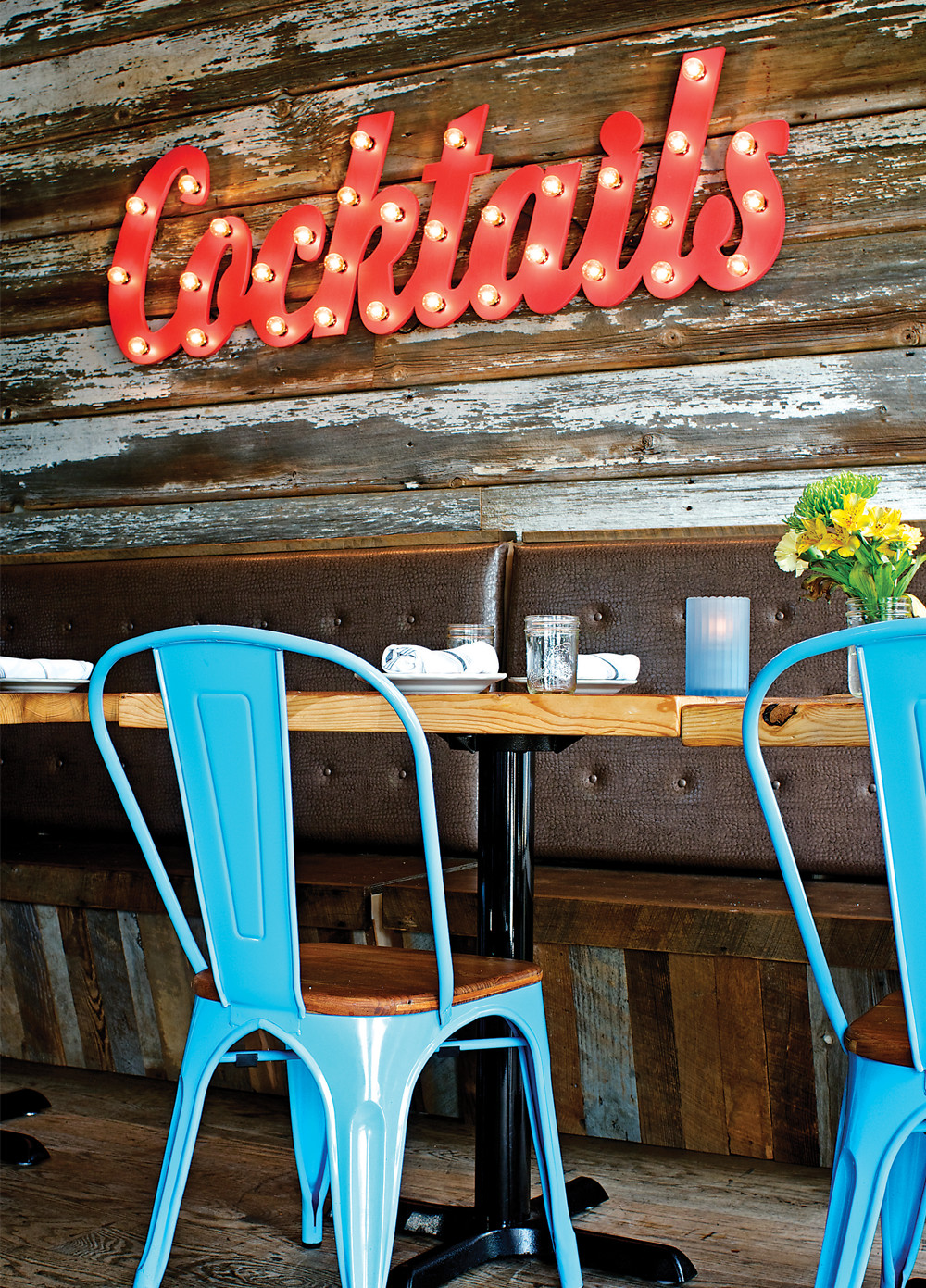 Photography by Cory Donovan
---
Bartender
Ryan Sparks at Bookmakers Cocktail Club
If you work at a bar with "cocktail club" in the name, you've got to be able to pour a decent drink. And beverage director Ryan Sparks does that and more. The veteran bartender's résumé includes stints at The Brewer's Art, Of Love and Regret, and Jack's Bistro, where he was the bar manager. Now at Bookmakers, Sparks's skills really shine with a menu consisting of nearly 20 custom cocktails, a fresh take on 15 classics, a rotating draft cocktail, and house-made ingredients like ghost-pepper tincture and lavender bitters. Plus, he disseminates his knowledge at monthly cocktail classes at Bookmakers so you, too, can one day impress your friends with creative dinner-party drinks. But, for now, just sit back at the Gothic-style bar and let Sparks do the work. 31 E. Cross St., 443-438-4039
---
Boozy Brunch
Hersh's
Clear your schedule if you do brunch at Hersh's. You'll want to eat everything, so a food coma is inevitable. What could be an ordinary breakfast sandwich excels at Hersh's with pork belly and sage sausage, mozzarella and provolone, and a sunny-side-up egg on a house-made sesame-seed bagel with a side of light and airy polenta fries. For more decadence, go with pancakes cooked on the wood-fired grill, topped with mascarpone, basil, and strawberries. Of course, don't miss the cocktails, including a spicy but well-balanced Bloody Mary garnished with a cornichon and fat green olive or the delicious Spritzkovitz with Campari, elderflower, sparkling wine, and grapefruit juice. Plus, there are takes on classics such as a French 75, Manhattan, and mint julep. Between the food and drink, fun service, and amazing '90s soundtrack, you'll never want to get on with your day. 1843 Light St., 443-438-4948
---
Bowling Alley
Patterson Bowling Center
Dating back to 1927, Patterson Bowling is one of the oldest duckpin bowling alleys in the United States. With 12 duckpin lanes, regular leagues as well as open play hours, and a BYOB policy, this old-school alley is a great place to get your Dude on. For a Sunday Funday afternoon, gather some friends, a 30 of Boh, and a couple of pies from Johnny Rad's, the skater-cool pizza joint right across the street. 2105 Eastern Ave., 410-675-1011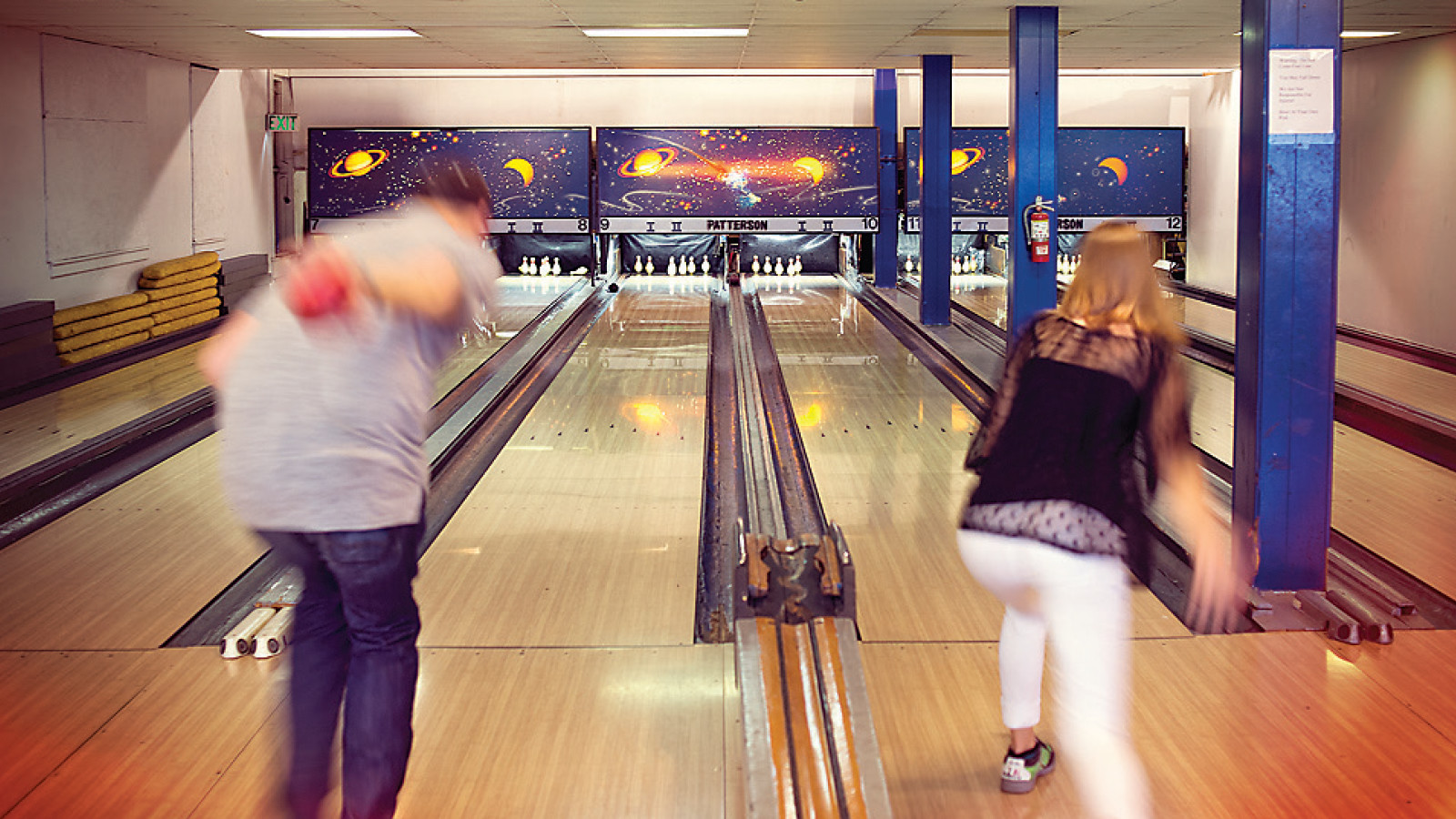 Photography by Christopher Myers
---
Brewery
Peabody Heights Brewery
Peabody Heights is a pretty cool concept. The Charles Village brewery is a co-op—a sort of dormitory for local brewers—housing six craft brands such as Raven Beer, Full Tilt, and Monument City, and corking more than 1,000 barrels each month. On the site of old Oriole Park, its been producing since 2012 and just opened its very own tasting room, with 20 taps of old favorites and new drafts. Tour the facility, meet the brewers, drink their masterpieces, and try Old Oriole Park Bohemian, the first Bohemian beer made in Baltimore in more than 30 years. 401 E. 30th St., 410-467-7837
---
'Burbs Bar
Michael's Café
Open since 1984, Michael's Café keeps changing with the times, and maybe that's the key to its continued success. Just last spring, the family-owned bar and restaurant debuted a new outdoor patio and second indoor bar/lounge area, both of which look as sleek as any cocktail bar the city has to offer. But even if you choose to sit at the original dark-wood bar—as we did on a recent visit—you'll have a great time. With an on-trend cocktail list (try the Moscow mule), encyclopedic food menu (crab and shrimp dip? Yes, please!), and attentive service (shout-out to jack-of-all-trades Cisco Deguzman), Michael's is one of those places that somehow manages to be everything to everyone. 2119 York Rd., Timonium, 410-252-2022
---
Cocktail
Santa Sandia at Clavel
Down the street from her original cocktail bar W.C. Harlan, owner Lane Harlan opened Clavel, a mezcaleria and taqueria inspired by her trips to Oaxaca, Mexico. The space is dreamy and tropical—much like the drinks that comprise its cocktail menu. Of course, the predominant base spirit is mezcal, tequila's smokier cousin made from a variety of agave plants. Our favorite concoction is the santa sandia with a Mezcales de Leyenda spirit from Durango, Mexico, mixed with watermelon juice, serrano peppers, lemon, agave nectar, basil, and a chili-salt rim. The mezcal itself is full of citrus and lighter on smoke, and the peppers and rim pack a fiery punch—transporting us right to the deserts across the border. 225 W. 23rd St., 301-848-2849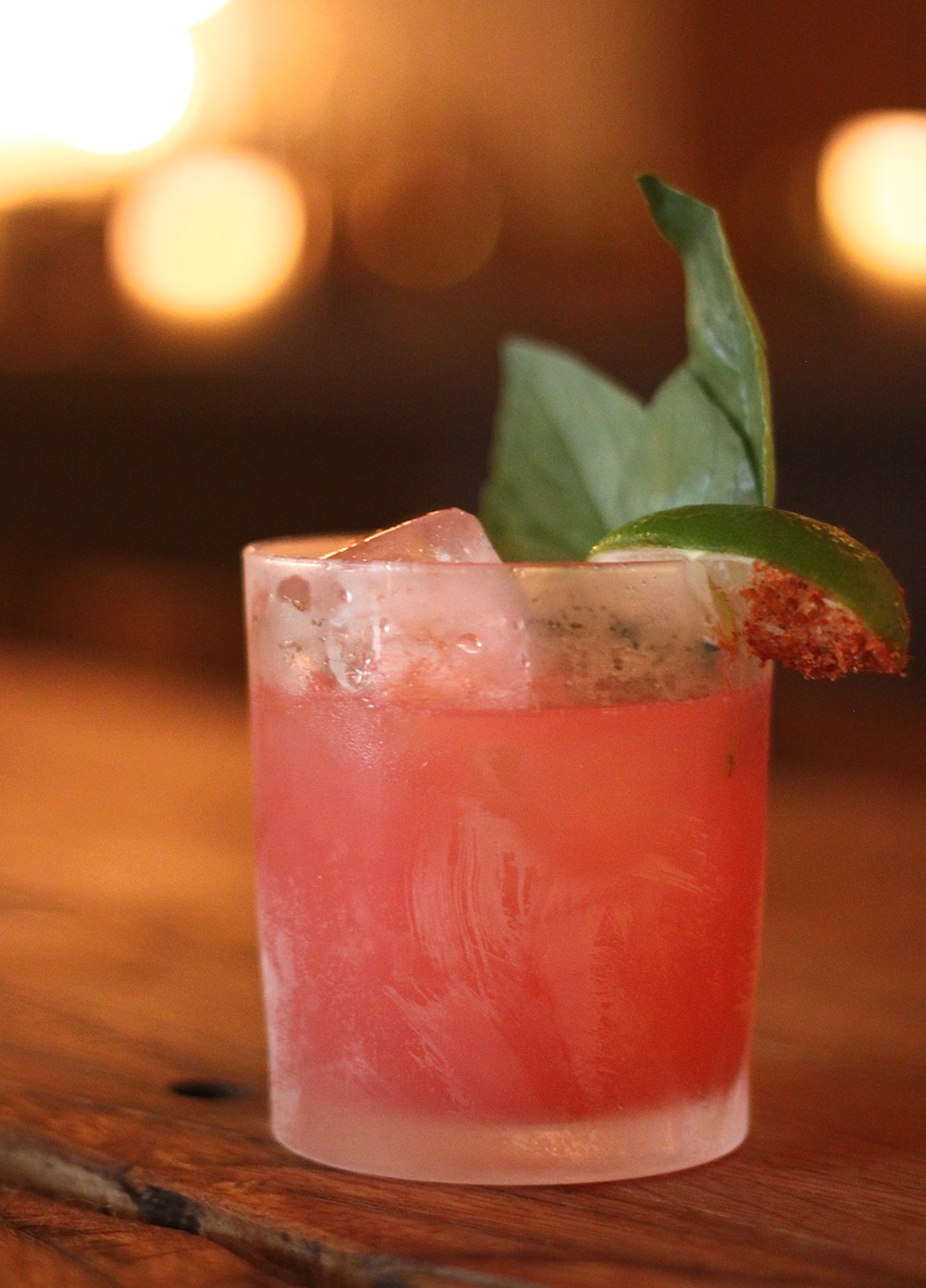 Courtesy of Lane Harlan
---
Dance Night
Save Your Soul
We've given this retro-R&B dance party plenty of props before—and for good reason. Its curated selection of R&B classics and obscurities (only vinyl, natch) and location in the basement of the Lithuanian Hall makes it seem like the epitome of hipster cool. But Save Your Soul organizers have unlocked a bonus level of cool by taking their show on the road. Now, in addition to the monthly Save Your Soul at the Lithuanian Hall, there are seasonal parties at Union Craft Brewing's Woodberry headquarters. Here, in between stainless-steel brewing tanks and stacks of bagged malt, the beautiful people can get their groove on, only stopping to fuel up with various Union Craft brews and food from mobile food vendors such as The Local Oyster and Pizza di Joey. Cheers to that.
---
Dive Bar
Long John's Pub
On this old Remington block of neon-lit liquor stores, classic row homes, and half-century-old seafood houses, make your way to Long John's Pub and leave your pretenses at the door. Inside, this diviest of dives is a yard-sale hodgepodge of lawn furniture, beer signs, dartboards, and Beatles memorabilia, with a beloved jukebox blaring The Rolling Stones. In a neighborhood in the midst of a rapid hipster renaissance, Long John's remains a wonderful artifact of the past. Sidle up next to the tried-and-true regulars and befriend the tough-but-warm bartenders. Ask for Pam. She'll take care of you. 398 W. 29th St., 410-235-2426
EVENTS
For Date Night
Pratt Contemporaries Black and White Party
So many galas promise fun and glamour but deliver on neither. This themed bash held in the Pratt's Central Branch always does. Bonus points for taking place during the dead of winter when everyone is dying to get out of the house. prattlibrary.org
---
For Families
Baltimore Book Festival
Cooking demos for mom and/or dad, poetry readings for moody teenagers, a comic book pavilion for budding fanboys and fangirls, plus live music, appearances by famous authors, food and drink, and a great harbor-side location: If this doesn't please all parties, we don't know what will. baltimorebookfestival.com
---
For Out-of-Towners
AVAM's Kinetic Sculpture Race
Baltimore is famous for its quirk, so why not introduce newbies to Charm City via one of our oddest events: a 14-mile amphibious race around the Inner Harbor featuring whimsical, contestant-made contraptions. avam.org
---
Fantastic Voyage
Baltimore Water Taxi
Now that the Red Line is dead and officials keep murmuring about reducing Charm City Circulator service, we appreciate the Water Taxi more than ever. It's one of the few viable alternatives to spending rush hour sitting on President, Pratt, and Lombard streets. But while the Water Taxi is undeniably useful, we'd like to take this opportunity to call attention to just how fun it is. Board at any of the 16 designated spots that ring the Inner Harbor and crisscross the basin to your destination, taking in unparalleled views of the downtown skyline, the Domino Sugar sign, Fort McHenry, and other landmarks along the way. Catch the breeze, watch the sun rise or set, and take a minute to enjoy the journey, not just the destination. 410-563-3900. baltimorewatertaxi.com
---
Fond Farewell
The Hippo
When it was announced in early May that the iconic gay nightclub, The Hippo, would close and be replaced by a CVS in the coming months, the news was met with widespread—and understandable—disappointment. Not only was Baltimore's LGBTQ community losing one of its stalwart institutions, but Baltimoreans of all persuasions were losing a damn good nightlife destination. But the Hippo's longtime owner Chuck Bowers—who, at 70, is closing the club to travel and volunteer—doesn't want any tears shed. In fact, when the club does close—at a yet-to-be-determined date in the near future—it will be with a celebratory bang. "Get ready," Bowers teased in May. "There will be a party." 1 W. Eager St., 410-547-0069
---
Groundhog Day
ReOpening Day
Though it pales in comparison to real issues facing the city, the Orioles were affected by the Freddie Gray unrest, too. There were riots outside the game on April 25, the team postponed games, one game was played in a closed stadium, and the boys traveled to Tampa Bay for a "home" series. So when the O's returned to Baltimore May 11, a group of diehard fans organized ReOpening Day, encouraging fans to attend the game and support the local businesses surrounding Camden Yards that incurred damage and financial losses during the unrest. Additionally, bars accepted non-perishable food items to donate to the Maryland Food Bank. In the end, attendance was mediocre (but good for a Monday game) at just over 20,000 fans. But more than 20 bars participated, the Orioles beat our rival Blue Jays 5-2, and Baltimore was again covered in a sea of orange after a long, two-week absence.
---
Happy Hour
Ryleigh's Oyster
In the Land of Pleasant Living, the happiest of hours come not just with good, cheap drinks, but also fresh, local seafood. Enter Ryleigh's, with its weeknight "Oyster Hours," where brews and shucks are a bang for your buck. The tried-and-true Fed Hill seafood house now has three locations, and we've come to love the cozy little side bar at the new Mt. Vernon digs the most. With its whitewashed walls, natural light, and dark wood accents, you're transported to a harbor-side, half-shell haven, where, from 3 to 10 p.m. on Mondays and 3 to 7 p.m. Tuesdays through Fridays, the specials never surpass $5. Dive into dollar oysters, including plenty of Chesapeake Bay beauties, and tip back $3 craft drafts, like Flying Dog and Heavy Seas. Just get there early—the place fills up post-work. Like the old saying goes, "The first man gets the oyster, the second man gets the shell." 1225 Cathedral St., 410-539-2093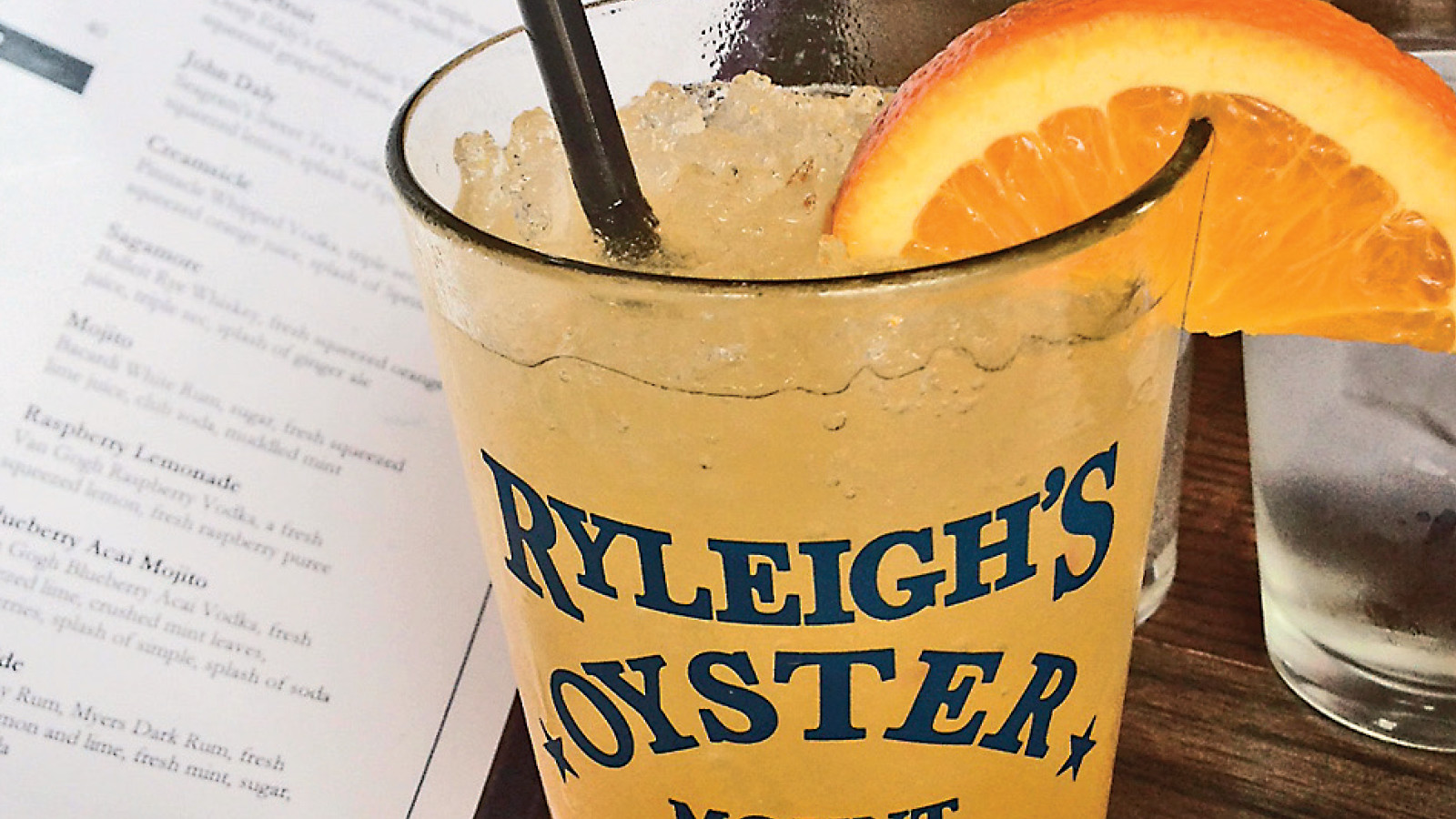 Photography by Valarie Jackson-Saunders
---
Ice Rink
Waterfront Partnership Ice Rink
Slips and falls were all a part of the fun this winter at the Inner Harbor's brand new ice rink, including a not-so-graceful spin by Mayor Stephanie Rawlings-Blake. Sandwiched between the frozen harbor and twinkling city lights, the open-air rink attracted adults and kids, tourists and locals. For date nights and family outings, there was no better place to celebrate the season. We're excited for its return this fall. 101 Pratt St., 443-890-6158
---
Karaoke
Friday Nights at Max's Taphouse
We've rocked the mic at karoke nights all over this fine city, but the one that keeps us coming back is the Friday night showcase at Max's Taphouse. It's hard to explain why, exactly. The snug side room where it's held requires participants and spectators to wedge and stack themselves on scant furniture like some kind of human Lego display. The "stage" is little more than an area of floor at the front of the room demarcated by a line of tape and protected by emcee Mark Bishop and a bouncer. But despite—or maybe because of—this unflashy set up, the vibe is always wild and welcoming with regulars singing everything from Hootie & the Blowfish to Ozzy Osbourne with gusto. Our only complaint is that festivities end by 1 a.m. We could go all night. 737 S. Broadway, 410-675-6297
---
New Neighborhood Bar
Bar Liquorice
Just a few blocks southeast of the Federal Hill hooplah and a stone's throw from trendy Locust Point, Bar Liquorice sits on a quiet corner of Riverside, all row-home brick and Old Baltimore charm. From the outside, the little eat-and-drinkery is unassuming, but inside, you'll settle into its eclectic interior and sleek, black bar with bold craft cocktails, lots of local beers, and unexpectedly feel-good food. (We don't mind the gratis popcorn or namesake Twizzlers, either.) Chat with the folks behind the bar, as bearded bartender Shaun Stewart mixes up potent spirits and one-of-a-kind owner Jeff Cahill mans the panini grill. After some 30 years in the food biz, Cahill makes you feel like an instant regular and is full of fascinating stories. Just ask him who his grandmother was. 801 E. Fort Ave., 443-708-1675
---
Oriole
Manny Machado
Between knee injuries and flared tempers, it's safe to say 2014 wasn't Manny Machado's year. But now, the third baseman is back with some incredible numbers. As of press time, he was batting .301 with 18 home runs and 47 RBIs­—more than he clocked in the entirety of last season. All-Star Machado has excelled at hitting, bunting, and running the bases ever since manager Buck Showalter put him in the leadoff spot for good in May. The lineup change has had a trickle-down effect on the rest of the club: When he's good, they're good. His amazing fielding is a given, evoking comparisons to O's legend Brooks Robinson. And, it looks like last year's tumultuous season gave the 23-year-old some much-needed perspective: "It makes you see things differently and not take life for granted," he told ESPN. "Every moment I'm out there, I enjoy putting on a major-league uniform."
---
Outdoor Drinking
Hard Yacht Cafe
With Lynyrd Skynyrd on the stereo and plastic palm leaves blowing in the balmy summer breeze, waste away in Margaritaville, by way of Dundalk. Nestled into the shipyard cove of Bear Creek, this little waterfront shack is the place to spend your summer afternoons. Inside, the bar is busy, as are the walls, covered in neon beer signs, mounted fish, and other bric-a-brac. Outside, the tiki deck bursts with picnic tables and old, tattooed regulars, basking in the sun. It's one of Baltimore's best-kept secrets: The beer buckets are cold, the orange crushes are strong, the live music is loud, and, when you're there, it's always 5 o'clock. 8500 Cover Rd., Dundalk, 443-407-0038
---
Outdoor Film Series
REEL B.A.D. Film Nights
There are so many good outdoor film series around town, but we want to throw some love to the new kid on the block, representing the newly designated Bromo Tower Arts & Entertainment District on the west side. A large grassy lot next to the Catholic Relief Services headquarters hosts the outdoor cinema experience, which started in June and runs every third Tuesday through September. Films tend toward tried-and-true favorites like The Sandlot (June), Sister Act 2: Back in the Habit (August), and Ghostbusters (September). And each screening is preceded by short, experimental films made by local cineastes to add a dash of the unexpected. Top it all off with food and drink from local vendors and you've got a recipe for success. 200 W. Lexington St. bromodistrict.org/reelbad
---
Raven
Justin Forsett
So we might have a teeny football crush on Justin Forsett. Not only was the running back there for us when our team needed him most after Ray Rice's suspension, but he went above and beyond—posting 1,266 rushing yards, eight rushing TDs, 44 receptions, and even averaging more yards per carry (5.4) than any other NFL running back. No wonder the Ravens just signed him to a three-year contract worth more than $9 million. Also, Forsett has paid his dues, bouncing around between four teams during his eight years in the league before finding a more permanent home in Baltimore—which he fully embraces, living in Locust Point and cracking crabs. We also love that he has his own blog and frequently posts photos of his adorable family (wife Angie and sons Judah and Zion) on Instagram. And did we mention he started his own youth football camp? Needless to say, he's a keeper.
---
Save
The Idle Hour
It was heartening to see so many come out of the woodwork in support of this quintessential corner dive. After The Idle Hour unexpectedly shuttered last winter, it seemed like half of Baltimore suddenly remembered all the great nights that had been spent there sipping one-too-many picklebacks, slugging shots of Chartreuse, and digging on vinyl—and then collectively decided: "Not on our watch." In a matter of weeks, two fundraisers had together raised over $48,000 to bring the beloved bar back to life. Now, renovations are underway, with plans to re-open in the fall. We'll raise a Chartreuse to that. 201 E. Fort Ave., 410-468-0357
---
Sports Bar
Turp's Sports Bar & Restaurant
When you think of Mt. Vernon, you probably don't think "Sports!" But maybe you should. Open since 2009, Turp's Sports Bar & Restaurant has all the expected features of a spots bar—TVs, beer, a menu full of wings, burgers, and nachos—but with slight twists that give it distinction. For instance, in addition to several flat-screens placed strategically around the room, each booth has its own private TV that can be tuned to your channel of choice. And the beer selection is a cut above with Resurrection, Flying Dog, and Fat Tire on draft—as well as the usual Natty Boh and Yuengling. Best of all are the game-night and weekly specials: O's and Ravens games beget $2 Boh tallboys and $2 orange or purple shooters, while regular old Thursdays, Fridays, and Saturdays bring late-night happy hours. Perhaps Turp's location in Mt. Vernon makes it try a little harder than the stadium-adjacent bars that can count on built-in crowds. We appreciate the effort. 1317 N. Charles St., 410-347-0349
---
Swanky Bar
B&O American Brasserie
This smart, sophisticated brasserie has been around for a while now, riding out the common struggles of the restaurant industry—chef changes, spotty reviews, the natural ebb and flow of popularity—but it seems to have found a groove. The warm, nostalgic bar may be a thing of the past but at B&O—housed in the Hotel Monaco, the historic former headquarters of the B&O Railroad—head bartender Brendan Dorr and chef Michael Ransom continue to push it forward. Called the Godfather of Baltimore's cocktail scene, Dorr is a master mixologist, using seasonal ingredients to craft expert cocktails while Ransom breathes new life into perfectly paired small plates and contemporary Chesapeake cuisine. Pull a chair up at the long, elegant bar beneath its red-tiered chandelier overlooking the hustle of downtown, and let them do the rest. 2 N. Charles St., 443-692-6172
---
Trail
Jones Falls Trail from Woodberry to Cylburn Arboretum
The Jones Falls Trail took another step toward completion this spring when the latest stretch between Clipper Mill and Cylburn Arboretum opened. The new leg means that riders and walkers can go from the Inner Harbor all the way up to Northern Parkway on mostly dedicated trails. (Some southern portions of the trail share city streets.) The latest segment has some of the best scenery on the trail, boasting views of the Jones Falls and its historic mills, plus access to Druid Hill Park. But, so far, its newness has kept the crowds away. We're almost sorry to spill the beans. jonesfallstrail.us
---
Win-Win
Volunteering Untapped
It was a simple yet brilliant idea: incentivize twentysomethings to get involved in their community with the promise of cheap beer. Tapping into the region's ever-growing young professional population, Volunteering Untapped teams up with local nonprofits like Living Classrooms, Maryland Food Bank, Moveable Feast, and the Salvation Army, allowing volunteers to spend a few hours do-gooding on Saturday mornings, followed by an afternoon of day-drinking at a local brewery or bar. Thus far, they've put in over 1,200 hours of community service in Charm City. We'll raise our glass to that. volunteeringuntapped.org
40TH Anniversary Flashback
Survivor skills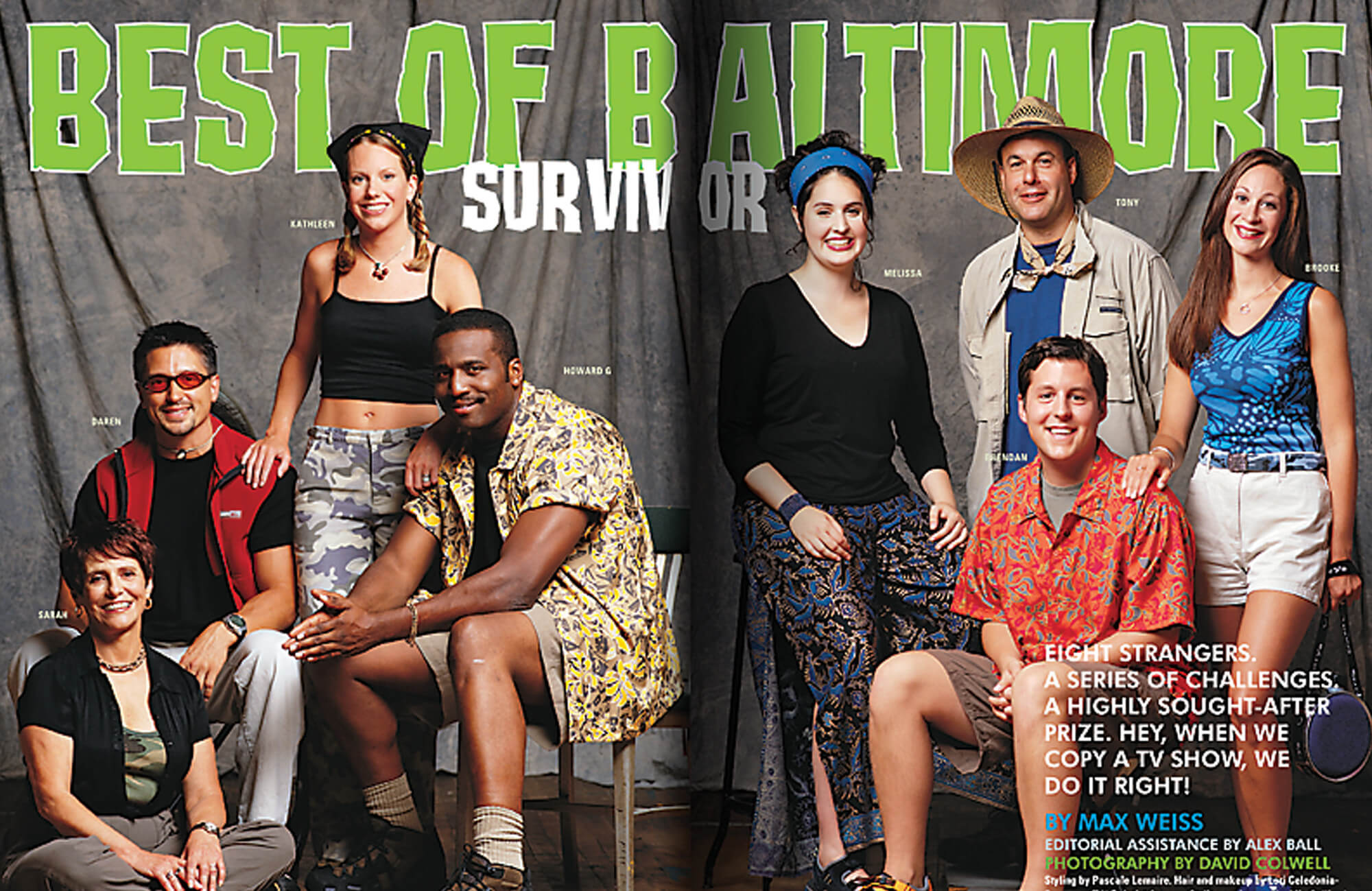 Now it's just a long-running reality show, but back in 2001 Survivor was the hottest thing going. We got into the spirit of things, staging scavenger hunts, endurance tests, and the like for our eight intrepid contestants. Our favorite game? Go to the Harbor and find the tourist who lives farthest away. (It was the Philippines!)
"There may be no alligators . . . but If you're going to survive in Baltimore, hon, you've got to embrace the humidity."
"Best of Baltimore," August 2001, we wrangled together eight strangers to compete in a series of challenges emulating the TV show of the moment, Survivor.
LIFESTYLE
---
Activewear
Lululemon Athletica
Everyone knows that the first rule to a great workout is looking good. And Vancouver-based Lululemon has perfected the whole "studio-to-street" look. Using innovative patterns, silhouettes, and fabrics, the brand offers fashionable (and functional) fitness gear for both men and women, covering everything from a good warm up to a relaxing cool down. We aren't suggesting that you replace your whole wardrobe with Luon (that's Lululemon's signature stretchy, moisture-wicking fabric), but it definitely helps when flowing from downward dog to grabbing groceries. Several locations, including 820 Aliceanna St., 410-528-5485
---
Best-Kept Secret
BMA Shop
Who knew that The Baltimore Museum of Art's gift shop had such an amazing and eclectic assortment of gift items? We did. And now you do, too. As wonderfully curated as the museum itself—and featuring everything from jewelry to home décor—this shop is the perfect place to buy a gift for the arts-and-culture enthusiast in your life. Plus, it's a great excuse to visit the BMA's newly renovated African and Asian art galleries. 10 Art Museum Dr., 443-573-1844
---
Conversation Pieces
Second Chance
What we love most about Second Chance—aside from its nonprofit mission of workforce development and sustainability and that eye-popping Steve Powers "What Is and What Can Be" mural that adorns the building—is that among the functional items like couches, drawer knobs, and desks are one-of-a-kind standout pieces. We're talking about a Käthe Kollwitz lithograph and extraordinary cast-stone garden decorations. Salvaged and donated from mansions and historic buildings along the East Coast, a few of these items are so rare they seem like they'd belong in a museum. 1700 Ridgely Rd., 410-385-1700
---
Date Shopping
Doubledutch/sixteen Tons
This double-decker shopping experience has something for both of you. Sixteen Tons, owned by Daniel Wylie, occupies the first level of the location on Hampden's The Avenue and is dedicated to serving the resurgence of traditional menswear—think brands like Ben Sherman, Pendleton, and local Treason Toting Company. In the whimsical space upstairs, Wylie's wife, Lesley Jennings, has her own shop, Doubledutch Boutique, which offers colorful women's apparel from brands like BB Dakota and Kling. This fashionable power couple brings the perfect mix of masculine mojo and feminine flair. 1021 W. 36th St., Doubledutch: 410-554-0055, Sixteen Tons: 410-554-0101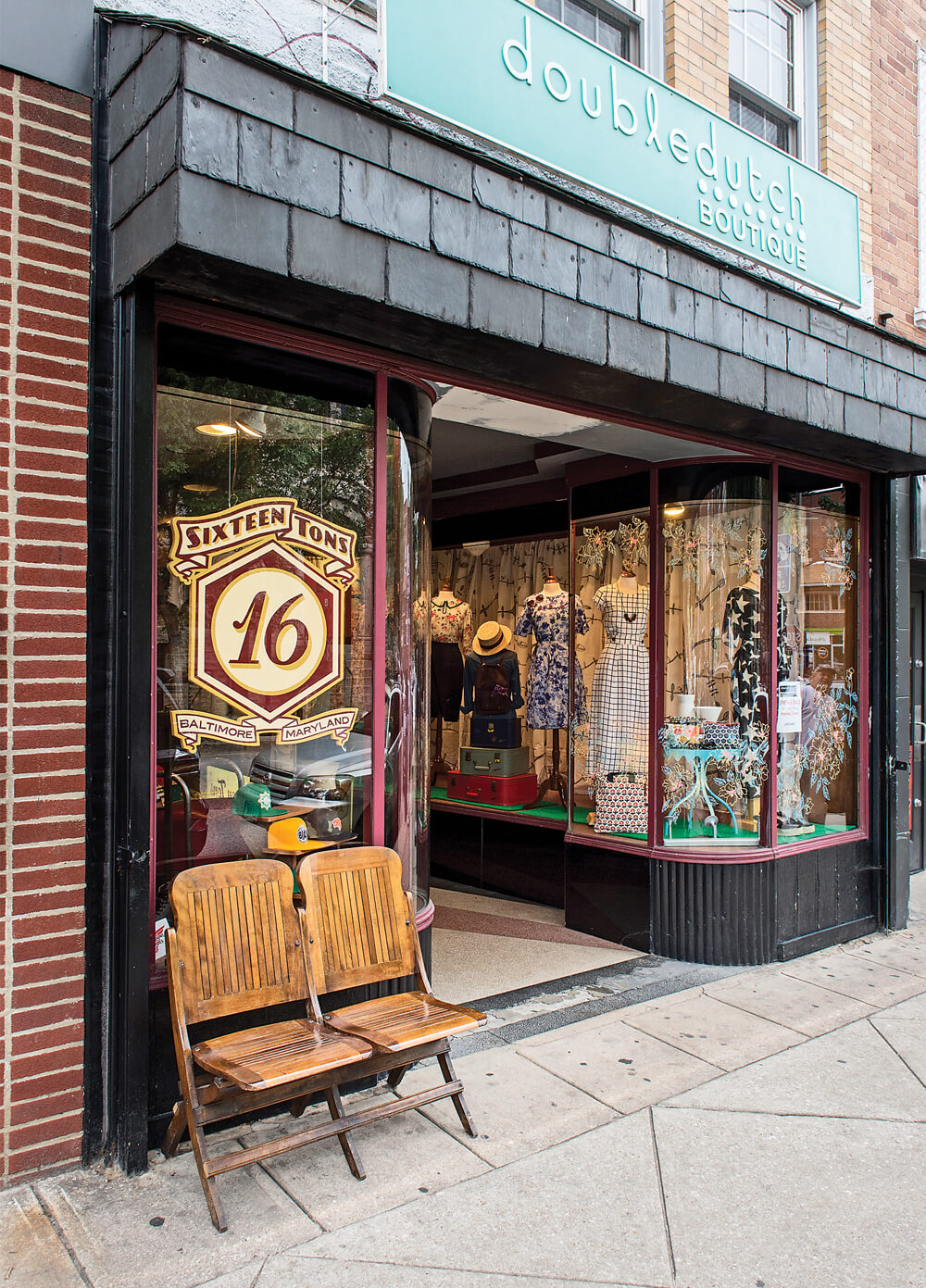 Photography by David Colwell
FITNESS CLASSES
Core
Surfset
Life's a beach and now so is your workout. Beach Fit's Surfset is all about getting away from the norm and challenging your body in new ways. Core work and strength training are all done while balancing on the Surfset Fitness board. This class is as fun as it is challenging, so much so that you'll forget you're working out! 1400 Aliceanna St., 410-753-4354
---
Spin
Rip-N-Ride
REV Cycle Studio's Rip-n-Ride brings the pain (the good kind) with 45 minutes of sports-proven training in a group indoor cycling studio. Each class has a 30-percent focus on cycling and 70-percent focus on core strength and upper-body toning. Sound too intense? REV offers a variety of other traditional spin workouts as well as fun music-themed classes. 1718 Whetstone Way, 410-727-4738
---
Yoga
Music in Motion
Some yoga classes are taught to the sounds of wind chimes or a gong. But at M. Power's Music in Motion class, there are live musicians—mostly acoustic singer-songwriters with a chill vibe. Instead of distracting you from perfecting your warrior pose, they actually help you relax. 3600 O'Donnell St., 410-534-9642
---
Home Furnishings
Home on the Harbor
Can't find a sofa that will squeeze through the door of your new row home? Karen Graveline opened Home on the Harbor in 2003 to give locals a variety of modern styles, scaled to fit urban spaces. The beautiful showroom has everything from bedroom furniture to dining-room tables. This year's hot seller is a Fermob '60s-style patio set that comes in several retro colors. Whether you're just starting out in the city, or looking to rev-up your home décor, this is the place for sleek design and well-made furniture. 1414 Key Hwy., 410-433-1616
---
Kid's Boutique
Wee Chic
Looking for a boutique that can dress infants, tweens, and everyone in between? Specializing in tasteful clothing for both boys and girls, the vibrant, contemporary Wee Chic carries several high-fashion brands like Splendid and Tea Collection and is the exclusive seller of Kate Spade children's clothing in Baltimore. Those not shopping for clothes can enjoy fun, family-oriented classes in art forms such as photography and painting. And—cue the singing angels—there's even a candy bar. 2360 W. Joppa Rd., Lutherville, 410-878-7400
---
Lingerie
Polina's Privé Fine Lingerie
Take a step back from the one-size-fits-all approach of Victoria's Secret and treat yourself to a personalized lingerie experience. Polina's makes it easy to create the proper foundation for any outfit with personable customer service, complimentary fittings, and brands from all over the world. Shop for items including shapewear, loungewear, and lingerie, and discover how great it feels to wear the right size. 724 S. Broadway, 410-276-0205
---
Mobile Boutique
Go-Go's Retread Threads
Stacey Chambers peddles stylish wares with the help of her trusty sidekick Elsa, a repurposed school bus that serves as her traveling vintage clothing store. With graffiti and colorful murals on the outside and a collection of quirky, kitschy, and classy couture inside, Chambers's bus has been bringing fashionable joy to the streets of Baltimore for the past five years. You can find Chambers and Elsa at the Baltimore Farmers' Market and Bazaar on Sundays, at the Towson Farmers' Market on the second and fourth Thursday of the month, at local colleges, and at various Baltimore festivals. 443-810-7512
---
Nail Care
Scrub Nail Boutique
Luxury meets simplicity in this Fells Point fume-free salon. Owner Jasmine Simms has an extensive nail-care background and an impressive hold on all that is new and natural in the world of nails. Along with tried-and-true brands such as OPI and OPI gel polish, she carries unscented, cruelty-free lines like Mischo Beauty and See Envy Vinylux. With its natural light, comfy chairs, and house-made foot and hand scrubs, you will feel instant relaxation as soon as you walk through the door. Scrub also accommodates groups, so grab your friends and a bottle of Cava and we'll see you there! 722 S. Broadway #200, 443-869-6470
---
Occasion Dresses
Francesca's Atelier
Nobody ever wants to have a "Who Wore it Best" moment at a special event like a wedding—especially not the mother-of-the-bride! Francesca's Atelier is filled with the finest selection of gowns and cocktail dresses from Carmen Marc Valvo, Theia, and Monique Lhuillier, with no more than two of each style (and, in most cases, only one). Although her boutique just opened last October, owner Francesca Ripple has more than 15 years of experience in the special-occasion arena (she also owns Francesca's Bridal Salon). Services such as on-site tailoring and custom orders with designer Paula Varsalona will ensure each client leaves feeling like the belle of the ball. 10751 Falls Rd. #101, Lutherville, 443-841-7057
---
One-Stop Men's Shop
The QG
Grooming? Check. Spa services? Check. Retail? Check. What started 10 years ago as a humble, four-chair barbershop has since expanded into a full-scale department store, complete with a cigar lounge, fully-stocked bar, and custom tailoring. With a women's department in the works and brands like Barbour, Peter Millar, Allen Edmunds, and J Brand, The QG is five levels of perfection. 31 S. Calvert St., 410-685-7428
---
Pop-Up Shop
b. Willow
Liz Vayda began B. Willow in early 2014, with the mission to reconnect people with nature. Her idea of planting indoor greenery—such as succulents, cacti, and tropicals—in repurposed materials has taken off, landing her terrarium-building classes at Mt. Vernon's Strongbox and pop-up shops at Madewell. Her planters and terrariums are also available for retail sale at local favorites Trohv and Milk & Honey Market. Make sure to check out B. Willow on Instagram and Facebook to find out where the next workshop will be. No green thumb needed. bwillow.com
---
Retail Activism
For Rent Shoes
A successful business has the power to go beyond selling great merchandise—it can also make a positive impact in the community. Ever since For Rent Shoes opened its doors in 2013, married owners Harrison Davis and Dan Lindquist Davis have given back by hosting women's networking events and, recently, helping with the Sandtown-Winchester cleanup. We also can't ignore the super-cool brands like Article No. and Gourmet, but we admire their activism the most. Acting as a resource center, For Rent has mentored over 300 local designers like Style House and Fly Nerd—providing direction with branding, business plans, and networking and helping to launch the next successful Baltimore brands. 515 Cathedral St., 443-873-9928
---
Salon
Laboratorie
In the heart of Roland Park, we found Laboratorie—and thank goodness we did! This state-of-the-art boutique salon is every bit as fabulous as it makes you feel. Exclusively featuring the Italian organic line Davines, Laboratorie's mission is to limit its environmental footprint by only using products and color that are gentle on the earth—and, of course, on its clients. It also carries a wide array of Davines at-home hair care products. With an eye for on-trend style and excellent technique (including the best balayage in town), Laboratorie is turning heads in more way than one. 735 Deepdene Rd., 410-435-0805
---
Shoes
Poppy and Stella
After seven years, Poppy and Stella is still our go-to spot for the latest in shoe trends. Think a curated selection of favorites from Frye, Sam Edelman, Kork-Ease, and Jeffrey Campbell. And don't forget about its ever-changing assortment of delicate accessories, handbags, and casual apparel. With the help of its friendly and very knowledgeable staff, and a generous customer rewards program, Poppy and Stella is always worth a visit. We've even had some D.C. friends make a special trip just to shop at this Fells Point shoe haven. 728 S. Broadway, 410-522-1970
---
Sister Stores
Ruth Shaw/The Girl Next Door
Think of The Girl Next Door as Ruth Shaw's younger, hipper sibling, filling its industrial-inspired space with pieces from R & R Surplus, IRO, Alexander Wang, and Rag & Bone. But don't forget "big sis" Ruth Shaw, which remains the region's tastemaker for high-end, chic style—think designers like Cedric Charlier, The Row, and Moschino. Because the shops are literally next door to each another, it makes it easy for owner Ray Mitchener and his team to give both locations the same love and attentive service that makes everyone feel very much a part of their fierce and fashionable family. The Village of Cross Keys, 68 Village Sq., 410-532-7886
---
Spa
Ojas
Wellness Center After moving to Baltimore from New York City, Ojas owner Kelly Wilkes recognized the local need for a wellness center that focused on the individual client. In 2003, she opened Ojas with the goal of offering a full range of personalized, holistic treatments. Sure, you can come in just to get a massage, but the specialists at Ojas also know how to combine acupuncture, skin care, and yoga to help relieve stress and body pains. With Ojas's four convenient locations, relaxation is just a few minutes away. Several locations including 1501 Sulgrave Ave, 410-664-6527
---
Vintage
Milk & Ice Vintage
Hampden gained another star when Milk & Ice Vintage, previously available only online and through local pop-up shops, opened its first brick-and-mortar store in 2014. What began as a labor of love by best friends Angela Gavin and Katherine Schultz has resulted in a beautifully curated collection of vintage clothing, accessories, and décor. On a recent visit, we spotted the perfect floral midi dress and an impressive array of vintage graphic T-shirts. Milk & Ice also dazzles with its daily Instagram posts, which offer outfit inspiration and styling tips. Combined with antiques and collectibles from seasoned antiques dealer Christian Sturgis, Milk & Ice is a must for every vintage lover. 833 W. 36th St., 410-889-1009
Photography by David Colwell
---
Window displays
Sweet Elizabeth Jane
Of course, we love this Ellicott City shop's charming collection of home goods, boho chic clothing (look for brands like Everly and Blu Pepper), and ultra feminine accessories, but it's their creative, DIY window displays that really make us swoon. The staff creates an inspiration board, and then transforms it into a whimsical scene every few months or so. With most décor made in-house and themes ranging from local flare to holiday settings, everything at Sweet Elizabeth Jane is easy on the eyes. 8125 Main St., Ellicott City, 410-465-6400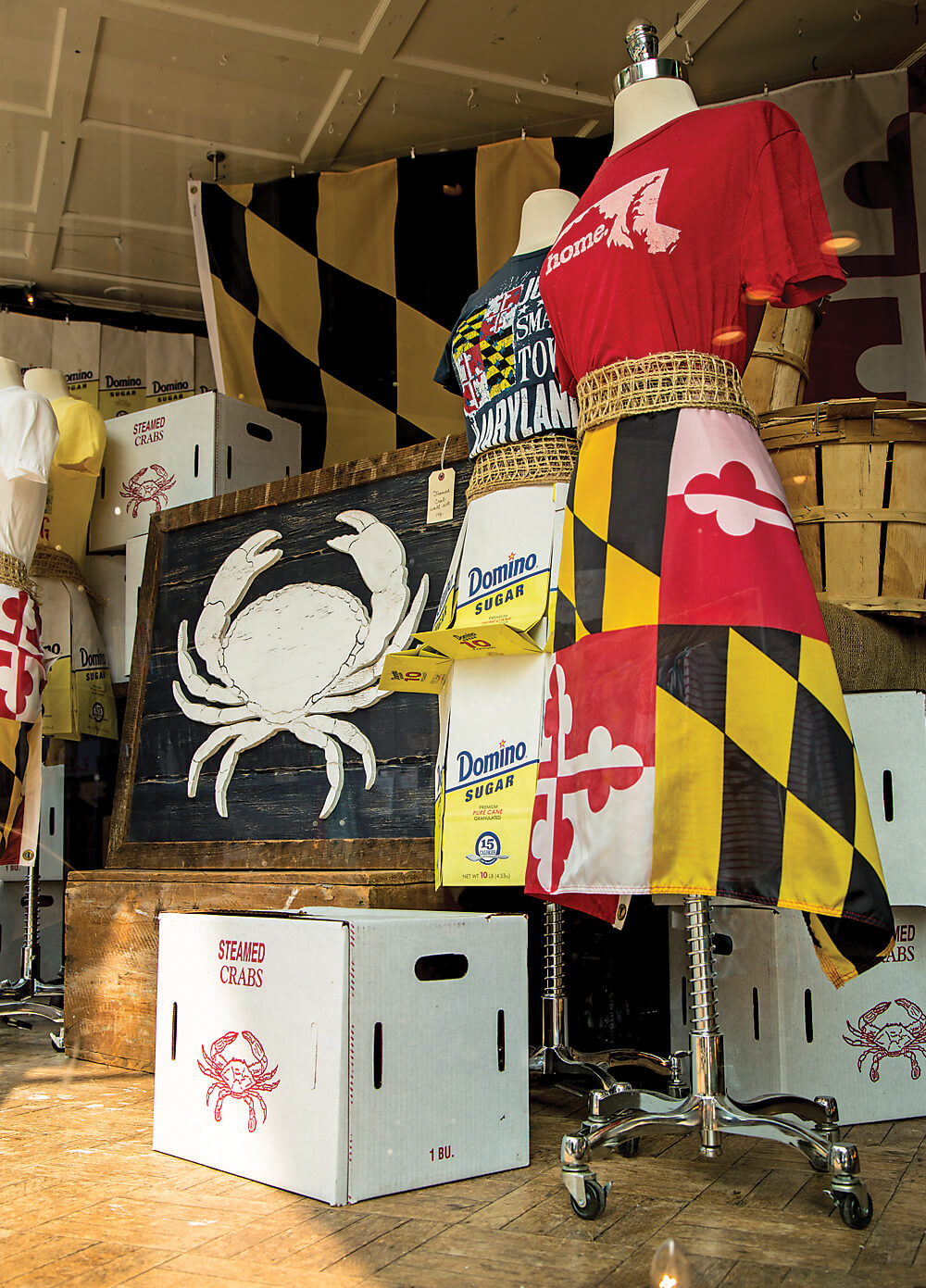 Photography by Sean Scheidt
40TH Anniversary Flashback
shaw two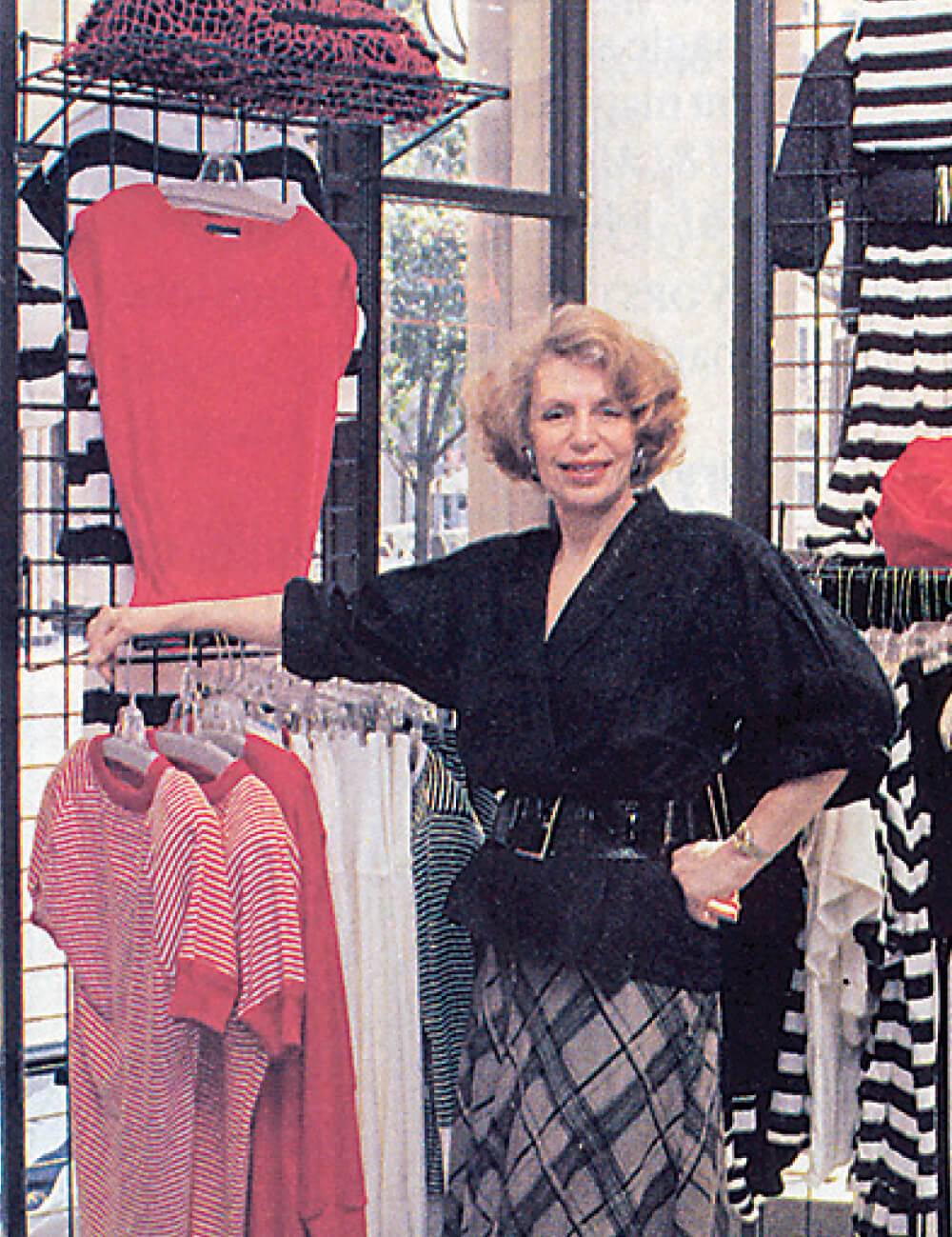 Who knew that Baltimore was once blessed with not one, but two eponymous Ruth Shaw clothing stores? The Cross Keys location is still going strong—and growing! (see "Best Sister Stores," above)—but this short-lived Charles Plaza shop (alternate store name: Just Stripes!) is but a distant memory.P.S. How cool does Ruth Shaw look in this photo?
"Ruth Shaw's first foray into the downtown working-woman's market, this small boutique carries interesting fashion . . . "
"Best of Baltimore," August 1987: Ruth Shaw's "Shaw Two" wins "Best Downtown Boutique."
NEWS
---
Argument for Local TV News
WBAL
Lest we forget, CNN stuck with its White House correspondents' dinner coverage the entire night of the initial Freddie Gray riots. Meanwhile, WBAL and WJZ got their helicopters up as soon as the peaceful afternoon march to City Hall descended into chaos at Camden Yards, sticking with their coverage and preempting the network lineup through their 11 p.m. broadcast. Stan Stovall, in studio, and Jayne Miller, near the Inner Harbor, were especially solid. Miller, a longtime standout investigative reporter, was also the first to debunk a report that a passenger in the police van with Gray had asserted that the 25-year-old had been trying to injure himself while in custody.
---
Bay Watcher
Rona Kobell
The monthly Bay Journal, approaching its 25th anniversary, maintains a print circulation of 50,000, but should have tens of thousands more subscribers. Its talented and experienced staff does yeoman's work covering environmental issues affecting the Chesapeake Bay while also chronicling the culture, recreation, and history associated with it in a highly readable fashion. And it's free. In particular, staff writer Rona Kobell, recently honored as one of 26 "women greening journalism" by the National Audubon Society, deserves a shoutout this year. She covers everything from Bay-relevant legislation and the Chesapeake's oyster aquaculture industry to farm-manure issues and sea-level rise in detailed, clear prose.
---
Cartoonist
KAL
Do you know who won the European press' "cartoon of the year" award? A guy who made his name in Baltimore, of course. Anyone with even a fleeting interest in journalism and cartooning surely is familiar with Kevin Kallaugher and his nom-de-toon, "KAL." He took this year's Grand Prix Press Cartoon Europe for his drawing in The Economist depicting Pope Francis's sincere (and stunning to many Catholic cardinals and bishops) outreach to the gay community. A month after that, Kallaugher, who continues to draw for The Baltimore Sun as well, won the prestigious 2015 Herblock Prize, named after the renowned former Washington Post cartoonist.
CITIZEN ACTIVISM
Cell Phone Videographer
Kevin Moore
Putting smartphones in the hands of everyday people is resulting in images of the police in action like we've never seen before. In Moore's case, he shot the arrest and loading of Freddie Gray into a police van that ultimately led to the indictments of six police officers: "I knew Freddie, but I would've done it for anyone," Moore said. "Black, white, yellow, or brown. Chinese, Indian, or Hispanic."
---
Grassroots Leadership
Dayvon Love
As a Towson University student in 2008, Love and debate partner Deven Cooper became the first black team to win the Cross Examination Debate Association national tournament. Today, Love serves as director of research and public policy for Leaders of a Beautiful Struggle (LBS), a grassroots Baltimore group at the forefront of efforts to block construction of a new youth jail in the city, calling instead for investment in education and young black lives.
---
Youth Leadership
Destiny Watford
Several years ago, when a new waste-to-energy incinerator was planned in air-polluted Curtis Bay, Watford and fellow Benjamin Franklin High students formed a group, Free Your Voice, to take action. Working with environmental organizations and other concerned citizens, they got the word out about health dangers related to the since-halted incinerator. We can't wait to see what the Towson University junior does next.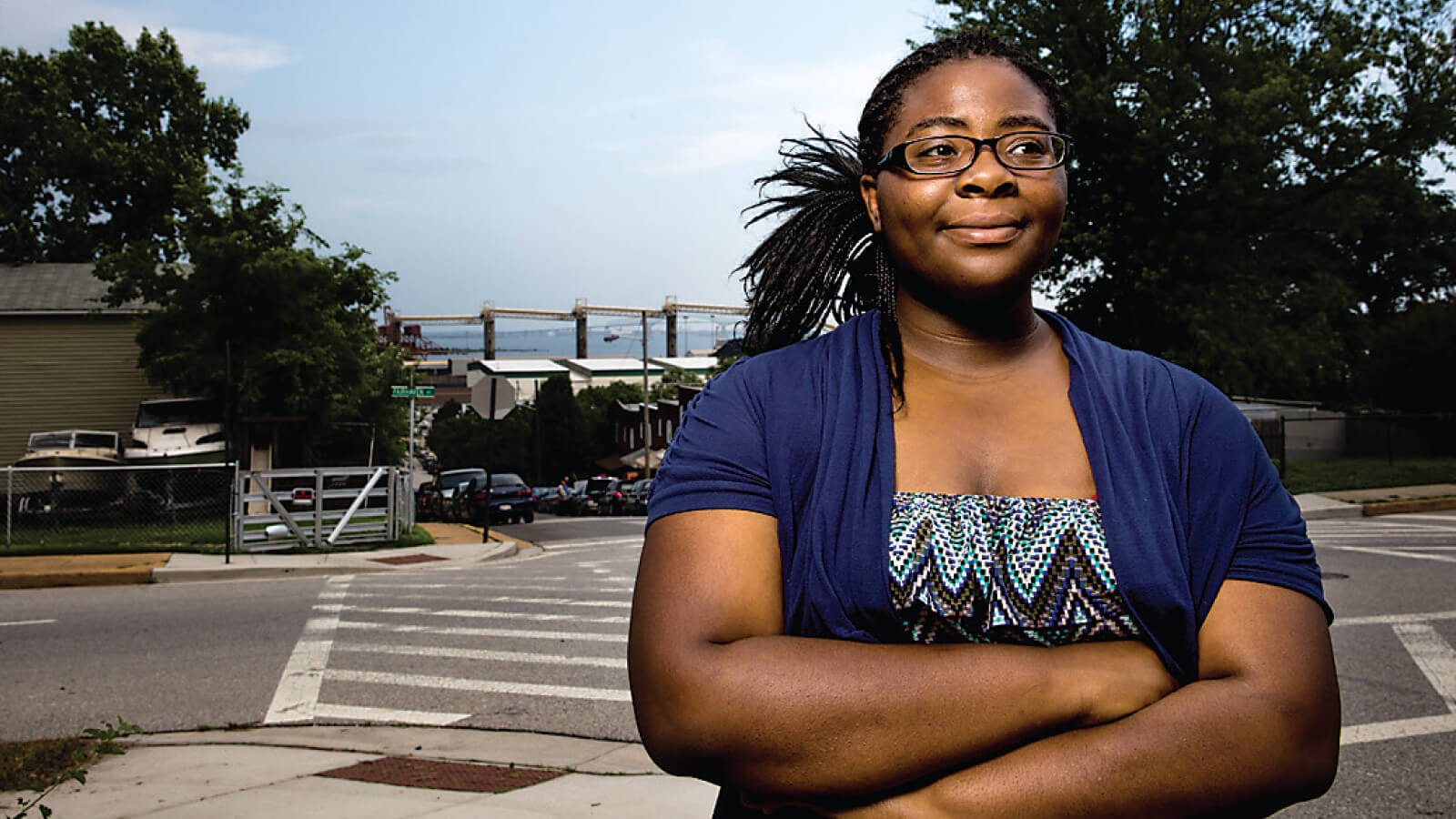 Photography by Brian Schneider
---
Defense of Free Speech
Frederick News-Post
"Kirby Delauter, Kirby Delauter, Kirby Delauter"—was the headline above The News-Post's editorial on January 6. In case you missed the story, county councilman Kirby Delauter threatened to sue the paper if it continued to put his name into print without his "authorization." The profound ignorance of the basic tenets of journalism by an elected official remains shocking, but maybe not altogether surprising given the attacks on the media today. The News-Post, not exactly a liberal rag, had some fun at Delauter's expense, but also pointed out that free speech—and a free press writing about governing representatives without prior consent—are founding principles of American democracy.
---
Heartfelt Twitter Rant
John Angelos
The Orioles executive vice president didn't hold back his concern for the plight of the city's disenfranchised neighborhoods after the O's were thrust into the national spotlight as Freddie Gray protests disrupted the team's schedule. In a series of tweets, Angelos expressed deep dissatisfaction with the country's outsourcing of jobs, the odds facing working-class families, and ongoing civil-rights abuses in a way that was definitely non-Major League Baseball "PR." Several Orioles as well, notably manager Buck Showalter and center fielder Adam Jones, deserve kudos for engaging in serious conversation as the crisis enveloped the city.
---
Hometown Presidential Candidates
Ben Carson and Martin O'Malley
The two long-shot candidates have both nothing and everything in common. Carson is an African-American conservative who overcame poverty to become a renowned Johns Hopkins pediatric neurosurgeon. O'Malley, an Irish Catholic Democrat and former governor, grew up in Montgomery County and made his name as a tough-on-crime mayor. Carson has been faring well in Republican polls, but neither is likely to win their respective nominations. That said, both have been performing better on the campaign trail as of late—Carson commenting on recent Supreme Court decisions without any major gaffes, for example, and O'Malley staking out clear policy positions on a range of issues. We expect both to remain in the fight for a while. The biggest trait they share, of course, is ambition.
---
Hustle
J.M. Giordano
If you know City Paper photographer J.M. Giordano, you haven't just seen his work covering the protests, riots, and peaceful marches following the death of Freddie Gray—you've literally seen him, Orioles' cap turned backwards, camera shooting away, right in the middle of everything. In photo essays over the past two years, Giordano has put a face to the homeless encampments beneath the JFX and the grief over the summer violence in West Baltimore. But his documentation of the city's recent crisis stands out, and is currently included in a compelling pop-up exhibit at the Baltimore Museum of Industry.
---
Instagram
@knowaphotOGRAPHER
From traditional newspapers and magazines to social-media platforms like Tumblr and Flickr, there are any number of places for photojournalists to display their work today. Freelance photographer Noah Scialom's contributions to outlets such as the City Paper and The Baltimore Sun often grab our attention, but it's his Instagram account that we especially love. His portraits of everyday Baltimore faces in of-the-moment scenes don't just pop with light and color, but capture personalities and city life in unexpected ways.
---
Investigative Journalism
Undue Force
The first deep dive by new The Baltimore Sun hire Mark Puente last fall proved as remarkable for its prescience as what it uncovered: More than 100 people won legal judgments or settlements related to alleged brutality and civil-rights violations by city police over the past four years. Puente, who grew up in Detroit and Cleveland and drove a truck for 14 years before turning to journalism, was recruited from the Tampa Bay Times when The Sun decided to reinvest in old-school, long-form investigative journalism. "What surprised me most, coming from my background in Detroit and Cleveland, was the local disaffection with the police department in Baltimore," Puente says. "That caught me off guard when I did my reporting and my door-knocking. It wasn't a white officer or black officer thing—they didn't like 'blue.' I never found that to the same extent before."
Photography by Mike Morgan
---
Leader in the Heat of the Night
Rep. Elijah Cummings
As the city he loves—and, more specifically, the neighborhood where he has owned a home for more than three decades—was shaken by riots, Cummings took to the streets to help quell tensions between protestors and police. The 64-year-old congressional leader joined peaceful demonstrations by day and then literally stood in the middle of Pennsylvania and North avenues for several nights following the initial unrest, listening to frustrated protestors and then urging them with a bullhorn to go home once curfew fell.
---
Man on the Street
Dan Rodricks
Maybe it's easy to take The Sun columnist's work for granted because he's been at it for so long, but that's also exactly what makes his thrice-weekly reads so valuable. Not only does Rodricks know the history and context of the issues at hand, his columns are often what give the daily deluge of breaking news a human perspective. Anyone can post an opinion online these days, but Rodricks's best efforts are well reported, interview-driven pieces that cast fresh light—and sometimes darkness—on the events of the day, such as when he recently revisited a woman who'd lost her son 22 years ago, and then her grandson this spring, to gun violence.
---
Sensation
Marilyn Mosby
For better or worse, the Baltimore City state's attorney became a media star with appearances in Vogue, Cosmopolitan, and Marie Claire after her headline-grabbing indictments of six police officers related to the death of 25-year-old Freddie Gray from injuries suffered while in custody. On the heels of slower-paced prosecutorial work involving police-brutality cases in places like Ferguson, Cleveland, and New York, Mosby's quick action sparked applause in some quarters and concern in others. Time will tell if she acted wisely, most importantly for the city, but also for her own political career.
---
Narrative Radio
Out of the Blocks
"One hour of radio—one city block—everybody's story" is the tagline of Aaron Henkin's and Wendel Patrick's occasional WYPR effort, Out of the Blocks, an offshoot of Henkin's weekly radio magazine, The Signal. Earlier this year, they took listeners to 400 E. Patapsco Ave. in Brooklyn, recording poignant interviews and audio from local residents—a barber, corner boys, an older couple, pigeon fliers, a professional fighter, and an AIDS patient caretaker, to name a few. It would be shortchanging Patrick's soundtrack and Henkin's wide-ranging interviews to merely say they bring the struggling, post-industrial neighborhood to life, because they do more than that. They make you realize how much we lose when we forget about the richness of radio and the sound of the human voice in the age of texts, tweets, and e-mails.
---
No-Frills News
The Real News Network
Launched in Toronto in 2007 by Canadian journalist and documentary filmmaker Paul Jay, The Real News Network, a nonprofit, online broadcasting site, arrived in Baltimore this year with the goal of examining U.S. urban issues. The Real News Network doesn't cover sports or the weather but focuses on breaking city news with coverage of press conferences and community meetings, as well as its own original reporting. Best of all, it gets past the sound bites with in-depth, one-on-one, and roundtable discussions with politicians, activists, fellow journalists, and former police officers.
---
Reminder That Elections Have Consequences
Larry Hogan
To his credit, Gov. Larry Hogan generally avoided unnecessary ideological battles during the General Assembly while governing from the center. However, when Hogan cancelled the decade-in-the-making Red Line transit project and left Baltimore off of his transportation infrastructure map, not only did many city residents feel like they'd been dealt a personal blow, but relations with the city's elected Democratic officials took a sharp partisan turn. Politics aside, we know every Marylander's heart goes out to the governor as he and his family deal with his cancer diagnosis.
---
Team Effort
The Baltimore Sun
The Sun's reporters didn't just track the fluid events following Freddie Gray's death, they continued to break important news related to the case even as the Maryland National Guard patrolled the city. Mark Puente and Doug Donovan documented that Gray was not the first to emerge from a so-called "rough ride" in a police van with catastrophic injuries. Later, Kevin Rector broke the news that city state's attorney Marilyn Mosby actually had requested that police target the location where Gray was arrested with "enhanced" drug-enforcement efforts and Justin Fenton published excerpts from a leaked copy of Gray's autopsy.
---
Voice of the People
Barbara Mikulski
"Senator Barb," who has served in Congress longer than any woman and was the first woman ever to chair the powerful Senate Appropriations Committee, announced in March that she is retiring after this term. Appropriately, the great-granddaughter of Polish immigrant bakers made her announcement in Fells Point where, as a social worker, she got her political start leading the fight to stop the construction of a controversial Inner Harbor highway. In Mikulski style, she explained her decision this way: "Do I spend my time [the next two years] raising money or do I spend my time raising hell?"
---
VOICES WE'LL MISS
Sarah Fleisher, Rod Daniels, and Susan Reimer
These things do come in threes. This spring, WBAL-TV, 98 Rock, and The Baltimore Sun lost stalwarts, each with three-plus decades of service under his or her belt and each of whom we've come to love and trust by dint of their talent and professionalism. The steady, unassuming Daniels holds the record as the longest continuing anchor in the Baltimore market when he retired; while Fleisher who became known as "Baltimore's Queen of Rock," had been with 98 Rock since the station's inception in 1977. And, after 36 years with The Sun, including the last 14 as a columnist, Reimer stepped away from her keyboard with a terrific final piece that co-mingled her personal and career high and lows. Thanks for the memories, guys.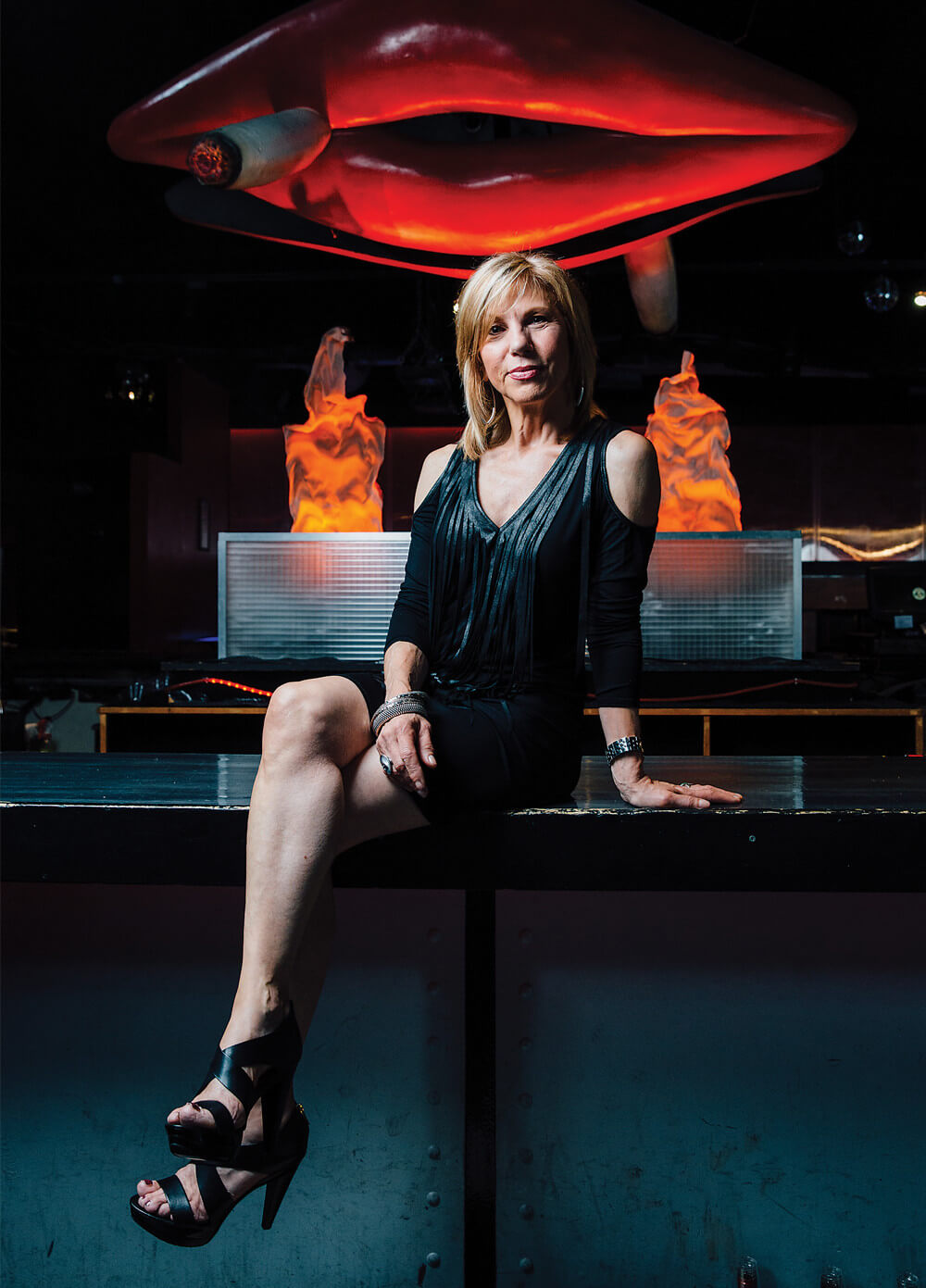 Photography by Brian Schneider
---
40TH Anniversary Flashback
ira glass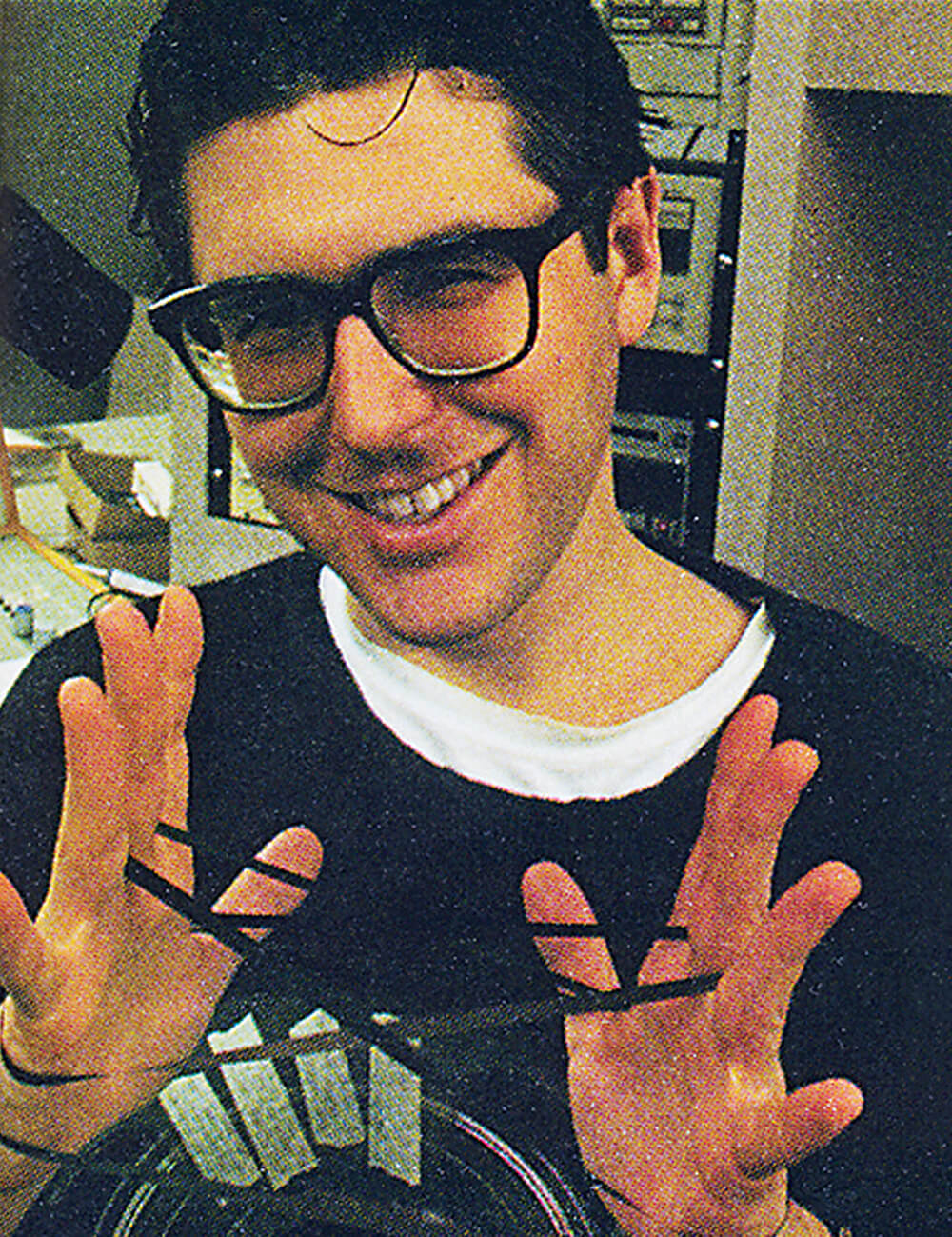 We don't want to say that we were into the band before they made it big, but, well, we were into the band—okay radio show—before it made it big. Just look at little baby Ira Glass (a Columbia native) and his inexplicable cat's cradle. Neither he (nor we) knew just how big This American Life would become.
"His show is an indescribable collection of documentary and fiction. One week, there'll be a story about an artist who photographs small animals eating each other."
"Best of Baltimore," August 1998: Ira Glass's This American Life wins "Best New Radio Show."
SERVICE
---
Antique Store
C.H. O'Malley Antiques
Walk into Charlene O'Malley's Mt. Washington store and you'll see why it survived the recession while others floundered. There's no consignment (read: no junk), very little from the 20th century (mid-century shoppers need not apply), and it's not just predictable American stuff. Instead, dead-serious collectors come here for the gorgeous antique furniture, art, lighting, china, rugs, clocks, and curios from all over the world, nearly all of them 100-plus-years aged, and all in great condition. (She even restored some items herself). In other words, the real deal. 1501 Sulgrave Ave., 410-466-0606
---
Audio-Video Installer
Action Integrated
Whether it's putting in the fun stuff (whole-house audio, surround-sound systems, distributed audio, and home theaters) or installing more practical technology like audio/video intercom setups, these techies will get you wired up properly. Owner John Chetelat and company can also advise you on the best equipment to purchase for your needs before you plunk money down on some overrated entertainment technology. Oh yeah, and they do security systems, too. We're feeling more plugged in already. 410-325-3200, actionintegrated.com
---
Auto Body Shop
Kelly's Body Shop
Every time our kids crumple up another car, we count on brothers Tom Jr. and Joseph Kelly and their second-generation shop to straighten things out. In addition to body work and painting, they do high-quality mechanical repairs on all makes and models. It's nice to know that these guys understand cars inside and out. And don't forget to check their website for cost-saving specials! 10901 York Rd., Cockeysville, 410-666-2522
---
Bird Center
Wild Birds Unlimited
Want more hummingbirds in your life? How about some actual orioles (not the guys with bats and balls on the field)? Guess what, you'll need special feeders and special seed to attract them to your backyard. Head to this bird-centric shop for all the necessary food and gear, plus lots of guidebooks and bird-attracting (not to mention squirrel-deterring) tips from owner Grant Healey and his friendly staff. 2438 Broad Ave., Timonium, 410-561-1215
---
Boarding Kennel
Reisterstown Boarding Kennels
Whisper to Fido that he's about to get a car ride to this Ritz-Carlton for pets and he'll perk up like a kid going back to a favorite summer camp. Think swimming, play yard, grooming, on-call veterinarian (the owner is a vet), and personalized pet care on every level, from Fido's special dog food and meds to must-have toys from home. There's a reason they call themselves a resort and spa: When you pick up the little fella after coming back from your cruise, you might be disappointed that he's not more excited to see you. 14454 Old Hanover Rd., Reisterstown, 410-833-2090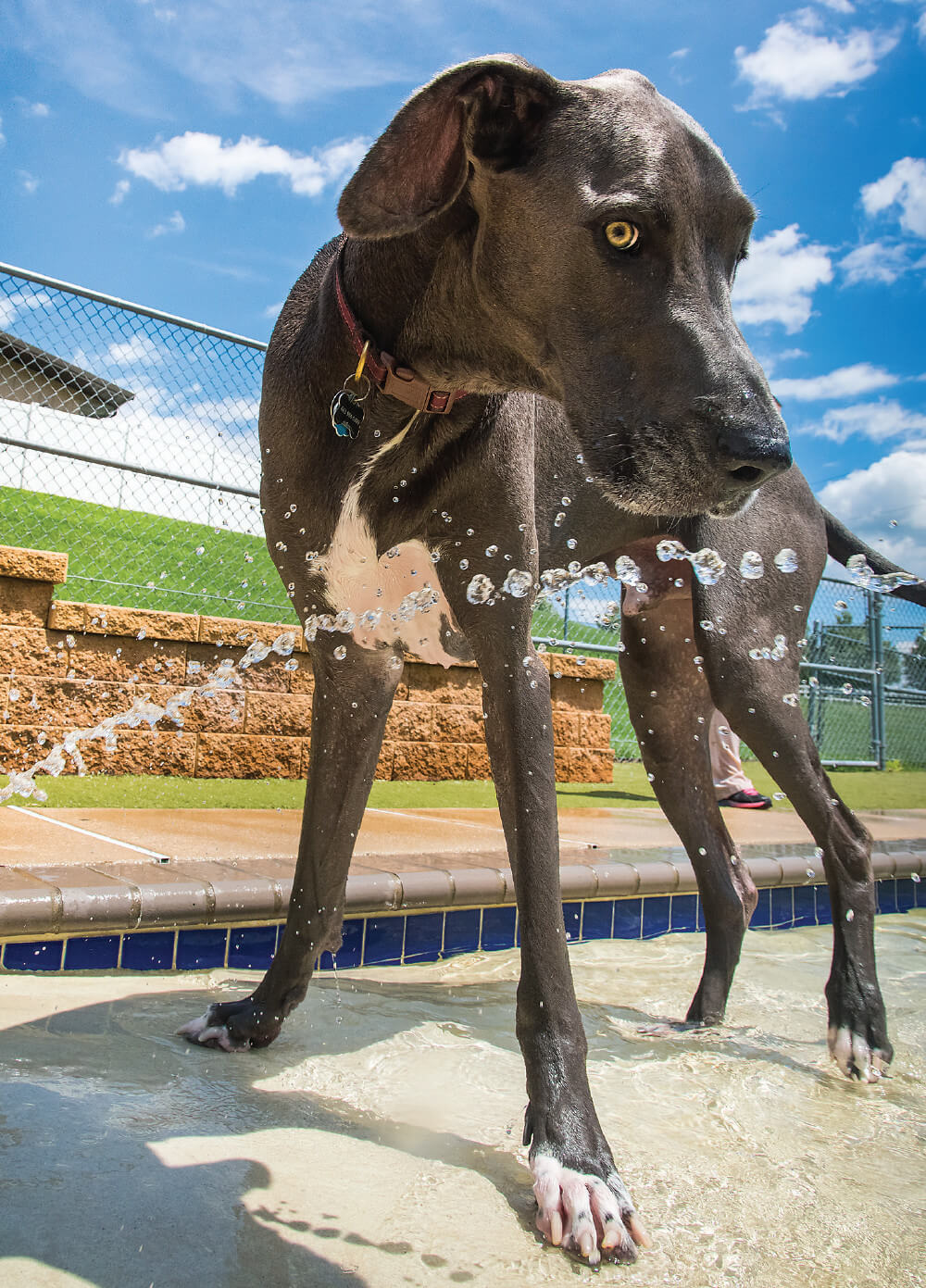 Photography by Justin Tsucalas
---
Builder/Contractor
Smithouse Construction
We're big fans of this general contractor because of its craftsmanship and service on everything from new-house construction and additions to smaller jobs like kitchens, bathrooms, and windows. And we're apparently not the only admirers: It has been repeatedly recognized by its peers, mostly recently as a 2015 Contractor of the Year by the National Association of the Remodeling Industry. Cockeysville Rd., Suite B200, Cockeysville, 410-329-1262.
Photography by Mitch Allen/Courtesy Smithouse Construction
---
Carpet Cleaners
Baltimore Steam Cleaners
Maybe you're running the A.C. because it's sticky outside. Or maybe you're running it because you know that when you turn it off, you'll smell your rugs again. That's when it's time to call brothers Tim and Dan McLaughlin and their crew. They've seen it all—from wine spills to doggie disasters—and have a solution (literally) for every scenario. They use a more powerful, high-pH solution for carpets and upholstery in places like restaurants and rental units, but a different mix for private homes, using a machine that's linked to their truck by hose. And no need to banish Polly the parrot to the garage during the process: It's pet-safe. 410-493-0866, baltimoresteamcleaners.com
---
Dry Cleaner
Rainbow Cleaners
There are some items simply too precious to throw in the washing machine, and for that we go to Chang Piao and his staff (most of whom are family), who specialize in delicate items like antique tablecloths, wedding gowns, gabardine suits, and costly designer dresses. People have been known to drive out of their own neighborhoods for Rainbow's services, almost unheard of in this industry. 9946 York Rd., Cockeysville, 410-667-0900
---
Eyeglass Repair
The Frame Mender
A screw falls out of your glasses and you're not screwed. But break the frames, and you're out $400, right? Think again: This place can actually laser-weld metal frames back together. The work is guaranteed for a lifetime and they have a mail-in service, too. The acid test? A businessman told us they recently restored the broken titanium frames on his $1,500 Google Glass in time for him to catch a plane—and it only cost $65. 1613 Whetstone Way and other locations, 410-617-0300
---
Electrician
McDonald Electric
Plenty of electricians can do the relatively easy stuff: fishing line through the wall for a new outlet, trouble-shooting a fuse-box issue, or upgrading the entire circuit box. But master electrician Michael McDonald does all that and way more. He has experience with high-tech jobs like integrated lighting systems, phone-controlled installations, LED lighting, exterior landscape lighting, and generator installations. The 14-year voltage veteran tries to leave a day or two open every week to respond to emergencies and, best of all, he actually answers his own phone when you call. 443-829-2727
---
Fencing
Pyle Fence Co.
Whether it's for keeping the dogs in or keeping strangers out, when it comes to fencing, we call on this 76-year-old firm to come up with the best solution. Most of its designs are wood—which is good for sound insulation and privacy—but Pyle also installs those elegant Victorian-esque metal fences with the sharp-looking finials on top. And the company can come up with solutions to minimize damage to trees or shrubs caused by a fence installation. Baltimore area: 410-426-8319. Howard and Anne Arundel counties: 410-451-4567
---
Firewood
Blue Moon Farms
Tired of wood suppliers who short the load, or throw in undesirable, soft, green, or rotted logs? It's time to call Ben Cole and his crew. They're responsive, honest about the load size (beware: a proper full cord is a lot of wood), and the logs are mostly uniform, dry, and seasoned. His pricing is fair, and unlike some dealers, he never seems to run out in late winter. He'll make you glad you didn't convert your hearth to boring old gas. 10814 Liberty Rd., Randallstown, 410-922-4984, bluemoonfarmsllc.com
---
Hand-Woven Rugs
Senneh Knot
For an enormous selection of high-quality rugs in virtually any style, check out magic-carpet mecca. Thanks to savvy and patient staff who try to educate shoppers on the craft of rug-weaving (rather than using high-pressure sales tactics), shopping here is a pleasant experience. In addition to what's on the floor, Senneh Knot can custom-make rugs of any kind, from Oriental and transitional to modern. And it cleans and repairs rugs, too. But how about those prices? Since the company buys directly from overseas weavers, they're surprisingly reasonable. Two locations: 2103 A Greenspring Dr., Timonium, 410-308-3770; 11820 W. Market Pl., Ste. G-H, Fulton, 301-979-7477, sennehknot.com
---
Hardwood Flooring
Jason Brown Wood Floors
If your hardwood floors are starting to look like 20 miles of rough road, it's time to call in this pro, who is the first choice for a number of high-end builders whose clients will accept nothing but perfection. He also does refinishing, waxing, and repairs, as well as the fancy stuff, like borders and inlays. And he's dealt with every type of wood under the sun, from hardwoods and softwoods to the exotic woods like bamboo. 7828 W. Moreland Ave., 410-668-9131, jasonbrownwoodfloors.com
---
Landscaper
Live Green
If you want to crank up the curb appeal on your property, you're going to need a great landscaper, and we like these professional green thumbs, who can tackle just about any job, big or small. Of course, this full-service landscape contractor can plant trees and do sod installation, mulching, and maintenance, but it also has completed some total redos that included patios and walkways, ponds and streams, outdoor kitchens and fireplaces, and even pergolas and pool houses. 6 Gwynns Mill Ct., Owings Mills, 410-833-9640, livegreenlandscapes.com
---
Lawnmower Repair
Lehman Hardware
Toro won't start? Don't despair, it probably just needs a little TLC from these northeast Baltimore grease monkeys. Yes, it's a full-service hardware store that's packed floor to ceiling with every widget you can imagine, but you wouldn't know it from the dozens of battle-damaged lawnmowers sitting out front on a typical day. It can fix just about any small-engine gizmo, the prices are fair, and the service is pretty quick, too. It sure beats dropping a few hundred greenbacks for a new mower. 5921 Belair Rd., 410-483-5888, lehman.doitbest.com
---
Nursery
Valley View Farms
It may not be the trendiest pick, but when you consider all the important criteria for choosing a nursery—price, selection, service, location, the expertise of the staff—this place scores the highest every time. It has got virtually every potted flower and shrub you can imagine, with a tree selection unparalleled in the region. An extra motivation to schlep to Cockeysville is its water-garden shop and its blinding Christmas displays, which we imagine can be seen by orbiting satellites. There's also outdoor furniture, garden supplies, and free gardening seminars offered by its knowledgeable employees. 11035 York Rd., Cockeysville, 410-527-0700, valleyviewfarms.com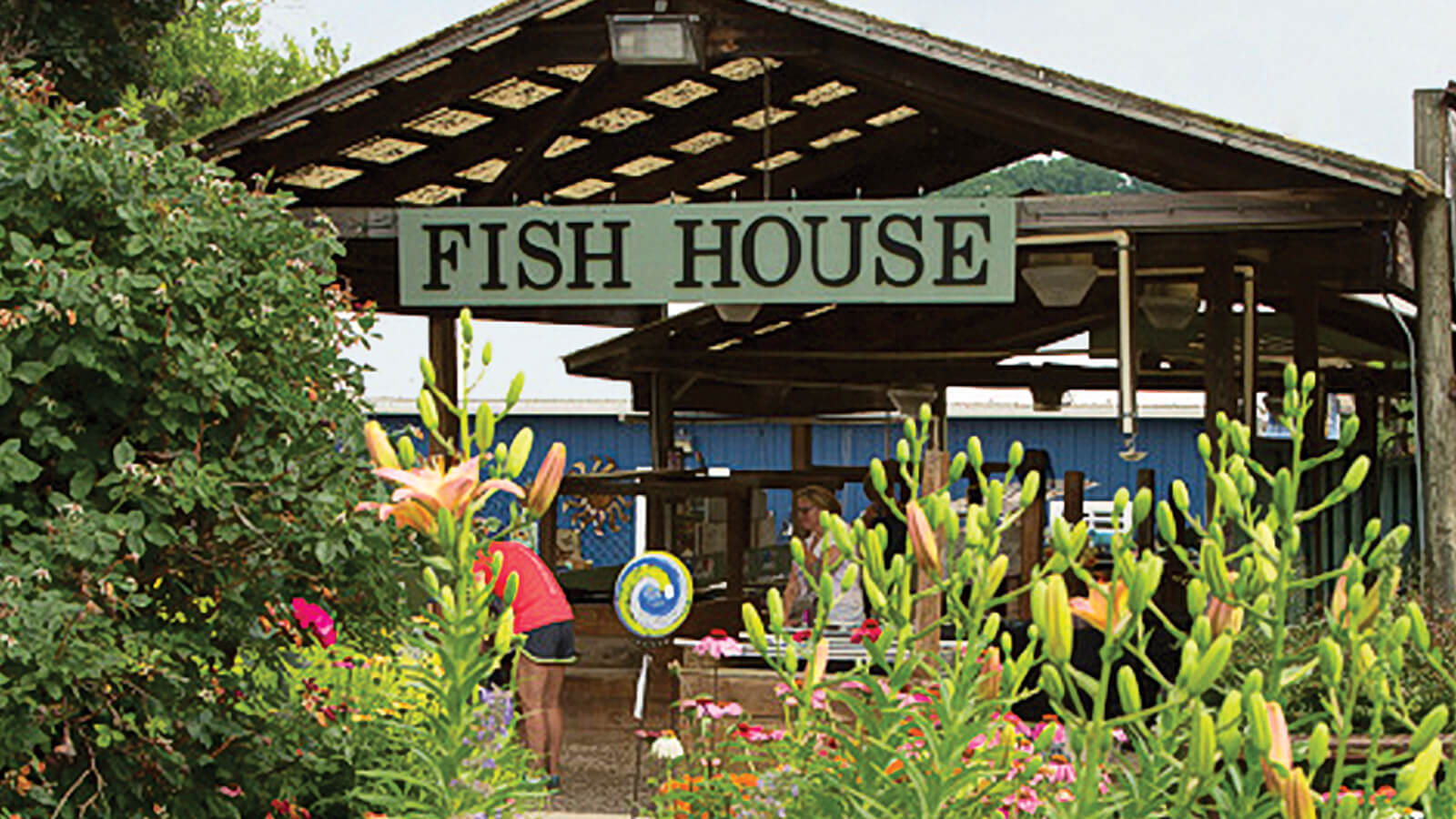 Photography by Sean Scheidt
---
Paint
Budeke's
From Lowe's and Home Depot to Stebbins Anderson, there are lots of places that will mix and match the most popular types of paints, but for a dizzying array of specialty paints and designer colors, plus a design center with fabric, rugs, and wallpaper (only at the Timonium location), and an experienced staff, we go to this 147-year-old pigment pro. Odds are, you'll see a contractor or professional interior designer (or four) ogling the offerings, too. Two locations: 418 S. Broadway, 410-732-4354, and 9484 Deereco Rd., Timonium, 410-560-1230, budekes.com
---
Painter
Eddie Estrada
When we need a top-notch painter who doesn't cut any corners, we count on this brush master, whose small Owings Mills-based business serves residential clients in a 50-mile radius. As for that whole not-cutting-corners thing? We're talking about crucial steps that will affect the life of the paint job, like scrapping, sanding, and caulking. And once Estrada and his staff are done, he leaves everything neat as a pin. 410-375-7329, [email protected]
---
Plumber
B-More Mechanical
Whether it's a balky water heater, a heating problem, a drain or sewer that needs clearing, or a solar hot-water issue, this outfit should be on your speed dial. The son of a plumber, owner Justin Knott has been on his own for 10 years after running the plumbing division at Knott Mechanical, and has made customer satisfaction his job one ever since. And if you're deathly afraid of getting cold feet, Justin is your man: His firm specializes in radiant floor heating installations—that's hot water pipes installed in the floor. Ahhhh, that's better. 15615 Falls Rd., Sparks, 410-464-7336, bmoremechanical.com
---
Senior Move Manager
Next Step Baltimore
You've lived in your 4,000-square-foot home for 40 years, you've got a lot of stuff, and now you're faced with downsizing, say, for a move. Pretty overwhelming, right? Not if you call Sally McCabe and her crew. In the business for 15 years, before most people knew what a senior move manager was, McCabe gets her hands dirty helping you pack and make the tough choices. (No, you don't need the moose head your late husband bagged in '56.) She also has endless connections with consignment shops, nonprofits seeking donations, movers, dumpster companies, appraisers, and jewelry stores. 1700 Union Ave., 410-207-4475, nextstepbaltimore.com
---
Shoe Repair
JR's Leather and Shoe Repair
This is not your ordinary footwear fix-it place: For one thing, owner Johnnie Ray Sauers has been in the business 42 years; he has two full-time shoemakers to speed things along (so next-day pickup is pretty common); and he'll fix anything made of leather: shoes, boots, luggage, golf bags, and purses. (His weirdest fix: a black leather bra.) But the specialty that sets him apart is making lifts for people with irregular legs or feet. Says Sauers, "It makes me feel good when I can help someone to walk again." 2023 York Rd., Timonium, 410-560-0046
TECH TITANS
Home-Security Installations
HS TECHNOLOGY GROUP
Founded 23 years ago by some super-smart guys with backgrounds in both defense technology and wireless communications, these security-obsessed geeks can handle all your home-security needs, most of it operable by cell phone and computer, and monitored 24-7. 1215 Greenwood Rd., 410-427-7233, hst-group.com
---
Computer repair
Restore Computer Repair of Baltimore
For a straight answer and a quick fix, we rely on Sam Palm's shop in northeast Baltimore. His background is in software development, databases, and programming, and he's pretty much full-service, providing virus removal, screen replacement, circuitry repair, motherboard repairs, and data recovery on both PCs and Macs, as well as phones and tablets. 8701 Harford Rd., 443-725-5050, restorecomputerrepair.com
---
Solar-panel installation
Solar Energy Services
One of the region's oldest solar-panel companies, these veteran panel pros are licensed, bonded, and insured to install all forms of distributed solar-energy systems including solar electric (PV), solar water heating, and solar pool heating. 1514 Jabez Run, Ste. 103, Millersville, 410-923-6090, solarsaves.net
---
Tree service
A-AAA Tree Service
Whether it's a small job, like branch-trimming, or a huge one—like averting a looming disaster from a towering and long-dead oak tree—our first call is to this affordable and experienced tree tamer. For 13 years, owners Tracy and John Sult have built a loyal clientele thanks to their skilled crews, courteous dealings with customers, and fair pricing. (They have a 21-foot crane for the really ugly jobs.) 4215 Ridge Rd., Perry Hall, 410-321-0921, treeworkmd.com
---
Upholsterer
Parks-Rabette Ltd.
Okay, we admit it: This Hampden storefront looks like something out of a war zone. But that first impression merely masks some very nice work that Jim Rabette and Bob Heuer do behind the weather-worn door. They provide upholstery services for lots of high-end clients as well as a number of interior designers, and their prices are quite reasonable, unlike some upholsterers to the stars. But plan ahead for your mother-in-law's visit: The shop's many loyal clients mean a wait time of about a month or more. 3739 Falls Rd., 410-889-9062
Photography by David Colwell
---
Watch Repair
Smyth's
Sure, it's one of the region's first names in jewelry, but when our dresser drawer starts looking like a wristwatch junkyard, we head to this 101-year-old family-owned firm. It has an expert and speedy repair service that can fix just about anything, from antique pocket watches to ordinary Timexes and everything in between. Afraid the repairs will break the bank? Smyth's prices are reasonable, but they can do an estimate first, if you want. And, of course, we're pretty sure they'd have no problem (wink) if you peruse the shiny baubles in their giant jewelry showroom while you wait. 2020 York Rd., Timonium, 410-252-6666, smythjewelers.com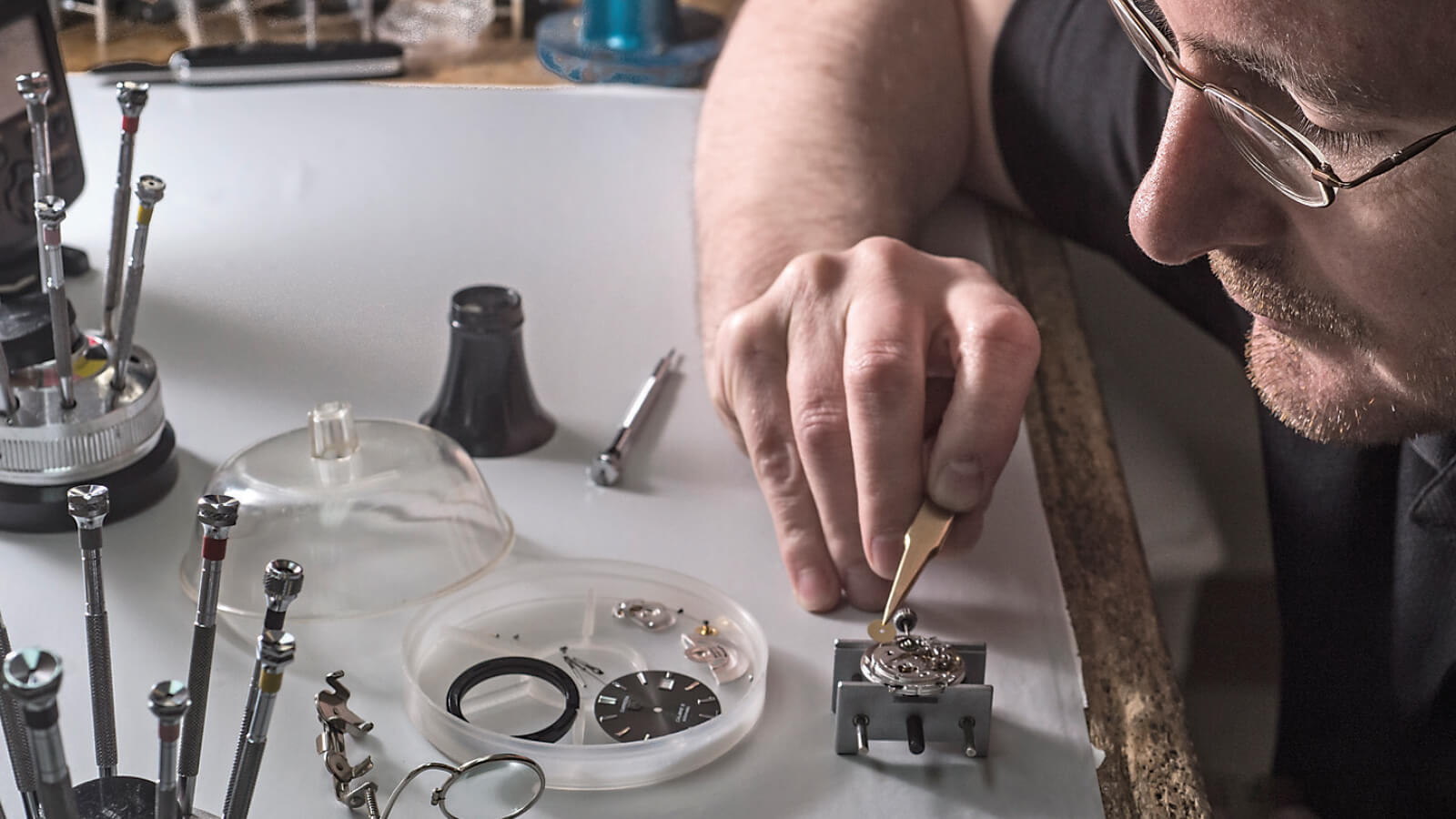 Photography by David Colwell
---
Window Cleaner
Friendly Neighborhood Window Cleaning
Sean Carr's one-man show is our pick for getting the soot, bird poo, and pollen off your panes, no matter how big the job or old the house. In fact, big jobs on old houses and buildings with endless windows are his forte. (He recently cleaned a whopping 1,609 panes of glass at the Maryland Zoo's 214-year-old Mansion House.) fnwcinc.com
40TH Anniversary Flashback
the hoff!
In what was quite possibly our greatest idea ever, we had Baltimore native David Hasselhoff fill out a Teen Beat style questionnaire—by hand! Sample Q: "What is the weirdest thing a fan has done to get [your] attention?" A: "Put her phone number on her butt." You're welcome, world.
". . . that mane of hair, so luxuriously tousled, yet not a strand out of place, so thick, so healthy, so extraordinar- ily . . . clean."
"Best of Baltimore," July 1996, David Hasselhoff wins "Baltimore's Best Gift to the World."
---
---