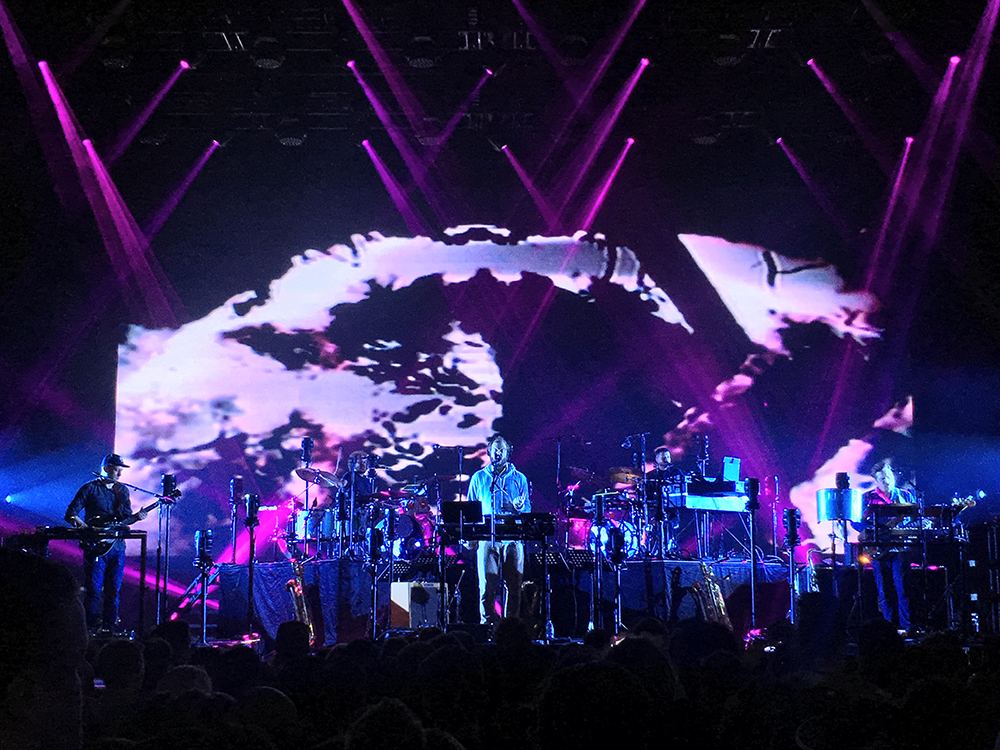 Jess Mayhugh
This week's rainy, grey weather felt like the ideal backdrop for a performance by indie folk darlings Bon Iver at Merriweather Post Pavilion. Hailing from Wisconsin, the five-piece band is heavily guided by frontman Justin Vernon and is currently on a multi-city American tour promoting its latest album, 22, A Million.
As the band's first album in five years, it's a departure from Vernon's previous work full of acoustic strums and woodsy themes. Instead, his signature falsetto voice is backed by plenty of synth and saxophone. 
The better part of Wednesday night's setlist ran through the tracks of 22, A Million, with a vibrant light show full of religious imagery and words that is certainly an apparent theme in his latest work. Many of these songs—in particular "33 God"—vacillated between haunting simplicity and bold, sonic peaks. 
Vernon broke from the music a few times during the set. First, he promoted his new gender equality campaign, 2 A Million, which is aimed to increase awareness about domestic violence and sexual abuse. The second time, he announced how happy he was to be in Maryland and have his family in the audience. 
As if that triggered instant nostalgia, the latter half of the set was dedicated to his earlier work including "Bracket, WI" and the singularly beautiful "Holocene." But the highlight for many in the crowd, from casual fans to die-hards alike, was his stripped down acoustic version of "Skinny Love," in which his impassioned, undulating voice really shined.
Bon Iver's performance is just one of many that Merriweather can boast this summer, in which national artists are making the Columbia amphitheater their definitive Mid-Atlantic stop. The venue is currently undergoing a $19 million renovation and gearing up for a 50th anniversary concert on July 15.
Read more about the history of Merriweather, including legendary performances by Jimi Hendrix and The Who, in our upcoming June issue.