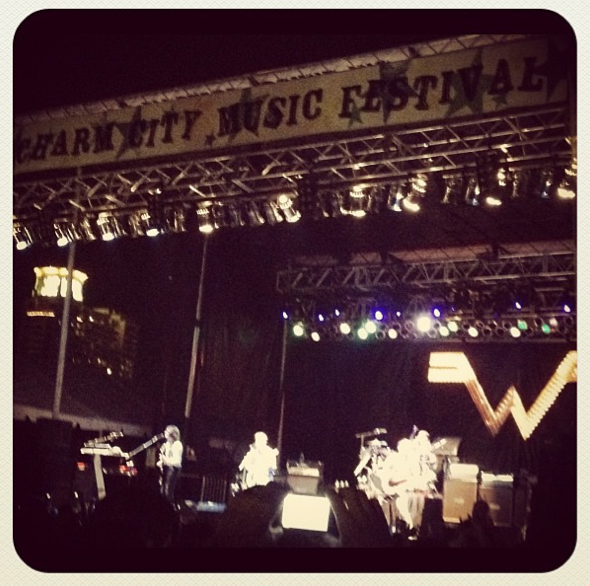 Photo by Jess Blumberg Mayhugh
I got to attend the first annual Charm City Music Festival on Saturday and, by all accounts, the festival was a big success. An estimated 10,000 people packed the empty lot off of S. Caroline Street in Harbor East and festival promoters 24-7 Entertainment and CBS Radio say they're hoping to do it all over again next year.
Everything at the festival—from the food vendors and fair rides to the performance schedule and crowd control—seemed to run extremely smoothly on Saturday. Earlier in the day, local bands All Mighty Senators, Jah Works, Kelly Bell Band, and Ballyhoo took the stage. Predictably, the lot got the most crowded towards the end of the day when headliners Eve 6, Stephen Marley, Flogging Molly, and Weezer all performed.
Eve 6 played a raucous but crowd-friendly set on the secondary stage including singles "Promise," "Here's to the Night," and closer "Inside Out." Stephen Marley came on the main stage around 6 p.m. and, fittingly, played a much more laid-back set, including some of his dad's classics. Next up was Flogging Molly, whose impeccable blend of Irish folk and punk rock wowed the crowd as always.
Before Weezer came on stage, New York-based band Madison Rising did a rendition of the National Anthem as fireworks blasted into the air. Then Weezer, pictured, right, tore through a hit-driven, 90-minute set that was mainly focused on more recent singles like "Island in the Sun," "Hash Pipe," and "Bevery Hills." But I did appreciate nods to some older material, particularly "El Scorcho" and their set-ending "Say It Ain't So," which sent the crowd wild.
All in all, the festival drew a huge crowd, but never felt claustrophobic, and overall seemed like a big success. Plus, it was refreshing to have a festival right in the heart of downtown—seeing the Baltimore skyline in the background of the main stage was an added bonus.