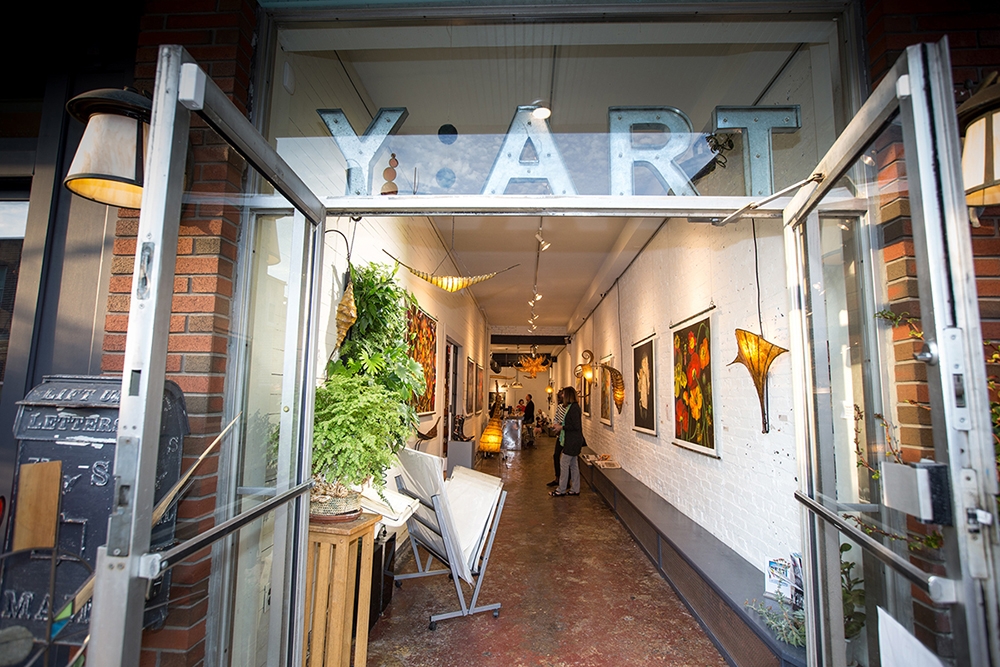 Y:ART Gallery
Visual Art
Spring 2019 Design Soiree
For the past 15 years, the Design Soiree has given artists and creatives a change to interact, exchange ideas, and get feedback on their work. Reserve your spot early to experience the latest evening of artistic exchange at Y:ART Gallery. And don't forget to bring some food and drink to share before you settle in to see presenters share their newest projects. Y:ART Gallery & Fine Gifts, 3402 Gough St. 7-10 p.m., March 20.
Logan Visionary Conference 2019: The Art of Parenting
Celebrate AVAM's themed exhibition Parenting: An Art Without a Manual by soaking up some knowledge from a panel of luminaries including Dr. Daniel J Siegel of the UCLA School of Medicine and the Mindsight Institute, Alison D'Alessandro of the Baltimore Child Abuse Center, and Joe Jones of The Center for Urban Families. This yearly conference is free, but reservations must be made in advance. American Visionary Art Museum, 800 Key Hwy. 1-4 p.m., March 24.
Literature

Blythe Roberson: How to Date Men When You Hate Men
Join Blythe Roberson at Bird in Hand for a discussion of just how weird it is to date men in the modern world. The New Yorker and Onion contributor's new book features such helpful sections as "Real Interviews With Men About Whether Or Not It Was A Date" and "Definitive Proof That Tom Hanks Is The Villain Of You've Got Mail," so you know it's sure to be a good time full of great advice. Bird in Hand Charles Village, 11 E. 33rd St. 7-9 p.m. March 9.
Confessionals: Writing the Hard Stuff
Truth hurts, so they say, but this MoonLit event seeks to help writers put their true selves down on paper and learn the importance of doing so. Local poet Ashley Elizabeth will help guide the group through readings, writing, and a discussion on truth-telling, and editing/workshopping will be available if time allows. Greedy Reads, 1744 Aliceanna St. 7-9 p.m., March 27.
Dance

Addict
Seven dancers will each portray a different experience with addiction in this performance in support of Helping Up Mission, a Baltimore nonprofit that provides for those dealing with homelessness, poverty, and addition. Featuring a live accompaniment from Two Rivers Chamber Music, Addict seeks to address the portrayal of addiction in media and how people are affected by society's lack of understanding. Baltimore Theatre Project, 45 W. Preston St. 8 p.m., March 12-13.
Music

That's What She Said
Grab your best girlfriends, because this women-powered night featuring some of the best voices in town is not to be missed. Electro-opera duo Outcalls, gloom-pop group $100 Girlfriend, and New Jersey rocking sister act Nalani & Sarina will join forces for one night only at Motor House for a no-boys-allowed evening of comedy and music. Motor House, 120 W. North Ave. 7-10:30 p.m., March 16.
Inaugural Baltimore Old Time Music Festival
A Friday night concert, a day of workshops and intimate performances from headliners, and a Saturday evening square dance will celebrate the Old Time music that made its way from Appalachia and cemented its legacy in Baltimore during the 20th century. This foot-stomping new fest at Creative Alliance will feature acts such as Ken and Brad Kolodner, Molsky's Mountain Drifters, Corn Potato String Band, and The Local Honeys, who are sure to bring out the best of Old Time with fiddles, banjos, dulcimers, and plenty of dancing. Creative Alliance, 3134 Eastern Ave. Times vary, March 22-23.
Chaunter Dream Dynamics LP Release Party
Get acquainted with Baltimore's latest cool kids at this release party for Chaunter's new LP, Dream Dynamics, featuring the dreamy sounds of songwriting duo Brooks Kossover and Jenghis Manning-Pettit. Nerftoss, Infinity Knives + Randi, Frogohmine, and Matmos will get the evening started before Kossover, Pettit, and the rest of Chaunter take the stage to share their creative sound and impeccable style. Metro Gallery, 1700 N. Charles St. 8 p.m., March 29.
Film

The Case Against Adnan Syed
Part one of this four-part documentary series revisiting the murder of Baltimore County teen Hae Min Lee and the conviction of Adnan Syed for the crime premieres March 10 at 9 p.m. on HBO. The series, directed by Academy Award nominee Amy Berg, has been in production since 2015 and includes new evidence discovered by private investigators and interviews with friends, family, and people involved in the case over the past 20 years of uncertainty. Part 1 premieres on HBO 9 p.m. March 10.