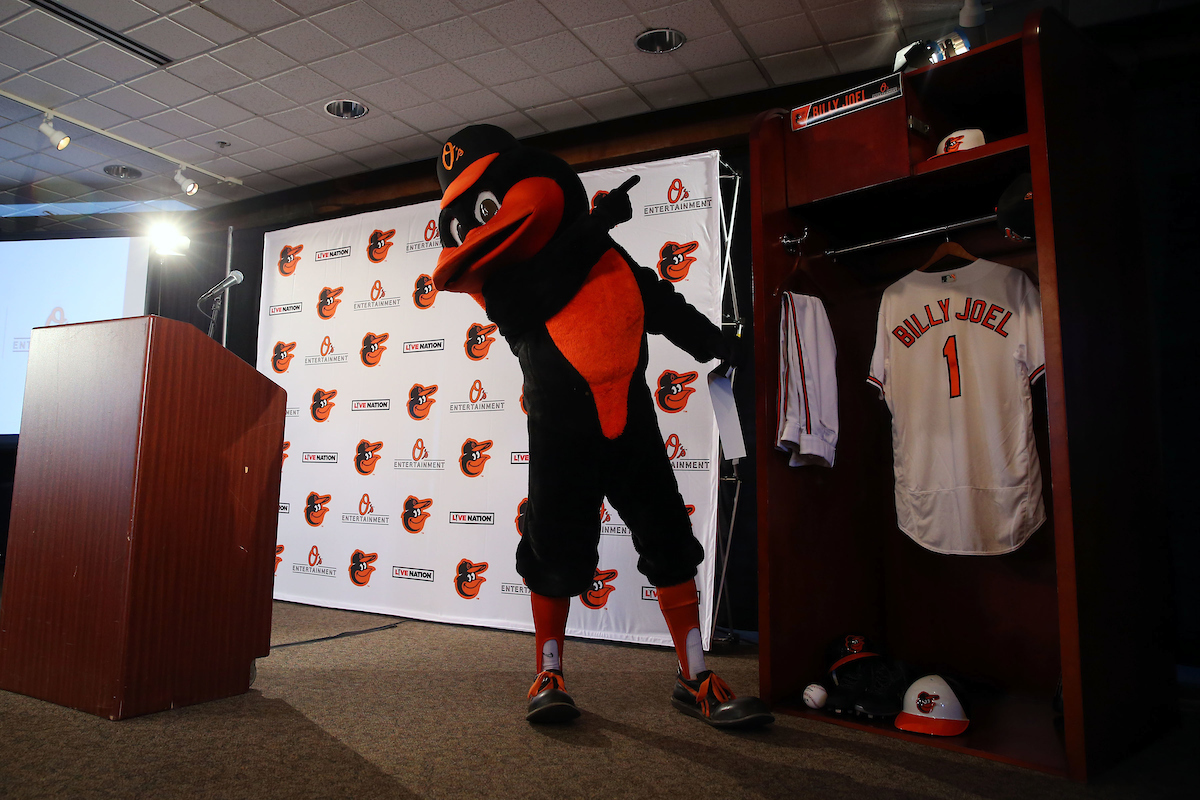 Baltimore Orioles
Since it opened 27 years ago, Camden Yards has attracted more than 100 million visitors to downtown Baltimore to attend baseball games. Now the Orioles are hoping to generate additional tourism for a very different reason.
With the launch of Orioles Entertainment, Orioles executive vice president John Angelos announced that legendary singer-songwriter Billy Joel will play the first-ever concert at Camden Yards on July 26. Tickets go on sale to the public Friday, January 18.
"We've been very active in drawing people to Baltimore and also been very active on the media front in TV and radio," Angelos said. "The one thing we haven't done is diversify in other entertainment fronts. The opportunity now is to take the next step and we look forward to great Billy Joel coming to Camden Yards this summer."
The Orioles have been in talks with LiveNation for years about the possibility of bringing a concert to Camden Yards, ever since Joel started his stadium tour six years ago. The last time the Piano Man was in Baltimore, he played a two-hour-plus set at M&T Bank Stadium in 2015.
"Being completely serious, it has been our dream to play Camden Yards since his tour began," said LiveNation COO Wilson Howard. "Billy's agent called John Angelos first and said they'd really love to do it. This was the year we were able to work it out."
Asked about the timing of this announcement—following the Orioles year-long slump and and record-low attendance, Angelos said that this has been a long-time coming.
"I think you do this in a down year, middle year, or up year on the field," he said.
"In a lot of ways, we owe it to the city and state."
Joel's summer run is a part of an eight-stadium tour, which also includes Madison Square Garden in New York City and Wembley Stadium in London. The capacity for a concert at Camden Yards will be relatively more intimate at just 37,000.
"I've been thinking, Billy Joel, Camden Yards, Baltimore, doesn't get much better than that," said Howard. "Billy's concerts aren't just musical concerts—they are events."
Angelos said that this announcement is hopefully "the first of many," and the idea is that Orioles Entertainment will bring more emerging artist to play post-game show on Fridays and Saturdays.
"To start with a legend like Billy is a great opportunity," said Angelos, who mentioned the last time he saw the singer in concert was 30 years ago. "We want to know who else the fans want to see. There are other creative events we could put on in the concourse or the parking lots. Really, the sky's the limit."