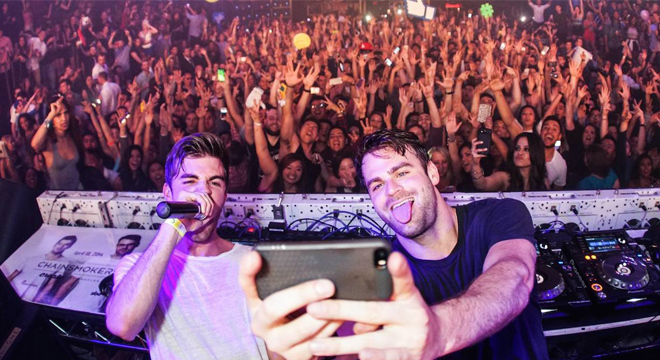 This year's Preakness InfieldFest is promising something for everyone.
The Maryland Jockey club announced today that renowned electronic duo The Chainsmokers—whose single "Roses" recently hit No. 1 on the Billboard dance charts—will headline this year's festivities at Pimlico Race Course on May 21. Joining the duo on the main stage will be special guest Fetty Wap, the Grammy-nominated rapper who has been dominating the hip-hop scene since his catchy track "Trap Queen" hit the airwaves in 2014.
The 2016 lineup also showcases some local flare, with Towson-based punk rockers All Time Low set to play the Jaegermeister stage along with country musician Chris Janson and fingerpickin' singer-songwriter Corey Smith.
"We are extremely excited to play host to such a wonderful group of artists from such a wide array of genres at this year's InfieldFest," said Maryland Jockey Club president and general manager Sal Sinatra, in a press release. "We continue to draw an incredibly diverse crowd of artists and fans to one of the oldest sporting events in North America."
The all-day festival, which has a reputation for booking of-the-moment performers each year, has previously featured headliners such as Armin van Buuren, Childish Gambino, Lorde, Pitbull, and Maroon 5.
Tickets for this year's event start at $75, and are on sale now.
InfieldFest provides live entertainment for attendees of the Preakness Stakes, the second jewel in the Triple Crown of thoroughbred racing. Last year's race—the 140th—saw American Pharoah charge to victory at Pimlico on his way to horseracing's first Triple Crown win since 1978.