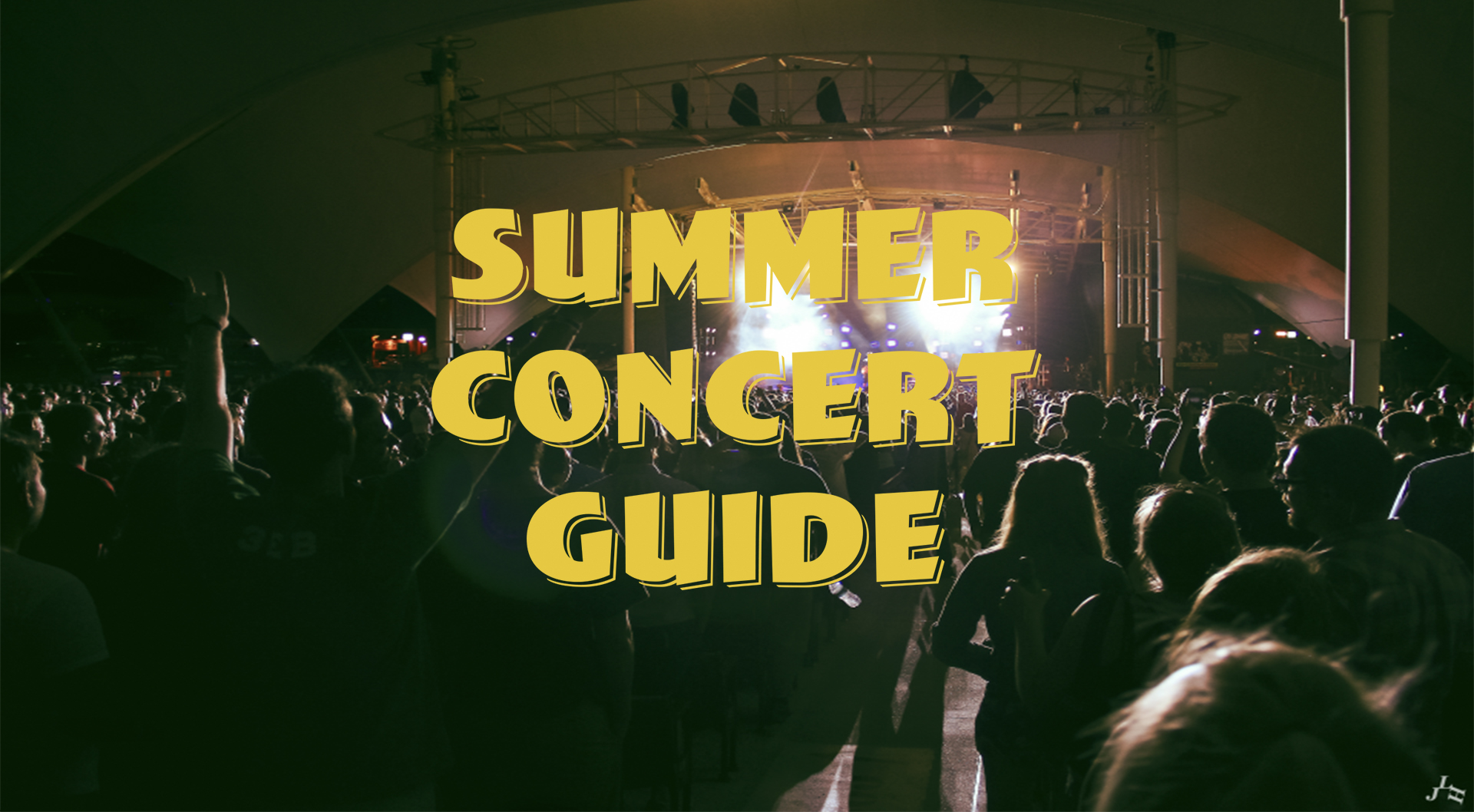 Here's where to find live music from July to September in Baltimore and beyond. 
By Emily Williams
Photo courtesy of MECU Pavilion
After a year without live performances, there's finally good news for music fans: artists are actively touring and concert venues have started to open back up again—as more than half of Maryland's population has been fully vaccinated. 
And in an effort to keep these events as enjoyable—and safe—as possible, one local venue is even offering vaccines to attendees. Merriweather Post Pavilion, Columbia's hallowed outdoor amphitheater, is partnering with the Howard County Health Department and Howard County Department of Fire and Rescue Services to offer Pfizer, Moderna and Johnson & Johnson vaccines to concert-goers using pop-up clinics at its shows. 
During the pandemic, Merriweather transformed from a bustling, euphonious music venue to a coronavirus testing center, so becoming a vaccine site was a "natural extension," says communications director Audrey Fix Schaefer.
She adds that the past year has been difficult for the venue, as it was not able to provide its beloved concert experience, and wasn't bringing in revenue from ticket sales.
"It's part of human nature, people want to gather, they want to commune," Fix Schaefer says. "And what better way than being in a crowd of strangers, loving that same one thing that's on stage." 
But as the world started to return to a sense of normalcy, Merriweather was ready and waiting. 
"It's almost like a race horse that's been not allowed to run," Fix Schaefer says, "when they finally get to run they burst out of the gate—that's what it feels like." 
Merriweather's lineup this season certainly reflects that sentiment—with acts ranging from My Morning Jacket and Wilco to Thomas Rhett and Pitbull. And there are plenty of other local venues that are following suit. 
Whatever genre you are interested in, we've curated a list of area concerts to celebrate the return of live music this summer. 
Pop Icons and Chart-Toppers 
These trending artists are bringing the party to Charm City this summer. 
8/4: New Kids on the Block
Merriweather Post Pavilion
Eighties and '90s kids: prepare yourself for a night of nostalgia at the pavilion. The beloved boy band is back, plus they're performing with "Shoop" and "Whatta Man" singers Salt-N-Pepa.
8/17: Train
MECU Pavilion
Hey soul sister, head to the Inner Harbor to watch American rock band, Train, perform radio hits "Drops of Jupiter (Tell Me)," "Drive By," and "Marry Me."  
9/18: Harry Styles
Capital One Arena
Former One Direction member and British singer Harry Styles returns with "Love on Tour" after rescheduling his concert due to COVID-19. Come watch him perform hits from his album Fine Line for a night you will not forget. 
9/23: Tame Impala
Capital One Arena
Cool off in September with psychedelic music artist Kevin Parker. With a dreamy lightshow to accompany his most recent album, The Slow Rush, this is bound to be an electric show. 
Hip-Hop and Rap Stars
These high-energy, rhythmic shows are bound to have you jumping and dancing in your seats. 
8/27: The Roots
The Hippodrome
Philadelphia-based hip-hop legends The Roots will be playing in the historical Hippodrome this August. The group recently released a deluxe version of their 1995 album, Do You Want More?!!??!, which blends hip-hop and jazz to tell a story of Philadelphia. 
9/2: Pitbull
Merriweather Post Pavilion
Mr. Worldwide is making a stop in Columbia on his "I Feel Good" tour with Australian rapper Iggy Azalea as the opening act. The Cuban-American artist is known for hype hits "Give Me Everything," "Time of Our Lives," and "Timber."  
9/6: Trippie Redd
MECU Pavilion
Trippie Redd became popular after the release of his debut mixtape, A Love Letter to You, and has worked with famous artists like Travis Scott. Now, he's coming to Baltimore to put on a dynamic, waterfront show. 
Local Concert Series
Enjoy free music from these concerts hosted by organizations in the city and surrounding counties. 
7/23-8/20: HVTC Summer Concert Series
Hunt Valley Town Centre
Come see local bands Remains of Radio, Josh Christina Band, Different Sisters, Sons of Pirates, and Magical Mystery Girls take over the shopping center in Hunt Valley every Friday night through August . Before the concert, there will be a magic show with Liam Laugherty, as well as free balloon art from Balloons by Brenda for kiddos listening to the tunes.
7/23-9/24: Center Plaza Concert Series
Center Plaza
Gather the essentials—i.e. a trusty picnic blanket, delicious snacks, and good company —and head to Charles Street for a free evening concert in the park every Friday. In addition to the performances, there will be pop-up classes, demos, retail vendors, and food trucks.
7/25-8/22: The Friends of Patterson Park Concert Series
Concert Hall at the Pagoda Observatory
Concerts at Patterson Park make a long-awaited return after last year's virtual concert series. Relax before Monday comes with musical performances from The Jonathan Gilmore Project, Super City, and Peach Face. 
7/28: Eze Jackson
Windsor Hills
Baltimore-based jazz musician Ed Hrybyk continues his series of pop-up, porch concerts in partnership with the Maryland Arts Council and Baltimore Jazz. At this installment, catch local hip-hop hero Eze Jackson from 7-8 p.m. on Talbot Road in Windsor Hills. Stay up to date about future shows by following Hrybyk on Facebook. 
7/30-9/24: Summer Sounds at Belvedere Square
Belvedere Square
Summer Sounds is back, and you can enjoy this family-friendly event in person in the Belvedere Square courtyard, or virtually on Facebook. In July and August, enjoy jazz sounds with the Ed Hrybyk Trio and Hot Club of Baltimore.
7/30-8/1: Jerry's Birthday Celebration with Chris Jacobs & Friends
8×10
Celebrate the 8×10's first show back after lockdown with local singer-songwriter Cris Jacobs. Take a listen to Jacobs' recent album, Color Where You Are, with anthems like "Under the Big Top."
7/31-8/29: Summer Concerts at Lurman Woodland Theatre
Lurman Woodland Theatre, Catonsville
Get ready for summer weekends to be jam-packed with performances from musicians who specialize in bluegrass, rock, reggae, country, and more. These free concerts take place at the Lurman Woodland Theatre, an outdoor community amphitheater in Catonsville that has been around since 1992. 
Country
Break out your best cowboy boots for these country singers and bands. 
8/12: Luke Bryan
Merriweather Post Pavilion
This award-winning artist, known for his southern drawl and acoustic guitar, is back on tour for his seventh studio album, Born Here Live Here Die Here. Head to Symphony Woods and belt his songs like "Play it Again" and "Waves." 
8/19: Zac Brown Band
Merriweather Post Pavilion
Who doesn't love a comeback tour? The Grammy-winning, southern rock band will also be playing at the outdoor amphitheater. Singer-songwriter Teddy Swims and emerging country artist Ashland Craft are joining the band on tour this summer. 
Festivals
Looking to fill your day or weekend with music? These festivals are making a comeback this summer with first-rate artist lineups. 
8/28: Hot August Music Festival
Oregon Ridge Park
For all the bluegrass and blues fans, the annual Cockeysville get-together has returned. Headliners Greensky Bluegrass will be performing, and there will be food, artisans, and craft vendors to accompany the day of music. 
8/28-29: Baltimore Jazz Festival
Baltimore Bayview Golf Center
After being postponed in 2020, the jazz festival is back with a range of talented musicians. You can enjoy the music, and indulge in other activities such as the crab feast and "jazz and jokes" brunch.
9/23-26: Firefly Music Festival
The Woodlands
Road trip it to Dover, Delaware, for four days of music featuring headliners Billie Eilish, The Killers, Tame Impala, and Lizzo. 
9/24: Outlaw Music Festival
Merriweather Post Pavilion
Get ready for a day of country with Willie Nelson, Sturgill Simpson, National Rateliff & The Night Sweats, Gov't Mule, and Kathleen Edwards as they hit the road for a 14-stop tour this summer, including a gig at Columbia's hallowed amphitheater. 
Rock Legends & Alternative Stars
Get ready to head-bang and bounce to raucous guitar and drums. 
8/3: Rise Against
MECU Pavilion
Ready to heat things up this summer with their "Nowhere Generation" tour, Rise Against is the punk rock band from Chicago best-known for their aggressive rhythms and social commentary in their lyrics. 
8/10: James Taylor & His All-Star Band
Merriweather Post Pavilion
Rock and Roll Hall of Famer James Taylor will hit the mainstage this summer at Merriweather with his band. Come listen to classic anthems, "Fire and Rain" and "Carolina in My Mind." 
8/13: Get the Led Out
Rams Head Live!
Looking for some heavy metal? Passionate about music and Led Zeppelin, Get the Led Out is a cover band of professional musicians celebrating the legacy of the British rock legends. 
8/24: Kings of Leon
Merriweather Post Pavilion
American rock band Kings of Leon, known for their arena rock, and accolade of "Southern Strokes," is touring for their eighth album, Where You See Yourself.
8/31: Alanis Morissette
Merriweather Post Pavilion
Coined the "Queen of Alt-Rock Angst," by Rolling Stone, Alanis Morrisette will close out August with a concert at the pavilion. Morrisette is known for her critically acclaimed album, Jagged Little Pill, which featured songs "Ironic," "You Oughta Know," and "Hand In My Pocket." 
9/16: The Avett Brothers
Oriole Park at Camden Yards
Get ready to dance after the birds take on the New York Yankees. Folk rock band The Avett Brothers and opening act Carter Faith are putting on a post-game concert on the field. Additionally, fans will have the opportunity to donate to Baltimore arts and music education organizations when they purchase their ticket, with the Orioles matching up to $10,000 in donations.