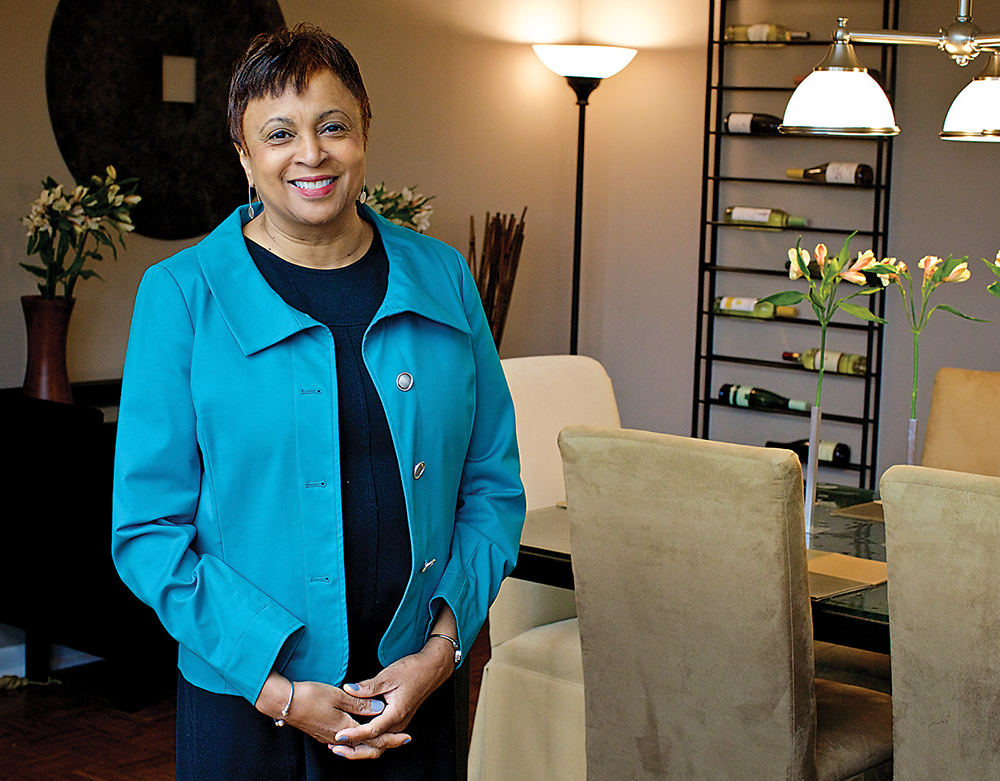 Photography by Cory Donovan
As Carla Hayden leaves her post as CEO of the Enoch Pratt Free Library to become the 14th librarian of Congress in Washington, D.C., she reflects on her time here in Baltimore.
"I have called Baltimore home for 23 wonderful years," says Carla Hayden, the Enoch Pratt Library CEO who is becoming the 14th Librarian of Congress (not to mention the first female and African-American to hold the position). "And, while I'll continue to live in Baltimore, I'll be spending more time in Washington D.C. at my new post so I'll miss everyday life in this great city.
"A Baltimore memory and experience that I'll never forget is the decision to keep all Enoch Pratt Free Library locations open during and after the Baltimore unrest.
The day after the riots, when schools and many businesses were closed across the city, we opened all of our doors, including the Pennsylvania Avenue branch. I remember standing by a little girl in the library, looking outside at the protestors, police officers, and media from around the world as they flooded the streets. She looked up at me and asked, 'What is happening?'—her voice echoing other children in the neighborhood during that volatile time.
During the unrest, libraries became a safe place for children and families to visit when everything else felt unsettled. Every day, Pratt staff were there providing comfort and doing what they do best—offering information, resources, and programs for not just children and teens, but also adults. In those moments, we evolved into a place that was about more than just books.
After the unrest, we received a flood of letters, emails, phone calls, and even tweets from around the globe, thanking the entire Enoch Pratt Free Library system for remaining open, including one touching note from a fifth grader named Emily in Massachusetts. 'If I was living near your library during the rioting,' she wrote, 'I would want to come because it would make me feel safe.'
As I move on to the next journey in my career, I'll always remember that in Baltimore, libraries mattered in people's lives."
Enoch Pratt Free Library staff and patrons.
The library staff and patrons have always been like family to me. I'll miss seeing the smiles and heartfelt dedication of the staff and the herd of patrons who walk into the doors at all locations every day.
"Power Breakfasts" at Village Café.
This is truly a "Smalltimore" tradition for me. I enjoy meeting and seeing different leaders at Village Café at Cross Keys every morning. From directors of other cultural institutions to elected officials, from big company CEOs to journalists, it was a place to engage and keep tap on what's happening in Baltimore.
Parade of strollers at the library.
As a former children's librarian, I love seeing the long line of strollers going down to the Central Library Children's Department for story time. Despite new technology available to them, it warms my heart to see parents bringing their kids to an interactive and face-to-face program.
Pratt Contemporaries Black and White Party
This has become the party of the year! I'm very proud of the Pratt Contemporaries and everything these young professionals have done to support the library. I hope I can still get a ticket because it sells out in minutes.
Chopped salad at Sascha's.
This is my go-to lunch. I know D.C. offers a lot of great restaurants, but nothing compares to Sascha's chopped salad.
Chocolate yogurt cake from David and Dad's.
After a healthy lunch, I walk down a block on Charles Street from Sascha's to David and Dad's. Their chocolate yogurt cake is my daily indulgence.
Monthly book recommendations on WBAL-TV.
Selecting the books then going out to the Ivy Book Shop to purchase them is one thing I look forward to every month. I love when people see me on the street and say, 'I love that book you recommended on WBAL-TV.' As a librarian, it's a major 'Yes!' moment.
Short commute
D.C. traffic is infamous. I'm definitely going to miss this short drive to work.
Taking walks during lunch.
I'm going to miss the neighborhood surrounding the Central Library. On beautiful days I enjoy walking around Mount Vernon. I'm going to miss walking during lunch to the Washington Monument, Flowermart, Artscape, or down to the Inner Harbor for the Book Festival.
Visiting neighborhood branches.
I love my regular visits to the 21 Pratt Library branches around Baltimore. This is where you see the library making a difference in so many lives. From the virtual supermarket program to Lawyers in the Library, the Pratt is more than books. For some, it's life changing.
See our upcoming September issue where Hayden shares her favorite story from her time in Baltimore.