Cat's Cradle
A new café creates a cuddly community in Hampden.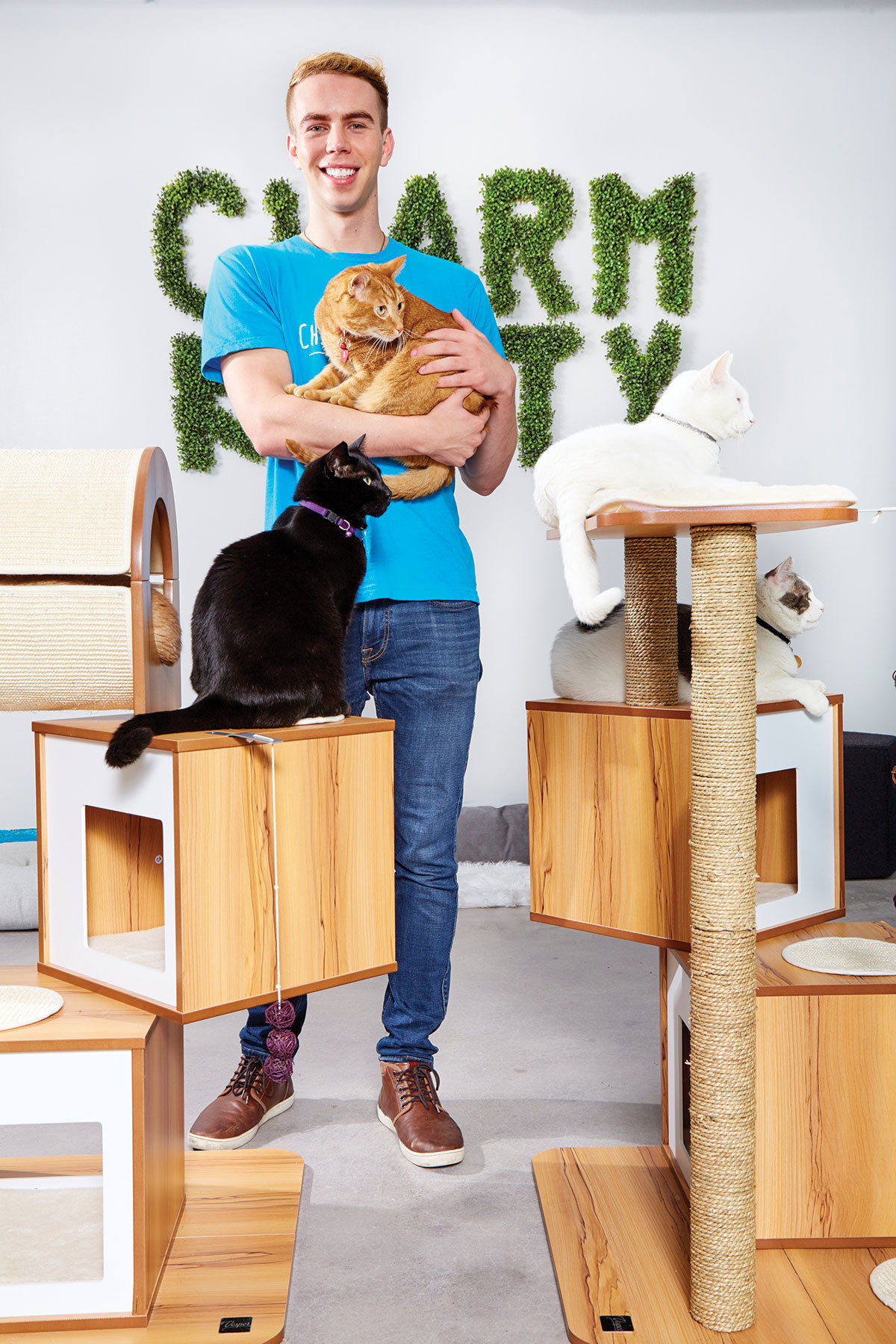 Halfway through the workday—after the caffeine has worn off and you've responded to your 50th email—you might find yourself in need of a pick-me-up, and nothing provides a boost quite like a four-legged fur ball. In fact, studies show that animals can improve mental health, lower stress levels, and lead to an all-around happier life. And now, instead of browsing adorable internet cat photos on your lunch break, you can play with them in real life at Baltimore's first-ever cat café, located at the historic Whitehall Mill.
Two years ago, when Cam Tucker, the owner of Charm Kitty Café, visited the first cat café in D.C., he immediately wondered why Baltimore had yet to join the growing trend of cafes that doubled as adoption shelters. As a lifelong cat-lover and Baltimore transplant, he saw a similarity in his favorite pet and newfound city: both were deserving of second chances. Even the newly renovated mixed-use space his café shares with other vendors is a sort of revival. "We're taking something old," says Tucker, "and turning it into something special and unique."
The café is certainly one of a kind for Baltimore, acting as both a foster home for cats from the Baltimore Humane Society and a co-working hangout for local residents and area business people, with java by Zeke's Coffee and treats by Dark Side Cookies. Customers can walk in or make online reservations for 60-minute blocks of kitty time or register for full-day passes, which they can use to co-work alongside the whiskered critters any time.
With a continuous cycle of 10 cats that were mostly surrendered by previous owners, the café will provide additional space for the no-kill humane society to save more animal lives. "This is heaven for these cats," says BHS executive director Christine DeCorse. "It gives them a comfortable environment where they can socialize with other cats and even people. Having them here is as close to a home as you can get."
Soon, local cat lovers will also welcome a second cat café in Hampden early next year. Similar to Tucker, owner Amanda Bennett was inspired to start Neko No Kafe after a cat café visit in Canada. While no mention of a co-working space has been announced, the rest of the concept remains the same with adoptable cats from Passport Animal Rescue, a full coffee bar with beans from Chesapeake Bay Roasting Co., and bites from SweetSide Café.
Back in Whitehall Mill, Charm Kitty Café's felines come in all colors, shapes, and personalities, and can even be adopted by customers via an on-site application. "When Baltimore is ready for a dog café, we're there," laughs Tucker. "I've got my hands full with the cats already, but stay tuned, you never know."