Garrick R. Good Works to Meet Baltimore's Affordable Housing Needs
Executive director of the North East Housing Initiative provides permanently affordable housing using a community land trust model.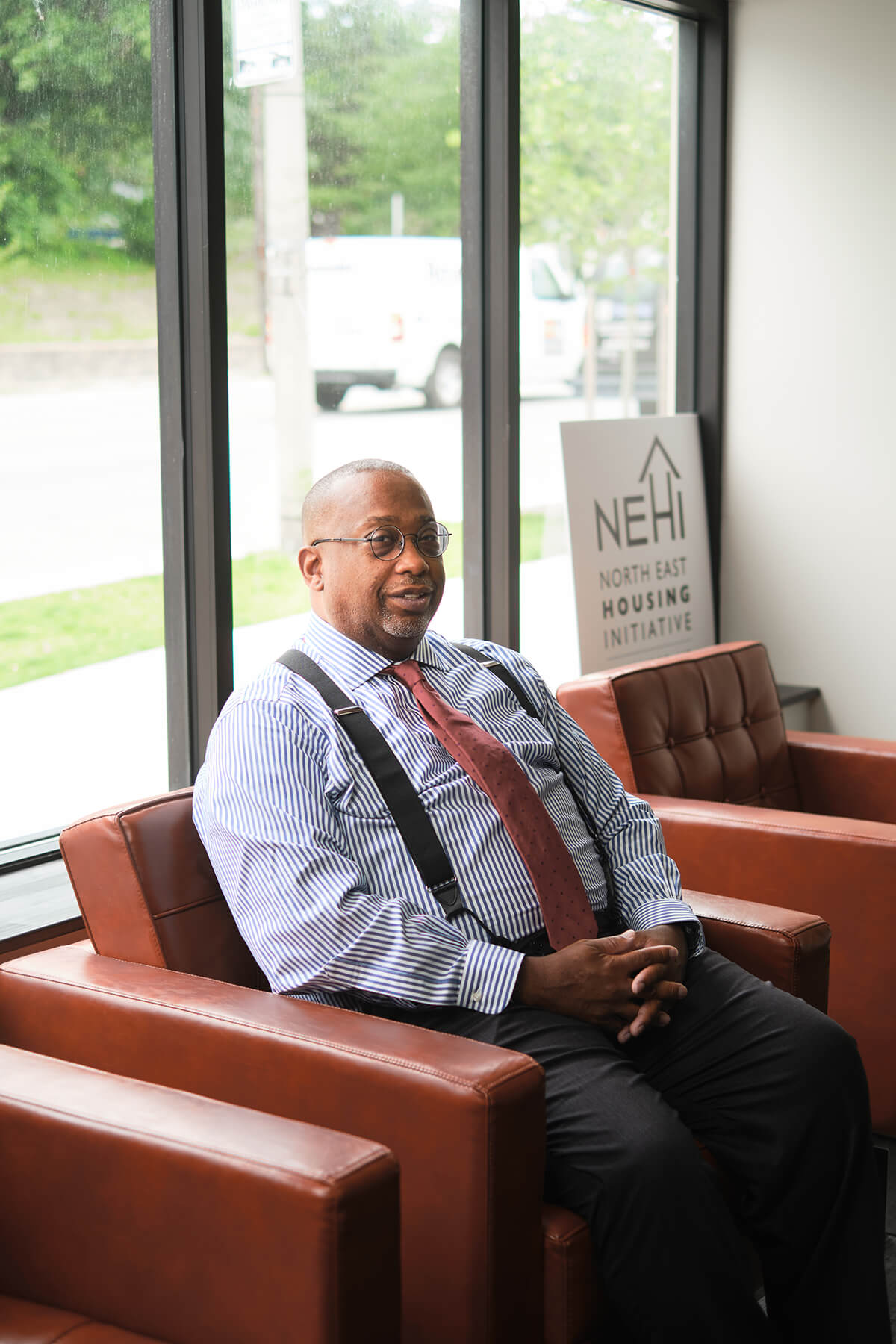 Garrick R. Good has had a remarkably diverse career. A self-described "serial entrepreneur," he was born and raised in South Carolina, holds a law degree and an MBA, and has lived and worked in Maryland and Washington, D.C., for more than 20 years. He has served as an advisor to federal and state governments and a consultant to organizations including Fannie Mae, Freddie Mac, NeighborWorks, and the U.S. Department of Housing and Urban Development.
After he sold his marketing communications firm in 2017, he thought he was opting for early retirement. Not so fast. Soon after, he was recruited by the nonprofit North East Housing Initiative, Inc., to lend his skills to addressing permanently affordable housing in Baltimore. The group's mission was simply too meaningful for him to pass up. We spoke with Good about his latest chapter:
Given your range of experience in different areas including business consulting, communications, and fundraising, why focus on affordable housing?
My career started with working for federally funded demonstration projects, now called Early Head Start, where I worked with needy families. Housing was always the major issue. The cornerstone of a healthy family is housing. You can't think about your grades as a child if you don't have a good place to stay. You can't think about crime and safety if your house is not a safe place.
NEHI is a community land trust formed in 2014. It is an outgrowth of St. Anthony's Community Advocacy committee. It's dedicated to providing permanently affordable shared-equity housing in northeast Baltimore by buying, rehabbing, and selling vacant, abandoned, and foreclosed properties to allow homeownership for low-income families. I came here and worked to take a concept that they had been working on for a few years and roll it out into a program. They had a $50,000 per year budget in 2018 and it's $5 million now.
Why are you the ideal person to lead NEHI, and why now, when you're retired?
This brings together all of the expertise that I bring to the table. I was blessed to be able to sell a business that gave me the resources to retire early and I wanted the next chapter of my life to be something that was really giving back. This is my opportunity to do that. Plus, it's a challenge to grow an organization meeting the housing needs in Baltimore.
What is a community land trust and how does NEHI's permanently affordable housing model work?
A community land trust is community-owned land that is removed from the private real estate market. Overseen by a board of directors, community land trusts are made up of members who live and work within the geographically defined area, community residents, and local stakeholders and experts.
NEHI buys vacant, abandoned, and foreclosed properties, rehabs them, and then we sell them to eligible families earning 80 percent or less of the area median income. Through subsidies, we are able to drive the price down to under $150,000. A family can own a home for a $700 per month payment including taxes and insurance, versus paying over $1,000 a month in rent, often for substandard homes. And the homeowner is able to create and build wealth for her family. The subsidies remain with the house—if families decide to move, they sell it back to us—so that we can continue to provide housing to other families that need affordable housing.
The communities where our properties are currently have less than 20 percent home ownership. Studies show that for a neighborhood to be healthy and thrive it needs to have 51 percent ownership. We're looking to increase that number. The benefit to the community and the city as a whole is that we're raising the property values.
Who are the homeowners that NEHI is serving?
NEHI is focusing on a 660-home community in Belair-Edison called the 4×4. That was the "forgotten community" that nobody did work in. We felt that if we targeted that community and raised it up, it would have the biggest impact in northeast Baltimore. There are currently over 150 vacant and abandoned homes in that neighborhood. We work with the city to acquire the houses, as well as getting them boarded up to control crime and drug traffic.
A number of our homebuyers are coming from the neighborhood where the houses are. Some come from other parts of the city. A lot of our families are under the perception that they can only afford to rent. Whereas through NEHI, you're getting a house with all-new finishes, all new appliances, and ready to move in. We have the best deal in town as far as getting a house that's totally rehabbed for under $150,000.
Who does NEHI partner with?
One of our main philosophies is that we do not compete with other existing resources and programs in the city. We work to see how we can partner and make them better. For example, Habitat for Humanity is a very successful program in Baltimore and throughout the nation. But not all people are eligible. We make referrals.
We also have a number of institutional partners. A specific mortgage product has been created for our program. A huge partner is Belair-Edison Neighborhoods, Inc. which does financial literacy counseling and other training that helps families with becoming and staying homeowners. And Home Depot has given us money to build a tool library if families need to do some repairs on their home.
How is Baltimore becoming a national model for other cities?
Baltimore is the first city to have an affordable housing trust fund. We now have states across the country looking to see if they can replicate it and how. Legislation is coming down the pipeline now in Baltimore to do some other things that may be continuing to build on that innovation that will hopefully address the critical housing needs in our city, as well as continue to address the needs of the most vulnerable individuals in the community.
What's in store for NEHI's future?
We currently have 18 homes in our portfolio. By 2025, our goal is to have 200 homes in our community land trust. Our first families are just moving in. COVID slowed things down tremendously. We just had an anonymous benefactor that gifted us $375,000 to help us with the purchase of properties. We work with CohnResnick advisory service to make sure that we can be self-supporting. Grant money just allows us to enhance our product and be able to serve more. So our goal is to make dreams come true for families that didn't feel they had the ability to buy a house.