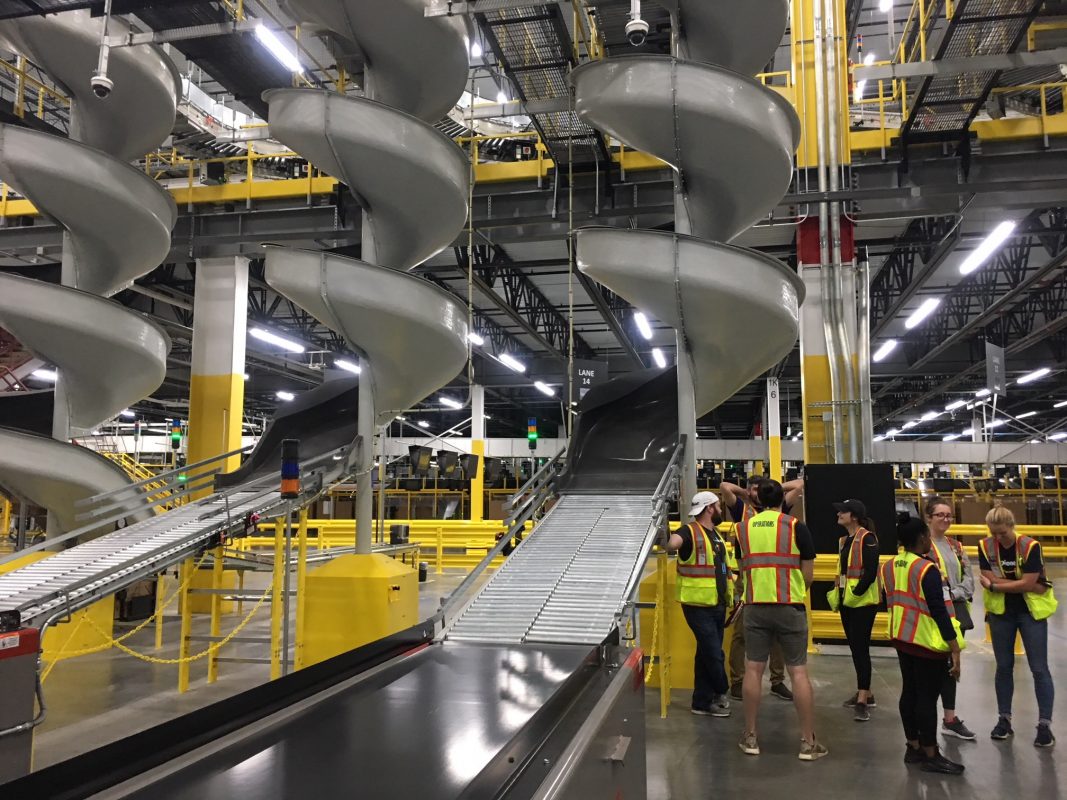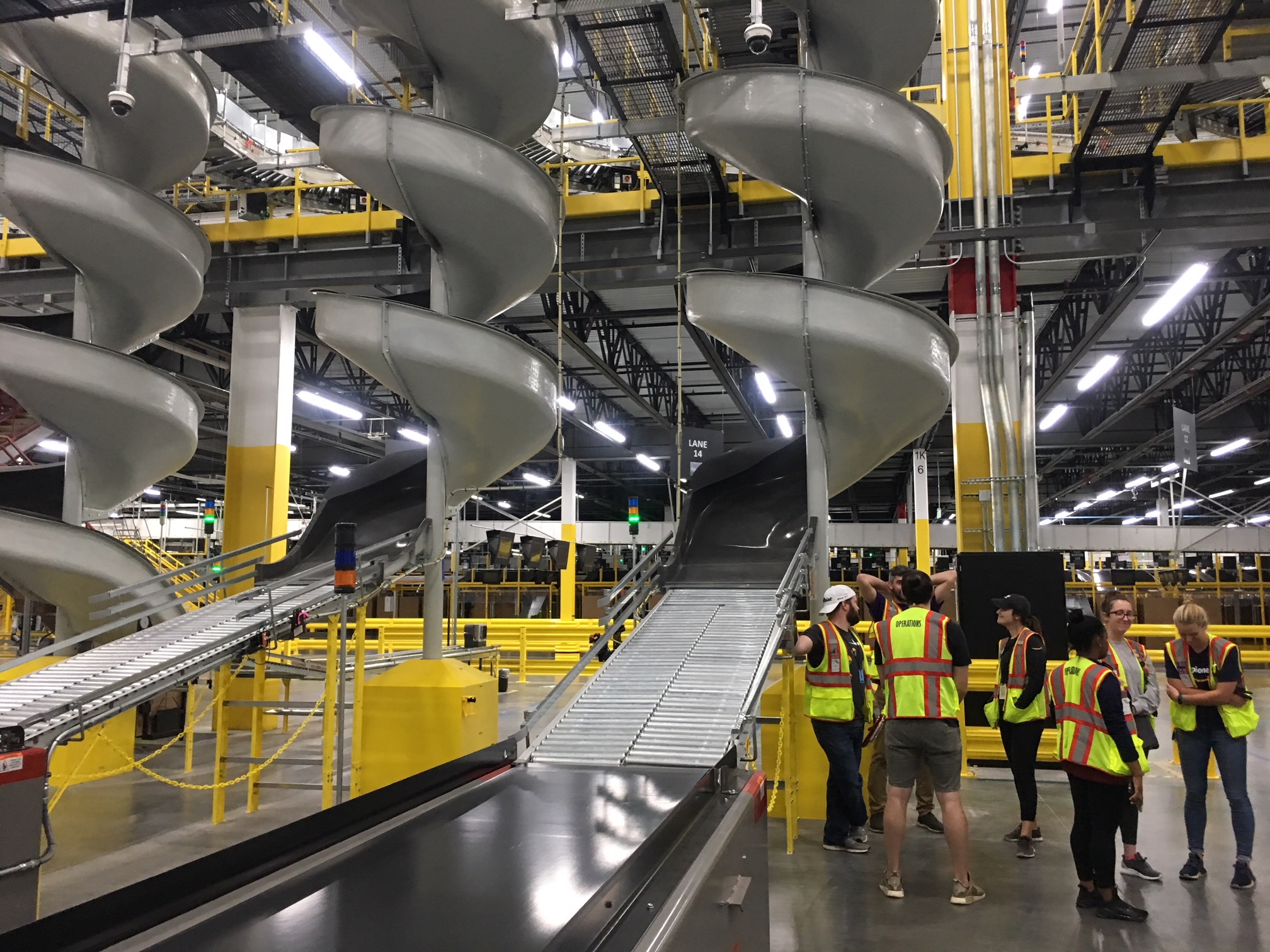 Ron Cassie
The world's largest internet retailer has officially opened its second massive fulfillment center in the Baltimore area—this one on the former site of the world's largest steel mill at Sparrows Point.
The first box picked and packed—a Harry Potter Trivial Pursuit game—was shipped to a customer in Hershey, Pennsylvania, last Saturday morning.
With floor space the size of 14 football fields at 855,000 square feet, the new facility will eventually employ more than 1,500 "Amazonians."
"The building is 90 percent complete and products started arriving last week," Rachel Lightly, an Amazon communication manager, told Baltimore magazine during a tour last weekend, noting that the building also contains some 14 miles of conveyor belts.
Also inside: Four floors that can store up to 20 million products and 22 loading dock shoots that can reach into and fill the backs of 22 tractor-trailers simultaneously.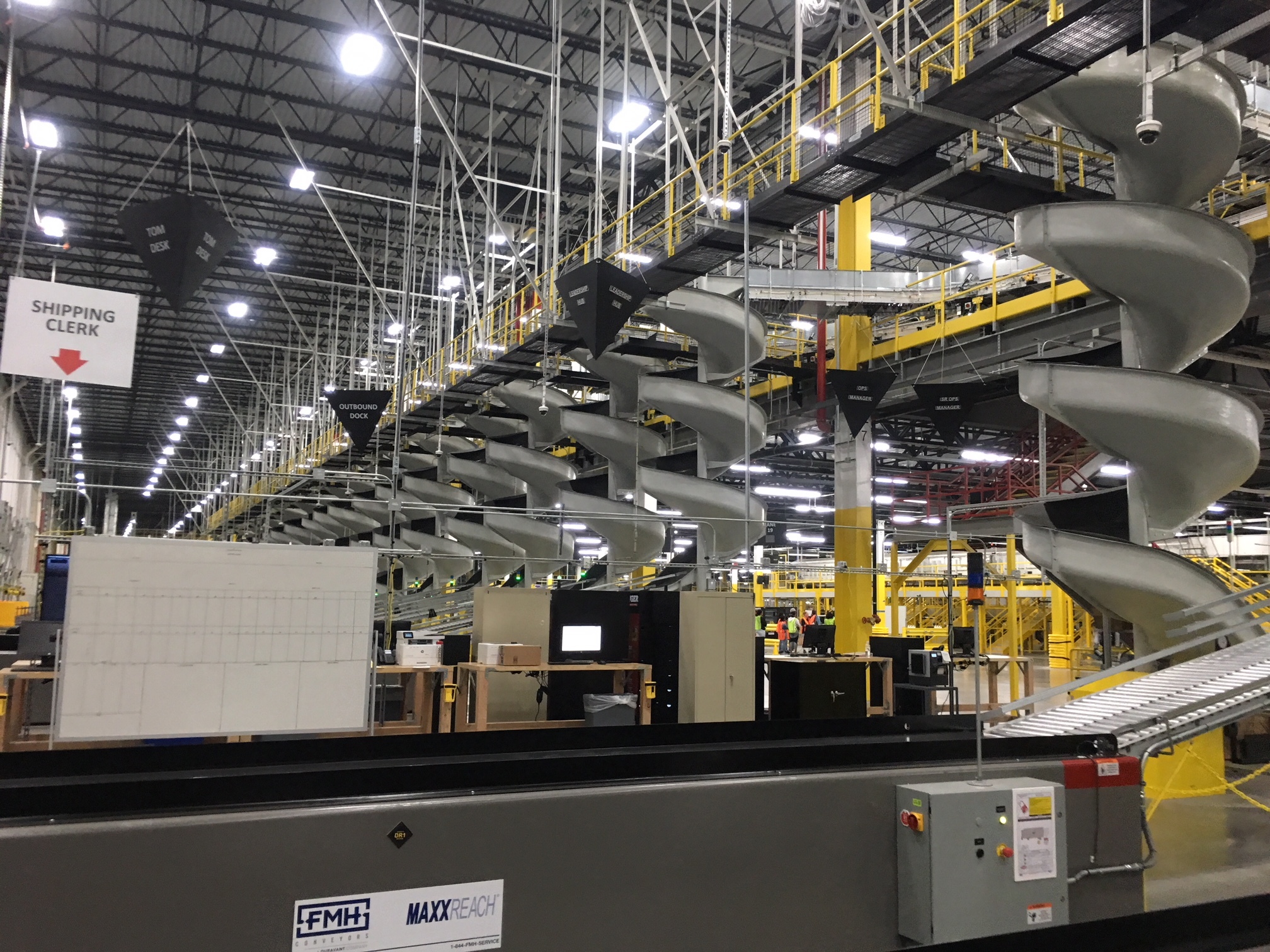 Ramping up hiring for the new fulfillment center as the holiday season approaches, Amazon announced several days ago it will increase, effective November 1, its minimum wage to $15 an hour for all full-time, part-time, temporary, and seasonal employees. The Amazon distribution center on Broening Highway, on the former site of a General Motors plant, which employs more than 3,000 people, opened in 2015. Another distribution center opened in Cecil County in 2017.
"We listened to our critics, thought hard about what we wanted to do, and decided we want to lead," said Jeff Bezos, Amazon founder and CEO, and the world's richest man, said in a press release. "We're excited about this change and encourage our competitors and other large employers to join us." In doing so, however, Amazon will phase out bonus and stock awards for its hourly employees.
The Montgomery County Council is the only Maryland jurisdiction to pass a $15 minimum wage bill to date. The minimum hourly rate there increased to $12.25 for large employers this summer and will move incrementally to $15 an hour for large employers by 2022 and for mid-size and smaller employers in 2023 and 2024, respectively.
The Baltimore City Council passed a $15 minimum wage bill last year, but it was later vetoed by Mayor Catherine Pugh. The state minimum wage rose by mandate to $10.10 in July.
In making their announcement, Amazon said their public policy team would also start advocating for an increase in the federal minimum wage.
"We will be working to gain Congressional support for an increase in the federal minimum wage. The current rate of $7.25 was set nearly a decade ago," said Jay Carney, senior vice president of Amazon Global Corporate Affairs. "We intend to advocate for a minimum wage increase that will have a profound impact on the lives of tens of millions of people and families across this country."
To help offset the minimum wage increase at Amazon, however, warehouse workers will no longer be eligible to receive monthly bonuses and stock options. Those changes could cause some more long-term workers to earn less money.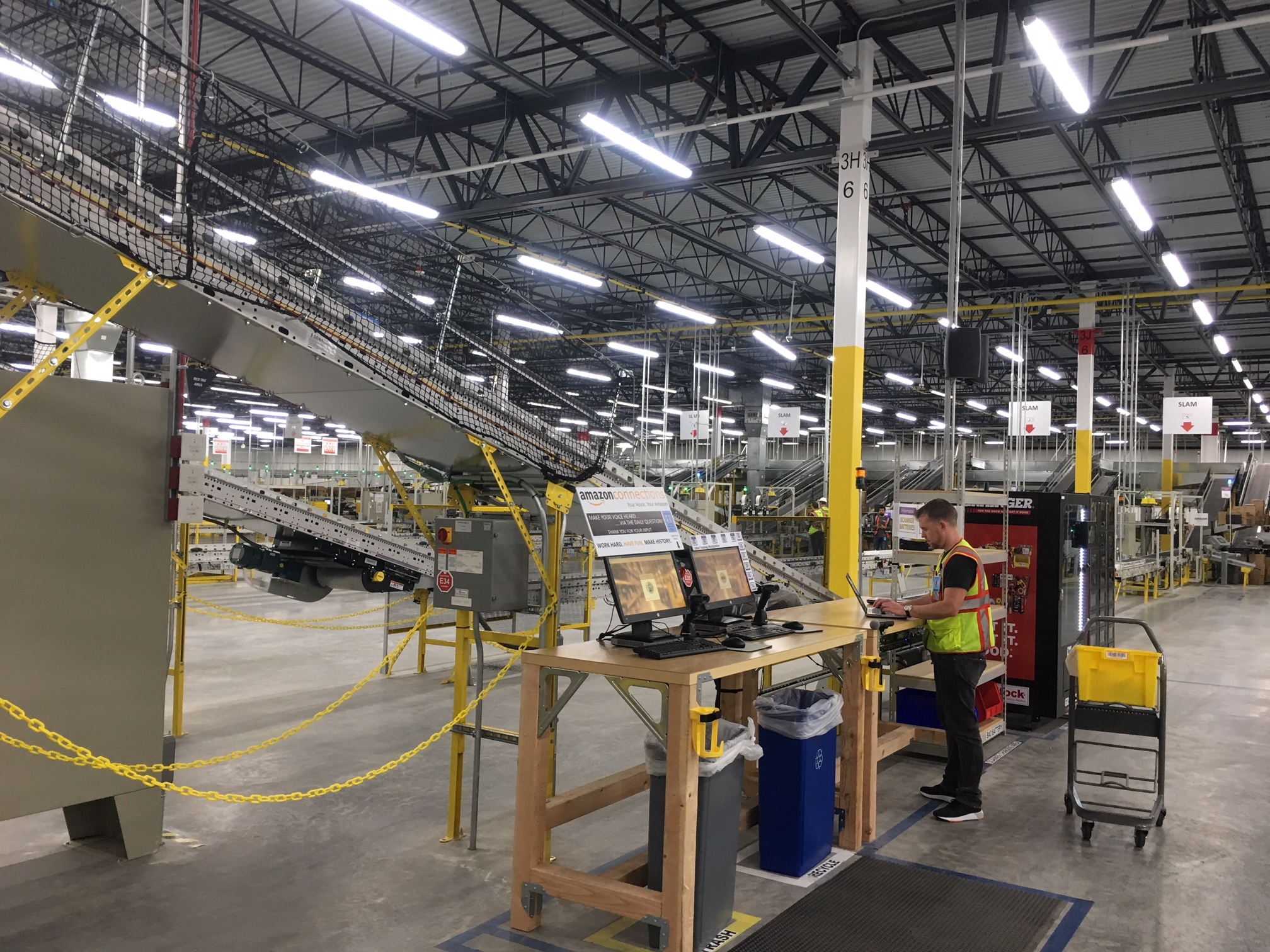 The opening of a second massive Amazon distribution center in the Baltimore area marks a key moment in the redevelopment of the former home of Bethlehem Steel, which once employed more than 30,000 workers in Southeast Baltimore County.
The 3,250-acre site, now owned by Tradepoint Atlantic, has been transitioning into an intermodal logistics hub with rail, major highway, and deepwater port access. In May, the company acquired the 150-acre Sparrows Point shipyard, which was built in 1887 and was owned by Bethlehem Steel for most of the last century.
Other current tenants at old Bethlehem Steel site include FedEx Ground, Under Armour, Harley Davidson of Baltimore, Pasha Automotive Services, Atlantic Forest Products, Access World, Netherlands-based logistics company C. Steinweg, global building products company Lafarge Holcim, and urban agricultural company Gotham Greens.
At full build-out, Tradepoint Atlantic projects to generate 11,000 permanent jobs.
Earlier this summer, Tradepoint Atlantic officials announced they were seeking $150 million in Baltimore County TIF (tax-incremental financing) help for water, sewage, and roads infrastructure projects.
So far, Tradepoint Atlantic and its tenants have either received or are expected to receive "more than $60 million in grants, tax breaks and other assistance from the county, state and federal governments," according to reporting by The Baltimore Sun.
Meanwhile, Montgomery County remains in the running, among 20 other sites, for Amazon's H2Q project, which is expected to employ 50,000 people.
Gov. Larry Hogan put together a $5 billion tax break and infrastructure package to lure Amazon's second headquarters to the state. That decision is expected by the end of the year.