Animal Attraction
For local restaurants, it's lions, and tigers, and bears, oh my!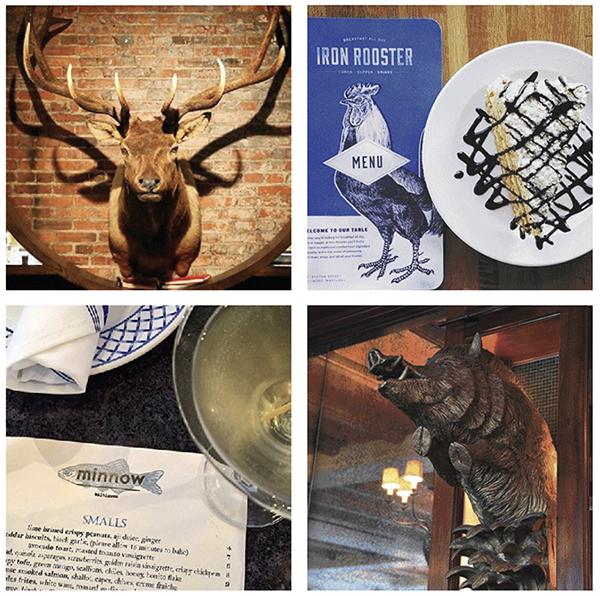 Think naming a restaurant is simple? Think again.
"It's as agonizing and thought provoking as naming a child," says restaurant consultant Arlene Spiegel of New York-based firm Arlene Spiegel & Associates. "Typically, stakeholders go through a number of brainstorming sessions to get it right."
Foreman Wolf Restaurant Group named two of its six spots after the animal kingdom. The first, Cinghiale, is an Italian eatery whose name translates to "wild boar" in Italian. "You see them all over the Northern part of the country from Tuscany up through Piedmont," says co-owner Tony Foreman.
When the group decided to rebrand its second Petit Louis location in Columbia earlier this year, Foreman wanted another animal name. The space was transformed into a Roman trattoria named Lupa, which translates to "she-wolf" in Italian. "A she-wolf has always been Rome's symbolic calling card," Foreman says. "Legend has it that Romulus and Remus, the twins who founded the city, were suckled by a she-wolf. So the she-wolf and the twins were on all of the coins of the republic before there were emperors."
While there are plenty of ways to successfully play up the animal concept (Spiegel advises putting the word "bubbly" in front of any animal moniker to project a celebratory vibe), some species should never be used to name a new spot. "Snakes, spiders, and similarly feared reptiles and bugs should be avoided at all costs," she says. "They evoke a negative image regardless of the venue."
When it comes to eateries named after mammals, amphibians, birds, and others, Charm City is turning into a veritable zoo. Here are names that have us crowing:
Massive Mammals
Lobo: Restaurant and cocktail bar whose name, which means "wolf" in Spanish, serves as a nod to the bar's location on Wolfe Street.
The Elk Room: Harbor East speakeasy that features a massive taxidermy elk overlooking the front bar.
Cinghiale: Harbor East Northern Italian destination that translates to wild boar.
Fat Tiger: The centerpiece bar inside newly renovated Broadway Market—which also boasts an outdoor sister spot, El Tigre.
TigerStyle: Chef Chad Gauss' wok-inspired eatery located in an alley behind the Avenue in Hampden.
High-Flying Haunts
Iron Rooster: Breakfast-all-day spot with several locations, including Canton.
Bird in Hand: Charles Village coffee corner named after a town in Lancaster County.
Bluebird Cocktail Room: Literary-themed Hampden cocktail bar honoring Charles Bukowski's poem "Bluebird."
Duck Duck Goose: Chef Ashish Alfred's French-inspired brasserie in Fells Point.
The Owl Bar: Prohibition-era speakeasy inside the Belvedere Hotel.
Cardinal Tavern: Canton corner bar with red-wing accents and a Southern menu.
Equestrian Eateries
The Horse You Came in On Saloon: Pre-Prohibition bar dating back to 1775, which is rumored to have been the last spot where Edgar Allan Poe drank before his death.
McFaul's Iron Horse Tavern: Convivial Cromwell Valley destination whose name refers to the old Iron Horse train that frequently stopped near the property.
Stalking Horse: Federal Hill staple whose name references the screen that a hunter hides behind when stalking prey.
Aquatic Appellations
Minnow: South Baltimore seafood shack brought to you by La Cuchara's Ben and Jake Lefenfeld.
The Greene Turtle: Sports bar with multiple East Coast locations.
Fish Head Cantina: Rocking UMBC Halethorpe hangout featuring gourmet tacos, giant burgers, and even bigger drinks.