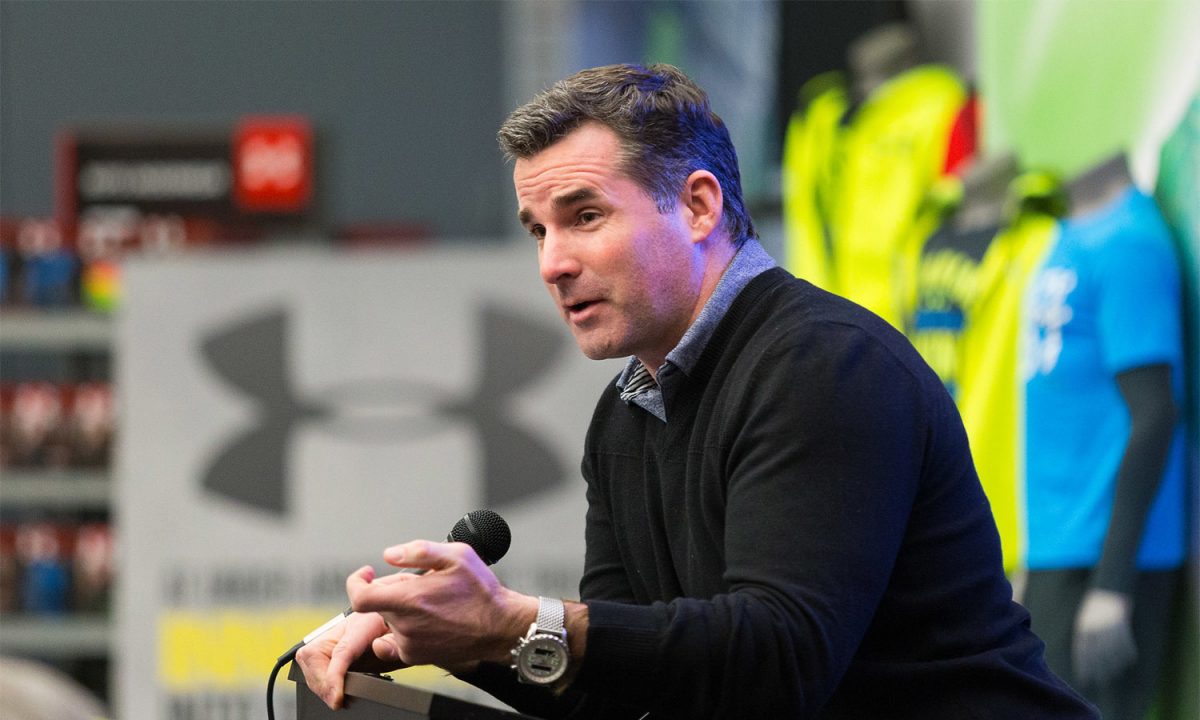 Flickr Creative Commons
Throughout his more than 30-year career, Under Armour's current president and chief operating officer Patrik Frisk has been praised for his drive, energy, and leadership skills. In three months, he'll need those in spades, as he is set to become the chief executive officer of the company.
"Patrik's proven track record of industry experience, straightforward leadership style and championship of our brand and culture makes him uniquely positioned to smartly capitalize on the opportunities in front of us," said founder Kevin Plank—who Frisk will take over for as Plank steps into a chief and executive chairman role—in a press statement announcing the change today.
In a letter to his employees, published by the Baltimore Business Journal, Plank explained that the shift in his personal role is by no means a retirement. "Under Armour is my heart and full-time job," he said. "This is an evolution of company leadership that is reflective of how we are operating today."
Frisk came to Under Armour after previously serving as the CEO of The Aldo Group, a footwear and accessories company. He also held various supervisory roles at VF Corporation, which counts The North Face and Timberland among its brands. Effective in January, he will report to Plank and join the company's board of directors.
"For the past two and a half years having worked next to—as well as sweated with Patrik—in and out of the gym, board room, executive meetings, quarterly business and line reviews, and domestic and international travel, I have seen first-hand how he has sincerely earned the trust and respect of our teammates, customers, and shareholders," Plank said in his letter. "Along the way, always present has been Patrik's unshakable passion for our brand."
Frisk has experience working all over the world, which is an attractive proposition for a global company like Under Armour that only hopes to expand its reach. Frisk's experience in the clothing industry, coupled with the fact that for the past few years he has been quietly groomed for the role, makes for what Plank hopes to be a seamless transition.
"The opportunity that lies ahead of us is incredible," Frisk said in a statement. "As our entire global team continues to lean hard into our transformation, I am honored to lead this great brand toward the realization of its full potential."
As for Plank, his move aside marks a big step for the company he founded in 1996. He told Baltimore in 2013 that the culture and identity of the city was one of the things that attracted him to start the "hard-edged, blue-collar" brand here. Since then, Under Armour has grown into a multi-billion dollar operation that has allowed Plank to explore other local initiatives like the massive Port Covington project and revamped water taxi system.
As Under Armour, which exists in a highly competitive market, works to establish its footing after a few down years, Plank is making it clear that his involvement in the company will still be his main priority.
"What I am most excited about in this next chapter is a platform that brings these strengths together in a vision that empowers us to reach our full potential," Plank said. "Patrik makes us better."