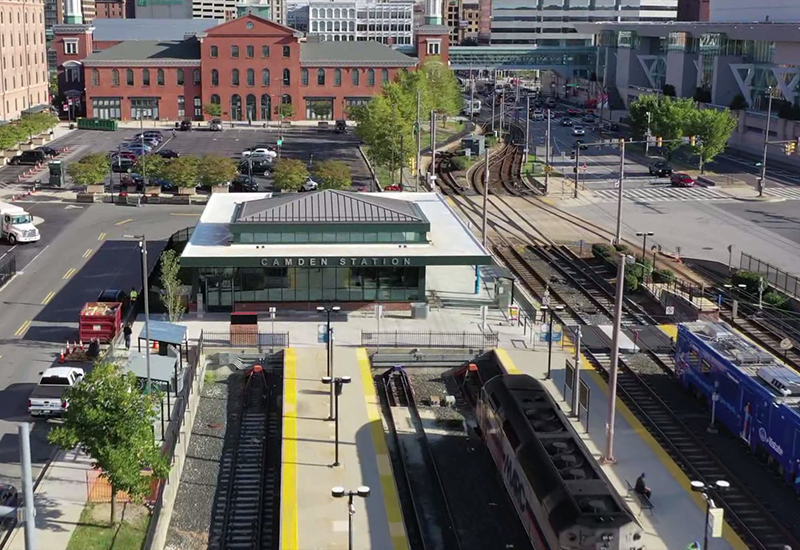 MDOT MTA
With the introduction of a shiny new and improved Camden Station comes a vision for what similar projects across Baltimore might look like.
"It could be a jumpstart," says Brian O'Malley, president of the Central Maryland Transportation Alliance (CMTA). "It shows that riders and the public that transit can be what we're used to, and that we need more investments like this to be competitive and vibrant in the 21st century."
In mid-September, tons of improvements to the Light Rail station adjacent to Oriole Park at Camden Yards were unveiled. The $7-million upgrades highlight the history of the transit hub, which was built in 1856 and once served as a stop for Abraham Lincoln on the way to deliver both his inaugural address and the Gettysburg Address.
"This new facility is a milestone for Baltimore and all of Maryland," said Governor Larry Hogan in a press release. "This station represents a tribute to Camden Station's historic past, as well as its bright future as an important transit resource for commuters and visitors."
With this in mind, it's also a model for how the city can place an emphasis on more specific initiatives within its projects. Here are a few things to look out for at the new Camden Station:
A New Look
Though the location of the station hasn't changed, it is newly polished and refurbished after shutting down in 2018, which makes it a huge boon for commuters and those traveling to Ravens and Orioles games. There is updated art on the station's walls and a drawing that dates back to 1869 provided by Baltimore City Sheet Maps Collection at JScholarship, which is the digital hub at the Sheridan Libraries of Johns Hopkins University. In addition, an MDOT MTA graphic designer contributed brand designs and incorporated the colors of the Maryland flag. The brick at the station is the same that is used at Camden Yards. "The station is an important location for people working downtown and for visitors to the Inner Harbor," O'Malley says.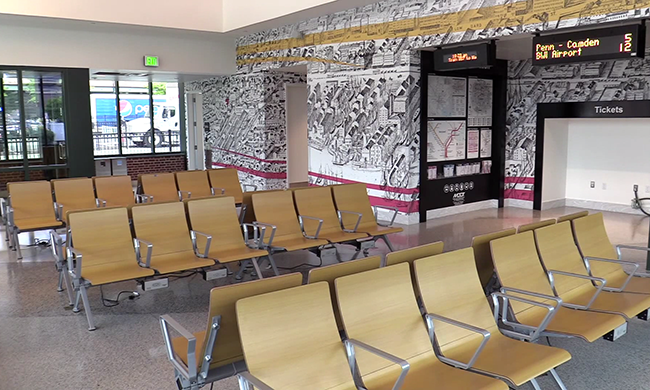 Going Green
Camden Station's redesign was done with the environment in mind. MDOT is pursuing LEED (Leadership in Energy and Environmental Design) certification from the U.S. Green Building Council, which would designate Camden Station as a "green" facility. "It's critical to have public transportation infrastructure," O'Malley says. "For our region to be green, we need a working state of good repair and high-performing buses and trains." To that end, there is an emphasis on reducing energy consumption, and MDOT has installed lighting and plumbing fixtures designed to curb energy use related to heating and cooling.
A Streamlined Ticketing Experience
Among the new additions to the station installed with riders in mind is a larger waiting area with plenty of seats and a new ticketing vending machine that accepts Apple and Google Pay. Riders can also purchase commuter bus tickets on the machine as well.
Bike Racks

Perhaps most importantly, a new bike canopy has been installed outside on the west side of the station, housing four bike racks that can fit four to eight bikes each. These racks join two existing bike stations. It's an indication that MDOT is committed to creating multi-modal opportunities for Baltimoreans at a site that has a lasting footprint in Baltimore.
"Cities evolve," O'Malley says. "And the most exciting projects keep elements of the past but allow progress to take place at the same time."