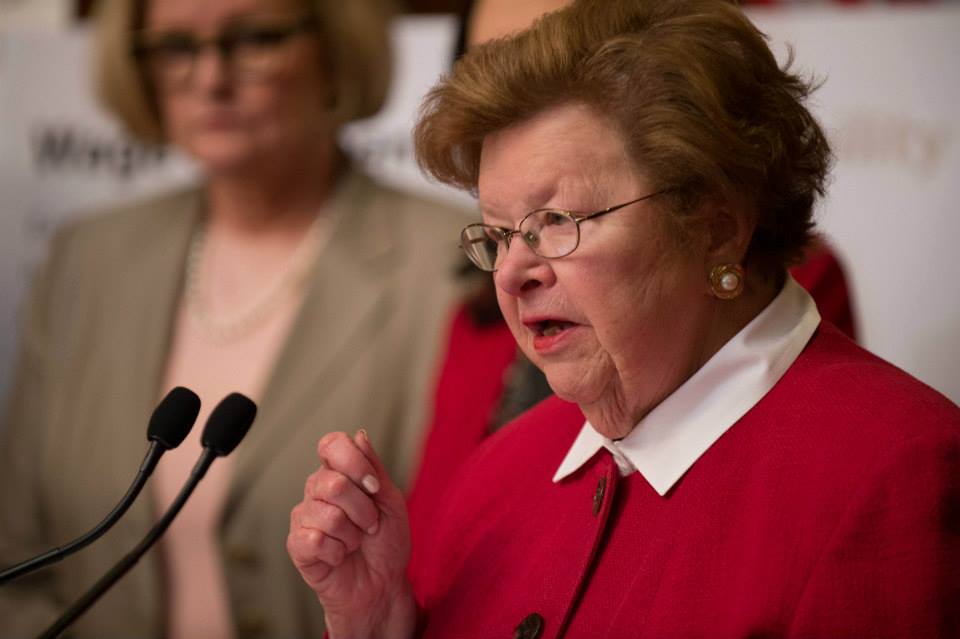 Courtesy of Barbara Mikulski
Baltimore-born and raised Sen. Barbara Mikulski announced at a Fells Point press conference Monday morning that she will not seek re-election in 2016.

Elected to the House of Representatives in 1976, the Highlandtown-native and Democrat won Maryland's 1986 Senate race, and is the longest-serving woman in Congressional history.
The 78-year-old former social worker turned activist turned politician has been a vocal advocate for Maryland and liberal causes in the Senate from the start. She also became the
first woman to chair the powerful Appropriations Committee, a committee where she's served since entering the Senate.
At her press conference, Mikulski highlighted the symbolism of making her announcement in Fells Point in Southeast Baltimore, where she became politically engaged in the ultimately successful 1970s fight to prevent a six-lane elevated highway through the historic port neighborhood. "It's where I learned that we are all in this together . . . And it's where I learned about service from my mother and father who said, 'Good morning, can I help you?' every morning when they opened the small neighborhood grocery they owned and ran."
In making her decision, Mikulski, who got emotional briefly in talking about her staff and close working relationship with Maryland Sen. Ben Cardin, said she had thought "long and hard" about how best to spend the next two years. "I had to decide whether to spend my time fighting to keep my job or fighting for your job," said Mikulski, who appears, despite the passing years, as energetic and spirited as ever. "Do I spend my time raising money or raising hell to meet your day-to-day needs?"
Over the next two years in the Senate, Mikulski said, she'd "be fighting to give families a raise by finishing what we started with the Lily Ledbetter Fair Pay Act and passing the Paycheck Fairness Act, once and for all guaranteeing equal pay for equal work. I'll be fighting for a family-friendly tax code with targeted tax breaks, doubling the child care tax credit to make child care affordable." Mikulski added that she has not yet given serious consideration to what she might do after leaving the Senate—other than perhaps spending more time lingering over morning coffee at the Daily Grind in Fells Point.
Cardin, who was on hand for the announcement, called Mikulski's decision a "bittersweet" moment.
"Her record is incredible and we celebrate that today," said Cardin, who has known Mikulski since the early 1970s when she served on the Baltimore City Council and he was a member Maryland House of Delegates. "She's a fighter who broke many glass ceilings."
Cardin said, like many, he was surprised by Mikulski's decision, which she told him about yesterday. He added that Mikulski certainly would've been favored to win reelection if she'd chosen to run again.
Immediately following the announcement of the
Mikulski press conference this morning, speculation began about who would run to take her place in 2016.
The name mentioned most often is former Gov. Martin O'Malley, who has been seriously considering a
presidential bid for sometime. O'Malley, whose mother has long worked in Mikulski's D.C. office, is considered a long shot for the Democratic nomination with Hillary Clinton's projected campaign.
After her opening statement, Mikulski addressed a question about the potential 2016 field for the state's open seat, noting with a smile that, "Maryland has a lot of talent and they'll be telling you about it in the next 10 minutes."
Other members of the Maryland congressional delegation, including
Rep. Elijah Cummings and Rep. Chris Van Hollen, are being discussed as potential candidates to fill Mikulski's shoes. According to The Washington Post, Rep. Dutch Ruppersberger's staff has said "it's safe to say" that he'll consider running for Mikulski's seat.
On the Republican side, renowned former Johns Hopkins' neurosurgeon Ben Carson has been floating a potential presidential bid and could consider
setting his sights on the Senate. Former Gov. Robert Ehrlich, who previously served in the U.S. House of Representatives, may also consider a bid for Mikulski's seat.