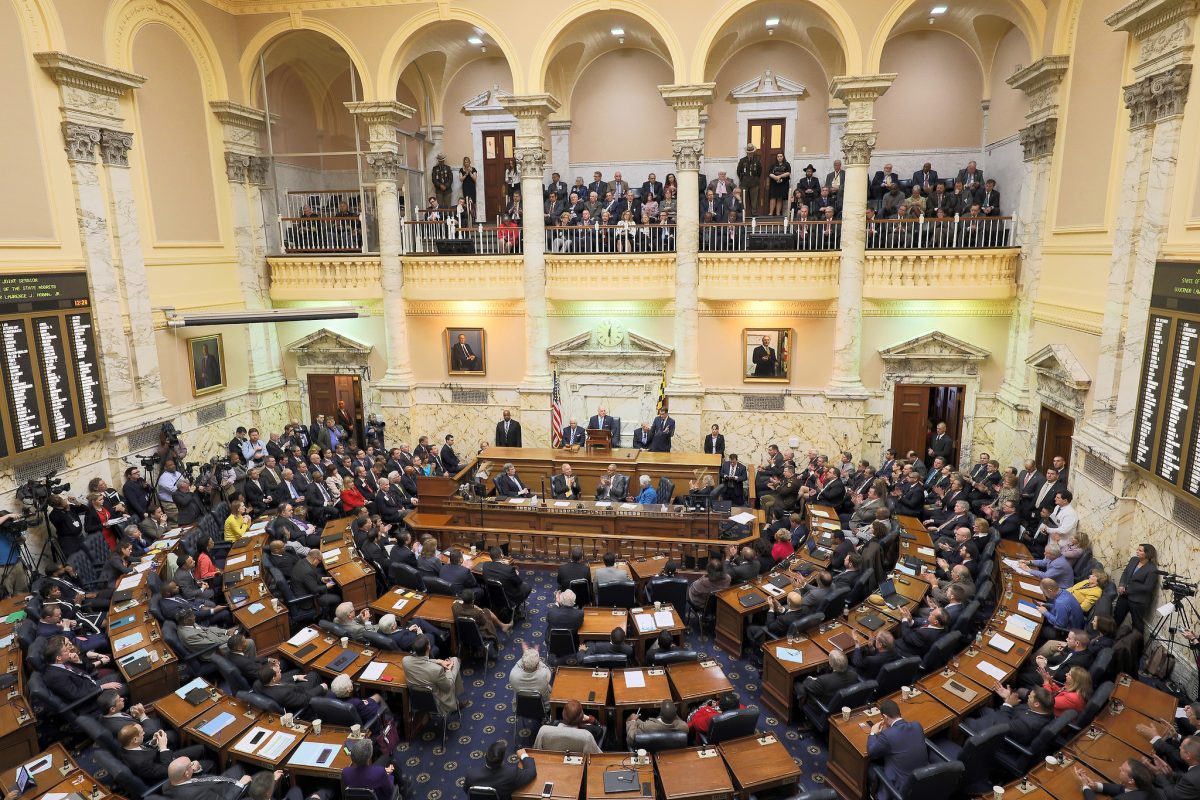 Flickr / Creative Commons
Monday, April 10, marked the final day of the 437th Maryland General Assembly where, for 90 days, lawmakers met in Annapolis to review bills. In this year's case, Gov. Larry Hogan signed 11 of the 27 bills that came across his desk, including the fiscal responsibility bill, school funding bill for Baltimore City Public Schools, an extension on the time frame in which sexually abused children can sue their abusers, and a permanent ban on hydraulic fracturing in Maryland. Here are the most big-ticket items from the grueling 90-day session.
Planned Parenthood Gets Funding.
Maryland is now the first state to enact legislation to provide funding for Planned Parenthood should the federal government cut its support. The measure was enacted last week after Gov. Hogan allowed the bill to move forward—he didn't veto it or sign it. The new measure will protect preventative care for over 20,000 patients across nine centers in the state and takes affect on July 1.
The state has allotted $2 million from Maryland's Medicaid budget and $700,000 for the state's general fund the services. It's worth noting that federal law prohibits using this funding for abortions; the bill is to ensure that patients will be able to receive basic healthcare.
Fracking Ban Passes
After years of debate and study, The Maryland General Assembly and Gov. Hogan cooperated to outlaw the controversial natural gas extraction method known as fracking. In doing so, Maryland became the first state (in which fracking is viable) to ban the practice by statute. (New York banned the practice by executive order in 2014, and Vermont banned the practice by law in 2012, but has no harvestable natural gas deposits, meaning the ban was largely symbolic.)
Western Maryland—particularly Garret and Allegheny counties—sits upon a portion of the Marcellus Formation, a large shale-rich geologic area that underpins much of the Appalachian range from Tennessee to New York. Proponents of fracking in Maryland had hoped the practice would bring jobs to Western Maryland and further lower energy prices. Opponents resisted fracking because of its ability to pollute air and groundwater. Anti-fracking activists hope Maryland's ban will inspire neighboring states, such as Pennsylvania and Virginia to enact similar laws.
Oyster Sanctuaries to Remain Closed to Watermen
Blocking a proposal floated by the Hogan administration, the General Assembly voted to keep the state's oyster sanctuaries off-limits to watermen until a study of the bivalve's health is completed in 2018. According to The Sun, Gov. Hogan's administration and a state commission were "considering a plan that could have periodically opened 11 percent of the [state's] 8,600 acres of sanctuaries to watermen."
Environmentalists opposed the idea, citing the fragility of the bay's oyster population, which is estimated at about 1 percent of its pre-Colonial level, due to disease, pollution, habitat destruction, and over-harvesting. A single oyster can filter up to 50 gallons of water a day and oyster reefs provide habitat for numerous other species.
Styrofoam Ban Fails, For Now
Despite support from environmental advocates, a ban on the use of expanded polystyrene foam products—including food containers and packaging peanuts—failed to pass this year. The bill, co-sponsored by Del. Brooke Lierman of (District 46, Baltimore City) and state Sen. Cheryl Kagan (District 17, Montgomery County), called for a statewide ban on the hard, white plastic material, often mistakenly referred to as Styrofoam. (Styrofoam is a trademark of Dow Chemical Company and a separate substance.)
Advocates had hoped the measure would help combat litter and improve water quality, especially in Baltimore City, where expanded polystyrene products are the second-most collected items in the harbor trash wheels, after cigarette butts. Though Julie Lawson, the executive director of the nonprofit Trash Free Maryland, admitted disappointment, she also expressed hope for next year's session. "The House Environment & Transportation Committee, having heard our bills for the past several years, has decided they want to take the summer to dig deeper into the issue . . . with an eye toward developing policies that the General Assembly should pursue in coming years," she said.
Internet Privacy Bill Fails
The House of Representatives voted at the end of March to grant Internet service providers (ISPs) like AT&T and Verizon the ability to collect, store, and sell users' browser history for advertising purposes. SB 1200 was an emergency bill that would "prohibit ISP's from selling or transferring a consumer's personally identifying information to a person without the consumer's express and affirmative permission."
Current state law does not regulate the sale or sharing of personal information by ISPs. However, the bill died in a House Committee meeting late last night. According to House Economic Matters Committee Chairman Derek Davis, lawmakers need more time to study the issue.
Watered Down Immigration Bill Gets Rejected
Immigration advocates were pushing for a bill that would limit police involvement in federal deportation. The House passed the bill, known as the Trust Act, in March, however, a Senate committee only advanced portions of the original bill. The act would have prohibited local police from stopping and questioning people to determine their immigration status solely based on factors like as race and religion.
Senate President Thomas V. Mike Miller Jr. spoke out against the bill last week, saying: "Maryland is not going to become a sanctuary state." Gov. Hogan vowed to veto the original version of the bill should it reach his desk, but it died before the deadline. The bill was diluted so much that it lost the support of liberal lawmakers and committee chairman Derek Davis said that the issue was too complicated to make a decision in the final hours.
Education Accountability Act
This measure prohibits the state school board from converting declining public schools into charters, offering students taxpayer-funded vouchers to attend private schools and placing said schools in a state-run "recovery" district.
This new legislation sets up an accountability system for the schools, where 65 percent of ratings will be based on academic assessments, including standardized test scores. This is the only piece of legislation Gov. Hogan rejected stating that the bill was "misguided" and would have a "disastrous effect" on the education system.
Child Sexual Abuse Laws Amended
Gov. Hogan also signed HB 642 into law, which extends "the statute of limitations on civil actions arising out of an alleged incident or incidents of sexual abuse that occurred while the victim was a minor." The bill will be effective October 1 of this year and will not be applicable for any cases prior to that date.
Under the current law, a victim must file a compliant within "seven years of the date that the victim attains the age of majority" or age 25. Under the new law, the period has been extended from seven to 20 years from the incident or age 38.
New Brewery Bill Gets Pushed Through
After much controversy, a revised version of HB 1283 makes big changes to the local craft-brewing scene in Maryland. Inspired by the first American Guinness brewery coming to Baltimore County in the fall, the bill raises caps on barrel production to 3,000 per year, permits some contract brewing, and allows existing breweries to maintain their normal hours. However, the bill prohibits new or future breweries—which are not grandfathered into the bill—to be closed after 10 p.m.