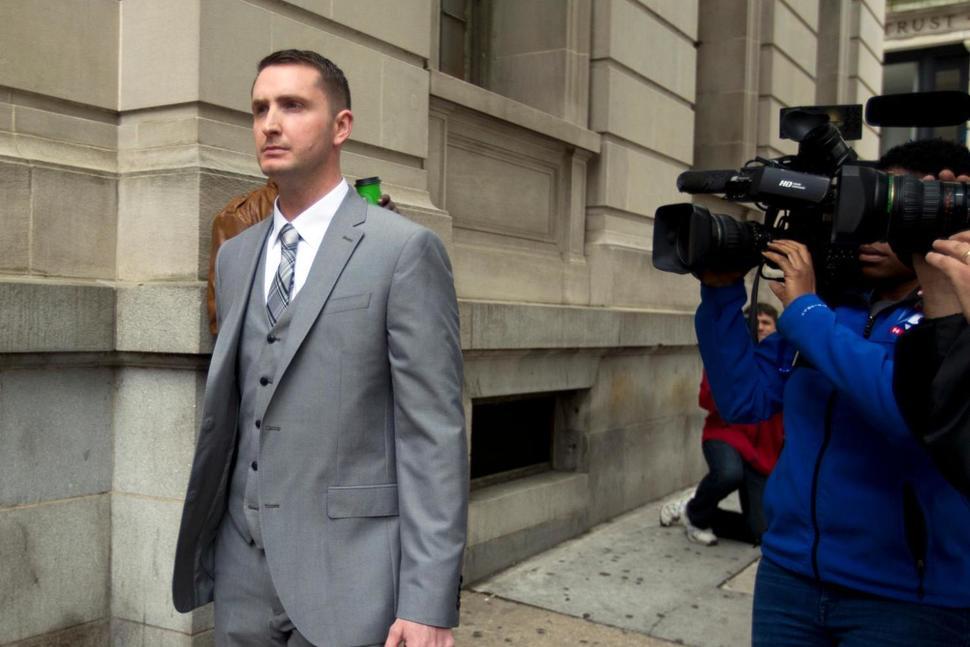 AP Photo/Jose Luis Magana
Update 5:30 p.m.— A full transcript of Judge Barry Williams' verdict can be found here.
Baltimore police officer Edward Nero was acquitted Monday morning of all four charges he faced related to the arrest of Freddie Gray, who died of spinal cord injuries suffered while in police custody last April.
Nero had pled not guilty to assault, reckless endangerment, and two counts of misconduct in office. He had opted for a bench trial instead of a jury trial and Baltimore Circuit Court Judge Barry Williams announced his ruling at 10:35 a.m. this morning in a packed courtroom after closing arguments concluded last week. A small group of activists gathered outside the downtown courthouse to protest the decision.
Prosecutors had alleged that the 30-year-old officer arrested Gray without probable cause, thereby committing second-degree assault. They also accused Nero of negligence when he failed to seatbelt Gray after helping to load him into the back of a transport van. Defense attorneys for Nero, as well as those for Officer William Porter, whose previous case related to Gray's arrest and death ended in a hung jury, argued that ultimate responsibility for buckling detainees rests with the transport van driver.
The second-degree assault charge had carried a maximum of 10 years in prison while the reckless endangerment charge carried a five-year maximum term.
Rep. Elijah Cummings held a press availability Friday to urge Baltimore residents to respect the outcome of the trial regardless of the verdict. "The future of our community will not be defined at the moment of the verdict, but in the days and years that will follow," Cummings said.
Gray, who was handcuffed and eventually shackled at his legs—but never buckled into a transport van seat per police guidelines—died a week after he was found unresponsive in the back of the police van after its arrival at the Western District station. Protests erupted not long afterward, and looting, rioting and arson broke out on the night of his funeral, prompting a citywide curfew.
Baltimore Deputy State's Attorney Janice Bledsoe described Gray's arrest as unjustified in her closing argument Thursday. Defense attorneys said Nero and Officer Garrett Miller, who were both on bicycles when they stopped Gray on the morning of April 12, 2015, had a legitimate cause to initially detain Gray because he'd run from police in a high-crime area.
Williams said in reading his verdict that Nero had essentially acted in a manner that "a reasonable officer" could be expected to act during his relatively minor role in Gray's arrest and transport—as testified by Miller, eyewitness Brandon Ross, and presented in available video. Williams also said the state failed to document that Nero had received proper police training in the transportation of detainees, or that he'd opened and read a mass departmental email sent to his account three days before Gray's arrest, which explained that seatbelting detainees was a requirement.
Baltimore defense attorneys and legal analysts following the trial were not surprised by Nero's acquittal.
"The decision is what I expected. The state took a risk in bringing these charges [against Nero]. Some would say unreasonable risk," attorney J. Wyndal Gordon said outside the courthouse afterward. 'This case was kind of dead in the water from the very beginning. The evidence wasn't there."
Gordon said if the prosecution could not overcome defense arguments in the Nero case—essentially that he acted reasonably given his training and police department practice—they were unlikely to win convictions against other officers facing similar charges. "There is a slim, nominal, sliver of hope for prosecutors with [Officer] Caesar Goodson, the driver of the van, who [police experts have testified] basically bore the duty for securing Freddie Gray."
As far as police leadership accountability, Gordon pointed to the $6 million city civil settlement with Gray's family. "As far as holding police leadership criminally responsible, I don't see it."
Tessa Hill-Aston, Baltimore chapter president of the NAACP, noted the difficulty for Gray's family in going through six separate trials. She indicated frustration that officers assigned to minority neighborhoods—"who are chasing and arresting black men and probably don't want to be there in first place"—haven't received proper training, according to the department's own testimony. She also indicated frustration that the responsibility for the failure to properly seatbelt Gray has been passed from one officer to the next thus far at the two trials.
"Police rules have at least changed for the better since [Gray's death]—I've read them." Hill-Aston said. "In the future, no officer will be able to claim it was someone else's responsibility—a superior officer or the driver. It is everyone's responsibility now." She added that she retains some optimism that at least one of the six officers will eventually be held criminally responsible in Gray's death. "I have hope. I have to."
Longtime Baltimore defense attorney Warren Brown believes Judge Barry Williams will subsequently recuse himself from Officer Garrett Miller's upcoming trial—since Miller testified at Nero's trial—and most likely from the other trials as well, which could cause further delays. "Legally, he's not required, but after serving as trier of fact in this case, I think he will," Williams said. "I also think he must be getting tired of all these trials."
Warren Alper­stein, a Baltimore defense attorney whose clients include police officers in civil and criminal cases, told The Washington Post that a guilty verdict in Nero's case could have a "dramatic chilling effect on Baltimore police officers, who would be reluctant to conduct a lawful stop and detention for fear that if they make a mistake they will be prosecuted despite acting in good faith."
Before the Nero trial, University of Maryland law professor Douglas Colbert said he believed that "the prosecution is sending a message there have been far too many arrests in Baltimore that have occurred without probable cause." Afterward, Colbert said that while Nero certainly is relieved to be able to go back to living a normal life, other police officers will be more careful to arrest people only when they have probable cause, to interrogate individuals before they are handcuffed, and provide people the protection when arrested that they need.
Nero was the second of six officers to stand trial in the case. Officer William Porter's manslaughter trial ended in December with a hung jury. He is scheduled to be tried again in September.
Officer Caesar Goodson Jr., the transport van driver, faces the most serious charge—second-degree depraved heart murder—and his trial is scheduled to begin next, on June 6.
Officer Garrett Miller, who faces similar allegations as Nero, and Lt. Brian Rice, who faces a manslaughter charge, are scheduled to go to trial in July. Sgt. Alicia White, a supervisor who arrived on the scene of Gray's arrest and transportation, also faces manslaughter charges, among other allegations. Her trial is scheduled for October.
All the officers have pleaded not guilty.