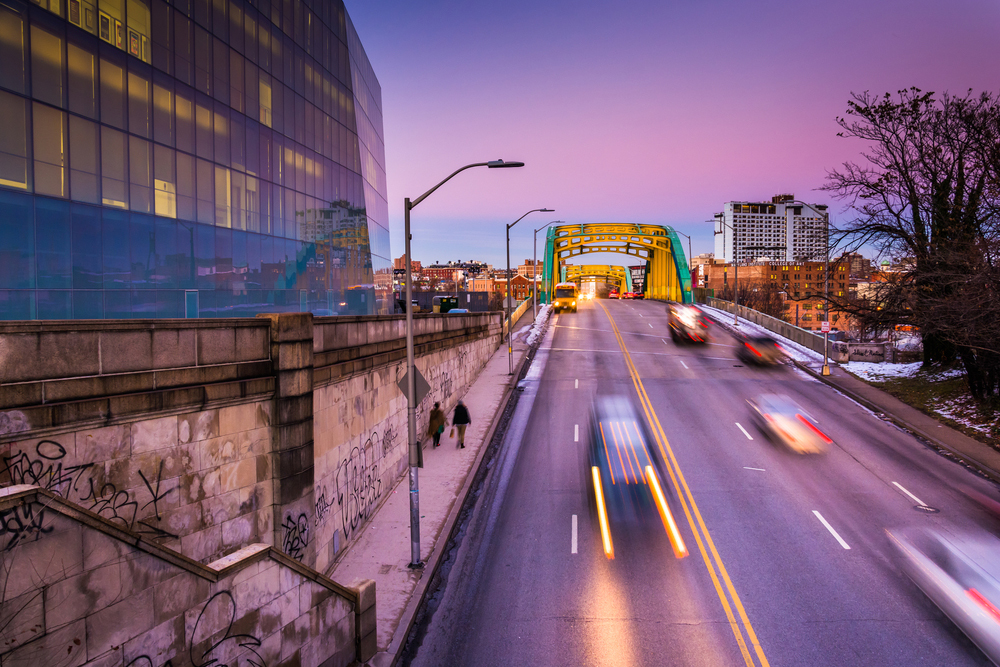 Shutterstock
Baltimore feels like it has lost a bit of its charm over the past year with the city's dramatic increase in violence. There have been more than 340 murders in 2015, and in terms of per capita homicides, this has been the most deadly ever recorded for the city, according to The Baltimore Sun. We're hoping, like so many others, that 2016 will be a time of redemption—a return to a trajectory of reduced violence, which Baltimore had been on before his tragic past season of killing.
So, here's our New Year's resolution: six reasons we are hopeful that violence in Baltimore will decrease this upcoming year.
Body Cameras
In late October, more than 150 Baltimore police officers were equipped with body cameras as part of a two-month pilot program. The officers were told to record all of their interactions with the public, making this the first step toward more transparent and more accountable policing in the city. The use of the body cameras—the city is now deciding on a vendor to run the program—should be helpful for both law enforcement officers, who indicated they like having the cameras during testing, and citizens, in terms of rebuilding trust.
Safe Streets Expansion
In Safe Streets' unique program, former gang members are hired to educate the community that violence is no longer acceptable. The McElderry Park location hit a bump in the road back in July, but the Health Department's grant-funded program has expanded to the Sandtown-Winchester neighborhood, where the Freddie Gray tragedy took place. With locations in Cherry Hill, Park Heights, and Mondawmin, and McElderry Park's reopening in September, the program has been effective at minimizing crime in those targeted areas. Cherry Hill celebrated 440 days without a gun shooting back in June, proving that the program can succeed.
New Police Commissioner
The spike in the city's crime after the death of Freddie Gray led to Mayor Stephanie Rawlings-Blake's firing of police Commissioner Anthony Batts in July and promoting of Kevin Davis, former deputy to Batts, to chief in October. Batts, already unpopular, had clearly lost the respect of the rank and file in light of his response to Freddie Gray's death, the ensuing riot, and aftermath of protests. Davis has spoken out about toughening guns laws in the state recent months, following the shooting of an officer, and plans to lobby legislators for stricter penalties for carrying an illegal firearm, currently a misdemeanor.
Increased Street Patrol
In an effort to put the brakes on increasing violence in the city, Commissioner Davis put a "Community Stabilization Initiative" in place at end of 2015, with all sworn police officers spending time in uniform, on the streets, engaged in foot patrol and stationary post efforts. The change, at the moment, is only intended to last until the end of the year, but the hope is that it will set a positive tone for 2016. Longer term, Davis has said he's committed to more street patrol training for officers and cadets, which is desperately needed, as well as more community engagement from the police department.
Department of Justice Review
This past spring, the Department of Justice announced a new, wide-ranging federal civil rights investigation into the Baltimore Police Department, building upon a voluntary and collaborative review launched previously with the city. The DOJ has completed several dozen such reviews of police departments across the U.S.—more than one in the case of some cities—over the past two-plus decades. If they uncover systemic civil rights problems, they can make court-enforceable agreements with local departments, overseen by independent monitors, which can become blueprints for moving forward.
Committed and Loyal Baltimoreans
The death of Freddie Gray has inspired Baltimoreans and an enormous variety of groups to action, in the arts community, in education, in the for-profit and nonprofit world, including, local organizations like 300 Men March and BUILD Baltimore. So many people in this city volunteer in their community, including mentoring the future leaders of Charm City, that we can't help but be inspired and believe in a brighter 2016 for Baltimore.