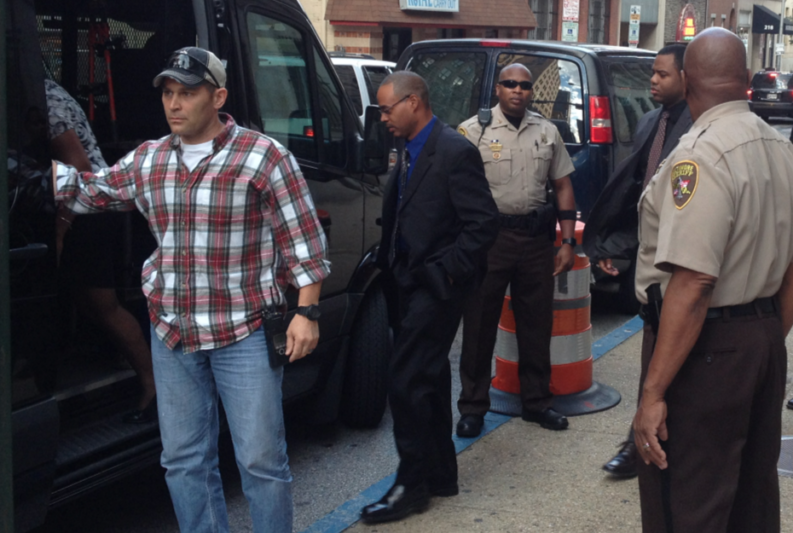 Photography by Ron Cassie
The third trial involving Baltimore police officers charged in connection with the death of Freddie Gray got underway Thursday with Officer Caesar Goodson Jr. facing allegations that he intentionally gave the 25-year-old a "rough ride."
Goodson was the driver of the van in which Gray, according to the state medical examiner's office, suffered a broken neck and the severe spinal cord injuries that led to his death last April.
Goodson Jr. has been charged with second-degree depraved heart murder—the most serious allegation made against the six officers involved in case—involuntary manslaughter, manslaughter by vehicle, criminally negligent manslaughter by vehicle, second-degree assault, misconduct in office, and reckless endangerment.
In two previous trials, Baltimore prosecutions failed to earn convictions in trials involving two police officers involved in Gray's arrest and transportation.
In a bench trial last month, Judge Barry Williams acquitted Officer Edward Nero of charges of assault, reckless endangerment, and two counts of misconduct in office. Williams said in reading his verdict that Nero had essentially acted in a manner that "a reasonable officer" could be expected to act during his relatively minor role in Gray's arrest and transport.
Officer William Porter's manslaughter trial ended in December with a hung jury. He is scheduled to be tried again in September.
In both of those trials, defense attorneys and the expert witnesses they called stated that ultimate responsibility for securing detainees being transported rests with the driver of the vehicle—in this case—the 46-year-old Goodson. Like Nero, Goodson and his attorneys sought to have the case decided by Williams rather than a jury. A second-degree depraved heart murder conviction carries a maximum sentence of 30 years.
Goodson is the only one of the six officers who did not make a statement to police investigators after Gray's injury and death.
David Jaros, a University of Baltimore law professor who has been following the trials, told The Baltimore Sun that the outcomes of the first two trials should not be considered predictive of the outcome in the Goodson case.
"The case against Officer Nero was one that involved some very close legal questions that, I think, the defense felt favored them and so wanted a judge who appreciated the legal standards that were in question," Jaros said. "Goodson's case will rest less on the complexity of the legal theory and more on questions of fact and responsibility, which we consider more in the jury's bailiwick—the questions of what happened."
Others experts have said that proving second-degree murder after the failure to secure a detainee will be a heavy burden for prosecutors. Specifically, demonstrating that Goodson gave Gray a so-called "rough ride" without surveillance video and eyewitness testimony would be a challenge. Prosecutors indicated at the first day of the trial yesterday that they believe—and they are in possession of—such evidence.
The Baltimore Sun reported last April that Gray was not first detainee to suffer spinal chord injuries after unsecured rides in city police vans.
Tessa Hill-Aston, Baltimore chapter president of the NAACP, noted after Nero's acquittal the difficulty for Gray's family in going through six separate trials. She also indicated frustration that the responsibility for the failure to properly seatbelt Gray has been passed from one officer to the next thus far at the two trials.
"Police rules have at least changed for the better since [Gray's death]—I've read them." Hill-Aston said."In the future, no officer will be able to claim it was someone else's responsibility—a superior officer or the driver. It is everyone's responsibility now."
Meanwhile, five of the six police officers charged in relation to Gray's death, including Porter, Nero, Garrett Miller, Alicia White, and Brian Rice, are known to have filed defamation suits against City State's Attorney General Marilyn Mosby now. Nero and Miller allege, for example, that Mosby intentionally made allegations she knew "contained false statements" and spoke in a "divisive and inciting manner" when announcing the charges against the police officers at a press conference that received national media coverage.
A copy of Nero and Miller's 28-page civil suit can be read here.