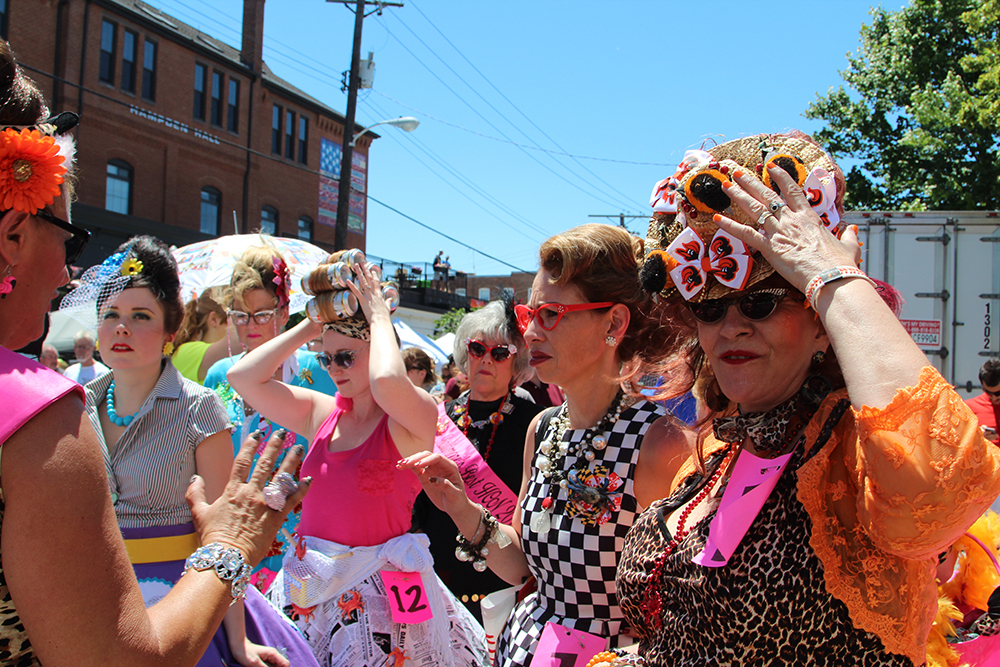 Meredith Herzing
EAT
Sandlot, 1000 Wills St. 12-4 p.m. $100-1,000.
This annual foodie fundraiser takes the saying "put your money where your mouth is" to a whole new level. On Saturday, head to Sandlot in Harbor Point to sample all-you-can-taste bites and drinks from local purveyors to benefit the Cystic Fibrosis Foundation. Dig your toes into the sand at this waterfront oasis and spend the afternoon enjoying snacks from top-notch eateries like Duck Duck Goose, Minnow, and Blue Pit BBQ and sip on area craft beers and cocktails made by the Baltimore Bartenders' Guild.
DRINK
Union Craft Brewing, 1700 W. 41st St. 7-10 p.m. Free.
From Pride Night at Camden Yards to the last Pride Fest at Grand Central, there are countless events and parties being thrown during Pride month in celebration of the city's vibrant LGBTQ+ community, and we couldn't be more excited by the outpouring of support from local businesses and beyond. Start the weekend festivities at Union Craft Brewing with beats by DJ Kim Brannan, a glitter station, high-energy drag performances by local queens including Bambi Galore, and, of course, free-flowing pours of the brewery's signature brews. Snag a limited-edition Union Pride hat and drink up because a portion of the proceeds benefit Baltimore Pride.
SEE
The Avenue in Hampden, 36th St. Sat. 11 a.m.-10 p.m., Sun. 12-6 p.m. Free.
Although it's been a few decades since the workingwomen of Baltimore strutted through the streets wearing beehive hairdos and brightly colored house dresses, the legacy of those proud women comes alive every June during this neighborhood-wide celebration. For two days, the streets of Hampden will transform into a colorful block party complete with the Lil' Hons parade, an oyster-shucking contest, tons of local craft vendors, and ongoing entertainment from local dance and musical acts. Cheer on your favorite gussied-up contestant in the "Best Hon" competition or, if you're confident in your Bawlmerese, enter to be the next winner of this Charm City tradition.
HEAR
27 S. Patterson Park Ave. 6:30-8:30 p.m. Free.
There's no shortage of outdoor summer concerts in the city, but there's something about stretching out under the Pagoda at Patterson Park and listening to local jams that always pulls us in. Round out your weekend with the first concert in this free summertime series, featuring Baltimore-based Americana band Cara Kelly & the Tell Tale and its soulful and soaring harmonies. Hear this five-person band serenade the crowd as the sun sets and mark your calendars for Charm City Junction's performance at the Pagoda on June 25.
DO
Druid Hill Park. 7:30 a.m.-2:30 p.m. $20-55.
It doesn't matter if you're new to Charm City or a tried-and-true Baltimorean, this two-wheeled tour is the best way to get to know the city's parks in one fell swoop. Dust off your helmet and hop on for this 17th annual recreational bike ride on one of four routes that give riders an up-close view of our parks and neighborhoods. Be it via the breezy five-mile ride or the 35-mile adventure, this cycle around the city is the perfect way to cruise into summer.