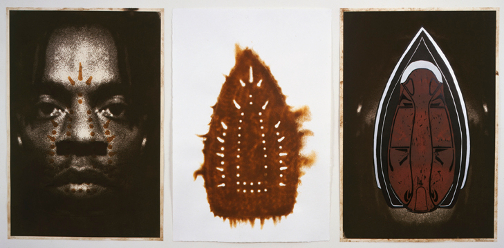 Courtesy of the BMA.
Five things to eat, drink, see, hear, and do with your Charm City weekend.
---
EAT
Nov. 15: Ravens vs. Jaguars Purple Tailgate
Purple Tailgate Zone, Lot
O, 700 W. Ostend St. 8:45 a.m.-12:15
p.m. $30. 443-865-5935.
bmorearoundtown.com.
This Sunday, our boys in purple take on the Jacksonville
Jaguars. With both teams at a depressing
2-6 standing and only five home games left, be sure to show up for Flacco and
the flock as they kick those kitten back down to muggy Florida where they
belong. Join the Bmore Around Town tailgate in LOT O for an open bar and food
from Italia's Corner Café of Glen Burnie and Linthicum, including game-day
go-tos like hot dogs, hamburgers, BBQ chicken, pulled pork, potato salad, and
coleslaw. Play games like corn hole, flip cup, and beer pong. In honor of
Veteran's Day, they'll be offering discounted $5 entrance from all active and
retired military, which will be donated to the Wounded Warrior Project.
DRINK
Nov. 13-15: Ciders & Sours
Max's Taphouse, 737 S. Broadway. Fri. 5 p.m., Sat. 11 a.m., Sun. 11 a.m. Free entrance. 410-675-6297. maxs.com.
Craft beer and spirits might be all the rage right now,
but cider is the future. While local spots like Millstone Cellars are spreading
across the state, a slew of others are sweeping the nation, so there's no
better time for Baltimore's beloved beer house to turn its Fells Point pub into
a sour, hard-apple sipping sanctuary. Expect dozens of national and international
sours and ciders on draft and in bottles, including dark bitter or peaty wild
versions from Italy, fruit lambics from Belgium, aged oaky reserves from
France, and much more. At the end of the day, if cider's not your cup of booze,
the beloved beer house has over 1,000 brews to choose from.
SEE
Nov. 8-15: Charm City Fringe Festival
Locations, times, & prices vary. charmcityfringe.com.
Now in its fourth year, the Charm City Fringe Festival is back in Station North, celebrating Baltimore's diverse performing arts community. This weeklong event featured a medley of 20-plus performances by local and regional talent, including Baltimore Improv Group, Baltimore Shakespeare Factory, and Gilded Lily Burlesque. This weekend, catch the tail end of it with theater, comedy, improv, and dance at venues like Terrault Contemporary, Mercury Theatre, Gallery 788, and Church & Co, followed by after-parties with shows, music, and drinks at Liam Flynn's Ale House and Joe Squared each night.
HEAR
Nov. 14: Seeing Color: A Conversation About Race & Art
The Baltimore Museum of Art, 10 Art Museum Dr. 2 p.m. Free. 443-573-1700. artbma.org.
From "Best of Baltimore" winner Paul Rucker or local
artist Joyce J. Scott to Glen Ligon and Basquiat, race has long been an
important source of inspiration for the art world in Baltimore and beyond.
Through different mediums, artists have discussed topics like identity, social
justice, and civil rights—and locally, grassroots works are sprouting up like
the
InsideOut project on Greenmount Avenue. This Saturday at the BMA, which houses art
by the likes of Jacob Lawrence, a prolific painter known for his themes of
social protest and African-American life, be a part of a conversation on these significant
artworks, like those by Willie Cole (pictured above) and Alison Saar on display
in the museum. Moderated by social entrepreneur and philanthropist Rodney
Foxworth, panelists include Dr. Sheri Parks, associate
dean for arts and humanities at University of Maryland, Dr. James Smalls, art historian
and professor at University of Maryland Baltimore County, Ailish Hopper, poet
and professor at Goucher College, and Susan Harbage Page, artist and professor
at University of North Carolina at Chapel Hill.
DO
Nov. 13: Inner Harbor Ice Rink Opening
Top of the
Amphitheater, Inner Harbor, 201 E Pratt St. Mon.-Thurs. 3-8 p.m., Fri. 3-11
p.m., Sat. 11 a.m.-11 p.m., Sun. 11 a.m.-8 p.m. $4 for skates, $175 season
pass. 804-459-0110.
innerharboricerink.org.

The December holiday season comes early this weekend with the opening of the newly relocated Inner Harbor ice rink. The new rink is 6,000 square feet (20 percent larger) and located at the top of the amphitheater with clear views of the Inner Harbor and Domino Sugar sign. Take a date, the whole family, or just go by yourself. Try out some twirls. Fall over. Pull a wobbly SRB. But best of all, take a second to stop and stare up at the twinkling lights of our little city and feel like a kid again.