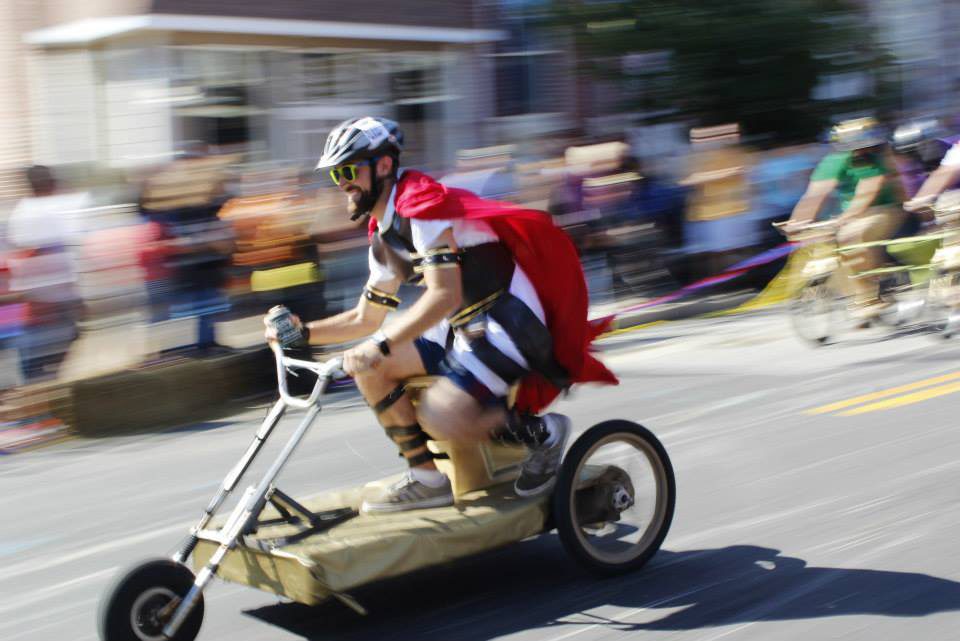 Meredith Herzing
Five things to eat, drink, see, hear, and do with your Charm City weekend.
EAT
Canton Waterfront Park, 3001 Boston St. 12-7 p.m. Free-$99.
In case you
didn't get your crustacean fix this summer, Baltimore's seafood spectacular is
back along the waterfront. Dig into signature dishes from the city's most renowned
seafood houses, like Captain James, Jimmy's Seafood, Mama's on the Half Shell,
Ryleigh's Oyster, Nick's Fish House, and the Local Oyster to name a few. Think
oysters—barbecued, grilled, or on the half shell—all crab everything, from
steamed to soft shell to sliders, and fish and shrimp. For an extra protein
punch, try turf temptations like Southern Provisions barbecue, Abbey Burger
buns, Snake Hill sausages, and Cosima Italian eats. From Voltaggio Restaurants,
Hersh's Pizza, Gnocco, and Gunther & Co., local chefs will be offering
cooking demos, and food trucks will be in tow to boot. Once you're fat and
happy, grab a beer, lay back on the lawn, and listen to live music by the likes
of the All Mighty Senators, and soak up that very end of summer sun.
DRINK
Sept. 17-18:
Carroll County Farm Museum, 500 S. Center
St., Westminster. Sat. 10 a.m.-6 p.m., Sun. 11 a.m.-6 p.m. $30-50.
We may not be
Napa or the Piedmont, but Maryland has a blossoming brood of vineyards turning
out increasingly delicious wine. In between the seasons of red and white, make
your way to Carroll County for a boozy day of vino, with more than 200 local
vintages, regional food, live music, and arts and crafts. At this 19th-century
farmhouse, breathe in the country air and drink down samples from wineries like
Boordy Vineyards, Deep Creek Cellars, Fiore Winery and Distillery, Linganore
Winecellars, and the Eastern Shore's St. Michaels Winery, plus cider from Great
Shoals Winery and Monkton favorite Millstone Cellars. Best of all, there will
be a "Maryland Cheese Pavilion," toting the funky goodness of five local cheese
mongers. If you're looking for us, you know where we'll be.
SEE
Locations vary. Fri. 8:30 p.m., Sat. 1
& 8:30 p.m., Sun. 8:30 p.m. $10-16.
In Baltimore, we have a melting pot of music, from the city's storied jazz and its renowned symphony to Americana bluegrass and a growing base of DIY. But in the corners of each genre, there are a number of improvisational, experimental musicians, and some of the very best in their class. For the 14th year, celebrate these musical misfits during the largest festival of its kind on the East Coast. Twenty-six musicians will come together to create new, off-the-cuff, cutting-edge collaborations and offer viewers a singular experience and window into this subculture. Famous musicians play beside burgeoning beginners and mix the likes of percussion, brass, and strings with the likes of voice, electronics, computers, and found objects. At the Baltimore Theatre Project, catch local computer artist Jeff Carey, Japanese saxophonist N.N.Y., Idaho flugenhorn player Ruby Fulton, or found objects artists Llew Niyomkarn of The Hauge.
HEAR
The Avenue, West 36th Street. 11 a.m.-7 p.m. Free. 410-662-4444. hampdenfest.blogspot.com
As Hampden only
continues to evolve, make your way to the neighborhood this weekend to
celebrate what remains of its quirky, quintessentially Baltimore charm. Amidst
its colorful row homes, taste street eats from Café Hon, The Charmery, Dylan's
Oyster Cellar, and Luigi's Italian Deli, and swing by The Brewer's Art stand to
wish them happy birthday with a special Hampdenfest beer. Browse goods
from local shops like Ma Petite Shoe, Trohv, doubledutch boutique, and Parisian
Flea, and then head to Chestnut Avenue to catch (or compete in) the iconic
toilet bowl races. Be sure to check out live music (and poetry readings and a
Dangerously Delicious pie-eating contest) across three different stages. With
16 bands in tow, give a listen as you wander 36th Street, with the likes of
indie-pop quartet Wildhoney, psychedelic synth-rockers Raindeer, post punksters PLRLS, and badass party starter TT The Artist.
DO
Canton Waterfront Park, 3001 Boston St. 6:45-8:30 p.m. Free.
Calling all
yogis: This Friday night marks the final full moon yoga of the summer season.
Whatever your skill level, grab your mat and head to the Canton Waterfront Park
front for a 75-minute class taught by YogaWorks's Cathrin O'Donnell and
Lisa Palumbo. Under the light of the September night sky, start your weekend
off right with downward dog and warrior poses, plus live music by The Herd
Brothers and free food samples for all those calories burned (and earned).
Arrive early to grab a prime spot and enter the raffle for prizes like a
Lululemon yoga mat, a one-hour private yoga session with Pop Up Yoga, and a one-month
membership at M.Power Yoga Studio.