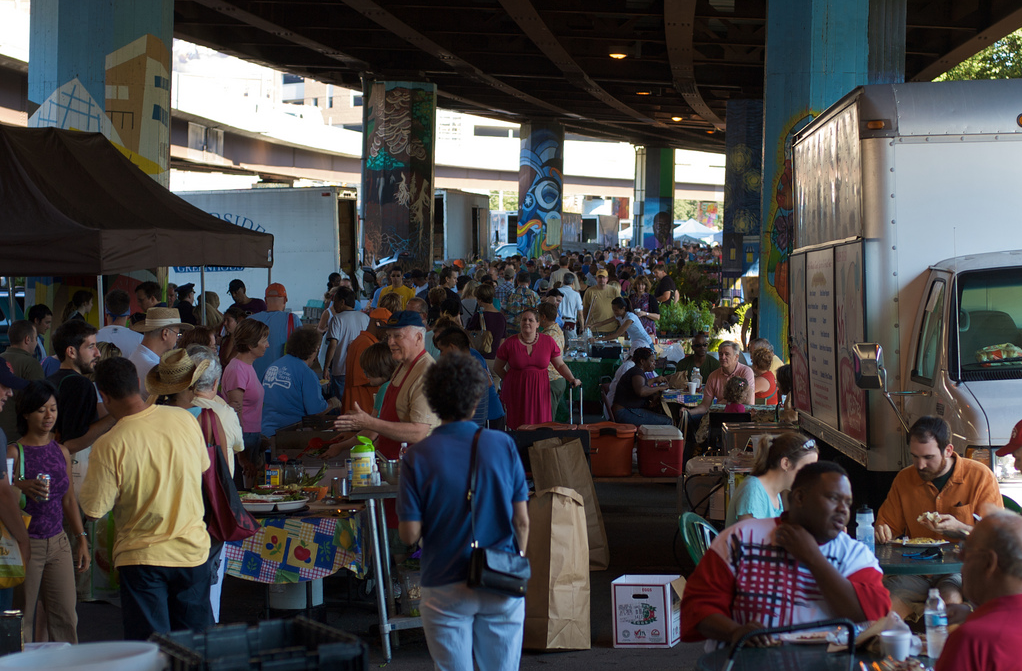 Courtesy of Jeff Kubina via Flickr
There are plenty of beloved Charm City traditions that begin to resurface as temperatures rise. Around here, springtime means the return of outdoor concert series and sipping Orange Crushes on waterfront patios. But perhaps one of the most long-awaited warm-weather rituals of all is being able to soak up some sun while strolling around your favorite outdoor market.
Farmers' market season is just around the corner and tons of local community organizations are going all out to make this year their best yet.
The first of many events returning this spring is the Baltimore Farmers' Market & Bazaar, annually held under the JFX at Holliday and Saratoga streets. Now in its 39th year, the festival will kick off on April 17 and run from 7 a.m.-12 p.m. Sundays through December.
"We're creatures of habit. We look forward to things that make us feel good, and the market does just that," says Bill Gilmore, executive director for the Baltimore Office of Promotion and the Arts, which organizes the market each year. "There's an interpersonal relationship factor— people love coming together to see their friends and all of the vendors on a frequent basis."
In addition to old favorites like biscuit sandwiches from Blacksauce Kitchen, wines from Boordy Vineyards, and assorted jams and jellies from Woodberry Pantry, a slew of new vendors will gather under the JFX for the first time this season.
New made-from-scratch products will include bacon and pineapple salsas from Deception Salsa, savory breakfast sandwiches from Little Italy Sausage Company, Liege-style Belgian waffles from Baltimore Waffle Company, traditionally cured meats from Meatcrafters Market, and whole-dried chilies, chili jams, and comapeño rubs from Chile Comapeño.
The bazaar also highlights weekly attractions such as live music, family-friendly cooking demonstrations, and the work of local crafters like Beltway Merch, Mount Royal Soap Company, and Sandtown Millworks.
Shoppers can look forward to new local produce like paw paw fruits and pea shoots from Two Boots Farm in Hampstead and blueberries from Moody Blues Farm in Windsor Mill.
"There have been tons of studies about the importance of people knowing the origins of what they're eating," Gilmore says. "And buying from the market brings the community closer to understanding that."
Mark your calendar for these other area markets returning this spring:
4/30 Fells Point Farmers' Market: Head to this weekly market to browse local fruits and veggies while snacking on creative confections from Diablo Doughnuts, steamed buns from Ekiben, and crunchy treats from Trisha's Almond Toffee. The event also features the likes of Beads by Bettina, Unwined Candles, and Red Door Studio in its lineup of craft vendors. Broadway Square, 801 S. Broadway, Saturday mornings starting 4/30 from 7:30 a.m.-12:30 p.m.
5/1 Catonsville Farmers' Market: The tight-knit Catonsville community comes together to mingle at this Sunday soiree, which features farm-fresh produce, poultry, fruits, and herbs. Stroll around to find savory snacks from the likes of BrickNFire Pizza Company and Angelina's of Maryland, sweet treats from Sugar Momma's and Sweet Dream Cupcakes by J, and organic produce from Natural Nick, Liberty Delight Farms, and Wild Peace Farms. 730 Frederick Road, Catonsville, Sundays starting 5/1 from 10 a.m.-1:30 p.m.
6/7: Hamilton-Lauraville Tuesday Market: Neighborhood leaders have a new layout in the works for the 2016 season of this family-friendly market. Along with featured food truck eats from Chef Mac's Louisiana Cuisine and The Green Bowl, visitors can look forward to seeing additional produce vendors, beer gardens, picnic tables, live music, and even a new play area for kids. 4500 Harford Road, Tuesdays starting 6/7 from 4-8 p.m.
6/9 Towson Farmers' Market: Like clockwork, the Towson Chamber of Commerce rings a bell at 10:45 a.m. every Thursday to signal that this festival is officially open for business. Upwards of 50 sellers—including regulars like Zeke's Coffee, Pat's Pickles, Baltimore Barbecue Company, and Cunningham's Kitchen—will be showcased throughout the upcoming season. This year, be on the lookout for new finds like lemon orange zest cheesecakes from Maryland Cheesecake Company and locally inspired accessories from Beltway Merch. University of Maryland's Master Gardeners will also be on hand to answer landscaping questions as buds begin to bloom. Alleghany Avenue, Towson, Thursdays starting 6/11 from 10:45 a.m.-3 p.m.
32nd Street Farmers' Market: While this fan-favorite fete is held year-round, it's welcoming a few new merchants just in time for the spring season. In addition to old favorites like Bottoms Up Bagels, Harmony Bakery, and Pahl's Farm Produce, shoppers can sample organic smoothies from Love, Water & Juice, muffins and macaroons from Rare Opportunity Bakehouse, craft beer from Milkhouse Brewery, and snack mixes fusing nuts, dates, coconuts, and dried fruit from Wholesome Nibbles. Corner of E. 32nd and Barclay Streets, Saturday mornings year-round from 7a.m.-12 p.m.