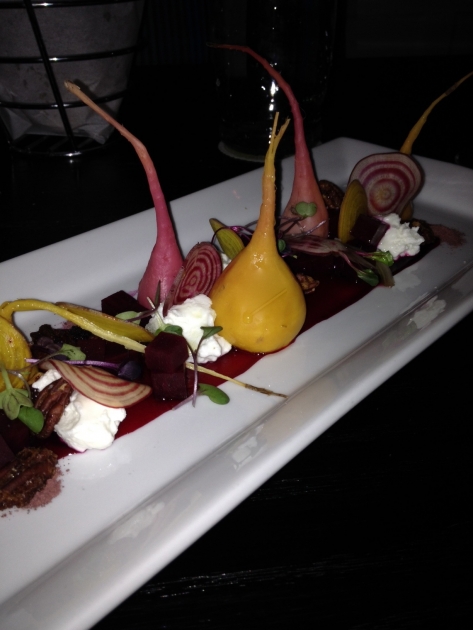 Suzanne Loudermilk Haughey
The good eating just doesn't stop this month. Now, it's time for Baltimore Restaurant Week, which starts Sunday and runs through Feb. 23.
There
are more than 100 participating restaurants offering three-course,
fixed-price menus for $30 or $20, not including tax and gratuity. Some
places are also serving two-course lunch or brunch menus for $15.
Newcomers like Ozra, Dooby's, and French Kitchen at Lord Baltimore Hotel (the fabulous five-beet salad, pictured,
is on the menu) have joined the annual promotion as well as favorites
like Cinghiale, Kali's Court, and B&O American Brasserie.
Reservations
are encouraged, especially at some of the more popular restaurants.
Restaurant Week is part of an Absolutely Febulous promotion offering
special deals at area hotels, museums, and other venues.
Here's a sampling of some of the menus.
Oliver Speck's Drinks & Eats,
Harbor East, three courses, $30. Dinner menu choices include arugula
salad, pimento cheese with house-made crackers, meats (beef brisket,
pork spare ribs, and smoked turkey breast) with sides (bacon-and-egg
potato salad, coleslaw, and baked beans) and bread (buttermilk biscuit
and cornbread); and desserts like pecan pie, coconut cream pie, and
chocolate brownie sundae.
Regi's American Bistro,
Federal Hill, three courses, $30. Dinner menu choices include A.J.'s
tater tots, smashed brisket-and-sirloin meatballs, jumbo lump crab cake,
flat-iron steak, miso salmon, and desserts like upside-down apple
walnut pie and cinnamon crunch coffee cake.
Clementine,
Hamilton, three courses, $30. Dinner choices include duck Caesar salad,
smoked bluefish niçoise, charcuterie, grilled teres-major steak, mahi
mahi, bacon-wrapped meatloaf, and Korean red-miso udon.
Alchemy,
Hampden, three courses, $30. Dinner choices include colossal crab mac
& cheese, Calypso hummus with flat-bread points, chili-rubbed pork
tenderloin, roasted red snapper, lamb Bolognese, and various desserts.
For a complete list and menus, check the Absolutely Febulous website.