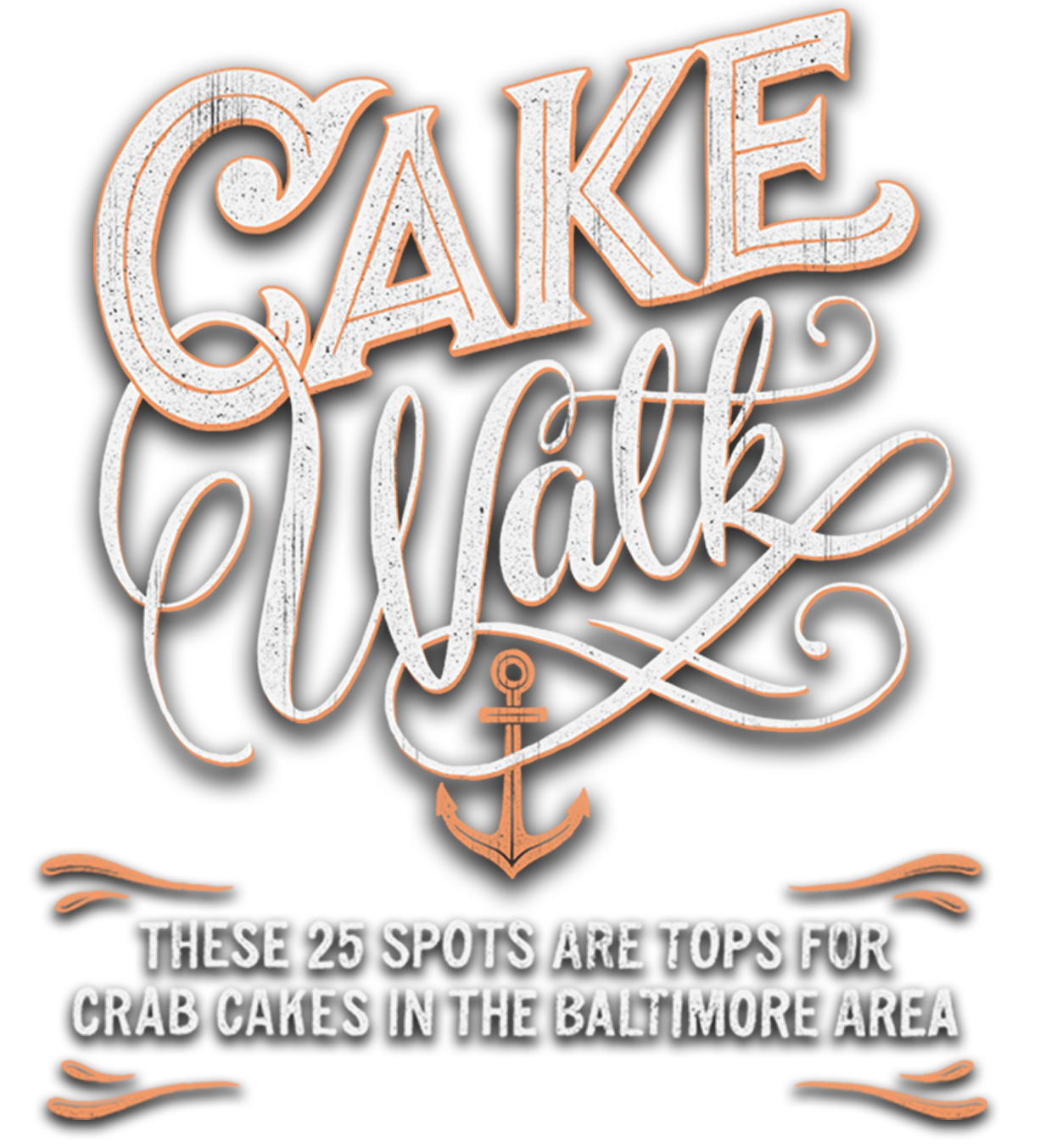 Food & Drink
Cake Walk
These 25 spots are tops for crab cakes in the Baltimore area.

hether cracked over newspaper, fried into fluff, or floating in a bowl of broth, crabmeat is always a delicacy, but never more than when the meat is formed en masse into a classic cake and made from Maryland crab at the height of the season.
Not much is known about who invented the crab cake (it likely was someone from the School of Immediate Gratification, who tired of all that cracking), though the root of the recipe goes back to pre-Colonial times. That said, one of the first-known print recipes appeared in the first half of the 20th century. Explains Alexandra Deutsch, chief curator at the Maryland Historical Society, "In the 1930s, Crosby Gaige [president of the New York Wine & Food Society] provided the recipe for a 'Maryland Crab Cake,' a concoction of crabmeat, crackers, mayonnaise, and spices, in his book, New York's World's Fair Cookbook."
Regardless of how you like them, crab cakes are ubiquitous in the Old Line State, as reflected by the diversity of spots we've picked on our pages. Whether you're a crab joint, an Italian restaurant, a Jewish deli, a food market stall, a steakhouse, or even a pizza parlor, it's practically heresy not to have some version of a cake listed on your menu.
The good news? The Maryland Department of Natural Resources 2017 survey showed a surge in spawning-age crabs to the highest level recorded in its 28-year history. So, however you get your fill, it's peak swimming season in the Chesapeake Bay—grab a fork and go partake of a cake.
BOX HILL PIZZERIA
ABINGDON | 2915 Emmorton Road, Abingdon, 410‑515‑3662
Yes, pizza is in its name, and as you walk past the pizza oven and square brown boxes, then peruse the menu, you'll have a tough time making a choice: spaghetti with Italian sausage, pepperoni pies, house-made lasagna with meatballs, or broiled crab cakes? It's not a menu misprint. In addition to moving through mozzarella, Box Hill goes through 2,000 pounds of crabmeat a week, and for good reason—the cakes are colossal and spiced just right. Our suggestion is to order a cheese pizza so that you can use some of the crab from your platter (two cakes, fries, coleslaw, and garlic bread) to crumble over the top.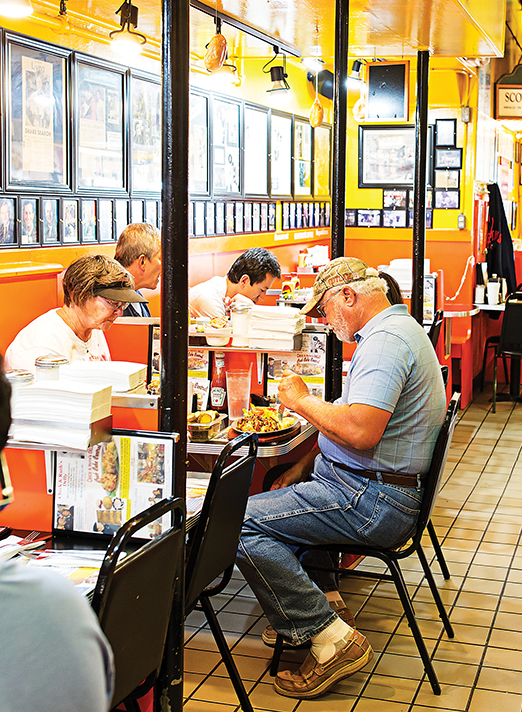 Ever since Chick & Ruth's opened in 1965, visitors have remained loyal to its mammoth crab cake.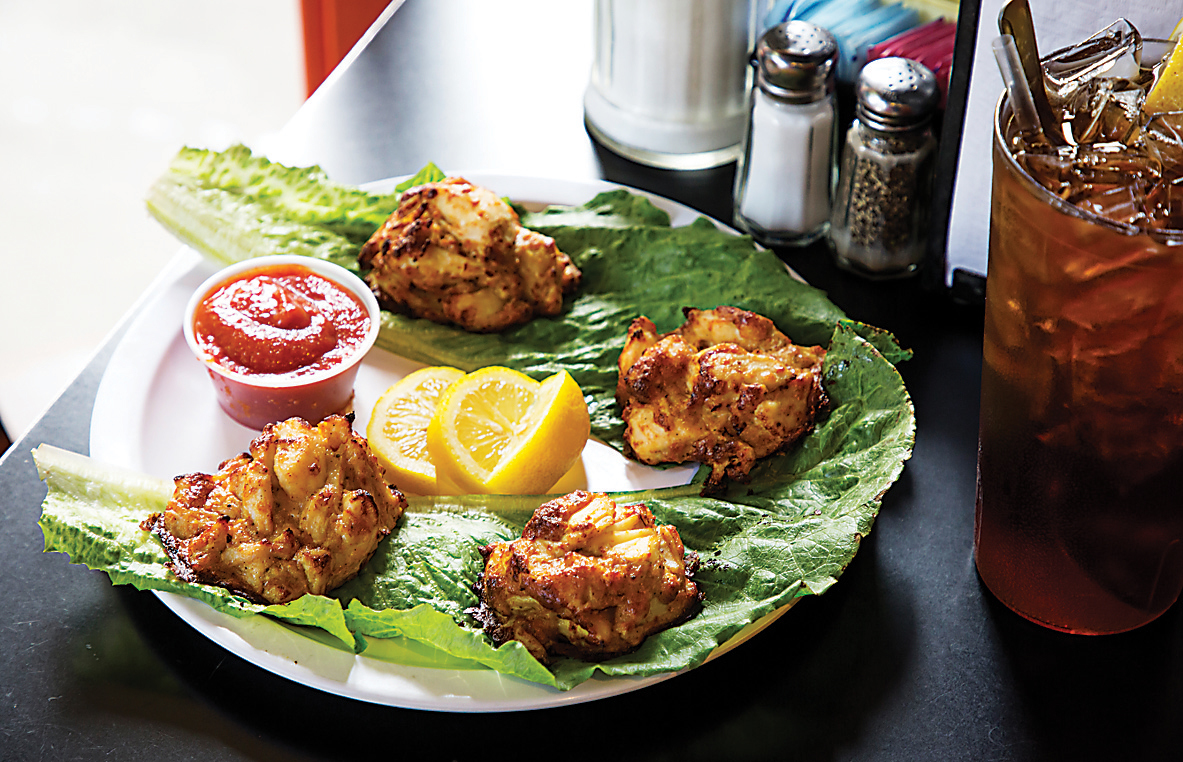 The retro interior, staff at Chick & Ruth's Delly, crab balls.
CHICK & RUTH'S DELLY
Annapolis | 165 Main St., Annapolis, 410‑269‑6737
Every weekday morning at 8:30, the bustling sea of politicians, lobbyists, lawyers, longtime regulars, and sailors that crowd into this downtown diner comes to an abrupt halt. Patrons stand, face the American flag, and recite the Pledge of Allegiance. This place takes equal pride in its crab cake. Ever since owner Ted Levitt's parents, Chick and Ruth, opened the eatery in 1965, Annapolitans and visitors to the capital city have remained loyal to its mammoth crab cake, a half-pound all-lump-meat giant. It's a unique take, made using egg whites (and Maryland crabmeat, when available) to create filler that's almost saucy. The result is a casserole-like concoction that is delicious, as is the piping hot, gooey mac and cheese, one of several sides available with the platter ($18.99 for a single cake, two sides, and the standard Chick & Ruth's bowl of sliced pickles). If possible, leave room for a piece of homemade pie. If you're too full after your first visit, don't fret. We have a feeling you'll be back.
CJ'S CRABHOUSE AND GRILL
Owings Mills | 10117 Reisterstown Road, Owings Mills, 410‑363‑6694
CJ's Crabhouse is the real deal—an old-school, casual seafood restaurant that has been serving hungry suburbanites from a single-story building on Reisterstown Road since 1976. Crabs take center stage, and preparations range from steamed hard shell to imperial. The cakes—which you can get various ways (sandwich or platter; broiled or fried; backfin or lump; small or large)—have their devotees, and understandably so. A recent order of one 6-ounce lump-meat patty (this is considered the "small plate") revealed a pleasantly browned mound of Maryland and Louisiana crab, mixed with a modicum of well-seasoned breading. The unremarkable sides of steamed broccoli and mashed potatoes can't be held against CJ's. Next time, we'll follow our heart and stick with the tried and true coleslaw and fries.
THE CORNER STABLE
COCKEYSVILLE | 9942 York Road, Cockeysville, 410‑666‑8722
Since 1972, The Corner Stable has been serving its signature "fall-off-the-bone" baby back ribs, and their popularity has somewhat eclipsed that of the Stable's other specialty—the "colossal lump crab cakes." We didn't sample the ribs on our latest visit, but we did order the broiled half-pound crab cake and came away convinced of its merits. The cake came with a golden, slightly charred crust that contrasted nicely with the steaming hot, milky white morsels of jumbo lump meat inside. Sides of steamed corn and wild rice were perfunctory, but a decadent peach cobbler—a seasonal dessert offering—more than made up for those disappointments. Crab cakes and peach cobbler: If that ain't a quintessential Maryland meal, we don't know what is.
COSTAS INN
Dundalk | 4100 Northpoint Blvd., 410‑477‑1975
Costas is all about crabs, and that's evident from the moment you walk inside. Many tables within its comfortable, no-frills dining room are prepped with brown paper and mallets, awaiting guests who've called ahead to snag a dozen—or more. The menu bursts with seafood, from platters laden with succulent raw bivalves to clams casino. But there is little doubt that Costas is also a crab cake destination. Their meaty mounds are offered broiled or fried, and the quality of the crab is high. There's just enough filler to hold them together and very little outside influence from spices or other flavorings. We're also fans of the lobster mac and cheese, and kids love the enormous desserts.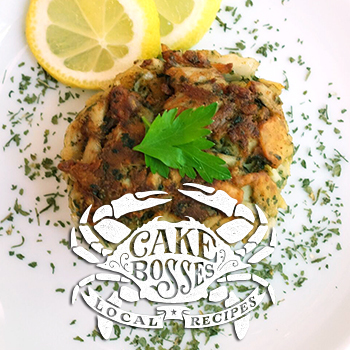 CATHERINE PUGH
Mayor of Baltimore
"Crab cakes are a Baltimore tradition [but] I only make them on rare occasions," says Pugh. "I don't like fillers or a lot of bread. I like the old-fashioned crab cakes with a few little changes, as I've grown more health-conscious."
Ingredients

1 pound lump crabmeat
1 egg
¼ cup low-fat mayonnaise
½ teaspoon Old Bay
¼ teaspoon white pepper
1 tablespoon lemon juice
2 tablespoons Dijon mustard
1 tablespoon fresh flat-leaf parsley
Directions
Place crabmeat into a mixing bowl, adding egg, mayo, Old Bay, pepper, lemon juice, and mustard. (Do not over mix. Crab should still be lumpy.) Once ingredients are evenly mixed, shape into cakes, refrigerate for an hour.

Before cooking, set on counter for 20 minutes. If frying, heat nonstick skillet with two tablespoons unsalted butter and two tablespoons olive oil. Heat until frothy, then put cakes into skillet, cooking on each side for four minutes or until golden.

If broiling, spray a skillet with nonstick cooking spray, add cakes to skillet, and place oven on broil, setting until brown. Serve with tartar and/or cocktail sauce, lemon wedge, and saltines. Serves 4.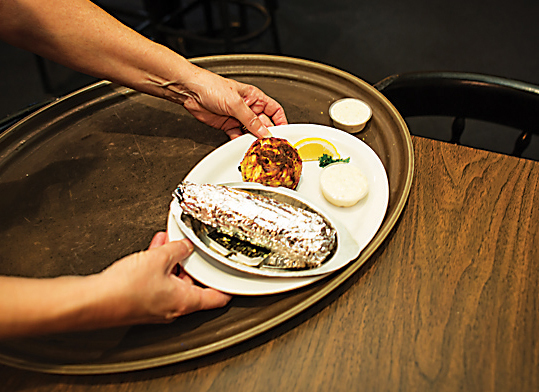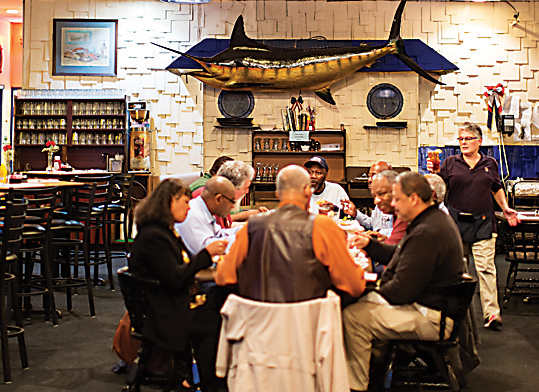 Indulge in crab imperial, crab dip, crab fluff, crab on your steak, and, of course, crab cakes at the Crackpot.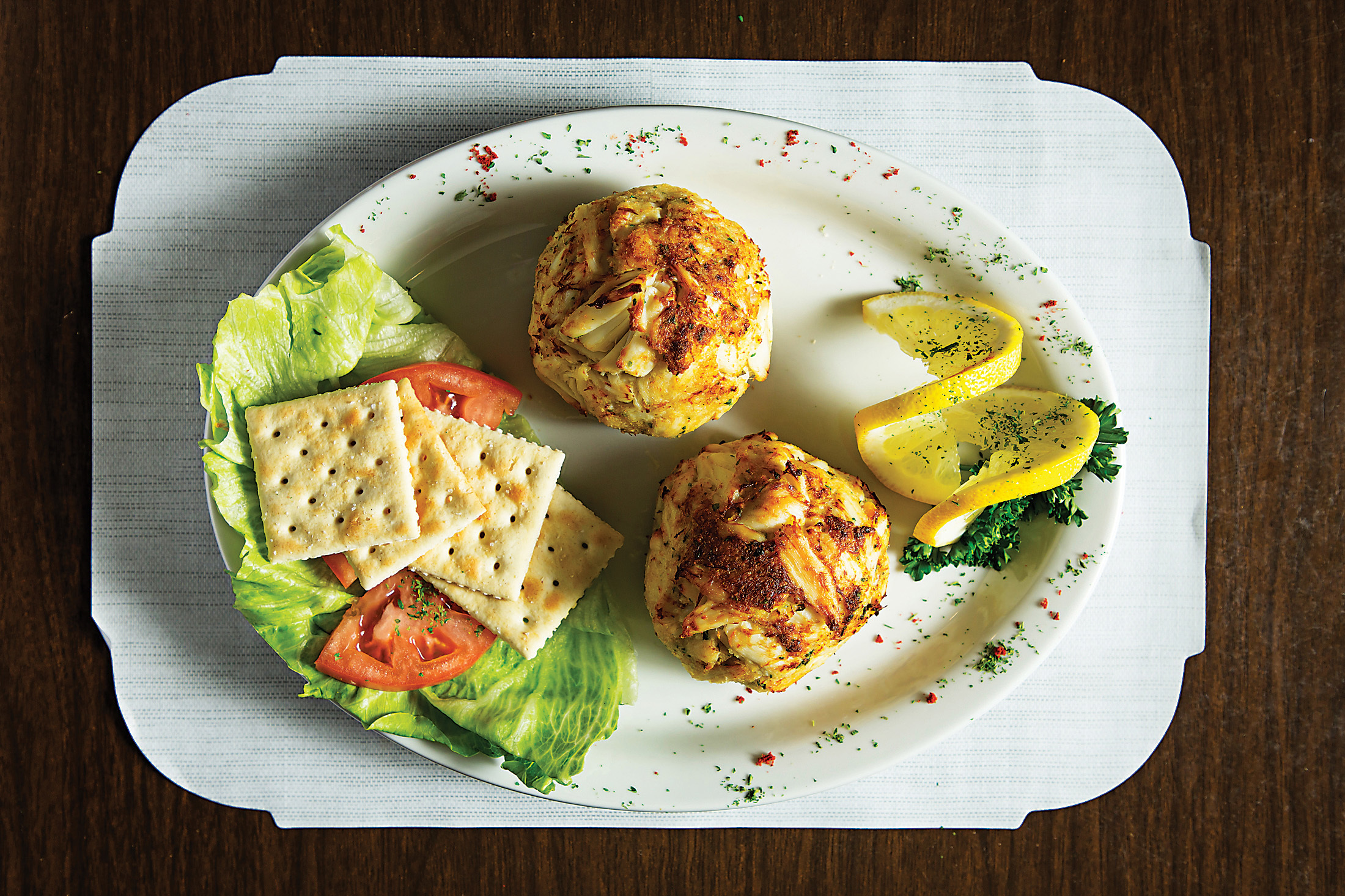 The corn and a cake at The Crackpot restaurant, dining room, chalkboard listing daily seafood offerings, and crab cake platter.
THE CRACKPOT RESTAURANT
TOWSON | 8102 Loch Raven Blvd., Towson, 410‑828‑1095
The clean and cozy dining room has the ubiquitous barrage of TVs (14 by our count), but still manages to have personality. From the enormous swordfish mounted above porthole mirrors to a table dedicated to the armed forces, Crackpot's room feels welcoming, and the menu is focused on crab. You may indulge in crab imperial, crab dip, crab fluff, crab on your steak, and, of course, crab cakes. We eschewed the mammoth 23-ounce offering and the riffs (Mexican, smoked, blackened) in favor of a classic broiled cake. It arrived quaintly nestled amongst the sides and was bulging with succulent crabmeat—not too much filler and just the right amount of seasoning. The tangy tartar, above-average wine offerings, and an attractive tap lineup make this unassuming strip-mall haunt all its cracked up to be.
DUDA'S TAVERN
FELLS POINT | 1600 Thames St., 410‑276‑9719
This corner dive is one of the last tried and true pubs left in Fells Point. With walls adorned with old-school Baltimore sports memorabilia, Duda's is our go-to spot for a burger and a beer, but be sure to try its crab cake platter. While this perfectly deep-fried mound isn't the biggest in town at just 5.25 ounces, it wastes no space for filler. The dense cake has plenty of flavorful lumps of crabmeat that are complemented by hints of Old Bay and parsley. The tartar sauce, which you only need a smidgen of, was also a standout with red onions and sharp dill pickle chunks. Plus, we love the simplicity of the sides: a small cup of house-made slaw and ruffled Utz potato chips—very fitting on top of a plastic Orioles tablecloth.
FAIDLEY SEAFOOD
Downtown | 203 N. Paca St., 410‑727‑4898
This old-school Lexington Market seafood stand is the gold standard for Maryland crab cakes. With their baseball-size sweet meat and saltine crust, these jumbo lump and backfin beauties achieve their status from more than 130 years of consistency and care, and insistence on using Maryland crab. Cake queen—and third generation co-owner Nancy Faidley-Devine—still molds every mound by hand (the cakes are exactly the size of her mitts). Even in a town with plenty of great crab cakes on offer, if we could only pick one to hail (and inhale), this would be it. They're a bucket-list item worth checking off more than once.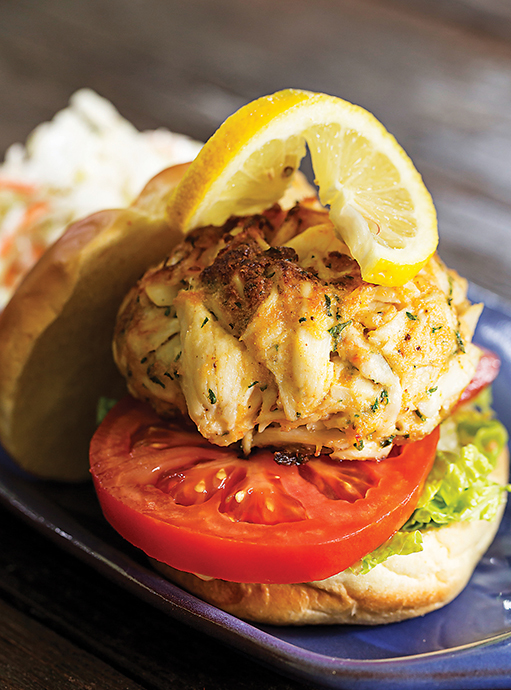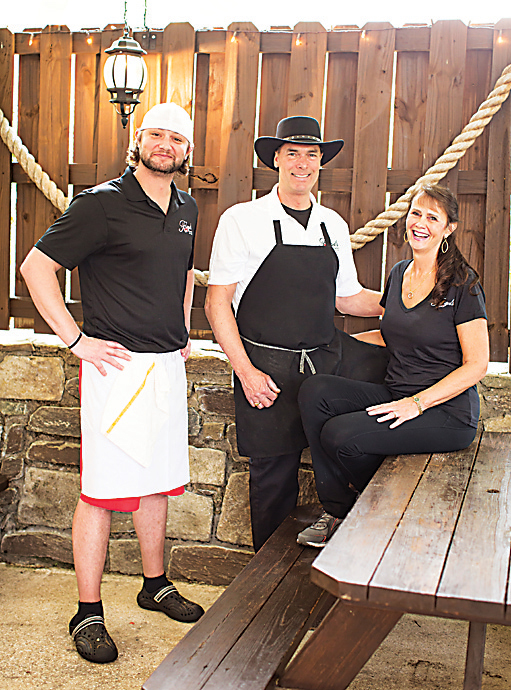 The family's legacy of offering Maryland-style seafood remains intact at Floyd's Crossroads Pub.
The crab cake sandwich, staff, crab soup, and crab cake platter with hush puppies and slaw at Floyd's Crossroads Pub.
FLOYD'S CROSSROADS PUB
DAYTON | 4809 Ten Oaks Road, Dayton, 410‑531‑7485
The crab cake recipe at this family-run crab house is a well-kept secret. Bill and CindyLee Floyd purchased the restaurant in 2014 from her uncle and aunt, Bill and Kathleen Green, who opened it in 1998 after running a stall at Cross Street Market in Federal Hill. The family's legacy of offering Maryland-style seafood with as-friendly-as-can-be service remains intact at this charming country oasis with its lovely outdoor deck, where diners crack hard-shell crab, and feast on lobster (on the April Saturday we visited, a 10-pounder was on the menu for $149) and crawfish. Those in the know, however, usually go for "Uncle Bill's" signature crab cake. Louisiana crabmeat is used in this terrific cake, featuring a creamy binder. Huge chunks of meat also abound in the Maryland crab soup, and "Aunt Kathy's" house-made coleslaw is your best bet for the one side that accompanies the single-cake sandwich ($17.95), which comes fried or broiled.
GERTRUDE'S
HOMEWOOD | 10 Art Museum Dr., 410‑889‑3399
Sometimes we take classics for granted, but if you have a Tuesday free in the near future, head to the old standby that is Gertrude's at the Baltimore Museum of Art. There's a reason John Shields' name is synonymous with seafood—the chef (with a big nod to his grandmother) knows what he's doing when it comes to crab cakes. And on Tuesdays, his broiled beauties are served with Boardwalk-style French fries and snappy coleslaw for just $15. The magic behind Shields' crab cake isn't only its massive size but also the sweet backfin meat of his Maryland-sourced crabs. It's perfectly flavored with Worcestershire and just a hint of Tabasco, and subtly bound by saltine cracker crumbs. We sure are happy that grandma Gertie saved her recipe card.
JENNINGS CAFE
CATONSVILLE | 808 Frederick Road, Catonsville, 410‑744‑3824
Family run and proudly frills-free, the horse-racing-themed Jennings has been serving up a down-home menu with exemplary service since 1958. The crab cakes, made using the same half-century recipe, are among the restaurant and bar's most popular items. Louisiana crabmeat is mixed with heavily seasoned filler to create a cake roughly the size of a fist. It's not the meatiest or largest ones we've encountered, but that's just fine—just means more room for Jennings' delicious homemade sides, like tangy potato salad and finely chopped slaw. The cheerful servers treat each customer like one of the restaurant's many regulars, so when we ordered sweet-potato fries, it was suggested that we dunk them in a house-made concoction (which usually accompanies rockfish bites) that's so addictive it's dubbed "crack sauce." The crab cake platter (which includes two sides, plus homemade cocktail and tartar sauce) is market-priced (and $5 off on Mondays). On the evening we visited, it was $17.95 for a single—a great deal at a straightforward restaurant that is, thankfully, set in its ways.
JIMMY CANTLER'S RIVERSIDE INN
CATONSVILLE | 458 Forest Beach Road, Annapolis, 410‑757‑1311
This family-run Annapolis seafood shack offers the quintessential setting for a Maryland crab feast, with piles of steamed crabs and ice-cold Buds served at picnic tables, beside scenic views of ospreys, herons, and fishing boats that cruise the quiet waters of Mill Creek. Though they're known for their hard shells, consider Cantler's crab cakes, which are a worthy reward without all the work. These salty-sweet, filler-free treats are coddled into cakes using broiled jumbo lump or flash-fried backfin. Order them atop leafy greens, stuffed into plush sandwiches, or all on their own, paired with sides like hush puppies and potato salad.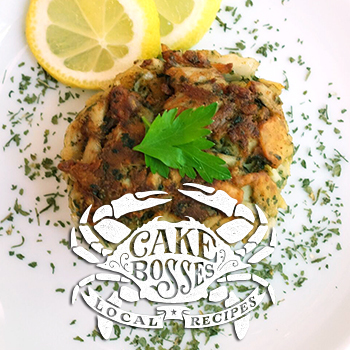 AMY GJERDE
Co-owner Woodberry Kitchen, Artifact, and Foodshed
"This is the recipe for the crab cakes my grandmother, Virginia, made," says Gjerde. "She passed away in 2015 at the age of 94. The recipe includes ingredients from my garden that I add to make them my own."
Ingredients

1 pound freshly picked crabmeat
1 teaspoon Old Bay
½ teaspoon salt
1 tablespoon mayonnaise
½ tablespoon brown mustard
1 tablespoon Worcestershire sauce
1 tablespoon freshly picked flat leaf parsley, chives, and bronze fennel (from my garden)
Juice from ½ Meyer lemon
1 tablespoon baking powder
1 egg, beaten
2 slices bread broken up and soaked in egg
Fine breadcrumbs for coating
2 tablespoons butter
2 tablespoons oil
Directions
Combine all ingredients and form into four crab cakes.

Dip in breadcrumbs lightly and sauté in butter and oil about five minutes on each side until well-browned.
Serve with tartar sauce, mustard, and crackers. Serves 4.
JIMMY'S FAMOUS SEAFOOD
Broening Manor | 6526 Holabird Ave., 410‑633‑4040
In March, Jimmy's offered free crab cakes for life to anyone who correctly picked the winner of every game in the NCAA men's basketball tournament. It's an impossible task (Warren Buffett promised $1 billion for the same feat in 2014, and no one came close), yet the fact that the contest garnered so many entries speaks to the crave-worthiness of Jimmy's crab cakes. And rightly so. The 8-ounce cake, served fried or broiled (we recommend the latter), is assembled perfectly, using crab from Louisiana in the off-season and Maryland meat when it's available. The single-cake platter comes with a choice of sides, which include a refreshing number of vegetable options. While parts of the restaurant have undergone a face-lift in recent years (a new bar on the second floor features seven large TVs, a pool table, and a party vibe that includes a DJ some nights), thankfully, the crab cake recipe hasn't changed since Jimmy's opened in 1974.
KOCO'S PUB
Lauraville | 4301 Harford Road, 410‑426‑3519
Crab cultists swear by this canary yellow Lauraville shack that's best described as the bay meets the Bahamas. Rife with parrot décor, a big bustling bar area, and state plates on the walls, this 32-year-old family operation exudes an easy-in-the-islands vibe. Consideration and care play into every offering, from classic pub grub to the signature, big-as-a-baseball crab cakes (11 ounces each, to be exact). Made daily by Joanna Kocovinos and her daughter, Marcella Knight, they have minimal filler, tons of flavor, and just a kiss of Old Bay. Cakes come with a coterie of sauces and spreads—Worcestershire, yellow and Dijon mustards, tartar and cocktail—but we enjoy ours broiled, in the buff, and served with Caesar salad on the side.
THE LOCAL OYSTER
Mount VERNON | 520 Park Ave., 844‑748‑2537
When it comes to seafood, The Local Oyster has quickly become the Cheers of Charm City. This tiny Mount Vernon Marketplace stand is a welcome rest stop for shrimp-salad sandwiches at lunch, post-work beers at happy hour, and always chummy conversation over owner Nick Schauman's grandma's crab soup. While oysters might be the main event, Schauman's crab cake is an instant Baltimore classic. Served as a sandwich or a la carte with saltines, this jumbo lump treat is a true testament to the fact that some recipes are best not messed with. It's Maryland crab, through and through, with a quick bake in the oven and a dusting of Old Bay. Add a bag of Utz to the side and call it a pleasant day in The Land of Pleasant Living.
MICHAEL'S CAFE
TIMONIUM | 2119 York Road, Timonium, 410‑252‑2022
Michael's modernized both its décor and its menu in 2014, but the York Road standby knew to leave some things alone. One of those things was the crab cake, which has been a customer favorite ever since the family-owned restaurant opened in 1984. The recipe blends Maryland and Gulf crabmeat into a golden ball of buttery bay goodness that can be served broiled or fried. The regular 5-ounce portion is plenty, but we opted for the 10-ounce hungry-man version and came away stuffed, especially since we scarfed sides of pillowy rice pilaf and sautéed broccolini as well. Sitting in Michael's original dark wood bar area is great if you're flying solo. (Shout out to bartenders Robin and Shannon, who handled a rowdy customer with tact and discretion.) But the back dining room, sleek new side bar, and patio area might be even better seats.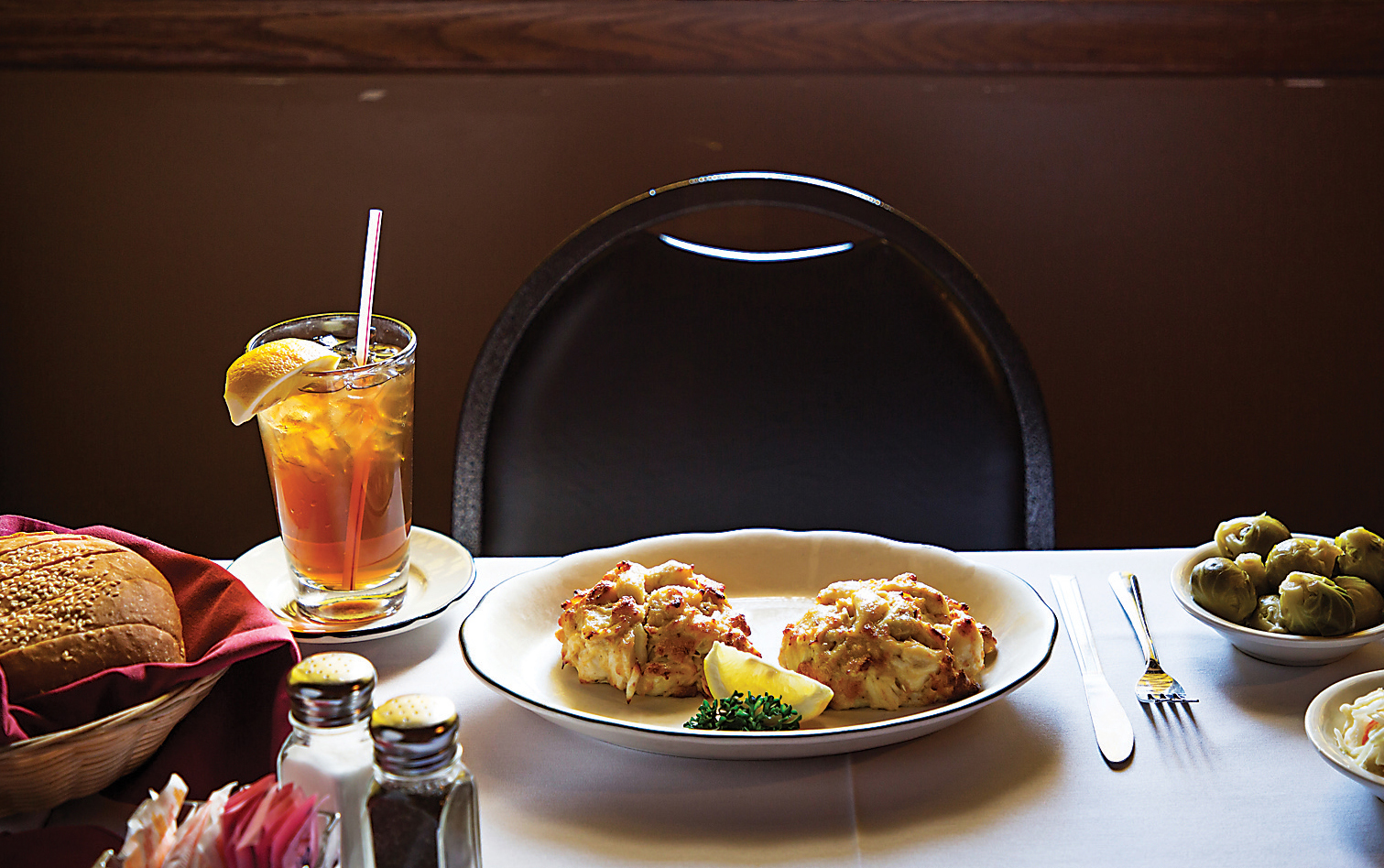 The nautical old-school interior, the cash register, and dinner is served at Michael's Steak & Lobster House.
MICHAEL'S STEAK & LOBSTER HOUSE
BAyview | 6209 Eastern Ave., 410‑633‑6485
Perhaps this decidedly old-school East Baltimore restaurant should consider a name change. If you ask us, the best thing on its pages-long menu filled with Greek, seafood, veal, and beef entrees just might be the delicious broiled crab cakes. The large cakes (two for $28.95, served with two sides) feature so much lump crabmeat and so little filler that they can come apart easily. (Note: This is a good thing.) The tangy and thick homemade cocktail sauce lures us to occasionally break protocol and dunk a forkful of crab cake in it. Don't judge: We swear we know better. Michael's delivers other crab (sourced from Texas year-round) favorites, too, including crab pretzels, crab cocktail, stuffed soft shells, baked imperial, and a unique dish we've not seen elsewhere: sautéed crab lumps Norfolk—a generous portion of crabmeat served over Virginia ham. If you can't bring yourself to order a crab dish with "Virginia" in the description, remember that a name doesn't always tell the full story.
MR. BILL'S TERRACE INN
ESSEX | 200 Eastern Blvd., Essex, 410‑687‑5994
This no-nonsense Essex venue is equal parts seafood destination and neighborhood bar. There's no escaping the glow of wall-mounted TVs, but then you may not care what's on once your food arrives. Help yourself to a plate of raw oysters or crisply breaded fried green tomatoes. Come hungry, though, because you're going to want room in your belly for Bill's glorious globs of crab. Loads of jumbo lump are de rigueur, and the filling has just enough heat to build softly as you make your way through the cake without igniting your palate. It may be Bill's way of subtly influencing your beer consumption, or maybe enticing you with a follow-up ice-cream sundae. Either way works, and we can't wait to return for another fix.
OLIVE GROVE
Linthicum heights | 705 N. Hammonds Ferry Road, Linthicum Heights, 410‑636‑1385
Think of this family-friendly Linthicum restaurant as an upscale diner—upholstered booths, a dessert case in the front, and a super-size menu. Direct your attention to the jumbo crab cake platter. There are options for one crab cake or two, but our server told us no one can ever finish two because these 10-ounce behemoths pack a punch. Broiled to crisp perfection, this crab cake is eggy and soft inside and dotted with parsley and red pepper flakes. For accompaniments, we advise their crunchy French fries or buttery green beans. A bonus is that meals come with all-you-can-eat garlicky bread sticks and garden salad with delicious house-made dressing. But it's all about portion control here, especially if you order two cakes—though we did see one veteran diner box up her second one "for tomorrow night's dinner."
PAPPAS RESTAURANT & SPORTS BAR
COCKEYSVILLE | Multiple locations, including 550 Cranbrook Road, Cockeysville, 410‑666‑0030
There are lots of choices when you visit the Cockeysville location of this 45-year-old family business. Head left for white tablecloths and a glass of Pinot Gris, or turn to the right to watch the game over cheap bottles of beer. Wherever you sit, you'll see diners ordering the broiled crab cakes that Oprah deemed among her "favorite things" in 2015. The recipe, and sourcing, seems to be a Maryland state secret (though on a recent visit, our server suggested that if every crab came from the Chesapeake, "Our bay would be drained"). But this we can say with certainty: However these ginormous cakes are made, they are virtually filler-free and only lightly spiced with crab seasoning, allowing for the full expression of crabby flavor. Visit them at this latest location, their original Parkville outlet, or get them shipped to wherever you live—be it Boca or Beverly Hills.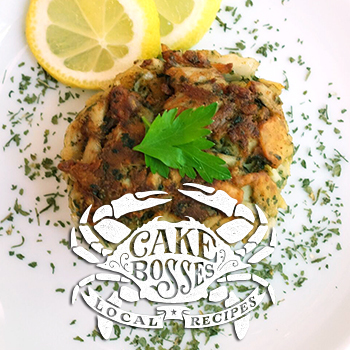 LOU CATELLI
Patron saint of Hampden
"When I came to Hampden in 2008, all I kept hearing about was Denise Whiting's Cafe Hon crab cake," explains Catelli. "I went in for one, and since then, barely a month has gone by without me stopping in for a quick crab cake and gin and soda at the Hon Bar."
Ingredients

1 pound of jumbo lump crabmeat (fresh Maryland meat is the best)
½ cup panko 
1 teaspoon Old Bay
2 teaspoons finely chopped parsley
1 large egg
½ cup Hellmann's mayonnaise
3 tablespoons butter
Directions
Drain liquid from crabmeat. Put crabmeat into bowl and gently pick through for shells, being careful not to break up the lumps. Sprinkle panko, Old Bay, and parsley over the meat and, with open fingers, gently mix the ingredients.

In another bowl, combine egg and mayo and whisk together. Add to the crab and gently incorporate the sauce. Let the mixture set for 30 minutes in refrigerator. Divide mixture to form four 3-inch patties about three-quarters of an inch thick. Patties should be loose enough to show the lumps of meat and not mashed together too firmly.

Melt butter in heavy skillet over medium heat and sauté four minutes per side. Serves 4.


THE PRIME RIB
Midtown belvedere | 1101 N. Calvert St., 410‑539‑1804
The mere mention of this stalwart steakhouse that opened in 1965 conjures up many images: animal print carpet, expertly crafted martinis, the tuxedoed piano player, and, of course, perfectly pink prime rib. But add to that list one of the finest crab cakes we've ever sampled in the city. Available as a 5-ounce appetizer or two-to- a-plate as an entree, the jumbo lumps of unpasteurized Maryland crabmeat are miraculously sealed together with seemingly no filler, and dotted with fresh parsley. A la carte sides include the restaurant's famous crispy potato skins with nose-tingling horseradish, and decadent creamed spinach.
ROMANO'S RESTAURANT
GLEN BURNIE | 6905 Ritchie Hwy., Glen Burnie, 410‑768‑8188
We like a place where you're called "hon" the second you walk in the door. From sweet servers to walls boasting vintage Orioles memorabilia, this tried-and-true tavern tucked off of Ritchie Highway in Glen Burnie represents everything we love about Bawlmer. The dinner menu boasts a lengthy list of Italian specialties (chicken marsala, veal parm), but the crab cakes—with their plump shape and perfectly bronzed exterior—are what really keep people coming back. Per the suggestion of our waitress, we geared up for the main event with a sizeable soft pretzel smothered in creamy crab dip. The cakes arrived at our white-clothed table soon after, served old-school style with a thick slice of tomato and choice of two sides. We opted for French fries and slaw—because sometimes it's just best to stick with tradition.
SCHULTZ'S CRAB HOUSE AND LOUNGE
ESSEX | 1732 Old Eastern Ave., Essex, 410‑687‑1020 
Just in case there's any question that you're in the right place when you get to this Essex crab joint, ask yourself what comes to mind when you think "Maryland crab house." Is it dogs playing pool in a needlepoint tapestry or taxidermied marlins slung across the wall? Is it a billiard table or Keno machine? Is it the knotty pine paneling or servers who seem like circus performers as they balance heaps of hard shells on trays? Or maybe it's just the crab cakes themselves—sourced from the Gulf out of season and locally in season, with little else but a shake of seasoning and some cracker crumbs to bind it all together. For us, it's all of the above, and it's why the James Beard Foundation dubbed this 67-year-old crab house an "American Classic" in 2017.
SIP & BITE
Canton | 2200 Boston St., 410‑675‑7077
Sip & Bite wears many hats—legendary diner, late-night nosh spot, Greek flavor-fix, and yes, crab-cake crib. Their unorthodox take on the cake is flattened and griddled, but there's nothing flat about the flavor. The crab cake is chock-full of lump meat, held together by a bit of egg binder, and just barely sprinkled with Old Bay. We appreciate the atypical side choices such as sweet potatoes, and love the option of mixing things up with Greek favorites like a gyro with house-made tzatziki sauce.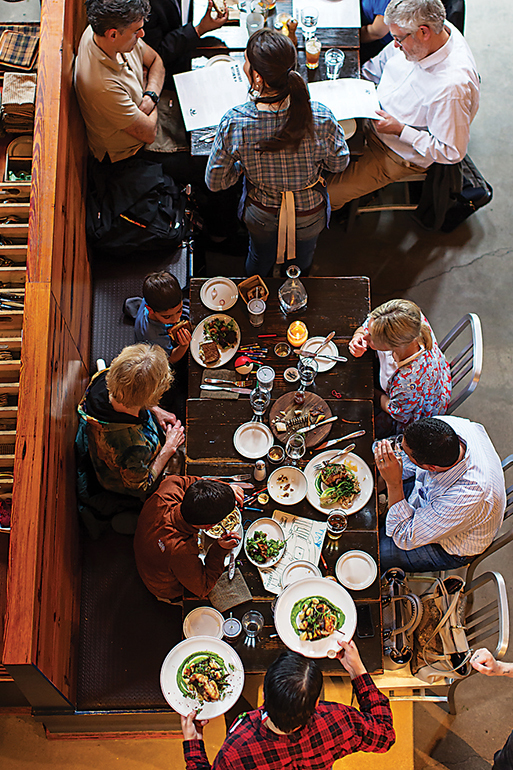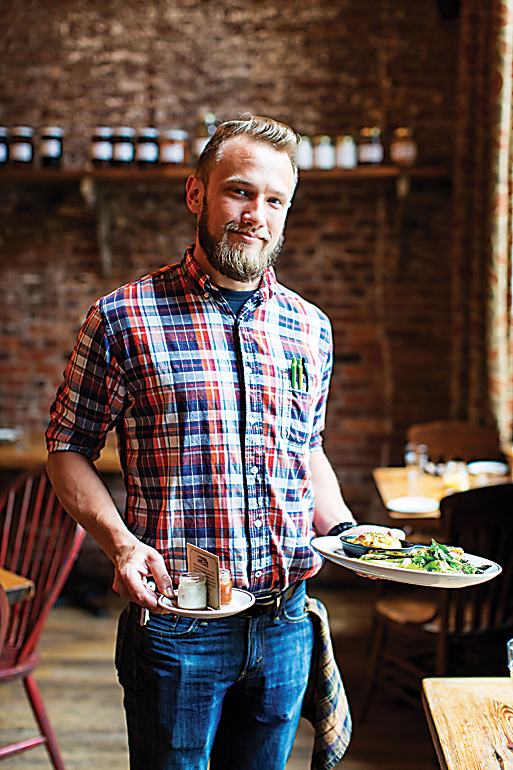 At Woodberry Kitchen, most of the menu comes from just down the block, or bay. If it's on the menu, it's locally made.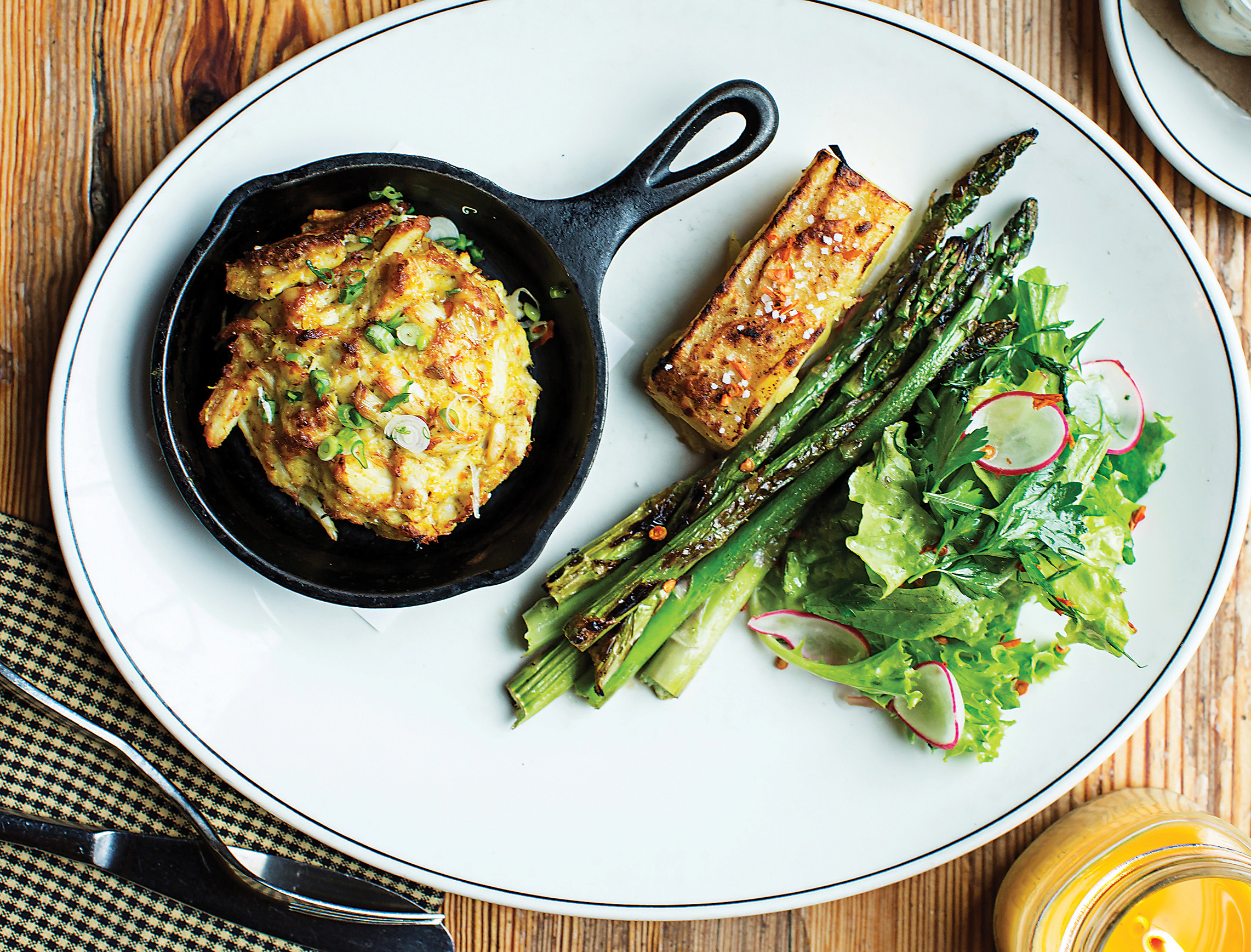 Aerial view of the dining room, delivering the goods, daily oyster specials, and crab cake platter at Woodberry Kitchen.
WOODBERRY KITCHEN
woodberry | 2010 Clipper Park Road, 410‑464‑8000
As a habit, it's always best to ask where the crab for your cakes came from, but at this James Beard Award-winning eatery, where most of the menu comes from just down the block, or bay, there's no need to ask—if it's on the menu, it's locally made. Arriving in a sizzling skillet (alongside potato pavé, some spring greens, and asparagus on our visit), these 6-ounce cakes with lump and backfin from Tilghman Island are broiled and bound by nothing more than fish peppers, oil, and egg, allowing for full unadulterated flavor. As if we needed more proof of authenticity in sourcing, each cake comes with a card reading, "The crab in your crab cake was caught by Chesapeake watermen, steamed and picked at GW Hall on Hoopers Island, and delivered directly to us." When you're craving not just any crab cake, but a pure Maryland crab cake, who could ask for anything more?